Trench Questions
On the surface, it would appear Clemson has everything it needs at the skill positions to finally get that elusive ACC title this year -- an experienced quarterback, tight ends, wide receivers and running backs -- all who helped the Tigers lead the league in scoring offense last season.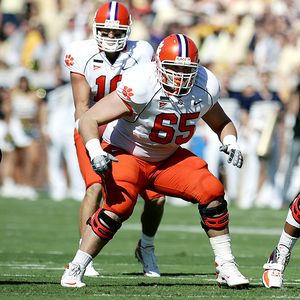 Icon SMI
The burden of making Clemson's potent offense go falls on Thomas Austin and Co.
Somebody, though, has to help them this fall.
This spring didn't provide too many answers on the offensive line, where there will be four new starters. In fact, coach Tommy Bowden doesn't think he'll get a true evaluation of his offense until the season opener against Alabama.
So far, he's certain on two positions: Chris Hairston will start at right tackle, and Thomas Austin at center. Cory Lambert is the projected starter at left tackle, but he has never started.
As for the two remaining spots, three of the four players competing will be redshirt freshmen -- Wilson Norris, David Smith and Mason Cloy. Also in the mix is redshirt junior Jamarcus Grant, and Bowden said he wants to take a good look at true freshman Antoine McClain, who will arrive this fall. McClain, of Anniston, Ala., is ranked the No. 6 offensive tackle in the country by ESPN.com.
"We've recruited pretty good," Bowden said. "They're eventually going to be good players, they just don't have any experience. I would say that we're probably going to have to wait until the Alabama game before we get a true indication of how quickly they're going to be productive in this conference. The biggest thing we've got to do as a staff, let's be smart on what we ask them to do from an assignment standpoint so we don't confuse them anymore than they're probably going to be."
Who's Got BC's Back?
Jeff Jagodzinski has more problems on offense than replacing Matt Ryan. Boston College entered this spring with no tailbacks. Not one.
"Not that we didn't have any numbers," Jagodzinski said, "we didn't have anybody."
Enter true freshman Josh Haden, who graduated early from Friendly High School in Ft. Washington, Md., and promptly took a spot at the top of the spring depth chart. (His older brother, Joe, started 12 games as a true freshman corner at Florida last year). Behind him is Danny Mulrooney, who moved from the secondary. The good news for the Eagles is they signed four running backs who will join them in the fall. The bad news? They're freshmen.
"I really like what I've seen from Josh," Jagodzinski said. "… He's shown a lot of things so far."
• Jagodzinski will have to do some shifting on the defensive line after defensive end Brady Smith was kicked off the team after pleading not guilty to charges of rape and breaking and entering. Jagodzinski said left end Alex Albright could move to Smith's spot on the right, along with right tackle Damik Scafe or left tackle Ron Brace.
Speed To Burn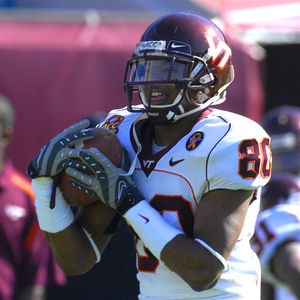 Al Messerschmidt/Getty Images
Brandon Dillard could fill the void at receiver for Virginia Tech.
After losing their top four receivers from last year's ACC championship team, the Hokies are looking for somebody -- anybody -- to catch the ball, and walk-on
Brandon Dillard
might be their guy.
Just ask cornerback Victor "Macho" Harris.
"Brandon Dillard, blazin' guy, I mean, when I say blazin', you gotta stop and say bla-zin!" Harris said. "He can fly. This dude can hands down fly."
He just doesn't have a scholarship -- yet.
Performing the way he did in the spring game, though -- 115 all-purpose yards with 49 rushing, 25 receiving, 41 kickoff return yards -- is the way to earn one.
Finding A Signal-Caller
There was only one quarterback on scholarship when Paul Johnson arrived at Georgia Tech -- freshman Josh Nesbitt -- and he's not even sure if Nesbitt will be running the show. After several nagging injuries this spring, Saturday was Nesbitt's first live scrimmage, and he completed four of 12 passes for 62 yards and ran for 19 yards. Five different quarterbacks played in the spring game, but Nesbitt was with the No. 1 offense. Calvin Booker completed five of eight passes for 109 yards, two touchdowns and one interception.
Johnson said he also has been pleased with walk-on Bryce Dykes, and that two more scholarship quarterbacks will be joining the team this fall.
"I think that Josh has a lot of ability, but I don't know that anybody's in the lead," Johnson said. "… I think that he has a chance to maybe be the starting quarterback, but it would be premature to say that he's it right now." Heather Dinich is a college football writer for ESPN.com. Send your questions and comments to Heather at espn.hd@hotmail.com.
Choosing One
NC State coach Tom O'Brien has five quarterbacks, but he still doesn't have that one.

With former starter
Daniel Evans
out this spring because of shoulder surgery, O'Brien said he's still "not any closer to naming a quarterback than we were when we started spring practice."
None of the quarterbacks "distinguished himself" in the three scrimmage opportunities this spring, and they were all within six plays of each other, O'Brien said. He's awaiting the arrival of true freshman Mike Glennon this fall. And yes, that would be Virginia Tech quarterback Sean Glennon's little brother.
Extra Points

• Miami coach Randy Shannon moved defensive tackle Luqman Abdallah to the offensive line, likely at guard or tackle. Ryan Hill moved from receiver to defensive back to get more depth of the safety position, and Damien Berry switched from defensive back to add more depth at running back. Linebacker Eric Houston also moved to fullback.

• Heading into the spring, UNC coach Butch Davis had four scholarship linebackers, a position he said was "woefully thin," so he moved Ryan Taylor from H-back to linebacker. Taylor was a significant contributor on special teams last season, though, which is why Davis had one caveat to his move:
"A lot of the things we ask him to do on special teams have a defensive nature, so all of the drills he does, all of the open-field tackling, all the change of direction and space -- those are things that are so related to playing linebacker that we felt like all the drills would be a huge carryover. He was excited about it, and we think he definitely made some progress this spring that will give him a chance to be a contributor."

• Former Wake Forest quarterback Ben Mauk, who is applying for a sixth year of eligibility at Cincinnati, still has Jim Grobe's support. Grobe said he wrote a letter to Cincinnati on Mauk's behalf, arguing he should be awarded another year.
In order for that to happen, the NCAA must be convinced Mauk was injured for two seasons -- including what the NCAA originally deemed his "voluntary" redshirt year. Shoulder injuries kept Mauk out of the Demon Deacons' 2006 season, and Mauk told the Cincinnati Enquirer a toe injury forced him to redshirt as a freshman.
"I think it's really a slam dunk from my perspective," Grobe said. "I don't see why a kid should be penalized for being redshirted. … My thought is all along that a kid should have an opportunity to play four years of college football and if one of those is wiped out because of an injury, regardless of whether he redshirted or not he should get that year back."

• The Seminoles lost one of their biggest playmakers this week, but they're not sure how long receiver Preston Parker will be out. Parker was arrested Monday and charged with carrying a concealed firearm -- a felony -- and possession of less than 20 grams of marijuana.
Florida State's academic/athletic code of conduct prevents an athlete from representing the university if he is facing a felony charge. Parker had a team-high 62 receptions last season for 791 yards and three touchdowns and also had 270 rushing yards and two touchdowns.
The Seminoles have three other receivers with experience, including Greg Carr, Richard Goodman and Rod Owens. Two redshirt freshmen -- Taiwan Easterling and Bert Reed -- had productive springs, but they haven't played.

• Duke's defense was aggressive, its tackling was better and its offense improved its timing in the passing game this spring. The one thing still keeping first-year coach David Cutcliffe up at night, though, is consistency on special teams. The Blue Devils lost a four-year starter at long snapper, where Chris Shannon is the lead candidate for the job, and place-kicker could turn into a four-way competition between Joe Surgan, Nick Maggio, walk-on Will Snyderwine and incoming freshman Zack Asack. "I know that's been an issue for a little while there," Cutcliffe said. 'We're going to have competition going into the fall in that area. I think we're better than when we started, but I'm still really concerned about us being able to compete in close ballgames."