Miami's Growth Investment
Miami coach Randy Shannon said he's not sure if sophomore defensive end Allen Bailey is ever going to stop "getting bigger."
Bailey certainly isn't shrinking.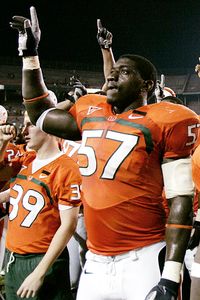 AP Photo/Lynne Sladky
Allen Bailey will have a big impact for the Canes this fall.
He came to Miami weighing about 250 pounds and finished spring football at about 290.
"He may be up 310, 315 the next time I see him in the fall," Shannon said, "but we're excited about him."
And for good reason.
Bailey made the switch from linebacker to right end at the beginning of spring practices and has shown the potential to replace Calais Campbell, who left school early and was chosen in the second round of the NFL draft. Shannon said Bailey controlled the tight ends this spring and was able to get off the tackles to chase the football. Bailey, who saw most of his playing time on special teams last year, was ranked No. 20 overall and the No. 3 defensive end in the ESPN 150 class of 2007. He had one sack in the Hurricanes' spring game.
"We were really, really excited about the way Allen Bailey picked up," Shannon said. "He still got a couple things here and there to go, but as far as a first-time guy playing defensive end, and as a true freshman, we were really excited about him. He had a lot of pass rush natural abilities and he can play the run with his physical body."
Taking Its Toal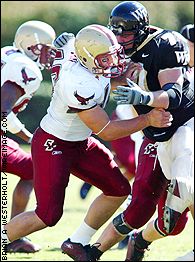 Brian Toal missed all of the last season with an injury.
Last year was the first time Boston College linebacker Brian Toal didn't play football since the third grade, and, clearly, he missed it.
After sitting out last season with a torn shoulder labrum -- for which he received a medical redshirt -- Toal returned this spring a little antsy to get back on the field.
"I'm more ready than ever," he said. "I've been working out for a year, rehabbing my shoulder, running a lot. I'm in the best shape of my life right now. If I'm not ready this year, I'll never be ready."
Toal enters his senior season with 180 career tackles (98 solo) and 16.5 tackles for loss. In 2006, Toal was also used as a short-yardage back and led the Eagles with five rushing touchdowns. Coach Jeff Jagodzinski said he has no intention of using Toal on offense this season, but Toal is just happy to be playing and is looking forward to "proving to people that I am a great football player."
"I've been hurt a lot and had a lot of things going on like that, so a lot of people I guess kind of doubted me," he said. "I kind of look at this as a statement year for myself, try to really make a name for myself."
Toal said his shoulder didn't bother him at all this spring. Waiting for August, though, does.
The Right Steff?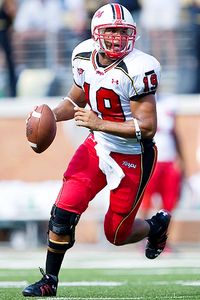 Brian A. Westerholt/Getty Images
Jordan Steffy has given Chris Turner serious competition for the QB spot.
Heading into the spring, Maryland coach Ralph Friedgen had said
Chris Turner
would remain the Terps' top quarterback, but by the final practice, Friedgen had described the competition between Turner and
Jordan Steffy
as "dead even."
Last Saturday's Red-White spring game didn't help.
Turner completed 6 of 8 passes for 91 yards. Steffy, who played on both the Red and White teams, totaled 155 yards and one touchdown on 14 of 23 completions.
"I really didn't think any of them had the day I was hoping," Friedgen said. "I'm looking for some guy to separate, and I really can't see that right now. I wish it was that easy. I'm hoping we've got one."
Heather Dinich is a college football writer for ESPN.com. Send your questions and comments to Heather at espn.hd@hotmail.com.
Moving On
Former Georgia Tech quarterback Taylor Bennett is leaving Atlanta on Saturday to transfer to Louisiana Tech and said he "doesn't have any regrets about it at all."

Bennett
Part of that, he said, can be attributed to Paul Johnson's candor with him about the new offense.
"I definitely want to thank him for being honest with me back in January because if he had not been honest with me, I would not have this opportunity to go pursue my master's and play my last season somewhere else," Bennett said. "He told me what his plan was and where I fit in and what he saw me doing. That wasn't something I was interested in."
Bennett, who will turn 23 on Sept. 12, will start summer school on June 2.
• One of the biggest concerns at Georgia Tech is replacing the best kicker-punter combo in school history -- All-ACC kicker Travis Bell and Ray Guy Award winner Durant Brooks. Johnson said he might have sophomore Scott Blair do both. "I'm not ready to give him that job yet because there's some competition," Johnson said. "We'll see how that goes."
• Johnson is just as interested as everyone else in how his offense will look, since injuries prevented a true evaluation in the spring game. Junior slot back Greg Smith (broken collarbone), who might end up getting more touches than any non-QB, missed almost the entire spring. Two potential starters on the offensive line -- junior Cord Howard (foot) and senior A.J. Smith (elbow) -- missed almost all of spring drills. There's also probable starting QB Josh Nesbitt (groin) and top WR Demaryius Thomas (hamstring), who missed a good chunk of spring practice.
Up To The Billing
Clemson defensive end DaQuan Bowers was ranked No. 1 in the ESPN 150 class of 2008, and showed why this spring. He had seven tackles and two sacks in the spring game, but how much of an immediate impact will Bowers be for the Tigers?

Depends, coach Tommy Bowden said.
"He's shown pretty early he's going to be able to help us next year," Bowden said. "How much, I think, depends on how much progress he makes this summer as far as conditioning. He's gotten a little heavy. He's gone from 270 to 280. … A lot is going to depend on how he continues to improve and his mental approach to the game between now and when we play Alabama."
• Spring practices are officially over, and Bowden still has not signed his contract extension. Apparently, this isn't unusual at Clemson. Basketball coach Oliver Purnell was offered an extension last April and didn't sign it until February.
Clemson athletic director Terry Don Phillips said the process is taking a little longer than usual because two contracts are involved -- one for Bowden's retirement plan, which requires additional "scrutiny" by tax attorneys, and a general coach's contract.
"If you were dealing with just one contract, it of course would shorten the time," Phillips said, 'but at this juncture, his attorney has the draft of both of those contracts for review right now."
Extra Points

• UNC quarterback T.J. Yates, who spent all spring recovering from shoulder surgery for a torn labrum, has been throwing three times a week since April 7. He is on schedule for a complete recovery in time to join camp in August.

• Wake Forest's secondary has stolen much of the spotlight from the Demon Deacons' defense (and offense), but the coaching staff has just as much confidence in its veteran group of linebackers. Aaron Curry, a four-year starter at outside linebacker, wasn't highly recruited but can run a 4.5 flat at 6-foot-3, 255-pounds and was second on the team with 99 tackles last season. He also had 13.5 tackles for loss, three sacks and four interceptions. Middle linebacker Stanley Arnoux, the team's third-leading tackler last year, and Chantz McClinic also impressed the staff this spring.

• The most significant change to Duke's post-spring depth chart was the move of Ayanga Okpokowuruk from nose guard to left defensive end. Last season, Okpokowuruk started all 12 games at nose guard, where he had 23 tackles. Clifford Respress, who had 53 career tackles and played in 33 games, is now listed as the starting nose guard.