Back In The Saddle
STILLWATER, Okla. -- One deep burst on a fly pattern early in spring practice was the best indication that Oklahoma State wide receiver Artrell Woods was back after missing last season with a fractured vertebra.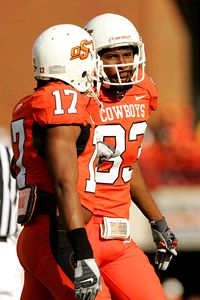 Brian Bahr/Getty Images
The Cowboys are glad to have Artrell Woods (83) back on the field.
Doctors initially feared that Woods would never walk again. So it's no wonder that coach Mike Gundy is thankful as he watches Woods practice with the Cowboys this spring.
"He's running out there and has looked good," Gundy said. "It has to surprise me because of what happened to him. I think in a few months he's going to look like he did before he got hurt."
Woods suffered the injury during a routine weightlifting session in July. While he was hoisting a 185-pound bar on his shoulders, Woods' ankle rolled and he lost his balance. When he crumpled to the floor, the weight dislocated his spine.
After being flown by helicopter to Mercy Health Center in Oklahoma City, Woods had no feeling in his legs. But after a three-hour surgery, Woods' injury was repaired.
Woods has returned to the team and is wearing a green jersey during spring practice. He's not taking part in contact drills in spring practice, but team doctors are confident he could return to the lineup for the Cowboys' Aug. 30 opener in Seattle against Washington State.
"It's huge to have him again," OSU quarterback Zac Robinson said. "The first day he ran a go route and gave a guy a move and was 5 yards past him. Everybody said he was back after that."
Woods' return would address one of the Cowboys' biggest offensive needs after losing leading receiver Adarius Bowman after last season.
One of Gundy's biggest priorities this spring is finding a proven deep receiving threat. Woods, who had 4.4 speed in the 40 before his injury, was projected to be a starter in 2007. His four receptions for 111 yards and two touchdowns in OSU's 2007 spring game had the Cowboys excited.
"You saw last spring how capable he is of making big plays," Robinson said. "We're excited to have him back. It's an unbelievable story to come back from that kind of injury."
You Can Leave Your Hat On
Texas' spring practice has been noticeably more physical this season as the Longhorns' defense becomes accustomed to new defensive coordinator Will Muschamp's in-your-face coaching style.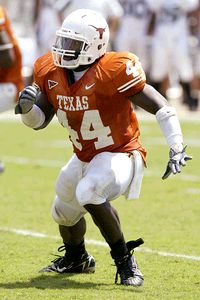 Icon SMI
Rashad Bobino and the Horns are getting physical this spring.
Muschamp has started handing out a "Hard Hat" award to the most physical defensive player at each Longhorns spring practice.
"A player may be doing well, but if a player [at that position] gets the hat, he gets bumped aside," Texas linebacker Rashad Bobino said. "It's a big competition. I was the first one to get it."
Such competition has helped reinforce the notion of physicality for the Longhorns, who struggled late in the season with uncharacteristic defensive lapses. Texas' defense permitted averages of 37.5 points and 482.5 yards per game over the final four games in 2007.
"Every day, we're hitting, no matter where we are," cornerback Deon Beasley said. "Inside the bubble, outside, we're hitting. I think it's good for us to get some contact and for us to show that we're not only a fast team, but we're a physical one as well."
King Of The Road
Road trip, anyone? Colorado coach Dan Hawkins has big plans for a little unexpected downtime that's materialized after his team finishes spring practice on April 19.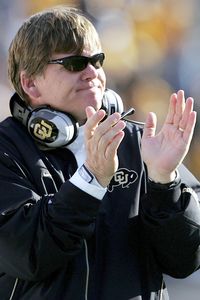 Doug Pensinger/Getty Images
Dan Hawkins is excited about his Colorado road trip.
Hawkins used to eagerly anticipate his recruiting opportunities during the spring evaluation period that follows the end of spring practice. He's still going to be doing some recruiting this year, but he'll be recruiting fans for the Buffaloes instead of potential players.
A recent NCAA rule change will forbid head coaches from recruiting off campus during the spring period that stretches from April 15 through May 31. Assistant coaches will be the only representatives allowed to recruit players during that period.
Since Hawkins will have a lot of free time during that period, he plans to hop into a recreational vehicle and sell the gospel of his team to fans across the Centennial State.
"It should be a lot of fun," Hawkins said. "I figured this was a way we could go out and meet people across the state."
Hawkins has already briefed athletic director Mike Bohn about his plans. He's also planning to take family members, including his wife, Misti, on the trip.
The idea of Hawkins at the steering wheel of the RV with family members in tow brings to mind images of Clark Griswold in the "Vacation" movies.
"I just hope our trip goes a little smoother than it did for them in those movies," Hawkins said, chuckling.
Tim Griffin covers college sports for ESPN.com. You can contact him at espntimgriff@yahoo.com.
I Do Not Believe What I Just Saw
Oklahoma coach Bob Stoops thought that ESPN.com voters might have overvalued the wild ending of the Oklahoma-Boise State 2007 Fiesta Bowl as the second-greatest television highlight of all time.

While Stoops termed the Broncos' Statue of Liberty surprise as "a heck of a highlight," he had a couple of other personal favorites.
"My favorite highlight was Kirk Gibson's home run, not that anyone was asking," Stoops said. "What he did after sitting on the bench the whole game was pretty amazing."
Stoops had no complaints about the tournament's eventual winner, the U.S. Olympic hockey team's 1980 "Miracle on Ice" that eventually trumped Boise State's shocker over the Sooners.
"Yeah, that was pretty special, too," Stoops said.
Second Chance
Kansas' athletic department hired a private security firm to investigate the character of RB Jocques Crawford while recruiting the junior college offensive player of the year from Cisco, Texas. Crawford pleaded guilty to a charge of misdemeanor assault of a 15-year-old girl in 2005 while at Cordova (Tenn.) High School.

Coach Mark Mangino said he is confident he's making the right decision in offering a scholarship to Crawford, who will participate in spring practice beginning Wednesday (March 12). Crawford originally signed with Clemson while in high school, but had his scholarship revoked after his legal problems. He later hoped to attend Texas Tech, but failed to qualify academically.
"I think we did everything we possibly could," Mangino told reporters on signing day. "We feel very confident in him. … He needs a chance. He needs an opportunity, and I think he'll make the most of it."
Crawford rushed for 1,935 yards in nine games during the 2007 season to lead the nation's junior colleges in rushing. His arrival is important as the Jayhawks attempt to find a replacement for bruising running back Brandon McPherson.
Extra Points

• Nebraska's defense has already experienced a major hit this spring. Projected starting cornerback Anthony Blue was injured during seven-on-seven drills and will miss spring practice. The Cornhuskers already lost senior cornerbacks Zackary Bowman, Andre Jones and Cortney Grixby from last season.
Blue's quick recovery will be important considering the Cornhuskers will play potent North Division quarterbacks like Chase Daniel, Todd Reesing and Cody Hawkins. New coach Bo Pelini's team will have its work cut out in cross-divisional games against the high-powered aerial attacks of South Division opponents Texas Tech, Oklahoma and Baylor.

• New coach Art Briles is opening some recruiting avenues that haven't been in place before on the Brazos. One of his incoming recruits next season is Frederic Plesius of Lennoxville, Quebec. The athletic 6-foot-2, 230-pound linebacker had five sacks as a senior at Champlain Prep School and even returned punts for his team.
Briles recruited several Canadian players while at Houston and is excited about bringing what is thought to be the first Canadian player to Baylor's roster.
"These kids come in very mature, very hungry and very grateful," Briles said. "Coming from Canada to the United States and the Big 12 for them is like walking out of Luby's and finding a $100 bill, so all of a sudden, they feel good."

• Kansas has beefed up its nonconference schedule with a two-game home-and-home series against Southern Mississippi in 2009 and 2010. The Jayhawks also will host New Mexico State in 2010.
The Jayhawks already have a two-game series with Duke in 2009 and 2010 and will also begin a four-game series with Rice during 2010.
KU qualified for the Orange Bowl last season despite a weak nonconference schedule that included games against Central Michigan, Southeastern Louisiana, Toledo and Florida International. Kansas won those four games by a combined margin of 214-23.

• Coach Bob Stoops is in line to become the Big 12's highest-paid coach. Stoops could make $6 million in 2008, including a $3 million bonus payable on Dec. 31 for coaching the Sooners for 10 seasons.
Stoops' football program has helped fuel staggering recent growth in OU's overall athletic department. In the year before he arrived in 1998, Oklahoma generated $26.1 million. In 2006-07, the school's athletic department generated $66.3 million in revenue, including $28.5 million from the football program.