Three's A Crowd
Baylor quarterback Blake Szymanski broke virtually every single-season passing record for the Bears during the 2007 season.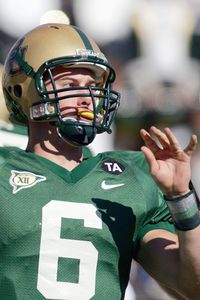 Ronald Martinez/Getty Images
Blake Szymanski threw for 2,844 yards and 22 TDs in 2007.
And what has it earned the junior heading into the 2008 season? The chance to earn the starting job again in a spirited three-man competition in new coach Art Briles' first spring with the Bears.
Szymanski, former Miami transfer Kirby Freeman and heralded early arrival Robert Griffin are involved in a tight battle to master Briles' high-powered attack. The new coach is hopeful that two of the quarterbacks will separate themselves by the end of spring practice, although he is careful to say the competition is close after the first weeks of spring practice.
All of the quarterbacks bring different strengths to the team. Szymanski has the most maturity after his starting experience. Freeman has shown flashes of the form that helped make him one of the nation's top recruits before his struggles at Miami over the past two seasons. And Griffin has showed an early explosiveness that would be ideal in Briles' balanced offensive attack.
Szymanski passed for 2,844 yards last season, notching 264 completions and 22 touchdowns passes. All of those figures were school records, as were his three 400-yard passing games and his six touchdown passes against Rice.
"Blake is very diligent in his approach," Briles said. "He's intelligent, even-tempered and is a great competitor. He's also a guy who's pretty hard on himself, and I respect that. He will stand up and be accountable for what happened."
Freeman struggled at Miami, where he heard boos at the Orange Bowl after completing only 18 of 58 passes with six interceptions in 2007.
"Kirby has come in with an opportunity to prove himself again," Briles said. "It's a second chance, and he's taken full advantage of it. What he has to do is just cut loose and go out and play. He's got some bad memories of the past and he needs to understand that's just what they are -- bad memories. He'll only be judged on what he does here."
Griffin was the prime recruit in Briles' first recruiting class, signing with the Bears after a strong career at Copperas Cove High School, a town about 70 miles away from Waco. He originally committed to Houston when Briles still was coaching there, but followed the coach to his new program.
"Robert brings a lot of dynamic qualities to our team," Briles said. "He's very intelligent, very gifted and a very intriguing prospect. He can do things in our system that are very appealing to me. We want a guy who can make a bad play good, and he's definitely one of those kinds of players."
Former backup quarterback John David Weed already has moved to tight end. Briles said that one of the other players could move to another position if it would help the team.
"We've seen some flashes, but with the limited reps we've had, it's been hard to differentiate so far," Briles said. "We're not trying to rush through the decision. All of them are grasping the offense and competing hard. I don't view this as a make-or-break decision at all."
Bull Market
Maybe Colorado coach Dan Hawkins has visions of bullish fullbacks like Pete Johnson or Jerome Bettis. Stocky 280-pound guard Kai Maiava, who made several freshman All-America teams last season, is moving to a hybrid fullback-tight end position.
Maiava's squat build appears to make him a prototypical lead blocker from the backfield for the Buffaloes. The position change will require him to lose some more weight; he hopes to play in the fall at 270.
"At first I was kind of hesitant because all I've ever learned in football is how to play O-line," Maiava told the Boulder Daily Camera. "Now I'm just kind of excited. Maybe I'll get the ball once or twice a year and maybe score a TD for the O-line.
"It's going to be a whole new world to me, but I'm liking it more and more, the more I learn."
Maiava is the nephew of former wrestler and current actor Dwayne "The Rock" Johnson.
Class Action
Oklahoma State has attacked the problem of players skipping classes with an innovative way to keep check on them.
Oklahoma State coach Mike Gundy said the school is paying students $7 per hour to monitor attendance of Cowboys players in their classes.
"Back in the day we used to miss class all the time because they couldn't check us -- they didn't have the man power," Gundy said.
Oklahoma State officials used to hire administrative interns to check classes, but players started noticing them. Under the new plan, the players don't know who is checking on them.
"We know everything these guys do. They can't get away with it," Gundy said. "Some girl with Coke-bottle glasses sitting next to them in class might be the one who is checking up on them."
Tim Griffin covers college sports for ESPN.com. You can contact him at espntimgriff@yahoo.com.
Name That Tune
At Nebraska, every word a coach says to the media is parsed, scrutinized and analyzed. That's why Bo Pelini's recent pronouncements have been so intriguing.

In Pelini's last two press conferences with Nebraska reporters, he has not mentioned a specific player on his roster by name.
Some of it is still a learning process. But Pelini also seems determined to stress group specifics over those of individuals before his first spring practice on March 26.
"Honestly, there's not [been] enough time yet. I can't really speak educatedly on these guys yet," Pelini told reporters. "It's an overall deal and a team thing. I guess that's just my belief and philosophy."
Goin' South
Colorado's coaching staff already has started preparing for its Sept. 18 nationally televised game with West Virginia by sending assistant coaches to South Florida to meet with defensive coordinator Wally Burnham.

The Mountaineers went 22-4 over the last two seasons, but two of the losses came against South Florida. While WVU averaged 41.2 points and 311.5 rushing yards per game from 2006-07, the Bulls limited the Mountaineers to an average of 16 points a game and 160 rushing yards.
Opportunity Knocks
Perhaps the most notable sign of Kansas' emerging recruiting prowess in Texas can be seen with the arrival of wide receiver Rod Harris Jr. from Blinn College, a junior college. Harris, the son of former Texas A&M wide receiver Rod Harris and nephew of former A&M running back Darren Lewis, chose the Jayhawks over A&M, San Diego State, Utah and Virginia.

Harris played last season for Blinn coach Brad Franchione, the son of former A&M coach Dennis Franchione. While there, Harris produced 23 catches for 317 yards and two touchdowns.
"In the past, Kansas wasn't really a school that I paid much attention to, because I grew up watching the bigger schools in the Big 12 like Texas A&M, Texas and Texas Tech," Harris said. "But watching how Kansas improved over this short time span is amazing. And to be a part of a growing [program] is a once-in-a-lifetime opportunity. A chance like this doesn't come around too often."
Dallas Or Bust

Texas A&M's announcement of an annual game at the Dallas Cowboys' new stadium in Arlington should be a boon to recruiting in the talent rich Dallas-Fort Worth area.
The Aggies have lagged behind Texas in recent years in the area and have even seen Texas Tech, Oklahoma and Oklahoma State snatch key players from the area at their expense.
The Cowboys also will be interested in attracting more college games to their new facility. They have already secured the Cotton Bowl beginning in 2010. The next steps on their hit list include the Texas-Oklahoma game (contracted at Fair Park in the Cotton Bowl through 2015) and a potential national championship game if the Bowl Championship Series ever expands.
Manhattan Project

The turnover on Kansas State coach Ron Prince's staff has continued again this spring with the addition of three new assistants.
Former San Francisco 49ers special teams coach Jeff Rodgers was hired for a similar position on Prince's staff. Former Baylor assistant coach Cornell Jackson will instruct KSU's linebackers, and former Elon offensive coordinator Warren Ruggiero will take over as KSU's QB coach.
Prince has hired seven new assistants and a new strength coach in his two-plus seasons at K-State.
Sooner Snaps

Oklahoma is experimenting with a no-huddle offense as it tries to establish a faster tempo at the line of scrimmage.
Coach Bob Stoops' plans apparently have worked well so far; returning starting QB Sam Bradford has been thriving with the change.