Raging Bulls
TAMPA, Fla. -- Nearly three months after watching South Florida lose to Oregon 56-21 in the Sun Bowl, Bulls coach Jim Leavitt still can't get the bad taste out of his mouth.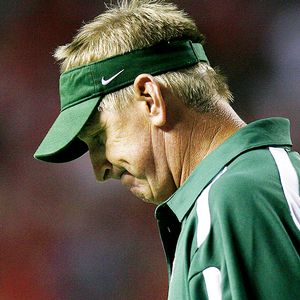 Jeff Zelevansky/Getty Images
A bad bowl performance left Jim Leavitt and the Bulls hungry to start preparing for 2008.
"There isn't a day that goes by that I don't think about it," Leavitt said.
Especially now, as the Bulls begin to replace many of their departed defensive stars in spring practice. Leavitt never saw the Ducks' offensive explosion coming, especially since a season-ending knee injury kept Oregon Heisman Trophy candidate Dennis Dixon out of the bowl. Ducks quarterback Justin Roper tied a Sun Bowl record with four touchdown passes in his first career start. Tailback Jonathan Stewart ran for a Sun Bowl-record 253 yards, and Oregon scored 28 points in the third quarter.
"Looking back, we certainly would have done some things differently," Leavitt said. "We were a little bit surprised by some of the things they did. They outcoached us and outplayed us. You don't like to admit that it happened, but it did. You never like to admit that as a coach."
Leavitt seems determined to make sure it never happens again. The Sun Bowl loss was a blemish on South Florida's otherwise breakthrough season in 2007, in which the Bulls finished 9-4, including upset wins over Auburn and West Virginia.
"It motivates me," Leavitt said. "If it motivates me, it's going be harder on the players. After that game, I told them I didn't hold any of them accountable. I held myself accountable."
But there were plenty of Bull's-eyes to go around.
"My job is to get our kids to play hard," defensive coordinator Wally Burnham said. "We didn't play hard. That's the only game last year in which we didn't compete. I don't care who we play -- if you don't compete, you're going to give up 56 points."
Burnham has his hands full this spring. The Bulls must replace All-Big East middle linebacker Ben Moffitt and cornerbacks Mike Jenkins and Trae Williams, each of whom is expected to be a first-day choice in the NFL draft. Defensive tackles Richard Clebert and Allen Cray also must be replaced.
"We lost the middle of our defense and the two guys out on the perimeter," Burnham said. "Naturally, we're not going to be as good at cornerback, not taking anything away from the guys replacing them. But it's hard to replace guys like Jenkins and Williams, and the guy in the middle is so important."
The Bulls have a couple of options in replacing Moffitt, who had 104 tackles, 12 tackles for loss and four interceptions in 2007. Sophomore Alonzo McQueen started spring practice at middle linebacker, but he's being pushed by juco transfer Kion Wilson. Leavitt said senior Tyrone McKenzie, who played strongside linebacker last season, also will get a look in the middle.
McKenzie, from Riverview, Fla., started his college career at Michigan State in 2004, then transferred to Iowa State the next year. After sitting out the 2005 season under NCAA transfer rules, McKenzie led the Cyclones with 129 tackles in 2006. He transferred to South Florida the next spring, after his mother was hurt in a car accident.
Even though McKenzie was granted a waiver by the NCAA to play for the Bulls immediately, Leavitt didn't give McKenzie a scholarship when he arrived on campus.
"The kid transferred twice," Leavitt said. "I was a little concerned. I didn't know what kind of kid he was."
It didn't take McKenzie long to make an impression. Leavitt put him on scholarship by the end of spring practice last year. McKenzie led the Bulls with 121 tackles last season.
"I got him a scholarship as soon as I could," Leavitt said. "I worked a lot harder to get him one when I saw what he could do."
Burnham is counting on McKenzie to fill Moffitt's leadership role this coming season. At least McKenzie is already thinking like his coaches.
"The Sun Bowl was a huge shock," McKenzie said. "I thought it was a disgrace for South Florida. That's not the type of defense we play. We didn't forget about it. It's in the back of our minds. It makes us hungrier."
Shaping Up
Who said Syracuse isn't tired of losing?
Shortly after Mitch Browning was hired as the Orange's fourth offensive coordinator in five seasons, he delivered this edict to the team's offensive linemen: Lose weight or don't play.
The Orange allowed a whopping 4½ sacks per game in 2007, which was second worst among Division I-A teams (only Notre Dame surrendered more). As a result, Syracuse ranked near the bottom in almost every offensive statistical category during its 2-10 season. The Orange ranked 118th in rushing (62.8 yards per game), 114th in total offense (291.9 yards per game) and 116th in scoring (16.4 points per game).
A big part of the Orange's problem, Browning said, was their offensive linemen were too big and too slow.
"Let's face it, the better condition and better shape you get yourself in, the harder you're going to play," said Browning, who didn't coach during the 2007 season, after spending more than two decades working on Glen Mason's staffs at Kent State, Kansas and Minnesota. "Like Vince Lombardi said, 'Fatigue makes cowards out of all of us.'"
The offensive line nearly made quarterback Andrew Robinson a corpse last season. Robinson was among the country's most-improved passers in 2007, throwing for 2,192 yards with 13 touchdowns and seven interceptions. But he had little time to throw; Syracuse's 54 sacks allowed set a school record.
"I think a lot of times, it was just mental mistakes or being physically overmatched," guard Ryan Durand said. "There are a lot of good pass-rushers in the Big East. Honestly, we just didn't get the job done."
Durand, a senior from Leominster, Mass., said he lost about 10 pounds during the offseason. Left tackle Tucker Baumbach and guard Adam Rosner lost about 25 pounds each. Tackle Jonathan Meldrum also lost about 20 pounds.
"Some of the guys needed a little more help," Durand said. "We'd get on their butts a little bit. We'd tell them to work a little harder. We wanted them to know it was going to be for the best."
It can't get any worse.
Mark Schlabach covers college football and men's college basketball for ESPN.com. You can contact him at schlabachma@yahoo.com.
Neer-ly Happened
Spring break couldn't have come at a better time for West Virginia.
The Mountaineers are getting this week off, and won't return to spring practice until March 31.

The long break should give senior quarterback
Pat White
enough time to recover from a strained muscle in his back. With White sidelined from practice last week, redshirt freshmen
Charlie Russell
and
Bradley Starks
took snaps with the first-team offense.
Top backup Jarrett Brown is playing on West Virginia's basketball team, which advanced to the Sweet 16 of the NCAA tournament.
Oddly enough, White nearly missed spring practice to play on the school's baseball team. New coach Bill Stewart said he encouraged White to play baseball this spring. White was a fourth-round draft choice of the Anaheim Angels in the 2004 amateur baseball draft.
"I want to see Pat White out there in pinstripes, and I'm not talking about Yankee pinstripes," Stewart said, before the Mountaineers started spring football practice.
Mountaineers kicker Pat McAfee joined the school's soccer team this spring, but quit after training for the sport for two months. McAfee felt he could enhance his chances in the NFL draft by concentrating on football this spring.
Name That Coach

Rutgers coach Greg Schiano might have handed out name tags to his coaching staff when spring practice began on March 11. The Scarlet Knights have five new assistants after finishing 8-5 in 2007.
The staff shake-up came after special-teams coach Darren Rizzi was named head coach at Division I-AA Rhode Island. Running backs coach Craig Ver Steeg took a job with the Baltimore Ravens, and defensive line coach Cary Godette and receivers coach Robert Jackson retired. Secondary coach Chris Demarest also resigned. Demarest recently underwent anger management counseling and criminal charges were dropped from a July 2007 arrest for assault.
Schiano hired former Penn State and NFL tailback Gary Brown (running backs), Delaware offensive coordinator Kirk Ciarrocca (wide receivers), San Jose assistant Gary Emanuel (defensive line), Colgate defensive coordinator Ed Pinkham (secondary) and former Ole Miss assistant Chris Rippon (special teams).
"There are many changes, which is going to present additional challenges, but ones that I am looking forward to," Schiano said. "I think we have an opportunity with some fresh ideas and fresh faces to move ahead."
Clause And Effect

Ohio State exercised a clause in its series contract with Cincinnati, which enabled the Buckeyes to move the schools' scheduled game in 2012 from Paul Brown Stadium in Cincinnati to Ohio Stadium in Columbus. Ohio State paid Cincinnati $1 million to move the game. The teams play at Ohio State again in 2014.
Cincinnati officials plan to use the money to build a practice bubble and new practice fields, perks that were promised in Bearcats coach Brian Kelly's extended contract with the school. In fact, the Cincinnati Enquirer reported Kelly's new contract pays him $1.2 million per season -- more than four times what athletic director Michael Thomas earns ($290,000 per year) and more than twice as much as university president Nancy Zimpher's annual compensation ($410,577).
Ohio State has played in Cincinnati only once since 1911, but Kelly said he still hopes to eventually play the Buckeyes every season.
Extra Points

• Connecticut lost three receivers to injuries during the first week of spring practice:
D.J. Hernandez
(ankle),
Ellis Gaulden
(foot) and
Brad Kanuch
(quadriceps). Hernandez and Gaulden are expected to be sidelined for most of the spring.

• Pittsburgh quarterback
Pat Bostick
, who played in 10 games as a freshman in 2007, lost about 18 pounds during the offseason. The starting job is Bostick's to lose when the Panthers open spring practice, but he'll be challenged by
Bill Stull
and juco transfer Greg Cross. Stull injured his thumb in the first game last season, and coach Dave Wannstedt wants to find multiple ways to use Cross, who is a running threat.

• A few heralded Big East running backs are being held out of spring practice while they recover from injuries. Syracuse running backs
Delone Carter
(dislocated hip) and
Curtis Brinkley
(broken leg) are being held out of contact. Rutgers'
Kordell Young
, who is in line to replace star Ray Rice, is sidelined after having knee surgery.