Pitt QB Race Heats Up
After lackluster results in each of his first three seasons as coach of his alma mater, Pittsburgh, Dave Wannstedt seemingly has nearly everything in place to take a big step forward in his fourth season.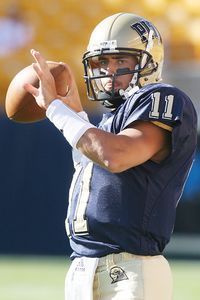 Charles LeClaire/Getty Images
Bill Stull has the inside track to Pitt's starting QB job.
The only thing missing? A steady quarterback to take the pressure off dynamic running back LeSean McCoy, who ran for 1,328 yards and had the highest rushing average per game of any freshman in the country in 2007.
"To me, the key for our season is to get good quarterback play," Wannstedt said. "It doesn't have to be great quarterback play, but it has to be better."
The Panthers have a three-way battle for the starting quarterback job during spring practice. Entering Saturday's spring game at Heinz Field, Wannstedt said junior Bill Stull has the upper hand over sophomore Pat Bostick and juco transfer Greg Cross.
Stull opened the 2007 season as the Panthers' starter, but he injured his thumb in the opener against Eastern Michigan. He underwent surgery and missed the rest of the season. In his place, Bostick threw for 1,500 yards with eight touchdowns and 13 interceptions as a freshman.
"The question with Billy Stull was could he come back full speed after his thumb injury?" Wannstedt said. "He has proven that he can. With the year off and all the lifting he did in the weight room, his arm looks a little stronger to me. Right now, he is probably the most advanced of the group."
Stull, a homegrown product of Pittsburgh, said his thumb injury might have been a blessing in disguise. Stull said he gained about 10 pounds and now weighs 212. "It's definitely one thing I noticed when I was able to start throwing," Stull said. "My arm strength is better."
Bostick, who last season became the first true freshman quarterback since 1987 to play significant time for the Panthers, also reported to spring camp with a stronger arm. Bostick lost nearly 20 pounds during the offseason and has better mobility, too. "If you were here last season and walked by him right now, you might not even recognize him," Wannstedt said. "It's remarkable what he's done. He's worked extremely hard, and he's having a good spring. Last year, we tried to keep it as simple as we could knowing Pat was in there as a freshman. Pat's a very competitive kid, and he knows that he's got to get a lot better."
Cross, who enrolled at Pittsburgh in January, was among the country's top juco prospects after throwing for 2,127 yards with 17 touchdowns at Fort Scott (Kan.) Community College. Cross is more of a running threat than Stull and Bostick. Fort Scott had lost its previous 24 games before Cross arrived from Glynn Academy in Brunswick, Ga. He had a 16-8 record in two seasons as a starter.
In the Panthers' most recent spring scrimmage, Cross ran five times for 14 yards and one touchdown and threw for 50 yards and one score on 3-for-6 passing.
"Greg Cross is the furthest behind in terms of knowing the offense, which is expected," Wannstedt said. "But at the same time, we don't expect him to come in and know the entire offense. He's the best athlete of the group. It will probably be a situation where we give him some limited things and see where he fits."
Still, it appears to be Stull's job to lose. "He's tough as far as reading the defense and hitting the targets," McCoy said. "It's going to help out the running game tremendously. It was tough last year because there were so many guys in the box. Everybody knew we were going to run the ball."
Fast vs. Faster
West Virginia tailback
Noel Devine
, one of college football's most fleet-footed players, didn't have to see Florida freshman
Chris Rainey
run for 75 yards and catch a 65-yard touchdown pass in the Gators' spring game to know Rainey was fast. When Devine was still attending North Fort Myers High School in Florida, he participated in a flag football tournament in Rainey's hometown of Lakeland, Fla. Some of Rainey's friends obtained Devine's cell phone number and challenged him to race Rainey in a parking lot near Devine's hotel. Rainey won the race. "I didn't have my shoes on," Devine said. "He got a good head start on me, but I was catching him at the end." Devine, who will become the Mountaineers' primary runner this coming season, already has proved that he's fast on the football field. Last season, he ran for 627 yards and six touchdowns, averaging 8.6 yards per carry. "This isn't track," Devine said. "This is football." Rainey ran the 40-yard dash in 4.24 seconds during a competition against a few Florida students on Saturday. It was the fastest time by a Gator during coach Urban Meyer's tenure. Rainey figures to start at either running back or wide receiver this season. Devine said he's ready for a rematch whenever Rainey is willing to run against him again. "If that's what he wants, I'll show him that was then and this is now," Devine said.
Mark Schlabach covers college football and men's college basketball for ESPN.com. You can contact him at schlabachma@yahoo.com.
Houser Wows
Wannstedt called juco transfer Robb Houser one of the biggest surprises of spring camp. Houser, from Butte College in California, is working as the No. 1 center and figures to replace departed Chris Vangas, who started every game last season.

"He's been a very pleasant surprise," Wannstedt said. "We knew he had good strength and good quickness, but making the transition from junior college, you don't know how it's going to unfold. He's the starter, and he's doing a good job." • Junior John Malecki, who played all 12 games at nose tackle in each of the past two seasons, is working as the No. 1 right guard. Joe Thomas has moved from right guard to right tackle. Left tackle Jason Pinkston (shoulder) and left guard C.J. Davis (hamstring) are being held out of spring drills.
Passing Fancy

Look for a lot of new wrinkles in West Virginia's offense. Mountaineers coach Bill Stewart said new offensive coordinator Jeff Mullen, who spent the last six seasons at Wake Forest, has installed the orbit motion and fly motion the Demon Deacons use so well. "We're going to do the same things we've done, but we're just going to window-dress it a lot more," Stewart said. Stewart said the Mountaineers are going to throw the football more often, too. West Virginia ranked No. 114 in Division I-A passing, averaging only 159 yards per game last season. "We're not BYU of the old days, but we're going to have to be more balanced," Stewart said. "You don't want to wait until game day, and they put nine guys in the box."
Bullish Defense

South Florida's defense dominated the offense in last Saturday's spring game, which ended in a 6-3 score. Defenders weren't allowed to hit quarterbacks, but returning starter
Matt Grothe
was still sacked six times. Senior defensive end Jarriett Buie had four sacks, and George Selvie and Patrick Hampton added three each. • The Bulls have moved senior Tyrone McKenzie to middle linebacker to replace departed star Ben Moffitt. Junior Chris Robinson will replace McKenzie on the strong side, and senior Brouce Mompremier will start on the weak side.
Extra Points

• Connecticut quarterback
Tyler Lorenzen
might miss Saturday's spring game because of a sprained right ankle. If he can't go, Notre Dame transfer
Zach Frazer
and redshirt freshman
Cody Endres
will take most of the snaps at quarterback. • Huskies coach Randy Edsall confirmed to reporters that cornerback Darius Butler will play some offense this coming season, a situation that could include as many as 15 plays at wide receiver per game.

• Freshman
Chazz Anderson
is a surprising contender for Cincinnati's starting quarterback job. Anderson is battling senior
Dustin Grutza
, a two-year starter before Ben Mauk transferred from Wake Forest, and junior
Tony Pike
for the No. 1 job.

• Syracuse lost another tailback after prized recruit Averin Collier broke a bone in his left foot. The Orange are already without
Delone Carter
(dislocated hip) and
Curtis Brinkley
(broken leg), who are recovering from injuries suffered last season.