Need for Speed
Connecticut coach Randy Edsall doesn't consider last season's 66-21 loss to West Virginia a wake-up call.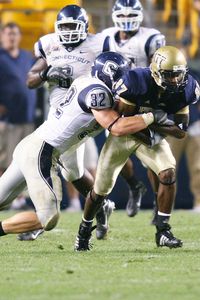 Charles LeClaire/Getty Images
UConn's Scott Lutrus will move to middle linebacker this season.
Edsall had been trying to upgrade the Huskies' defensive speed long before
Pat White
,
Steve Slaton
,
Noel Devine
and Co. racked up 624 yards (517 rushing) against them. If anything, the game reinforced what was painfully obvious: The Big East had become a literal footrace, and Connecticut needed to catch up.
"That's what D1 is coming down to," Huskies linebacker Scott Lutrus said. "It's not about strength and size any more. It's pretty much coming down to speed and the quick offenses we face, such as West Virginia."
Lutrus was at the center of Edsall's speed plan during the offseason. After earning freshman All-America honors at outside linebacker last fall, Lutrus was moved to middle linebacker, a spot vacated by Danny Lansanah, a first-team All-Big East selection.
With 4.5 speed and a 38-inch vertical leap, Lutrus fit the desired mold on defense. Edsall also plucked Dahna Deleston from a crowded group of safeties and moved him into Lutrus' old position. Connecticut often lines up its safeties in the box, so Deleston's transition went smoothly.
"Dahna loved the move," Edsall said. "Scott was a little hesitant at first, but I tried to explain to him the advantages of it. You don't find too many 4.5 40 guys at middle linebacker who have the explosion that he has."
Lutrus had settled in at strongside linebacker and was initially concerned about handling the mental demands of middle linebacker as well as filling Lansanah's shoes. But in spring ball he got used to making multiple pre-snap reads and serving as the leader on defense.
The bad memories from the West Virginia game also helped convince Lutrus that the move was necessary.
"It's probably the fastest team that we might ever face, definitely in our conference," said Lutrus, who recorded 107 tackles and four interceptions last season. "Everyone's got great speed. You run at an angle and they're already by you. Especially after that game, we realized you need to contain people and need to contain speed, and the only way you can do that is with speed."
The Huskies stressed speed development more this offseason than they had in the past, and players worked to build their endurance. Edsall and his staff were less concerned about sprint times and focused more on how players ran in pads.
Much of the progress in spring practice came on the defensive line, which returns starting ends Julius Williams and Cody Brown and starting tackle Rob Lunn. Reserve ends Lindsey Witten and Mike Cox also return.
"I don't know any place I've ever been where we've had that kind of speed and athleticism with the defensive ends," Edsall said. "In our top seven [linemen], we'll be a faster team than we were a year ago."
Taking Flight
A weeklong suspension and a depth-chart demotion left Cincinnati senior defensive tackle Terrill Byrd feeling like a freshman again this spring.
Fortunately for the Bearcats, he didn't perform like one.
Byrd sat out the first week of spring drills after receiving a citation March 5 for smoking marijuana. When the All-American returned to practice, he was placed with the second-team defense.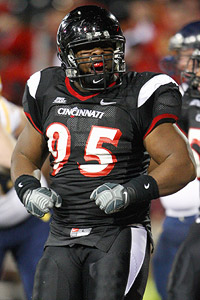 Andy Lyons/Getty Images
Cincinnati expects a lot from DT Terrill Byrd this season.
By the end of spring ball, Byrd was back where he belonged.
"As I continue to whip him with one hand, I also have to say, 'Hey, look, this young man is making a lot of progress,'" Cincinnati coach Brian Kelly said. "I have to be fair with him, too. Although he did start on the second team, he's earned his way back to a starting position."
Byrd, who will miss the season opener against Eastern Kentucky, didn't need much time to showcase the form that produced a team-high 17 tackles for loss last season. Though he wasn't worried about his playing status after the off-field transgression, he described the spring as "another breath, a second chance to do it all over again."
"I've made mistakes, everybody makes mistakes," Byrd said. "I'm just being positive about it. Coach did what he had to do. I respect what he did as far as moving me to second team.
"It's a challenge, and I like challenges."
One of his biggest challenges involved weight loss. Byrd was 300 pounds when he arrived at Cincinnati and, according to Kelly, couldn't make it through 72 plays in a game before the 2007 season.
But he slimmed down to 275 and has worked heavily with strength and conditioning coach Paul Longo.
"[Longo] was able to build up my work volume and build up my stamina," Byrd said, "to be able to go longer, play more plays on the field."
The Bearcats need as much as they can get from Byrd this fall after losing standout defensive ends Anthony Hoke (team-high 13 sacks, 16.5 TFLs) and Angelo Craig (11 quarterback hurries, 8 TFLs).
"The bar is raised so high on Terrill Byrd," Kelly said. "His work on the field has been outstanding. He's a special talent, an All-Big East player for a reason."
Off and Running
If the spring game is any indication, Louisville's pass-happy days are coming to an end.
Aiming to achieve greater offensive balance, the Cardinals had nine more rushes than passes and nearly achieved perfect symmetry in yards (201 rushing, 200 passing) in the Red-White game. Though Hunter Cantwell continued to affirm himself as the starting quarterback, completing 11 of 18 passes for 103 yards and a touchdown, three running backs eclipsed 60 rushing yards.
Brock Bolen led the way with 76 yards on 13 carries, and Bilal Powell averaged 8.6 yards per rush. Vic Anderson added 62 yards on nine carries, and none of the running backs were stopped behind the line of scrimmage.
The Cardinals had 73 pass attempts and only 36 rushes in last year's spring game.
"Our backs ran the ball hard," coach Steve Kragthorpe said. "[Anderson, Powell and Bolen] are pretty hard guys to tackle."
Adam Rittenberg covers college football for ESPN.com. He can be reached at espnritt@gmail.com
Stacking the Schedule

Connecticut coach Randy Edsall felt a mixture of elation and relief when the school and state legislators signed off on scheduling a series with Notre Dame. Lawmakers had opposed the Huskies playing "home" games against Notre Dame in out-of-state stadiums rather than at the state-funded Rentschler Field, but they agreed to go forward with two contracts that feature seven games between 2009 and 2017.
"I never thought it was going to be such a big deal to do that," Edsall said.
Edsall thinks the hassle of getting to the games will be much less severe. Though Connecticut wanted to host the games at Rentschler, matchups with the Irish at Gillette Stadium in Foxborough, Mass., and a to-be-built stadium in New York or northern New Jersey have advantages.
"The easternmost portion of our state, the boundary to Gillette Stadium is probably 30 minutes," Edsall said. "And if you go to New York, take the southernmost boundary, which is Fairfield County, and that might be within an hour.
"We expand our brand and expand our program and reach out to a few more people."
Now that Notre Dame is all but finalized, Edsall would like to schedule games with Boston College, which he called a "natural rival," as well as Army and Penn State.
Passing Fancy

The next time Cincinnati's soccer team needs a new goalkeeper, Connor Barwin might get a call.
Barwin has built a reputation on campus for filling in wherever needed. When the depleted Bearcats basketball team needed bodies after a tumultuous coaching transition, Barwin suited up.
He was called upon again this spring to fill a hole at defensive end and moved across the line of scrimmage from tight end, where he had been competing for a starting job. The athletic Barwin has made a smooth transition to defense and likely will enter the fall as a starter.
"Connor Barwin brings us great energy," coach Brian Kelly said. "One of the most important things for us is to establish a pass rush with just four down, not having to bring pressure."
Extra Points

• Running back
Jason Gwaltney
is hoping to rejoin West Virginia as a walk-on after resolving his legal issues and trying to restore his academic standing.
Gwaltney's attorney, Bob Martin, told the Charleston Gazette that Gwaltney pleaded no contest April 21 to a minor charge relating to an arrest for speeding and underage drinking. Martin said Gwaltney will attend an underage drinking class and is studying at a community college to gain the credits needed for readmission to West Virginia.
A decorated prep recruit, Gwaltney left school in 2005 and was briefly reinstated in 2006 before being dismissed.
"If he can get his eligibility back, after all he's put into it, everybody deserves a second chance," Mountaineers coach Bill Stewart told the newspaper. "Jason or anybody else in our program will have to follow all of our guidelines as far as going to class and being accountable. If he does all of that, certainly we'd welcome him."

•
Bill Stull
emerged from the spring as Pitt's top quarterback, but he will continue to be pushed by dynamic junior college transfer
Greg Cross
as well as
Pat Bostick
and
Kevan Smith
.
All four quarterbacks fared well in the spring game, combining to complete 25 of 40 passes for 251 yards with a touchdown and no interceptions. Stull led the offense on a 65-yard touchdown march on the game's first possession, while Cross dazzled fans with a 36-yard pass to Maurice Williams and a 29-yard scamper on third-and-20.

• Syracuse's spring game didn't do much to alleviate concerns about a rushing attack that ranked next to last nationally in 2007. With the scrimmage limited to 37 plays because of injuries, the Orange mustered just 56 rushing yards on 23 carries. Though the offensive line struggled in the game, players and coaches pointed to signs of progress throughout the spring.
"[We've] gassed the defense on numerous occasions running the ball, up the gut of the defense, making good adjustments on their defense," quarterback Andrew Robinson told the Syracuse Post-Standard.
"You might not have seen it today, but I've been seeing it for the past 14 practices all spring, us running the ball well."

• Rutgers landed one of the most decorated recruits in program history when quarterback
Tom Savage
verbally committed to the school April 18.
A high school junior, Savage will arrive next fall and immediately will compete to succeed Mike Teel, who enters his final season as the starter. Savage selected Rutgers over Georgia, Miami, Penn State and Louisville.
Scarlet Knights coach Greg Schiano announced that defensive tackle Vantrise Studivant will transfer from the school. Wide receiver Keith Taylor and tight end Jeff Minemyer both have decided to end their careers because of injuries.

• Louisville gained approval from the state of Kentucky to go forward with its $72 million expansion of Papa John's Cardinal Stadium. The expansion, scheduled to be finished by the 2010 season, increases the stadium capacity to more than 60,000.