Warhawks go for it, and the rest is history
By Mark Schlabach
ESPN.com
Kevin Kelley, the football coach at Pulaski Academy in Little Rock, Ark., wants to make one thing clear: He's an Arkansas Razorbacks fan.
But Kelley, who has never seen a punt he likes and almost always goes for broke on fourth down, might have been the inspiration behind Louisiana-Monroe's epic 34-31 overtime upset of the then-No. 8 Razorbacks at War Memorial Stadium in Little Rock on Saturday night.
Louisiana-Monroe, which hasn't had a winning season since 1993 (its last year as an FCS program) and has never played in a bowl game, erased a 21-point deficit by scoring a tying touchdown on fourth down in regulation and then the winning touchdown in overtime on fourth-and-1 from the Hogs' 16-yard line.
[+] Enlarge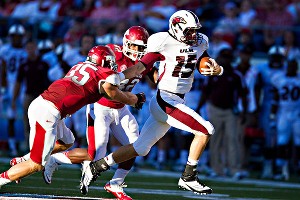 Wesley Hitt/Getty ImagesKolton Browning passed for 412 yards and rushed for the game-winning touchdown in the Warhawks' 34-31 win over Arkansas.
In a season in which Arkansas hoped to finally close the gap on Alabama and LSU in the SEC West, the stunning loss to the Warhawks derailed its once-promising season. The Hogs fell from No. 8 to unranked in the Associated Press Top 25 poll Sunday, the second-largest drop in the poll's history. No. 5 Michigan fell out of the poll after losing to FCS opponent Appalachian State 34-32 in its 2007 opener.
It was the biggest fall in Arkansas since former Hogs coach Bobby Petrino ditched his Harley-Davidson this summer.
Worse for the Razorbacks: They play the No. 1 Crimson Tide at home Saturday and quarterback Tyler Wilson might not be available after he was knocked out with a head injury in the first half against Louisiana-Monroe.
While Arkansas is picking up the pieces from one of the worst losses in school history, Louisiana-Monroe's improbable upset is further evidence that Kelley might not be as crazy as he seems.
"Don't get me wrong; I'm a Razorbacks fan and wanted them to win," Kelley said. "But in this fraternity of coaches, a loss for somebody is a win for somebody else, and they're good guys. It's a big win for them."
Kelley has gained national attention for his unorthodox coaching methods at Pulaski Academy. He has turned the Bruins into a football powerhouse by eschewing punts and going for it on fourth down more than 99 percent of the time. Since the start of the 2008 season, the Bruins have punted only three times, while converting on fourth down more than 50 percent of the time.
Pulaski Academy is 105-20 over the past 10 seasons and has won three state championships, including an undefeated record in 2011 while, of course, punting only once.
"We don't do things like everybody else," Kelley said. "I came across studies and they said people should go for it a lot more than they do -- but maybe not as much as we do."
A couple of years ago, Kelley befriended Louisiana-Monroe offensive coordinator Steve Farmer, who recruits the Little Rock area. Warhawks coach Todd Berry also made a couple of recruiting visits to Pulaski Academy, most recently in January, and was intrigued by Kelley's unconventional philosophy.
"Everybody knows what we do," Kelley said. "When you come recruiting, you don't ever get to see the kids [because of NCAA rules]. You sit and talk to the coach and we talk about our philosophy."
Kelley also shared his statistical data with Berry. As difficult as it might be to believe, if a college team faces fourth down at its 5-yard line, according to Kelley's research, there actually isn't much more risk in passing up a punt for another offensive play.
According to Kelley's data, college teams are likely to net 30-35 yards on a punt from the end zone, and teams have a 77 percent chance of scoring a touchdown from inside an opponent's 40-yard line. The odds of giving up a touchdown from the 5-yard line are about 92 percent, so Kelley figures there isn't much more risk in going for a first down.
"Even if there's only a 33 percent chance you'll make it, the numbers still say you should go for it," Kelley said. "If you get to the point where you know you're going to go for it no matter what, you don't even get in that situation because it changes the dynamics of the play-calling. We don't have to throw on third-and-6 because we know we still have fourth down."
[+] Enlarge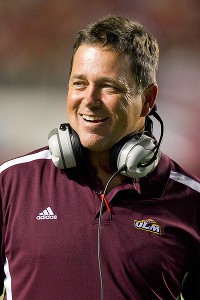 Wesley Hitt/Getty ImagesLouisiana-Monroe head coach Todd Berry has infused some of the fourth-down philosophy of Little Rock high school coach Kevin Kelley.
While Berry hasn't bought into Kelley's philosophy completely -- the Warhawks punted several times on fourth-and-short against the Razorbacks -- his teams have been among the most aggressive in the country in fourth-down attempts.
"I've studied a lot of the statistical data," Berry said. "I went and talked to [Kelley]. Ever since I've been a head coach, we've gone for it on fourth down quite a bit. I think there's a lot of risk and reward to it. It's not a big deal for our players because they're used to it and expect it."
The Warhawks certainly wouldn't have erased a 28-7 deficit in the second half against Arkansas if they hadn't bucked conventional wisdom. The Warhawks went 6-for-7 on fourth down and converted a fourth down on each of their five touchdown drives. In fact, three of their touchdowns came on fourth down and the only time they failed to convert was on fourth-and-1 at the Arkansas 2.
"Whether you're giving them the ball at the 20 or the 40, they're capable of throwing an 80-yard touchdown pass," Berry said. "Arkansas is a great team and has exceptional athletes. I didn't think field position was as critical in this game."
Berry's decision to go for it on fourth-and-10 from the Hogs' 23 near the end of regulation was really a no-brainer. The Warhawks had to score a touchdown or the game was over. Quarterback Kolton Browning threw a 23-yard touchdown pass to Brent Leonard, and the PAT tied the score at 28 with 47 seconds to play.
After Arkansas kicked a field goal to take a 31-28 lead in overtime, the Warhawks faced fourth-and-1 at the Hogs' 16. Berry went for it and put the ball in Browning's hands. Browning scrambled to his left and then back to the right before running into the end zone for the game-winner.
"He had several options on the play," Berry said. "We trust our quarterback. He's pretty fast and most of the time the quarterback is the guy that's not accounted for."
Browning, a junior from Mabank, Texas, threw for 412 yards and three touchdowns on 42-of-67 passing and also ran for 69 yards.
Of course, Berry put him in position to score the biggest touchdown in school history at the end.
"I'm a percentages guy, but a lot of it has to do with guts," Berry said. "We've been doing it for a while, but that one just happened to be on national TV and we won."
On the Mark
You have to wonder if Mother Nature wasn't looking out for Savannah State, the FCS team that lost at Oklahoma State 84-0 in its opener and then 55-0 at No. 6 Florida State on Saturday night.
The Seminoles piled up 413 yards on 44 plays before the game was called with 8:59 to go in the third quarter after two long delays because of thunderstorms. The coaches even agreed to use a running clock in the second half to get the game in (or perhaps to prevent the score from getting really ugly).
The Tigers had only 28 yards of offense on 33 plays and trailed 35-0 at the end of the first half. They collected a total of $860,000 for the pair of beatings.
Off the Mark
Saturday was an awful day for injuries across the country, and none was worse than the frightening scene at H.A. Chapman Stadium in Tulsa, Okla., where Tulane safety Devon Walker broke his neck on the last play of the first half.
Walker, a senior from New Orleans, was injured when he collided with teammate Julius Warmsley while making a tackle. Walker, a former walk-on and a cell and molecular biology major, lay on the field for several minutes before he was transported by ambulance to a local hospital.
Tulane's director of sports medicine Dr. Greg Stewart said Sunday that it's too early to know whether Walker will be paralyzed. He underwent a three-hour surgery Sunday at St. Francis Hospital in Tulsa to stabilize his spine.
On the Mark
[+] Enlarge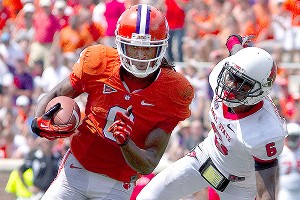 Joshua S. Kelly/US PresswireClemson's passing game hasn't missed a beat in Sammy Watkins' absence. DeAndre Hopkins has 19 catches and 224 yards through two games.
A few teams survived the first two weeks of the season without suspended starters and might end up being better because of it.
No. 7 Georgia rallied for a 41-20 victory at Missouri on Saturday night, handing the Tigers a bitter defeat in their first SEC game. The Bulldogs played the game without four suspended defensive starters: cornerback Sanders Commings, linebacker Chase Vasser, safety Bacarri Rambo and linebacker Alec Ogletree.
Commings and Vasser are expected back for Saturday's game against Florida Atlantic, but coach Mark Richt still hasn't said how long Rambo and Ogletree will be suspended.
No. 12 Clemson's offense hasn't missed a beat without All-America receiver Sammy Watkins, piling up more than 1,000 yards of offense and 78 points in victories over Auburn and Ball State. Without Watkins on the field, receiver DeAndre Hopkins had 19 catches for 224 yards with four touchdowns. The Tigers' high-octane attack figures to be even more potent when Watkins returns in Saturday's game against FCS foe Furman.
And Notre Dame is off to a 2-0 start after starting the season without starting tailback Cierre Wood, who was suspended the first two games for an undisclosed violation. The Irish ran for only 52 yards in Saturday's 20-17 victory over Purdue, after piling up 293 with five touchdowns in a 50-10 victory over Navy in the opener.
Off the Mark
At what point does Pac-12 commissioner Larry Scott start having buyer's remorse about his league's two new members? If only conference expansion offered a two-year, money-back guarantee.
Since joining the Pac-12, Colorado is 3-12 and is coming off an embarrassing 30-28 loss to FCS foe Sacramento State at home Saturday. Utah has been better, but the Utes lost to the Buffaloes 17-14 at the end of last season and then fell to Utah State 27-20 in overtime Friday night.
The ACC also can't be too excited about the early-season results for its two new members, Pittsburgh and Syracuse, which leave the Big East after this season. Pitt is 0-2, including a forgettable 31-17 loss to FCS foe Youngstown State in the opener. The Orange might be the best 0-2 team in the country, after falling to Northwestern 42-41 and No. 2 USC 42-29 on Saturday.
[+] Enlarge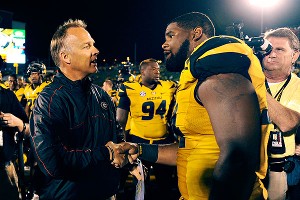 AP Photo/L.G. PattersonMissouri defensive lineman Sheldon Richardson's "old man football" comments did not go down well in Georgia.
On the Mark
Missouri defensive tackle Sheldon Richardson apparently sought out Georgia's Richt after Saturday night's game to apologize for comments he made earlier in the week, in which he described the Bulldogs' style of play as "old man football."
An AP photographer captured Richardson shaking hands with Richt after the game. If Richardson did apologize to Richt, good for him. Now he needs to apologize to his teammates for his ill-timed comments, which seemed to give Georgia a little more motivation.