Warhawks go for it, and the rest is history
By Mark Schlabach
ESPN.com
Kevin Kelley, the football coach at Pulaski Academy in Little Rock, Ark., wants to make one thing clear: He's an Arkansas Razorbacks fan.
But Kelley, who has never seen a punt he likes and almost always goes for broke on fourth down, might have been the inspiration behind Louisiana-Monroe's epic 34-31 overtime upset of the then-No. 8 Razorbacks at War Memorial Stadium in Little Rock on Saturday night.
Louisiana-Monroe, which hasn't had a winning season since 1993 (its last year as an FCS program) and has never played in a bowl game, erased a 21-point deficit by scoring a tying touchdown on fourth down in regulation and then the winning touchdown in overtime on fourth-and-1 from the Hogs' 16-yard line.
[+] Enlarge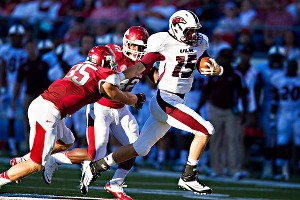 Wesley Hitt/Getty ImagesKolton Browning passed for 412 yards and rushed for the game-winning touchdown in the Warhawks' 34-31 win over Arkansas.
In a season in which Arkansas hoped to finally close the gap on Alabama and LSU in the SEC West, the stunning loss to the Warhawks derailed its once-promising season. The Hogs fell from No. 8 to unranked in the Associated Press Top 25 poll Sunday, the second-largest drop in the poll's history. No. 5 Michigan fell out of the poll after losing to FCS opponent Appalachian State 34-32 in its 2007 opener.
It was the biggest fall in Arkansas since former Hogs coach Bobby Petrino ditched his Harley-Davidson this summer.
Worse for the Razorbacks: They play the No. 1 Crimson Tide at home Saturday and quarterback Tyler Wilson might not be available after he was knocked out with a head injury in the first half against Louisiana-Monroe.
While Arkansas is picking up the pieces from one of the worst losses in school history, Louisiana-Monroe's improbable upset is further evidence that Kelley might not be as crazy as he seems.
"Don't get me wrong; I'm a Razorbacks fan and wanted them to win," Kelley said. "But in this fraternity of coaches, a loss for somebody is a win for somebody else, and they're good guys. It's a big win for them."
Kelley has gained national attention for his unorthodox coaching methods at Pulaski Academy. He has turned the Bruins into a football powerhouse by eschewing punts and going for it on fourth down more than 99 percent of the time. Since the start of the 2008 season, the Bruins have punted only three times, while converting on fourth down more than 50 percent of the time.
Pulaski Academy is 105-20 over the past 10 seasons and has won three state championships, including an undefeated record in 2011 while, of course, punting only once.
"We don't do things like everybody else," Kelley said. "I came across studies and they said people should go for it a lot more than they do -- but maybe not as much as we do."
A couple of years ago, Kelley befriended Louisiana-Monroe offensive coordinator Steve Farmer, who recruits the Little Rock area. Warhawks coach Todd Berry also made a couple of recruiting visits to Pulaski Academy, most recently in January, and was intrigued by Kelley's unconventional philosophy.
"Everybody knows what we do," Kelley said. "When you come recruiting, you don't ever get to see the kids [because of NCAA rules]. You sit and talk to the coach and we talk about our philosophy."
Kelley also shared his statistical data with Berry. As difficult as it might be to believe, if a college team faces fourth down at its 5-yard line, according to Kelley's research, there actually isn't much more risk in passing up a punt for another offensive play.
According to Kelley's data, college teams are likely to net 30-35 yards on a punt from the end zone, and teams have a 77 percent chance of scoring a touchdown from inside an opponent's 40-yard line. The odds of giving up a touchdown from the 5-yard line are about 92 percent, so Kelley figures there isn't much more risk in going for a first down.
"Even if there's only a 33 percent chance you'll make it, the numbers still say you should go for it," Kelley said. "If you get to the point where you know you're going to go for it no matter what, you don't even get in that situation because it changes the dynamics of the play-calling. We don't have to throw on third-and-6 because we know we still have fourth down."
[+] Enlarge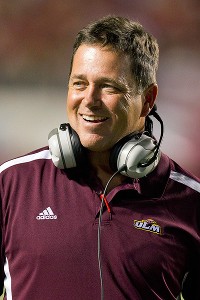 Wesley Hitt/Getty ImagesLouisiana-Monroe head coach Todd Berry has infused some of the fourth-down philosophy of Little Rock high school coach Kevin Kelley.
While Berry hasn't bought into Kelley's philosophy completely -- the Warhawks punted several times on fourth-and-short against the Razorbacks -- his teams have been among the most aggressive in the country in fourth-down attempts.
"I've studied a lot of the statistical data," Berry said. "I went and talked to [Kelley]. Ever since I've been a head coach, we've gone for it on fourth down quite a bit. I think there's a lot of risk and reward to it. It's not a big deal for our players because they're used to it and expect it."
The Warhawks certainly wouldn't have erased a 28-7 deficit in the second half against Arkansas if they hadn't bucked conventional wisdom. The Warhawks went 6-for-7 on fourth down and converted a fourth down on each of their five touchdown drives. In fact, three of their touchdowns came on fourth down and the only time they failed to convert was on fourth-and-1 at the Arkansas 2.
"Whether you're giving them the ball at the 20 or the 40, they're capable of throwing an 80-yard touchdown pass," Berry said. "Arkansas is a great team and has exceptional athletes. I didn't think field position was as critical in this game."
Berry's decision to go for it on fourth-and-10 from the Hogs' 23 near the end of regulation was really a no-brainer. The Warhawks had to score a touchdown or the game was over. Quarterback Kolton Browning threw a 23-yard touchdown pass to Brent Leonard, and the PAT tied the score at 28 with 47 seconds to play.
After Arkansas kicked a field goal to take a 31-28 lead in overtime, the Warhawks faced fourth-and-1 at the Hogs' 16. Berry went for it and put the ball in Browning's hands. Browning scrambled to his left and then back to the right before running into the end zone for the game-winner.
"He had several options on the play," Berry said. "We trust our quarterback. He's pretty fast and most of the time the quarterback is the guy that's not accounted for."
Browning, a junior from Mabank, Texas, threw for 412 yards and three touchdowns on 42-of-67 passing and also ran for 69 yards.
Of course, Berry put him in position to score the biggest touchdown in school history at the end.
"I'm a percentages guy, but a lot of it has to do with guts," Berry said. "We've been doing it for a while, but that one just happened to be on national TV and we won."
On the Mark
You have to wonder if Mother Nature wasn't looking out for Savannah State, the FCS team that lost at Oklahoma State 84-0 in its opener and then 55-0 at No. 6 Florida State on Saturday night.
The Seminoles piled up 413 yards on 44 plays before the game was called with 8:59 to go in the third quarter after two long delays because of thunderstorms. The coaches even agreed to use a running clock in the second half to get the game in (or perhaps to prevent the score from getting really ugly).
The Tigers had only 28 yards of offense on 33 plays and trailed 35-0 at the end of the first half. They collected a total of $860,000 for the pair of beatings.
Off the Mark
Saturday was an awful day for injuries across the country, and none was worse than the frightening scene at H.A. Chapman Stadium in Tulsa, Okla., where Tulane safety Devon Walker broke his neck on the last play of the first half.
Walker, a senior from New Orleans, was injured when he collided with teammate Julius Warmsley while making a tackle. Walker, a former walk-on and a cell and molecular biology major, lay on the field for several minutes before he was transported by ambulance to a local hospital.
Tulane's director of sports medicine Dr. Greg Stewart said Sunday that it's too early to know whether Walker will be paralyzed. He underwent a three-hour surgery Sunday at St. Francis Hospital in Tulsa to stabilize his spine.
On the Mark
[+] Enlarge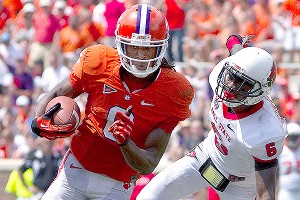 Joshua S. Kelly/US PresswireClemson's passing game hasn't missed a beat in Sammy Watkins' absence. DeAndre Hopkins has 19 catches and 224 yards through two games.
A few teams survived the first two weeks of the season without suspended starters and might end up being better because of it.
No. 7 Georgia rallied for a 41-20 victory at Missouri on Saturday night, handing the Tigers a bitter defeat in their first SEC game. The Bulldogs played the game without four suspended defensive starters: cornerback Sanders Commings, linebacker Chase Vasser, safety Bacarri Rambo and linebacker Alec Ogletree.
Commings and Vasser are expected back for Saturday's game against Florida Atlantic, but coach Mark Richt still hasn't said how long Rambo and Ogletree will be suspended.
No. 12 Clemson's offense hasn't missed a beat without All-America receiver Sammy Watkins, piling up more than 1,000 yards of offense and 78 points in victories over Auburn and Ball State. Without Watkins on the field, receiver DeAndre Hopkins had 19 catches for 224 yards with four touchdowns. The Tigers' high-octane attack figures to be even more potent when Watkins returns in Saturday's game against FCS foe Furman.
And Notre Dame is off to a 2-0 start after starting the season without starting tailback Cierre Wood, who was suspended the first two games for an undisclosed violation. The Irish ran for only 52 yards in Saturday's 20-17 victory over Purdue, after piling up 293 with five touchdowns in a 50-10 victory over Navy in the opener.
Off the Mark
At what point does Pac-12 commissioner Larry Scott start having buyer's remorse about his league's two new members? If only conference expansion offered a two-year, money-back guarantee.
Since joining the Pac-12, Colorado is 3-12 and is coming off an embarrassing 30-28 loss to FCS foe Sacramento State at home Saturday. Utah has been better, but the Utes lost to the Buffaloes 17-14 at the end of last season and then fell to Utah State 27-20 in overtime Friday night.
The ACC also can't be too excited about the early-season results for its two new members, Pittsburgh and Syracuse, which leave the Big East after this season. Pitt is 0-2, including a forgettable 31-17 loss to FCS foe Youngstown State in the opener. The Orange might be the best 0-2 team in the country, after falling to Northwestern 42-41 and No. 2 USC 42-29 on Saturday.
[+] Enlarge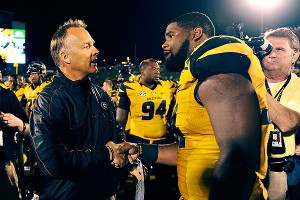 AP Photo/L.G. PattersonMissouri defensive lineman Sheldon Richardson's "old man football" comments did not go down well in Georgia.
On the Mark
Missouri defensive tackle Sheldon Richardson apparently sought out Georgia's Richt after Saturday night's game to apologize for comments he made earlier in the week, in which he described the Bulldogs' style of play as "old man football."
An AP photographer captured Richardson shaking hands with Richt after the game. If Richardson did apologize to Richt, good for him. Now he needs to apologize to his teammates for his ill-timed comments, which seemed to give Georgia a little more motivation.
On The Mark: Precision Passers

1. Denard Robinson, Michigan
Robinson was back to making plays with his arm and legs in Michigan's 31-25 win over Air Force. Robinson completed 14-of-25 passes for 208 yards and two touchdowns. He also had 20 rushes for 218 yards and two touchdowns. It was his third career game with 200-plus rushing yards and 200-plus passing yards (the most among all players since 2000).
2. Kolton Browning, Louisiana-Monroe
Browning completed 42-of-67 passes for 412 yards and three touchdowns in Louisiana-Monroe's 34-31 overtime shocker versus Arkansas. Browning sealed the upset with a game-winning 16-yard TD run on fourth-and-1 with the Warhawks trailing by a field goal.
3. David Piland, Houston
Piland did not go down quietly in Houston's 56-49 loss to Louisiana Tech. Piland attempted 77 passes and completed 53 for 580 yards and four touchdowns without an interception. His 77 attempts were the sixth-most in FBS history. Drew Brees owns the FBS record with 83 attempts for Purdue against Wisconsin on Oct. 10, 1998.
4. Collin Klein, Kansas State
Klein made sure this season's game against Miami did not come down to a replay. Klein completed 9-of-11 passes for 210 yards and was responsible for four touchdowns (three rushing, one passing) during Kansas State's 52-13 thrashing of the Hurricanes. Klein has 30 rushing touchdowns since the start of last season, second-most in FBS (Wisconsin's Montee Ball, 34).
5. AJ McCarron, Alabama
McCarron completed 14-of-19 passes for 219 yards and four touchdowns during Alabama's 35-0 domination of Western Kentucky. McCarron is the fifth player in school history with four-plus passing touchdowns in a game and the first player with two such games.
-- ESPN Stats & Info
On The Mark: Ground-Gaining RBs

1. Johnathan Franklin,UCLA
Franklin is becoming an early Heisman Trophy contender. Franklin had 217 yards on 26 carries in UCLA's 36-30 upset of Nebraska. It was his second consecutive 200-yard rushing game and third of his career. Franklin's 215.5 rushing yards per game leads FBS this season and is more than 90 teams.
2. Kenjon Barner, Oregon
Barner set career highs in carries (34), rushing yards (201) and rushing first downs (12) in Oregon's 42-25 win over Fresno State. Barner's 12 rushing first downs tied for the most in a game this season.
3. Branden Oliver, Buffalo
Oliver ran for a FBS season-high 238 yards on 25 carries in Buffalo's 56-34 win over Morgan State. It was Oliver's second career 200-yard game and 10th career 100-yard game (all since start of last season).
4. Damien Williams, Oklahoma
Williams has shown the ability to make big plays in two career games as a Sooner. Williams ran for 156 yards and four touchdowns on just 10 carries in Oklahoma's 69-13 dismantling of Florida A&M. For the season, he is averaging 13 yards per rush and is one of two players with two 60-plus yard TD runs (UCLA's Franklin is the other).
5. Beau Blankenship, Ohio
Blankenship rushed for 168 yards and two touchdowns on 27 carries in Ohio's 51-24 win over New Mexico State. It was Blankenship's second straight 100-yard rushing game. The junior had one such game entering the season.
-- ESPN Stats & Info
On The Mark: Big-Play WRs

1. Andre Davis, South Florida
Davis had a career day in South Florida's 32-31 nail-biter against Nevada. Davis finished with career highs in receptions (12), yards (191) and touchdowns (two), including a 56-yard game-winner with 38 seconds remaining. Davis entered the game with 23 receptions for 286 yards in 12 career games.
2. DeAndre Hopkins, Clemson
Hopkins continued to be the focal point of the Tigers' passing game without Sammy Watkins. Hopkins caught six passes for 105 yards and three touchdowns in Clemson's 52-27 win over Ball State. Hopkins caught all three touchdowns in the first half, becoming the first FBS player with three receiving touchdowns in a half since Tavon Austin (WVU) did it against Clemson in the Orange Bowl.
3. Robert Woods, USC
A lightning delay was the only thing that could slow Woods on Saturday. Woods had 10 receptions for 93 yards and two touchdowns in USC's 42-29 win over Syracuse. Woods has at least two receiving touchdowns in four straight games; only Michael Crabtree (six games) and Steve Sanders (five games) have had longer streaks in the last 10 seasons.
4. Michael Campanaro, Wake Forest
Campanaro is becoming one of the more productive receivers in FBS. Campanaro had career highs in receptions (13) and receiving yards (164) in Wake Forest's 28-27 win over in-state rival North Carolina. Since the start of the 2011 bowl games, Campanaro has 32 receptions and 388 receiving yards (three games) -- no other FBS player has more yards or receptions.
5. Marlon Brown, Georgia
Brown helped Georgia welcome Missouri to the SEC with a career-high eight receptions for 106 yards and two touchdowns in the Bulldogs' 41-20 win over the Tigers. Prior to Saturday, the senior never had more than four receptions in a game.
-- ESPN Stats & Info
RecruitingNation: Campus visits
After the highly anticipated official visits from twins Tyrell and Tyree Robinson (San Diego, Calif./Lincoln) were canceled late last week, there wasn't much expected on the recruiting front for Oregon this weekend. As it turned out, there was some big recruiting news for the Ducks, but it came from an unexpected source.
It wasn't a surprise that offensive lineman Doug Brenner (Portland, Ore./Jesuit) committed to the Ducks on Sunday. The surprise is that he did it after being on campus in Corvallis this past weekend to witness what was likely the biggest nonconference win ever for the Ducks' in-state rival, Oregon State. Brenner was in Eugene two weekends ago on an unofficial visit and received an offer from the Ducks last Tuesday. But by that time, he had told Oregon State he would be on campus for the Wisconsin game and felt he should stick to his word.
While he enjoyed himself in Corvallis, after a family meeting, Brenner made the call and committed to the Ducks on Sunday.
"I talked it over with my parents and we all agreed that Oregon is the right fit for me," Brenner said. "I couldn't turn down an offer from the Ducks. I really couldn't be happier about my choice."
Brenner's pledge gives the Ducks three in-state commits for the third straight year and further widens the recruiting gap between Oregon and Oregon State. Beavers freshman Isaac Seumalo is the only in-state prospect since 2006 to choose Oregon State over Oregon when both schools have offered.

-- Brandon P. Oliver, DuckNation
For more Week 2 recruiting news, click here

.
RecruitingNation: What we learned
Alabama's defense won't be as good as last season's at keeping offenses at bay, but it may be better at one thing: creating turnovers. The Tide have forced seven turnovers in the first two games.
-- Alex Scarborough, TideNation
The Gators are pretty much going to be what we saw at Texas A&M -- a team that grinds out games by running the ball and playing field position. Florida is not a sexy team to watch anymore, and there's a segment of fans that is going to have a hard time adjusting to that.
-- Michael DiRocco, GatorNation
In Georgia's 41-20 win at Missouri, we learned the Bulldogs have enough firepower to win against a potent offensive club despite the absence of four suspended defensive starters -- particularly when All-American Jarvis Jones decides to single-handedly take over a game.
-- David Ching, DawgNation
With improved play at linebacker, particularly Kevin Minter, LSU's defense may be more complete than a season ago, when the Tigers were considered average at linebacker on an otherwise dominant defense.
-- Gary Laney, GeauxTigerNation
Michigan quarterback Denard Robinson, with 208 yards passing and 218 yards rushing, is still one of the most electrifying players in college football. However, Michigan's offensive and defensive lines have a long way to go.
-- Michael Rothstein, WolverineNation
The best running back on the team is the quarterback, but the Buckeyes are eventually going to need to limit the number of rushes for sophomore Braxton Miller because it will be hard to survive many more 27-carry performances like he turned in Saturday in a win over Central Florida.
-- Austin Ward, BuckeyeNation
The Aggies didn't win their highly anticipated SEC debut, but in their 20-17 loss to Florida they showed they should be competitive in league play this year, even though their 2011 bugaboo -- squandering leads -- resurfaced.
-- Sam Khan Jr., GigEmNation
The Trojans have the best pair of wide receivers in the country. Last week it was Marqise Lee; this week it was Robert Woods who dazzled with 10 catches for 93 yards, a 72-yard reverse run and a 31-yard punt return.
-- Garry Paskwietz, WeAreSC
While Washington has made strides under fourth-year coach Steve Sarkisian, the Huskies' 41-3 loss to No. 3 LSU revealed that the program has a long way to go before it takes the next step toward becoming one of the nation's best.
-- Mason Kelley, HuskyNation