Don't call it a comeback … yet
By Mark Schlabach
ESPN.com
Florida State is ranked in the top five of the Associated Press Top 25 poll, where it resided at the end of 14 consecutive seasons from 1987 to 2000.
Notre Dame is No. 11, its highest ranking in six years, and Georgia, Texas, Florida and Ohio State are undefeated and nationally ranked, too.
The first three weeks of the 2012 college football season were a resurgence of sorts for a half-dozen of the sport's heavyweights.
Are they back or will their renaissance be short-lived?
Here's a look at each of the traditional powers' prospects for the rest of the season:
Florida (3-0)
Why you should buy: After going 8-5 in Urban Meyer's final season as coach in 2010 and then 7-6 in Will Muschamp's first season, the Gators won 20-17 at Texas A&M and 37-20 at Tennessee over the last two weeks. They look tougher and more resilient, coming from behind in the second half to defeat both the Aggies and Volunteers in hostile road environments.
[+] Enlarge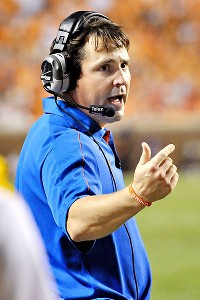 Jim Brown/US PresswireWill Muschamp is feeling much better about Florida's prospects after the Gators won early SEC road tests at Texas A&M and Tennessee.
The Gators only figure to get better as sophomore quarterback Jeff Driskel gets more confident and gains experience. He completed 14 of 20 passes for 219 yards with two touchdowns and ran for 81 yards against Tennessee. He's getting plenty of help from tailback Mike Gillislee, a bruising runner, and Frankie Hammond Jr. and Trey Burton have emerged as big-play weapons.
"He made some gutsy plays and runs, and he's a tough kid, and he was very accurate with the football," Muschamp said of his quarterback. "I think the game will continue to slow down [for him]."
Why you should sell: Muschamp seems to be rebuilding the Gators from the ground up and they're still a work in progress. The offensive line looked shaky against Texas A&M. The secondary looked porous in the first half against Tennessee, before making adjustments at halftime. UF has already been hit with a couple of bad injuries: star linebacker Jelani Jenkins might miss three more weeks with a fractured thumb, and linebacker Ronald Powell isn't coming back this season after suffering a setback in his rehabilitation from a torn ACL he suffered in the spring.
Why the jury's still out: Have you seen Florida's remaining schedule? Although the Gators will leave the state of Florida only once in their last nine games (at Vanderbilt on Oct. 13), they have remaining games against four teams that are currently ranked in the top seven of the AP poll. The Gators host No. 2 LSU on Oct. 6 and No. 7 South Carolina on Oct. 20, play No. 5 Georgia in Jacksonville, Fla., on Oct. 27 and then play at No. 4 Florida State in their Nov. 24 regular-season finale.
Florida State (3-0)
Why you should buy: FSU limped through a 9-4 season in 2011 because of injuries and its anemic offense. But the Seminoles have been absolutely dominant to start this season, routing three lesser opponents by a combined score of 176-3. After overwhelming FCS opponents Murray State and Savannah State, the Seminoles walloped Wake Forest 52-0 in their ACC opener Saturday. While the Demon Deacons are far from a juggernaut, they had won four of their previous six meetings against the Seminoles, who have plodded through similar games in the recent past.
FSU's defense will give it a chance to win any game. The Seminoles rank No. 1 in the country in scoring defense (one point per game), total defense (103.3 yards), rushing defense (33.7 yards), pass-efficiency defense (60.5 rating) and pass defense (69.7 yards). Even after losing star defensive end Brandon Jenkins to a season-ending foot injury, FSU has one of the country's most ferocious defensive lines.
Why you should sell: While FSU ran the ball extremely well against Wake Forest, its offense has yet to be tested. FSU's offensive line looks better, but how will it hold up during ACC play? And can quarterback EJ Manuel avoid the injury bug that has plagued him throughout his career?
Why the jury's still out: We still don't know much about the Seminoles because of their ridiculously soft schedule. We've been waiting a few years for Florida State to return to national prominence, only to see the Seminoles slip against teams they were expected to beat. We'll see if this team is mature enough to handle the national spotlight and deep enough to overcome injuries.
Georgia (3-0)
Why you should buy: Georgia's offense has been explosive, scoring 40 points or more in each of its first three games for the first time in school history. Quarterback Aaron Murray has been efficient throwing the ball, completing 63.8 percent of his passes for 842 yards with eight touchdowns, and he has weapons in Michael Bennett, Tavarres King and Marlon Brown. Freshmen tailbacks Todd Gurley and Keith Marshall have alleviated the Bulldogs' concerns about their running game, and a rebuilt offensive line has held up pretty well.
Why you should sell: Georgia's vaunted defense has been far from dominant in the first three games. The Bulldogs allowed 23 points against Buffalo and 20 to both Missouri and Florida Atlantic. Georgia is expected to play at least one more game without All-America safety Bacarri Rambo and linebacker Alec Ogletree, who have yet to play this season because of suspensions. The Bulldogs figure to get better on defense after Rambo and Ogletree return to action and All-America linebacker Jarvis Jones returns from a groin injury.
Why the jury's still out: Georgia was considered the preseason favorite in the SEC East because of its soft schedule. But Tennessee and Florida look to be more difficult opponents than expected, and the Bulldogs play at No. 7 South Carolina on Oct. 6. Georgia also has been plagued by slow starts in each of its first three games.
Notre Dame (3-0)
Why you should buy: Brian Kelly was determined to rebuild the Fighting Irish through defense and there's marked improvement after back-to-back 8-5 seasons. The Irish rank No. 8 nationally in scoring defense (10 points per game), No. 18 in total defense (288.7 yards) and No. 10 in sacks (3.7 per game). Linebacker Manti T'eo is a legitimate All-America candidate, and he's playing behind what might be Notre Dame's best defensive front in several years. The Irish shut down Michigan State's running game in a 20-3 victory on the road Saturday night.
[+] Enlarge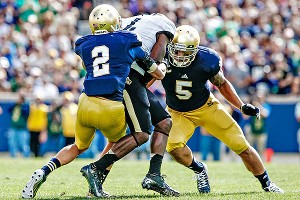 Robin Alam/Icon SMINotre Dame's improvement on the defensive side of the ball is clear to see after the Fighting Irish's first three games.
"Our defense continues to be the group that we committed to in building when we started this process," Kelly said. "And they're starting to get to that level that they can play against anybody."
Why you should sell: With sophomore quarterback Everett Golson under center, Notre Dame's offense remains a work in progress. It ranks 67th in rushing (155.7 yards) and passing (233 yards), 72nd in total offense (388.7 yards) and 61st in scoring offense (30 points). It went 1-for-14 on third down against Michigan State. At least the Irish are taking care of the ball. After being plagued by turnovers and miscues last season, Notre Dame had only two turnovers in its first three games.
Why the jury's still out: While winning at Michigan State was a major step back toward respectability, Notre Dame still faces a long road to a BCS bowl game. The Irish play No. 18 Michigan at home Saturday and No. 9 Stanford at home Oct. 13. The Irish then play at No. 6 Oklahoma on Oct. 27 and at No. 13 USC on Nov. 24.
Ohio State (3-0)
Why you should buy: After a forgettable 2011 season, in which the Buckeyes finished 6-7 after coach Jim Tressel resigned in the spring, Meyer is already transforming the program. Quarterback Braxton Miller has emerged as one of the top dual-threat quarterbacks in the country and only figures to get better as Meyer adds better skill players around him. An inconsistent passer a year ago, Miller has completed 61.5 percent of his attempts for 611 yards with seven touchdowns and two interceptions.
Why you should sell: Over the first three games, Miller carried the OSU offense on his back. The sophomore has carried the ball 56 times -- more than twice as much as any other player. Tailback Jordan Hall missed the first two games with a foot injury but returned to run 17 times for 87 yards in Saturday's 35-28 victory over California. While the offense has dramatically improved (and is actually exciting to watch), the defense remains a concern. The Bears gained 512 yards of offense, and tailback Brendan Bigelow ran for 160 yards and two touchdowns on only four carries.
"It was terrible, terrible," Meyer said of his defense. "I wish I had some magic answer for you. We're not tackling very well right now. We'll get better, though. I promise you that we're going to get better."
Why the jury's still out: Because of NCAA probation, the Buckeyes are ineligible to play in the Big Ten championship game or a bowl game. How will the players react when something goes wrong? They didn't respond to adversity very well last season.
Texas (3-0)
Why you should buy: More than anything else, poor quarterback play has caused Texas' slide into mediocrity the previous two seasons. The Longhorns hope sophomore David Ash turned the corner in Saturday night's 66-31 victory at Ole Miss. Ash threw for a career-high 326 yards with four touchdowns on 19-for-23 passing and has completed 76.4 percent of his passes without an interception in 72 attempts. The Longhorns opened up their passing game against the Rebels' woeful defense, completing passes of 55, 47, 44 and 45 yards.
Why you should sell: The Longhorns seemed to lose focus at times, giving up several big plays to the Rebels. Ole Miss scored on a 75-yard pass and 48-yard run. Texas also surrendered a 100-yard kickoff return for a touchdown.
Why the jury's still out: Texas probably isn't too worried about its defense, but its offense still hasn't been tested. The Longhorns walloped Wyoming, New Mexico and Ole Miss. The schedule gets much more difficult in two weeks, when Texas plays at Oklahoma State on Sept. 29 and then plays back-to-back games against No. 8 West Virginia (at home on Oct. 6) and against No. 6 Oklahoma (in Dallas on Oct. 13).
On the Mark
You can't kick around the Hilltoppers anymore. Western Kentucky, which dropped 26 games in a row from September 2008 to October 2010 in its first years as an FBS member, stunned Kentucky 32-31 in overtime Saturday.
And the Hilltoppers did it by going for broke in overtime.
After Antonio Andrews' 2-yard touchdown run cut Kentucky's lead to 31-30 in overtime, Western Kentucky coach Willie Taggart decided to go for the win. Quarterback Kawaun Jakes threw a lateral to Andrews, who threw back to Jakes for a two-point conversion and the victory.
Taggart, a former Stanford assistant who guided WKU to a 7-5 record last season, upset Wildcats coach Joker Phillips by calling WKU red "the new blue" in the Commonwealth.
"I'm not about to talk about an opponent," Phillips told reporters. "That's me. Say what you want. I'm not a tough guy. I'm a tough guy because I'm not going to talk about someone else's program. I played at the highest level and it's a shame the game has gotten to this. I respect Willie. I think he's done a hell of a job there, but I'm not going to talk about another program or have our kids run their mouth and disrespect them. Not going to do it."
Off the Mark
Did Colorado win a share of a national championship in 1890 or 1990?
The Buffaloes' glory days seem like a century ago now, after they surrendered 55 points and 516 yards in the first half of a 69-14 loss to Fresno State on Saturday. The Bulldogs scored seven consecutive touchdowns in the first 22 minutes, 14 seconds and had twice as many touchdowns (eight) as Colorado had first downs (four) in the first 30 minutes.
"We ran into a buzz saw," said Colorado coach Jon Embree, in what might have been the understatement of the century. "We gave up too many big plays early. We didn't sustain drives and it seemed like every time we threw an interception it was a touchdown."
The Buffaloes, who are 0-3 and lost to FCS foe Sacramento State 30-28 on Sept. 8, travel to Washington State for a Pac-12 opener Saturday.
On the Mark
Now that Stanford might have spoiled USC quarterback Matt Barkley's chances of winning the Heisman Trophy with Saturday night's 21-14 upset, West Virginia quarterback Geno Smith might be the front-runner for college football's most prized individual honor. The Mountaineers have yet to be tested, and Smith is putting up ridiculous numbers. In victories over Marshall and FCS foe James Madison, Smith has completed 88 percent of his passes (66-for-75) with nine touchdowns and no interceptions.
Going back to WVU's 70-33 rout of Clemson in the Orange Bowl, Smith has completed 83 percent of his passes for 1,141 yards with 15 touchdowns and no interceptions.
Off the Mark
Utah's home crowd nearly cost it a 24-21 upset victory over rival BYU in Saturday night's Holy War.
In one of the most bizarre endings you'll see, Utah fans had to be cleared off the field after officials put one second back on the clock, giving BYU a chance to kick a field goal and tie the game. Utes defensive tackle Star Lotulelei blocked Justin Sorensen's 51-yard field goal attempt with one second left. Utah's fans stormed the field again, drawing a 15-yard penalty because they ran on the field with time left on the clock. The No. 25 Cougars were given one more untimed play, but Riley Stephenson's 36-yard attempt bounced off the left upright.
"I can't describe that ending," Utah quarterback Jon Hays said. "That's something I'll remember when I'm 85 and with Alzheimer's. That was the craziest finish I've ever been a part of and probably one of the craziest I've ever seen."
Oddly enough, Stephenson's missed field goal occurred at 11:58 p.m. MDT. If Stephenson's attempt had been good, the Cougars might not have been able to finish the game because BYU rules prohibit its teams from playing on Sundays.
"If it goes overtime, do we have to delay and go on Monday, or what?" Utah coach Kyle Whittingham told the Salt Lake Tribune afterward.
On the Mark
Missouri QB James Franklin turned down a cortisone injection to numb the pain in his surgically-repaired right shoulder Saturday. He was tougher for not taking the shot and staying true to his conviction than he would have been for caving to the pressure to play in the Tigers' 24-20 victory over Arizona State. Shortly before the game, Tigers coach Gary Pinkel told a sideline reporter that Franklin passed up the shot to play in the game.
Franklin's father, Willie, told the St. Louis Post-Dispatch that his son has never even taken an aspirin in his life. "Guys are medicating themselves and running into 300-pound people and now your body is numb to it," Franklin said. "And then after your career is over, it comes back at you and you can't even spend time with your family because your body is breaking down."
It's refreshing to see a player have more sense than the adults on the sideline and keep his future in mind.