Third-year reviews for BCS coaches
By Mark Schlabach
ESPN.com
College football coaches used to get at least four years to prove their worth, at least enough time for their recruits to cycle through the program.
Not anymore.
In today's college football, where success is determined by TV ratings, fan attendance, multimillion-dollar bowl payouts and recruiting rankings, coaches had better start producing in two or three seasons.
For more than a dozen college football coaches who were hired before the 2010 season, this season is a sort of proving ground.
And that includes some of the coaching profession's biggest names: Florida State's Jimbo Fisher, Notre Dame's Brian Kelly and USC's Lane Kiffin.
Some of them are standing on rock-solid ground, while for others, the ground is already starting to shake only a month into their third season at their current schools.
There are 10 coaches at BCS schools in their third season in charge of their new programs. How do the early returns in Year 3 look so far?
Derek Dooley, Tennessee
[+] Enlarge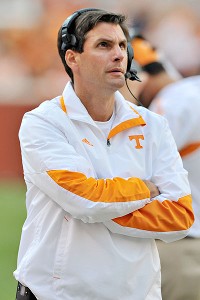 Jim Brown/US PresswireDerek Dooley, who is 0-14 against ranked opponents at Tennessee, is one of several SEC coaches whose job security is in question.
The past: Dooley, a former Louisiana Tech coach, wasn't the first (or most popular) choice to replace Lane Kiffin, who bolted Tennessee after only one season to take over at USC. Dooley hasn't done much to make UT fans want to warm up to him, either. The Volunteers went 11-14 in his first two seasons, finishing with back-to-back losing campaigns for the first time since 1910-11. The Volunteers went 5-7 in 2011 after losing quarterback Tyler Bray and star receiver Justin Hunter to injuries for much of the season.
The present: Tennessee's fast start was derailed by a 37-20 loss to Florida at Neyland Stadium on Sept. 15. The Volunteers were tied with Akron 23-23 at the half on Saturday night before pulling away for a 47-26 victory to improve to 3-1.
The future: More than anything else, Dooley needs to lead the Volunteers to a victory over an opponent that really matters. UT will have plenty of chances to do it over the next month, as it will play four consecutive games against foes that are currently undefeated and nationally ranked: No. 5 Georgia (road), No. 21 Mississippi State (road), No. 1 Alabama (home) and No. 6 South Carolina (road). The Volunteers are 0-11 against ranked opponents during Dooley's tenure.
Jimbo Fisher, Florida State
The past: After taking over for legendary FSU coach Bobby Bowden, the Seminoles went 19-8 in Fisher's first two seasons. Last year, the Seminoles were derailed by injuries and their impotent offense during a 9-4 season, after they were ranked No. 6 during the preseason. Fisher guided the Seminoles to bowl victories in each of his first two seasons: 26-17 over South Carolina in the 2010 Chick-fil-A Bowl and 18-14 over Notre Dame in the 2011 Champs Sports Bowl.
The present: The No. 4 Seminoles are 4-0 after coming from behind to beat then-No. 10 Clemson on Saturday night. Florida State's defense is ranked among the country's best, and its offense is suddenly capable of scoring points quickly. FSU doesn't play another ranked opponent until its Nov. 24 finale against No. 11 Florida and looks like a legitimate BCS championship contender.
The future: Fisher has stockpiled an impressive collection of talent in Tallahassee, and many of his team's best players are underclassmen. Since he took over, FSU's recruiting classes were ranked Nos. 6, 1 and 2 nationally by ESPN RecruitingNation. Beating a top-10 opponent was a major step, and as long as FSU continues to recruit well, there isn't any reason it can't take control of the mediocre ACC.
Skip Holtz, South Florida
The past: After a successful tenure at East Carolina, USF expected Holtz to pick up where fired coach Jim Leavitt left off. But after producing an 8-5 record in 2010, the Bulls limped to a 5-7 record last year. The Bulls started last season 4-0, including a 23-20 upset of Notre Dame, but missed the postseason for the first time since 2004 by losing seven of their last eight games.
The present: The Bulls just can't seem to get any traction after last season's late collapse. After losing to Rutgers 23-13 on Sept. 13, the Bulls lost 31-27 at Ball State on Saturday. It was USF's first loss to an opponent from a non-BCS league since joining the Big East in 2005. The Bulls host No. 4 Florida State on Saturday.
The future: USF extended Holtz's contract three years in July and his deal runs through the 2017 season, so he doesn't seem to be in any sort of danger. The Bulls have been ravaged by penalties and other self-inflicted mistakes during their slump.
Butch Jones, Cincinnati
The past: After replacing Brian Kelly as Central Michigan's coach in 2007, Jones took three seasons to produce a breakthrough campaign. After a couple of so-so seasons, he guided the Chippewas to an 11-2 record and MAC championship in 2009. When Kelly bolted Cincinnati for Notre Dame, Jones was hired to replace him again. The Bearcats went 4-8 in his first season before rebounding with a 10-3 record last season. Jones was named the Big East Coach of the Year after guiding the Bearcats to a share of a conference title and producing the biggest win improvement among FBS teams.
The present: The Bearcats are 2-0 and seem to be one of the top contenders for a Big East championship along with No. 19 Louisville and No. 23 Rutgers. The Bearcats will play at Louisville on Oct. 26 and host the Scarlet Knights on Nov. 17.
The future: If the Bearcats can hold on to Jones, there's no reason they can't be one of the best teams in the watered-down Big East. But if Jones produces another 10-win season, it's hard to imagine a team from a BCS conference won't target him for a vacancy.
Brian Kelly, Notre Dame
[+] Enlarge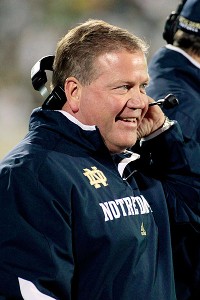 AP Photo/Al GoldisA tougher and more mature Notre Dame squad has coach Brian Kelly happier on the sidelines.
The past: Kelly guided the Fighting Irish to back-to-back 8-5 seasons in 2010-11, which might not seem like much until you consider that they haven't had three consecutive eight-win seasons in 18 years. The Irish would have fared much better last season if they hadn't turned the ball over so frequently; 13 of their 29 turnovers came in three games they lost by a combined 11 points. Kelly has guided the Irish to two bowl games, defeating Miami 33-17 in the 2010 Sun Bowl and falling to FSU last season.
The present: After defeating then-No. 10 Michigan State and No. 18 Michigan the past two weeks, the Irish are 4-0 for the first time since 2002. What once seemed like an extremely difficult schedule doesn't seem quite so arduous anymore. The Irish host No. 8 Stanford on Oct. 13 and play at No. 16 Oklahoma on Oct. 27 and at No. 13 USC on Nov. 24. If the Irish finish 10-2 or better, they almost seem assured of receiving an at-large bid to a BCS bowl game.
The future: Has Notre Dame finally found a coach who can lead it back to national prominence? Like Fisher, Kelly rebuilt one of college football's traditional powers by focusing on his team's defense. The Irish rank No. 4 nationally in scoring defense, allowing only nine points per game. Kelly's offenses at Cincinnati were explosive, so it might only be a matter of time before Notre Dame's offense catches up with his defense.
Lane Kiffin, USC
The past: After leaving Tennessee, Kiffin inherited a probation-riddled program at USC, which was banned from playing in postseason bowl games in his first two seasons as part of its sanctions. The Trojans still managed to finish 18-7 the previous two seasons, including 10-2 in 2011, when they were playing as well as anyone in the country at season's end.
The present: After quarterback Matt Barkley returned for his senior season, the Trojans were ranked No. 1 in the preseason and were a popular choice to play for a BCS national title. But the Trojans suffered a major setback two weeks ago, losing to Stanford 21-14 on the road. USC rebounded to defeat California 27-9 at the Coliseum on Saturday. It might have to beat No. 2 Oregon twice -- at home on Nov. 3 and again in the Pac-12 championship game -- to climb back into the BCS title hunt.
The future: Even with reduced scholarships, Kiffin has recruited remarkably well at USC. The Trojans' past three classes were ranked Nos. 7, 4 and 13 nationally by ESPN RecruitingNation and their current crop of committed players is ranked No. 1 in the country. But the severe NCAA sanctions -- the Trojans are allowed to sign only 15 prospects (10 below the maximum under NCAA rules) and have only 75 scholarship players (10 below the max) from 2011 to 2013 -- figure to take their toll over the next few seasons. Is USC strong enough to overcome it?
Mike London, Virginia
The past: London, who won an FCS national championship as Richmond's coach in 2008, showed great progress at Virginia last season, when the Cavaliers improved from 4-8 in 2010 to 8-5 in 2011. Virginia beat two ranked opponents last season (No. 12 Georgia Tech at home and No. 25 FSU on the road) before losing badly to Virginia Tech and Auburn to finish the season.
The present: The Cavaliers are 2-2 after ugly road losses the past two weeks, 56-20 at Georgia Tech and 27-7 at TCU. Virginia doesn't play another ranked opponent during the regular season, so there's a chance it could finish .500 or better and qualify for a second consecutive bowl game.
The future: London's success at Richmond and his ability to recruit the Tidewater area of southeast Virginia, which has traditionally been a Virginia Tech recruiting ground, are two of the primary reasons he was hired to replace Al Groh. This season might end up being a hiccup, but he seems more than capable of turning the Cavailers into an ACC title contender.
Joker Phillips, Kentucky
The past: Phillips, who was former Kentucky coach Rich Brooks' handpicked successor, hasn't enjoyed the same success as his predecessor. After Brooks guided the Wildcats to four consecutive bowl games from 2006 to 2009 (winning three of them), Phillips' first team finished 6-7 and lost to Pittsburgh 27-10 in the BBVA Compass Bowl. The Wildcats went 5-7 last season but finished with a 10-7 victory over Tennessee, which ended their 26-game losing streak to UT.
The present: The Wildcats are off to a terrible start, losing to rival Louisville 32-14 in their opener and then falling to Western Kentucky 32-31 in overtime on Sept. 15. Florida blasted UK 38-0 in Saturday's SEC opener.
The future: Kentucky fans, who cherish basketball over everything else, don't expect much from their football program, which hasn't had a winning record in the SEC since 1977. They want to beat Louisville, be somewhat competitive in the SEC and go to bowl games, even with a 6-6 record. Phillips, one of the most likable coaches in the business, is 4-13 against SEC foes, and interest in his program is dwindling.
Charlie Strong, Louisville
[+] Enlarge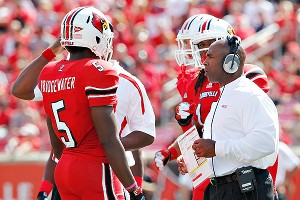 John Sommers II/Icon SMILouisville is 4-0 heading into Big East play.
The past: Strong, a former defensive coordinator at South Carolina and Florida, waited nearly a quarter century for his chance to become a head coach. His early results suggest he should have been hired much sooner. After inheriting a program that won only 15 games during the three seasons before he was hired, Strong guided the Cardinals to consecutive 7-6 seasons and a share of a Big East title in 2011.
The present: The Cardinals are ranked No. 19 nationally after starting 4-0 for the first time since their Orange Bowl season in 2006. After impressive victories over rival Kentucky and FCS foe Missouri State to start the season, Louisville nearly blew a big lead in a 39-34 win over North Carolina and struggled to put away Florida International 28-21 on the road on Saturday.
The future: If Louisville wins the Big East and gets to a BCS bowl game -- and some are already suggesting it might finish the regular season unbeaten -- Strong will be among the hottest coaching candidates in the country. Strong, a native of Batesville, Ark., already has been mentioned as a possible candidate for Arkansas' vacancy.
Tommy Tuberville, Texas Tech
The past: Tuberville, who guided Auburn to a 13-0 season in 2004, walked into an uncomfortable situation when he was hired to replace the ultra-popular Mike Leach at Texas Tech. Tuberville attempted to change the way the Red Raiders played; they've actually started playing some defense. The Red Raiders went 8-5 in 2010 and 5-7 in 2011, putting Tuberville on the hot seat heading into this season.
The present: Tuberville couldn't have asked for a better start to the season, as the Red Raiders are 3-0 after dominating FCS foe Northwestern State, Texas State and New Mexico. But after playing at Iowa State on Saturday night, the real fun begins for Texas Tech. Starting in two weeks, it will play five consecutive nationally ranked opponents: No. 16 Oklahoma (home), No. 9 West Virginia (home), No. 15 TCU (road), No. 7 Kansas State (road) and No. 12 Texas (home).
The future: The Red Raiders have six games left against ranked opponents (they close the season at home against No. 25 Baylor), so it might be difficult for them to reach 6-6. After opening the season against such a soft nonconference schedule, it's really hard to determine how much progress they've made.
On the Mark
Notre Dame fans revealed their true colors Saturday night when they wore an estimated 20,000 leis to honor Irish linebacker Manti Te'o, who played inspired football for the second straight week after suffering an unimaginable tragedy.
Te'o, a native of Hawaii, had eight tackles and intercepted two passes in Notre Dame's 13-6 victory over Michigan. Two weeks ago, his girlfriend, Lennay Kekua, died of complications from leukemia. His grandmother, Annette Santiago, died less than 24 hours later.
"I said it before: Four years ago when I decided to come here, I didn't know why," Te'o said. "It's starting to unveil itself why, why I felt that I was told to come here. I can't thank my team enough. I can't thank the students and just the fan base around the world, Notre Dame and non-Notre Dame fans. They've been really great. You know, it's just very humbling for me and my family, and I appreciate all the love and support that my family and my girlfriend's family has been getting."
Off the Mark
When Michigan quarterback Denard Robinson made a summer trip to San Diego for training with the Navy SEALs, he talked about wanting to become one of the Wolverines' all-time greats, a passer like former stars Tom Brady, Chad Henne and Jim Harbaugh.
That's why Robinson's performance against Notre Dame was so disappointing. In one of the worst nights in Michigan history, Robinson threw four interceptions on four straight pass attempts (the Wolverines actually had five consecutive passes picked off; the fifth was thrown by wideout Vincent Smith) and finished with five turnovers.
"I want to say sorry to everybody who watched football, watched Michigan football and whoever follows Michigan football," Robinson said. "I want to say sorry and it won't happen no more. I am going to be accountable for the rest of the season, I'll tell you that much."
The silver lining for Michigan: Both of its losses this season have come against nonconference opponents, and it is still very much alive in a wide-open Big Ten race.
But the Wolverines' quarterback will have to rebound quickly.
"Most disappointed I've been in I don't know how long," Robinson said. "The 22 years I've been living, this is the most disappointed I've been in myself."
On the Mark
It wasn't quite Sept. 20, 2003, but Saturday was a banner day for the Mid-American Conference. Central Michigan won 32-31 at Iowa; Western Michigan beat UConn 30-24; Northern Illinois defeated Kansas 30-23; and Ball State upset South Florida 31-27.
It was the first time the conference's teams defeated three opponents from BCS conferences since that fateful day in 2003 when Toledo upset No. 9 Pittsburgh, Marshall took down No. 6 Kansas State and Northern Illinois won at Alabama.