Undersized and overlooked, Edwards shines at Big House
Edwards Was So Money
By Mark Schlabach, ESPN.com
BOONE, N.C. -- Appalachian State quarterback
Armanti Edwards
' teammates affectionately call him "Money" and "Well-Dressed," the latter an obvious reference to the fine Italian suits. After what Edwards did in the Mountaineers' jaw-dropping 34-32 upset of No. 5 Michigan on Saturday at Michigan Stadium, Division I-A football coaches around the country probably are calling him a "mistake."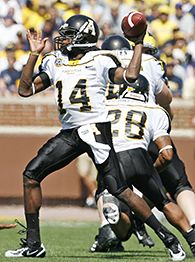 Photo by Leon Halip/Getty Images
Armanti Edwards' throwing and running helped Appalachian State down Michigan.
Edwards, a sophomore from Greenwood, S.C., is unbeaten as the Mountaineers' starting quarterback. After taking over in the second game as a freshman last season, he led his team to 14 consecutive victories and its second straight Division I-AA national championship. Last season, Edwards became only the fifth player in Division I history -- and only the second freshman -- to pass for 2,000 yards and run for 1,000 in the same season (Missouri's Brad Smith and Texas' Vince Young were among the others). So what did Edwards do for an encore? He opened his sophomore season by orchestrating perhaps the biggest upset in modern college football history. Playing in front of more than 109,000 fans at the Big House, Edwards completed 17 of 23 passes for 227 yards with three touchdowns and two interceptions. He also ran 17 times for 62 yards and one score. "We were very confident," Edwards said. "We studied a lot of film, and what we saw was a lot of holes." Somehow, Edwards fell through the recruiting cracks after a stellar season in 2005 at Greenwood High School. He moved to quarterback during his junior year of high school and threw for more than 2,000 yards and ran for more than 1,100 as a senior. But because of his small stature (6 feet, 175 pounds), he largely was ignored by most larger schools. By the end of his senior season at Greenwood High, Edwards had scholarship offers from Appalachian State and Division I-A New Mexico State. The Aggies courted Edwards as a receiver but lost interest when new coach Hal Mumme discovered he didn't have enough scholarships to sign a full class. "If he was one of the players we dropped, we certainly screwed up," Mumme said. "We liked him. I think he probably just wanted to play quarterback. Their offense fit his playing ability a little bit better than our offense. And he probably wanted to stay closer to home." Edwards said he received late scholarship offers from Clemson, Memphis and Vanderbilt, but opted to keep his promise to the Mountaineers. "He's a great young man," Appalachian State coach Jerry Moore said. "He's a great student. He has the respect of his teammates, and that goes a long way." And now Edwards has helped the Mountaineers earn respect around the country. The Mountaineers already had impressed Mumme. "They beat the big boys for kids all the time," Mumme said. "There are kids out there that want to go to Appalachian State and play for national championships, instead of going to the lower-tier teams in the Big East and ACC, where they might never get to play in a bowl game." And they went to Appalachian State to beat Michigan.
Sum Of All Fears
By Ivan Maisel, ESPN.com
The fears of an offseason are either realized or allayed on the first weekend of the season. A team trains for months, steps to the open door of the plane and jumps, rip cord in hand. At Oregon, quarterback
Dennis Dixon
's 275 yards of total offense quelled concerns that his summer playing minor league baseball would dull his literacy when reading a linebacker. At Oklahoma and at Notre Dame, the summer hum of speculation over the identity of the starting quarterback sounded like talk-show cicadas. Sooner freshman
Sam Bradford
threw a 15-yard touchdown pass in the first minute of the game against North Texas, and the sighs of 80,000 or so Oklahoma fans rustled leaves all across Norman. Irish sophomore
Demetrius Jones
started against Georgia Tech. While it is tempting to compare the Notre Dame offense to watching paint dry, why insult Sherwin-Williams? At least we know why coach Charlie Weis kept the identity of his starting quarterback a secret: He didn't have a starting quarterback. Stanford might have allowed UCLA 624 yards in its 45-17 loss to the Bruins. But the Cardinal saw pale green shoots emerging from the scorched earth of the two-year Walt Harris Era. The Cardinal noticed it pushed No. 14 UCLA late into the third quarter.
T.C. Ostrander
bemoaned his play after throwing the first 300-yard game for Stanford in two years. If that sounds damning with faint praise, wait until you hear Stanford first-year coach Jim Harbaugh. "We have a football team here now," Harbaugh said. Alabama no longer takes for granted 52-6 victories over Division I-AA teams, which explains the joy generated by a defeat of Western Carolina. Nebraska raised eyebrows with its offensive output of 625 yards, a total that would have been expected during the prolific dominance of the Tom Osborne Era. Coaches still might not know what they have, but one game gives them a more accurate picture of what they don't have. Now the real work begins.
Gators Better Prep For Shootouts
By Pat Forde, ESPN.com
GAINESVILLE, Fla. -- The Florida Gators were very much as advertised in their season opener. Explosive on offense. Vulnerable on defense.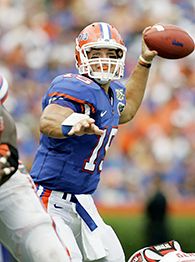 John Raoux/AP Photo
Tim Tebow showed he can do more than just run.
Tim Tebow
is the truth. We suspected as much but didn't have final proof until now. After watching him torch Western Kentucky for 300 passing yards, there no longer is a relevant question about the guy's ability to throw the ball with touch and accuracy. He's more than just a fullback in shotgun formation -- he's a quarterback with every asset necessary to start at the position. Tebow's ability to throw deep to a speedy and sure-handed receiving corps was the biggest offensive storyline to come out of the 49-3 rout of the Hilltoppers. The defensive storyline: Questions remain about a rebuilt unit replacing nine starters from the national championship team. Sure, it's hard to take too many shots at a defense that did not allow a touchdown in the 51-minute, 37-second game (it was called with 8:23 left, due to lightning). But Western Kentucky played just one series with its starting quarterback,
David Wolke
, and he drove the Hilltoppers to the Florida 10 before being stopped on fourth-and-one. Wolke then retired to the sideline with a concussion, leaving freshman
K.J. Black
to a baptism by fire. Black hung in there and moved the Hilltoppers on a few drives -- in part because he's got some legit talent, but also because Florida's secondary was soft. The Gators started true freshman
Joe Haden
at one cornerback, largely because they don't have better options at present. The offenses Florida will face the rest of the fall should provide much stiffer challenges. Tennessee put 31 points on the board against a ranked team in its opener, Georgia scored 35, Vanderbilt 41, LSU 45 and Kentucky 50. If Florida, which played 14 true freshmen and 10 redshirt freshmen, is going to mount a serious defense of its conference and national championships, it likely will have to win a few shootouts along the way. But the Gators have the offensive personnel to do so.
A Shift In Gears
By Ron Higgins, Special to ESPN.com
STARKVILLE, Miss. -- There were no mouth-dropping 70-yard passes thrown by a 6-6 quarterback shaking off 240-pound linebackers like they were lint. There were no running backs stepping off 50 yards to the end zone, no receivers in a contest with each other to see who could make the most spectacular catch.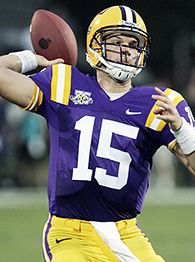 Rogelio V. Solis/AP Photo
Matt Flynn was more of a game manager against Mississippi State on Thursday night.
Welcome to the
Matt Flynn
/Gary Crowton era of LSU football, which debuted in a steady, not spectacular, 45-0 beatdown of Mississippi State on a steamy Thursday night season-opener. It might take awhile for Tigers fans to get used to the controlled passing of Flynn, who threw for 128 yards and two touchdowns, and the safe play calling of new offensive coordinator Crowton. It's a vast departure from having Jimbo Fisher (now at Florida State) call plays for JaMarcus Russell (the Raiders' No. 1 draft choice). "All in all, it's a nice little start, and it makes the next game all the more important," LSU coach Les Miles said, looking ahead to next Saturday's home opener against Virginia Tech. "Our offense started slowly, but give State some credit. Its defensive front is pretty good. It plays hard and made it difficult for a while." Flynn, a senior finally opening the season as a starter after sitting behind Russell the past three seasons, agreed with Miles, saying, "We started sluggish, but we made plays when we needed to. Right at the end of the first half, I felt the offense was coming together. I really felt settled out there. I had some nerves, but the team was really good with me." The thing Flynn didn't do that Russell often did was try to make a play that wasn't there. Flynn operated with the knowledge that all he had to do was stay mistake-free, since LSU's defense intercepted Mississippi State quarterback
Michael Henig
six times.
Colt Worth A Late-Night Red Bull
By Brett Edgerton, ESPN.com
In case you missed it -- and with a midnight ET kickoff on Oceanic Cable Pay-Per-View, we're guessing you did --
Colt Brennan
continues to make the case for pencil-written record books. Will there be anything left for this guy to break by the last month of the season? After setting the NCAA record for TD passes (58) and passing efficiency (186.0) last season, the Hawaii quarterback started 2007 by throwing for 416 yards and six TDs before something finally stopped him. That something wasn't Northern Colorado. That something was halftime. By then, Brennan already had racked up his 15th career 400-yard game, increasing his own Division I-A record. By then, he already had broken his own school mark for yards in a half. Heck, by then he already had become the nation's leading passer for the weekend.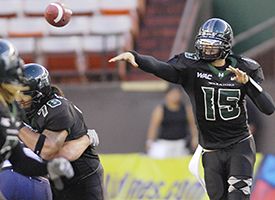 Ronen Zilberman/AP Photo
Colt Brennan piled up a game's worth of stats in just one half.
But that's not all. By throwing those six touchdowns, he brought his career total to 99 and tied Matt Leinart -- the guy Brennan once backed up at Mater Dei High School in California -- for sixth on the all-time list, passing Brady Quinn, Phillip Rivers and Kliff Kingsbury along the way. In fact, it was a rough night all around for Mr. Kingsbury. The former Texas Tech and current Winnipeg Blue Bombers quarterback also saw his single-game record for completion percentage (minimum 40 attempts) vanish from the history books, replaced by Brennan's 34-of-40 (85.0%) performance against the Bears. And even though he did sit out the entire second half, don't take that as an indication Brennan won't be given plenty of opportunities to keep climbing the record charts. Up 35-0 midway through the second quarter, Hawaii elected to go for it on fourth down at the Northern Colorado 10. Hmmm. In addition, the nine running backs listed on the Hawaii roster combined for a whopping two carries in a game decided by 57 points (63-6). Aloha means goodbye running game, hello Heisman run. So take some afternoon naps, America. Start chugging down some energy drinks. Do whatever it takes. If you're a college football fan, what's going on out in the middle of the Pacific Ocean is not something to sleep on.
The Best Kind Of Painkiller
By Joe Schad, ESPN.com
AUBURN, Ala. -- There were more than 86,000 fans Saturday night at Jordan-Hare Stadium, many of them students who had donned bold orange dresses or khaki pants, blue blazers, and blue and orange ties, most all of them expecting a home Auburn rout. But Kansas State -- notably sophomore quarterback
Josh Freeman
and a veteran defense that found ways to give Auburn's youthful offensive line fits for the most of the night -- caused unexpected pain. There was pain on the face of Auburn quarterback
Brandon Cox
, battered through all of last season, as he repeatedly was pounded to the grass. At one point, on the Auburn sideline, Cox barely could raise his right arm, and as trainers applied ice to his throwing shoulder, he winced in obvious pain. "We're better than this!" Auburn offensive line coach Hugh Nall screamed, to no lineman in particular, before coach Tommy Tuberville echoed the sentiment. Then, as fast as a War Eagle descends upon the stadium before kickoff, pain turned to joy. Cox, whose rushing attack had failed him all evening, engineered a long scoring drive, capped by a touchdown pass in the final minutes, to put the Tigers ahead. Then, defensive end Quentin Groves, battling dehydration issues much of the contest, broke through for a sack of Freeman, jarring the ball loose for defensive end Antonio Coleman to rumble in for a game-sealing touchdown. "Never saw him," Freeman said of Groves, long after the game. A sea of orange on the sideline, celebrating. And in the stands, a sea of orange, after a long, uncertain night, doing the same.
Locker's Debut Has UW Fans Buzzing
By Ted Miller, Special to ESPN.com
SYRACUSE, N.Y. -- Sometimes reality matches, or even eclipses, the hype. That's how suddenly giddy Washington fans feel about the brilliant debut of redshirt freshman quarterback
Jake Locker
, one of the most heralded recruits in program history.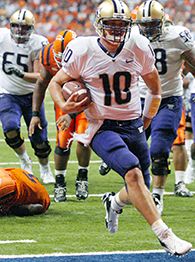 Kevin Rivoli/AP Photo
Jake Locker's performance against Syracuse lifted Husky hopes.
He fronted a surprisingly dominant all-around team performance in a 42-12 victory over Syracuse that suggested the Huskies might not be completely overwhelmed by what generally is viewed as the nation's toughest schedule. In just three quarters of work, Locker rushed 10 times for 83 yards with two touchdowns and completed 14 of 19 passes for 142 yards. Those numbers don't do justice to how Locker imposed his will inside a stunned Carrier Dome crowd that mostly bolted for the exits before the final frame. Locker's job was made easier by three things: 1. Senior tailback
Louis Rankin
rushed for 147 yards and three touchdowns, finally showcasing his pure speed without the unnecessary east-west dancing; 2. The questionable offensive line didn't surrender a sack while controlling the line of scrimmage; 3. Syracuse is really terrible. Concerns? How about Locker's tendency to initiate contact with defenders like he's Earl Campbell? Locker runs a 4.5-second 40-yard dash at 6-foot-3, 230 pounds, but quarterbacks don't benefit from physical play. He's going to give his coaches heart attacks when he tries to run over linebackers or, worse, twists and squirms for an extra yard or two. Of course, we'll learn a lot more about Locker and the Huskies in the coming weeks, starting with a visit from No. 24 Boise State on Saturday. After that, there's No. 11 Ohio State, No. 14 UCLA and No. 1 USC. So, as Huskies offensive coordinator Tim Lappano said after the game, tipping his cap to Bill Parcells, "Let's not put anointing oil on him yet."
Three Weekend Observations
By Ivan Maisel, ESPN.com

Stafford
1.
Georgia might have had the best opening weekend since Spider-Man 3. The No. 13 Bulldogs, in beating Oklahoma State 35-14, committed no turnovers and held the ball for 36:29. The best way to keep the Cowboys'
Bobby Reid
and
Adarius Bowman
from beating you is to keep them on the sideline. Not only did
Matt Stafford
complete 18 of 24 passes for 234 yards and two touchdowns, the sophomore has won four straight starts.
2.
Colt Brennan
threw for six touchdowns well after midnight ET in Hawaii's 63-6 defeat of Division I-AA Northern Colorado. You do remember how the game came about: Hawaii offered to play Saturday on the road against a highly ranked opponent six time zones away. Michigan opted for the safe harbor of Appalachian State.

3.
If Mississippi State can write off its 45-0 loss to LSU -- blame it on the rain, horoscopes or whatever -- the Bulldogs can recover and prove they're better than the 3-9 team of a year ago. But the worst thing about losing a game on a Thursday night is that two days later, as the scar tissue tries to form, the wound is ripped open every time the scroll of scores cycles through. That would make Saturday in Starkville long indeed.
GameDay Crew Final Thoughts
RECE DAVIS

Mike Hart, Michigan RB
Voters often have a tendency to not move teams very far down in the polls from week to week -- so as to avoid admitting they might have been wrong about a team. This week provides a true test of that. Because there's no way Michigan, based purely on what we've seen on the field, deserves to be anywhere near the top 25 at the moment.
Helmet Stickers Go To:
•
DeJuan Tribble, CB, Boston College
Three interceptions (two in the red zone) vs. Wake Forest
•
Virginia Tech community
---
LOU HOLTZ

Jackson
DeSean Jackson
is just a tremendous playmaker. What a punt return that was, and what a jolt of energy that was for the team and the crowd. Every great team needs a playmaker like that, and Cal's certainly got one. The better team won in this game. If Jeff Tedford can get anything out of that defense, it could be a very special year in Berkeley.
Helmet Stickers Go To:
•
DeSean Jackson, WR, California
77-yard punt return for TD vs. Tennessee
•
Marlon Lucky, I-back, Nebraska
Career-high 233 rushing yards, four TDs (three rushing, one receiving) vs. Nevada
---
MARK MAY

Carr
Michigan came into its game overconfident and underprepared, and that comes down to coaching. It's up to Lloyd Carr to get these guys ready, and that didn't happen. If Lloyd thought his seat was warm from losing to Ohio State three straight years and in bowl games three straight years, right now, his seat is on fire. It's as hot as the bright side of the sun.
Helmet Stickers Go To
:
•
Tashard Choice, RB, Georgia Tech
Career-high 196 rushing yards, two TDs vs. Notre Dame
•
Armanti Edwards, QB, Appalachian State
227 passing yards, three TDs, 62 rushing yards
Highlights: Appalachian State-Michigan
Ho-Hum Win For USC
By Bruce Feldman, ESPN The Magazine
If you're on the East Coast and didn't stay up to watch the Idaho-USC game, you didn't miss much. The Trojans, nearly 50-point favorites, had little trouble dispatching the Vandals. But aside from an eye-popping one-handed TD grab by
Vidal Hazelton
, there was little for Trojan fans to get fired up about.

Hazelton
I actually was of the mind that for all of Appalachian State's heroics in upsetting Michigan, if Idaho somehow could have knocked off USC, it would have been an even bigger shocker. Idaho, of course, never came close, but it hardly was an awe-inspiring debut for the top-ranked team. Almost everyone in the Coliseum, nearly 91,000 people, expected USC to destroy Idaho (picked to finish last in the WAC), with the Trojans' highly touted defense terrorizing freshman QB
Nathan Enderle
. But it didn't happen. USC didn't display much of a pass rush Saturday night, didn't show much of a deep-passing game and seemed to have the machine locked in cruise control for much of the night. The Vandals even outgained USC 122 yards to 80 in the second quarter. That was a bit surprising, given USC does have an open date next week before heading to Nebraska on Sept. 15. Then again, despite the ho-hum effort, the Trojans still won 38-10. I'm sure a bunch of other coaches across the country gladly would have presided over such a yawner, especially Lloyd Carr.
Highlights: Tennessee-Cal
Only Looking Ahead For Miami
By Jorge Milian, Special to ESPN.com
MIAMI -- Randy Shannon said his first victory as the Miami Hurricanes' coach was "just a normal win." To prove it, Shannon gave the game ball he was awarded by Miami's players following Saturday's season-opening 31-3 rout of Marshall to equipment manager Bobby Revilla. "The game's over," said Shannon, who served as the Hurricanes' defensive coordinator for six seasons before he was promoted to head coach last December. "You can't dwell on it. You can party all night, get Gatorade thrown on your head, have everyone in Miami pat you on the shoulder. But you know what? That isn't going to win the game next week against Oklahoma." No, Shannon isn't sentimental, but he is a realist. While a home win against Marshall was nice, doing the same on Saturday in Norman, Okla., against the eighth-ranked Sooners will be far more impressive -- and difficult -- for a Miami team that has lost its past five consecutive road games against ranked opponents. Players reportedly were told by Shannon that they had five minutes to enjoy the Marshall victory. "I don't even know about five," Shannon said Sunday. "It might have been shorter than that, about three or two."
Highlights: Marshall-Miami
Nobody Does It Better
By Brett Edgerton, ESPN.com
Whether it's by kickoff, punt or opposing turnover, no program over the past eight years has scored more touchdowns via returns than Miami (59) and Virginia Tech (58), which were up to their old tricks on opening weekend. The Hurricanes'
Chris Zellner
returned a Marshall fumble for a TD, while the Hokies' Victor Harris intercepted an East Carolina pass and took it 18 yards for one of only two Tech touchdowns. By the way, the pick by Harris was the 137th of the decade by the Hokies, a mark that easily is tops in the country.
Highlights: East Carolina-Virginia Tech
Looking Back ...
Sense of normalcy returns to Blacksburg
Virginia Tech started the season with an emotional pregame ceremony. The Hokies exited Lane Stadium with a win over East Carolina and a feeling that things were returning to normal, writes Mark Schlabach.
Story
---
Hail to the victors
Saturday's shocking result in Ann Arbor is every bit about what Appalachian State accomplished as it is about what Michigan didn't, writes Pat Forde.
Story
---
Boone Town
Razing the goalposts was the just the beginning of a raucous celebration in the small college town of Boone, N.C., after Appalachian State lowered the boom on Michigan, writes Mark Schlabach.
Story
---
Cal's long-awaited redemption song
After being embarrassed in Knoxville in 2006, Cal was redeemed on Saturday, thanks to a 45-31 dismantling of the Vols. Revenge is sweet, writes Ivan Maisel.
Story
Depressing Starts
By Brett Edgerton, ESPN.com
It wasn't a good weekend to be one of the two winningest programs of all time. Quite depressing, in fact. For the first time since 1934 -- the height of the greatest depression of them all -- both Michigan (No. 1 in wins) and Notre Dame (No. 2) opened the season with a loss. With a 34-32 loss to Appalachian State, the Wolverines became the first team ranked in the AP poll to fall victim to a team from Division I-AA. Their suddenly deficient defense didn't exactly help matters. If you're counting at home -- and Lloyd Carr bashers, we know you are -- that's now 108 points and 934 passing yards given up by the Maize and Blue during their current three-game losing streak. Meanwhile, with a 33-3 loss to Georgia Tech, all the Fighting Irish did was suffer the most lopsided season-opening setback in the history of the program, a program that dates back to the first Grover Cleveland administration (1887). The previous worst opener was a 21-point loss to eventual national champion Pitt in 1976. Notre Dame, which similarly lost home games to USC (45-14) and Florida State (37-0) in 2003, seems to collect these 30-plus-point South Bend losses in bunches, specifically over five-year periods.
Highlights: Oklahoma State-Georgia
Dillard's Streak Snapped
By Brett Edgerton, ESPN.com

Dillard
It sure didn't take Rice, coming off its first postseason game in 45 years, very long to turn into Rice again. Aided by five turnovers from Owls' QB
Chase Clement
, Nicholls State rallied from 14-0 and beat the Conference USA school by two when a blocked punt rolled out of the back of the end zone for what proved to be the game-winning safety. Speaking of the end zone, Owls stud WR
Jarett Dillard
wasn't able to find it, thus ending his streak of 15 straight games with a touchdown. That left him at second all-time in Division I-A, just three short of Larry Fitzgerald's record.