BCS contenders ready to rock the vote
Stumping For Votes
By Ivan Maisel, ESPN.com
It still is too soon to engage in what have become the college football rites of November: the statistical, head-to-head, scheduling analyses of the candidates for the BCS National Championship Game. They are not unlike another rite of November: the race to name the 2008 presidential candidates.
The BCS race engages and indulges in pseudo-debates, sound bites, regional biases, favorite sons and other staples of C-SPAN. Only the sites are different. Iowa and New Hampshire don't have dogs in the BCS hunt, unless you include Oklahoma coach Bob Stoops, a former Iowa defensive back, or Oregon offensive coordinator Chip Kelly, doing his Dr. Frankenstein imitation in Eugene after bringing the New Hampshire Wildcats to I-AA life.
Life might not always imitate art, but in this case, football imitates politics. Here is a guide to the current BCS wannabes and the presidential candidates they most resemble.
Ohio State: Hillary Clinton The Buckeyes don't make waves. They go out of their way not to be controversial, including not scheduling anyone this season who could beat them. They hope to bland their way to the nomination.
LSU: Rudy Giuliani The Tigers are strong on defense, and their fans aggressively promote their qualifications. They gloss over their past missteps, hoping everyone focuses on their willingness to take on anybody.
Oregon: John Edwards A good-looking team with an engaging personality, but the Ducks' stance on defensive issues is wanting. Do they have the substance to go all the way?
Oklahoma: Barack Obama Here's a team that looks like BCS material, and it has all the resources in the world. But its potential continues to outweigh its performance. Maybe the next race?
Kansas: Mike Huckabee A plucky candidate that can't get anyone to pay attention, the Jayhawks keep hanging around, charming people and slowly moving their way up the polls.
West Virginia: Mitt Romney The Mountaineers have great numbers and a wide-open attack, but they have done nothing to assure the voters they have the gravitas to make it to the top.
USC: Fred Thompson The Trojans get a bump from their Hollywood connection, but once they got on the stump, they looked nothing at all like a BCS candidate.
Hawaii: Ron Paul No matter how the Warriors perform, no matter how much support they drum up among the public, the opinion-makers never will take them seriously.
Chip Off The ...
By Pat Forde, ESPN.com
EUGENE, Ore. -- Chip Kelly doesn't sound right in this crunchy college town.
The first-year Oregon offensive coordinator's voice screams Northeast. That's not a surprise, considering he came here after eight years at I-AA New Hampshire. But he fits the Ducks and their offensive talents like a pair of well-worn Tevas.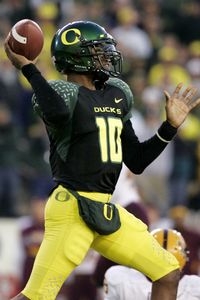 Richard Clement/Icon SMI
Oregon QB Dennis Dixon has thrived under Chip Kelly's offense.
Kelly gets my vote for Hire of the Year nationally on the coordinator level. He wasn't a big name replacing Gary Crowton, who left for LSU, but Kelly was just the spread-offense expert Oregon needed to fully exploit and develop the abilities of quarterback
Dennis Dixon
.
Kelly illustrates the truism that there are talented people at all levels of the game, just waiting for their chance. He's not awed by the job of drawing up plays in the Pac-10 after all those years in I-AA -- although he admitted that in Week 9, USC's personnel "looked like the [New England] Patriots" on the field before the game.
"At New Hampshire, we beat Delaware 45-44 after being down 31-3," Kelly said. "That was a great game for us. Sometimes it's not who you play -- it's the game itself."
But sometimes it is who you coach. And Kelly is very happy tutoring his current quarterback.
Under Kelly's guidance, Dixon has gone from a mercurial, mistake-prone junior to an almost-error-proof senior. He's thrown just three interceptions this year -- down from a dozen in 2006 while sharing time with Brady Leaf -- and one was an end-of-the half Hail Mary while another was a tipped ball.
"I'd put his judgment and decision-making up against anybody in the country," Kelly said.
And Ducks coach Mike Bellotti would put Kelly's play calling up against anybody in the country, too.
Job Still To Do
By Mark Schlabach, ESPN.com
CHESTNUT HILL, Mass. -- Can Boston College do what Michigan and California didn't do earlier this season?
The No. 2 Eagles were upset by Florida State 27-17 on Saturday night at Alumni Stadium, knocking the Eagles from the ranks of college football's last unbeatens.
AP No. 2 Teams, Past 5 Weeks
Boston College was the latest victim of a trend that doesn't seem to want to die. Over the past five weeks, the No. 2 team in the AP poll has gone down four times -- and all four have fallen to unranked teams. For the season, a top-5 team has lost to an unranked opponent eight times. Since the poll expanded to 25 teams in 1989, that matches the most ever in one year (2002).
No. 2 Team
Opponent
Result
Boston College
Florida State
Lost
Boston College
No. 8 Virginia Tech
Won
South Florida
Rutgers
Lost
Cal
Oregon State
Lost
USC
Stanford
Lost
-- Brett Edgerton, ESPN.com
Now, the challenge for first-year BC coach Jeff Jagodzinski is keeping the Eagles focused on the task at hand: winning the school's first ACC football championship. "This has not deterred us from where we want to go, and that's the ACC championship game," Jagodzinski said. "This is one game, one of 12. We are right in the thick of things. All we've got to do is take care of our business and just come back next week against Maryland and go play football, and we will." With a 4-1 record in ACC play, the Eagles still have a one-game lead over Clemson and defending conference champion Wake Forest in the Atlantic Division standings. Florida State, a 12-time ACC champion, is two losses behind the Eagles. The Eagles play their next two games on the road -- Saturday at Maryland and Nov. 17 at Clemson. BC finishes the regular season at home Nov. 24 against Miami. Boston College hasn't played in the ACC championship game in Jacksonville, Fla., since joining the league before the 2005 season. The winner of the ACC title game earns an automatic spot in a lucrative BCS bowl game. In fact, the Eagles never have won an outright conference championship. BC finished in a three-way tie for the Big East title in 2004, but Pittsburgh won a tiebreaker and played in the Fiesta Bowl. So, clearly, there still is plenty left to play for at Boston College.
The Future Looks Bright
By Chris Low, ESPN.com
TUSCALOOSA, Ala. -- Nick Saban wasn't into moral victories Saturday night.
He left those to his devoted congregation, better known as the Alabama football fans. The 41-34 loss to LSU was tough to swallow for the Crimson Tide Nation, especially since their team was up by 10 points late in the third quarter, but they waded through the disappointment by peering into the future.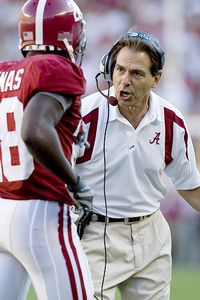 Marvin Gentry/US PRESSWIRE
Nick Saban helped keep his Alabama team in the whole game.
They liked what they saw. As one grim-faced, yet-proud Alabama fan said as he slowly made his way down the ramp from the upper deck at Bryant-Denny Stadium, "If Saban would have been on the other sideline, they would have beaten us by four touchdowns." Saban's take was a little different. He said Alabama simply wasn't consistent enough to beat a team as talented as LSU. Linebacker Darrin Mustin took it a step further. He said the Tide had the Tigers set up for the kill ... and blew it. But even in defeat, who can blame the Alabama fans for being so giddy about the future? Saban recruited to LSU 17 of the 22 players who started for the Tigers on Saturday, including 10 of the 11 defensive starters. Any takers on how many of those 10 end up spending some time on an NFL roster? And yet, Saban was able to find a way to keep Alabama in the game with a chance to win it right up until the very end. Nobody expected any miracles this season, not even for $4 million, but he nearly pulled one off. His old team, although many of the LSU players did their best to downplay it, clearly was motivated by all the Saban talk in the two weeks leading up to the game. Senior running back
Jacob Hester
said it was more about making sure they had their current coach's back. Of course, they also realized Les Miles might not have made it back inside the Baton Rouge city limits had the Tigers lost Saturday. "We definitely wanted to win one for him," Hester said. "He's done such a great job, and so many people hadn't respected it. We wanted to get him this win so everybody could see how good a coach he is."
Mack Daddy
By Brett Edgerton, ESPN.com
Rallies and road wins. Two hallmarks of the Mack Brown Era at Texas were on full display Saturday afternoon in Stillwater. In outscoring Oklahoma State 24-0 in the fourth quarter, the Longhorns staged their biggest fourth-quarter rally ever and beat the Cowboys 38-35 on Ryan Bailey's 40-yard field goal as time expired. The five biggest comebacks in the 115-year history of Texas football all have come under Brown -- and now, three of them have come against Oklahoma State.
Largest comebacks in Texas history
| | |
| --- | --- |
| Deficit | Opponent |
| 28 points | 2004 vs. Oklahoma State |
| 21 points | 2007 at Oklahoma State |
| 21 points | 2006 at Texas Tech |
| 19 points | 2005 at Oklahoma State |
| 19 points | 2001 vs. Washington |
The Longhorns now have lost just two of their past 35 true road games, and those two were by a combined seven points. While it's fair to point out that none of those road games have been against Oklahoma, it's still a remarkable run. In fact, since Brown was blown out in the first two road trips of his debut season (in 1998 at UCLA and Kansas State), the Horns haven't lost a single road game by more than a touchdown.
Against the Pokes, they were well on their way to such a loss before Jamaal Charles decided to take over. A week after rallying Texas past Nebraska with 216 yards and three touchdowns in the fourth quarter, Charles ran for another 125 yards and two touchdowns in this final stanza. That's 341 yards and five touchdowns over the past two fourth quarters. Hey, if he had been able to do that every quarter the past two weeks, he would be averaging 682 rushing yards per game with 20 touchdowns. The Longhorns would never have to rally again.
Three Weekend Observations
By Ivan Maisel, ESPN.com

Bobby Bowden
1.
When his team beat Boston College, Florida State coach Bobby Bowden gave his son Tommy's Clemson Tigers control of their fate in the ACC Atlantic Division. If Clemson defeats Wake Forest and Boston College, the Tigers will play in the ACC championship game. For a son who needs to win two of his last three games (at South Carolina is the third game) to secure his job, that's quite a gift from Dad.

McFadden
2.
Darren McFadden returned to the top five in the nation in rushing (146 yards per game) and revitalized his waning Heisman candidacy. McFadden picked the right season to make a late surge for the Big Bronze Doorstop. If Oregon quarterback Dennis Dixon's sore knee in any way curtails his ability to run, the Heisman race will be as wide open as it's ever been in November.

3.
When you are in Conference USA, and you are in the middle of a major city obsessed with its NFL team, you need every edge you can get in hiring a coach. The guess here is that SMU athletic director Steve Orsini pulled the plug on Phil Bennett early in order to be the first in line for whatever candidate he pursues. Hey, it worked for Florida's Jeremy Foley when he hired Urban Meyer.
GameDay Crew Final Thoughts
RECE DAVIS

At this point in the season, what we once perceived as a weakness actually can be considered a strength. Take Virginia and UConn. While we were busy questioning them for scraping by and seemingly catching every break, those two were quietly developing the confidence required to win in just about any situation. It's a fine quality to have.
Helmet Stickers Go To:
• RB
Darren McFadden
, Arkansas: 321 rush yards, rush TD, pass TD vs. South Carolina
• QB
Chase Clement
, Rice: 498 total yards, 8 TDs vs. UTEP
---
LOU HOLTZ

Groh
My coach of the day was Al Groh of Virginia. When you win so many close games, that's discipline. That's focus. That's getting everyone to remain calm and just play the game the way it should be played. That's good coaching.
Helmet Stickers Go To:
• RB
Chris Johnson
, East Carolina: 301 rush yards (408 all-purpose yards), 4 TDs vs. Memphis
• QB
Todd Reesing
, Kansas: 30-of-41, 354 yards, 6 TDs vs. Nebraska
---
MARK MAY

It's clear to me. I've seen enough. It's time for Tom Osborne to cut the cord on Bill Callahan right now. You've got recruits out there watching. It's an embarrassment to the fans and proud tradition of Nebraska.
Helmet Stickers Go To:
• RB/WR
Chad Hall
, Air Force: 275 rush yards (333 all-purpose yards) vs. Army
• LB James Laurinaitis, Ohio State: 19 tackles, FR, sack, tackle on fake punt vs. Wisconsin
GameDay Crew: Teams In Trouble
Bowling Over Defenders
By Brett Edgerton, ESPN.com
Over the past few years, there have been two college football seasons ('03, '05) in which there was only one 300-yard rushing performance. This year, Tulane's Matt Forte has had two, and there were two more Saturday. In the conference's 75th year, Arkansas sensation Darren McFadden tied an SEC record with 321 rushing yards against South Carolina. He also is the only back to rush for 300 yards in an SEC game. And just for good measure, McFadden added a passing touchdown against Steve Spurrier's Gamecocks.
Most rushing yards, SEC history
321
Darren McFadden, Arkansas
2007 vs. South Carolina
321
Frank Mordica, Vanderbilt
1978 vs. Air Force
316
Emmitt Smith, Florida
1989 vs. New Mexico
307
Curtis Kuykendall, Auburn
1944 vs. Miami
299
Moe Williams, Kentucky
1995 vs. South Carolina
As for East Carolina's Chris Johnson, he ran for four touchdowns and 301 yards on just 20 carries in a win at Memphis. Add in receptions and returns, and Johnson finished with 408 all-purpose yards, which ranks in the top 15 in major college football history.
Highlights: Florida State-Boston College
Looking Back ...
Tricky Dixon leads Oregon to top of Pac-10
Dennis Dixon is the most exciting player in college football -- until he gets into the end zone -- something he does with alarming frequency, writes Pat Forde.
Story
---
Chain of evidence
LSU's escape at Alabama offered evidence that the team the Tigers must overcome to reach New Orleans is wearing purple and gold, writes Ivan Maisel.
Story
---
In like Flynn
With so many offensive weapons at his disposal, Matt Flynn was seen as a caretaker in the preseason. But thanks to his gutsy, smart play in tight wins, Flynn's role has changed dramatically, writes Chris Low.
Story
---
FSU plays spoiler to BC's title dreams
Florida State isn't the power it used to be, when it was a virtual lock for the national title game. But the Noles proved they still are good enough to pull the upset, writes Mark Schlabach.
Story
Highlights: Wisconsin-Ohio State
Where Have The QBs Gone?
By Brett Edgerton, ESPN.com
From the school that gave us Jim Kelly, Steve Walsh, Ken Dorsey and a pair of Heisman-winning quarterbacks came a performance under center that was almost hard to comprehend. Miami's part-time starter Kirby Freeman, who played a full game Saturday against NC State in place of the injured Kyle Wright, somehow managed to complete more passes to Wolfpack players (three) than he did to Hurricane players (one). In the box score, it translated to a 1-of-14 showing with three interceptions. That's a 7.1 percent completion rate. But perhaps more telling than any stat was the fact that Miami decided to run the ball on third-and-9 in overtime. The Hurricanes didn't get it, missed a field goal and lost on an NC State field goal just minutes later.
By the way, in case you were wondering, Freeman at least got his money's worth on his one completion of the day. It was an 84-yard touchdown pass to Darnell Jenkins. Go figure.