The truth is revealed in time
If You Wannabe ...
By Ivan Maisel, ESPN.com
COLUMBUS, Ohio -- The Columbus Dispatch began an eight-part series Sunday titled, "Born Too Soon," about Ohio State's BCS championship hopes.
Oh, wait a minute. The series is about the struggle facing a baby born three months early. But it could have been about the Buckeyes, too. In a matter of weeks, the expectations of Ohio State fans went from zero to (No.) 1.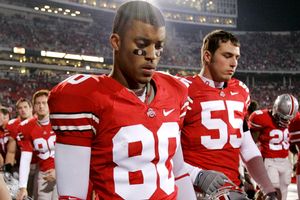 Amy Sancetta/AP Photo
Ohio State is just the latest highly ranked team to take a tumble.
Fans who declare their teams worthy of being in the BCS in October are like impatient cooks. No matter how much you love chocolate cake, if you take it out of the oven before it has cooked, it won't be ready. It might even make you sick.
That explains the queasy feelings in Ohio, where Buckeyes fans are trying to reconcile the BCS championship hopes dashed by Illinois in that 28-21 loss Saturday. That explains the disappointment at UConn, where Huskies fans, intoxicated by an 8-1 record, saw visions of greatness. Those visions also came to their demise Saturday in the Buckeye State, where UConn lost 27-3 at Cincinnati.
Ohio: Graveyard of Wannabes.
The late columnist Red Smith wrote that "90 feet between bases represents man's closest approach to absolute truth." Far be it from me to compare the 12-game season to anything approaching absolute truth, or even retired boxer Carl "The Truth" Williams. But the most redeeming quality the BCS system has is its length; that is, the season as a playoff.
Waiting until the first Sunday in December provides the most time for the truth to reveal itself. There is nothing guaranteed about the season ending the first week in December, as proven a year ago, when the team that braved 12 games with the fewest blemishes, Ohio State, laid an egg in the BCS National Championship Game.
LSU, which departed from its recent strategy of winning in the final seconds to pummel Louisiana Tech 58-10 on Saturday, has returned to No. 1. Now it is Oregon's turn at No. 2, the slot that has knocked out more contenders than "The Truth" ever did. California, South Florida and Boston College all climbed into No. 2 last month. Their collective record after reaching that summit is 3-9. The Ducks play Thursday night at Arizona, a team with a recent history of November success, including a 37-10 victory last season at Oregon.
Try not to open the oven before the buzzer sounds.
Up For Grabs
By Chris Low, ESPN.com
It's hard to argue with Georgia's timing.
The Bulldogs, fresh off a 45-20 trampling of Auburn, have saved their best football for the stretch run and are making a strong case as the best team in the SEC's Eastern Division right now.
But is it too late?
As good as Georgia has been -- scoring 40-plus points in each of its past three games and taking down two nationally ranked opponents -- Tennessee just won't go away.
If the Bulldogs have been the best team, the Vols have been the most resilient team.
And then there's Florida, which boasts the best player. Any doubters now after the way Tim Tebow dissected South Carolina's defense with five rushing touchdowns and two more passing in the Gators' 51-31 rout of the Gamecocks?
The only problem is that Tebow will be watching the SEC championship game on television unless the Gators get some help the next two weeks.
Here's a cheat sheet for what's left of an Eastern Division race that's been a thrill a minute:
• Tennessee: The Vols (7-3, 4-2) are the only team that doesn't need any help after smothering Arkansas 34-13 on Saturday. If they win this weekend at home against Vanderbilt and Nov. 24 at Kentucky, they will win the East. Tennessee has won 23 of the past 24 games against Vandy and 22 straight against Kentucky. That's the good news for the Vols, who have managed to persevere despite blowout losses to Florida and Alabama that caused fans to turn up the heat on coach Phillip Fulmer like never before. The bad news is that if they lose either one of their last two games, they will be eliminated from the East race.
• Georgia: The Bulldogs (8-2, 5-2) actually have a half-game lead on the Vols, but Tennessee holds the head-to-head tiebreaker, thanks to a 35-14 walloping of Georgia back on Oct. 6. Therefore, what the Bulldogs need is to beat Kentucky this weekend at home and hope for Tennessee to lose to either Vanderbilt or Kentucky. Should a three-way tie materialize in which Florida, Georgia and Tennessee all have three losses, the Bulldogs will be eliminated, based on their having a worse record against East opponents. Regardless of what happens in the East race, Georgia has an excellent shot of landing in a BCS bowl if the Bulldogs keep winning. The Sugar Bowl is eyeing them as an at-large team if LSU plays in the BCS National Championship Game.
• Florida: The Gators (7-3, 5-3) are finished with SEC play and will turn cheerleader the next two weeks as they step out of the conference to face Florida Atlantic and then Florida State. They will be pulling for a three-way tie in the East. They need Georgia to lose to Kentucky and Tennessee to lose to either Vanderbilt or Kentucky. But if the Vols lose both games, and Georgia, Kentucky and Florida finish in a three-way tie, the Gators will go to Atlanta, because Georgia would be eliminated based on a worse divisional record, and Florida would have the edge over Kentucky based on their 45-37 win over the Wildcats on Oct. 20. The Gators would win a three-way tie with the Bulldogs and Vols because Georgia would be eliminated based on a worse divisional record, and Florida would have the edge over Tennessee based on winning head-to-head earlier this season.
• Kentucky: The Wildcats (7-3, 3-3) were eliminated from the East race with Florida's win over South Carolina. Even if Kentucky wins its last two against Georgia and Tennessee, the Wildcats will lose any tiebreaker that involves Florida because of their 45-37 loss to the Gators on Oct. 20.
Back In Black
By Mark Schlabach, ESPN.com
ATHENS, Ga. -- After its first touchdown against Florida on Oct. 27, Georgia celebrated by sending its entire team onto the field for an impromptu mosh pit in the end zone. The Bulldogs won the game 42-30, only their third victory in 18 meetings with the Gators.
Against Auburn on Saturday, the No. 10 Bulldogs changed from red to black jerseys after warm-ups, then turned the No. 18 Tigers black and blue in a 45-20 victory.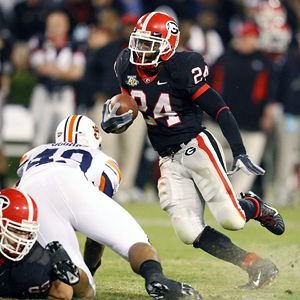 Dale Zanine/US PRESSWIRE
Georgia's Knowshon Moreno ran for 101 yards and two scores against Auburn.
With one more SEC game remaining against No. 25 Kentucky on Saturday, what can Bulldogs coach Mark Richt possibly do for an emotional encore?
How about bringing back former Georgia and Kentucky basketball coach Tubby Smith for the pregame coin flip? Or inviting the Gardner-Webb basketball team to stand on the sideline?
Whatever Richt decides to do, if anything, he'll have a difficult time matching his motivational ploys of the past few weeks. Against the Tigers, Georgia wore black jerseys for the first time in school history, much to the surprise of everyone but his team's seniors.
"The players have wanted to have black jerseys for years now, and I always resisted," Richt said. "This summer, I pulled the trigger and spoke with Nike, and they made the jerseys and we targeted them for a game later in the year. I didn't want to do it early in the year. It just so happened to be this game we chose before the season started. I'm glad we're still playing for something significant. I knew it would give us a boost and at least get us a jump start."
Much of the sold-out crowd of 92,746 fans at Sanford Stadium also was wearing black. Richt and the players had requested fans wear black to the game earlier in the week.
"It was unbelievable to look into the stands and see what I saw," Richt said. "I came out for warm-ups, and the student section was jam-packed. By the time we kicked off, the whole stands were blacked out. It was a great sign of unity."
Richt tried to keep the black jerseys a secret all week. After Georgia returned from warm-ups to its locker room, the lights were turned out for a pregame prayer. When the lights were turned back on, the team's managers were holding the black jerseys. Richt even sent his team captains onto the field wearing red jerseys for the coin toss. They were wearing black jerseys under the traditional red shirts.
"I told my guys, 'You've wanted these black jerseys forever, so don't let me down. I've got my neck sticking out here. If you want to wear them again, let's win,'" Richt said. "It was fun."
Riding High In The Saddle
By Tim Griffin, Special To ESPN.com
AUSTIN, Texas -- The Texas lineup around Colt McCoy against Texas Tech bore little resemblance to the one that started the season. But it really didn't matter, as the retooled Longhorns persevered for their best offensive performance of the season.
Texas erupted for a 59-43 victory over the Red Raiders, clearly pushing themselves back into BCS contention as one of the nation's best two-loss teams.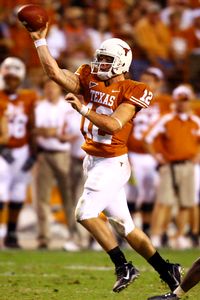 Brendan Maloney/US PRESSWIRE
Colt McCoy threw for four touchdowns and ran for two more against Texas Tech.
"I think we're back in the mix," Texas coach Mack Brown said. "What we need to do is play well in two weeks [against Texas A&M]. Then, if something crazy happens and the [Big 12] championship game is a possibility, that would be great. If not, we're obviously all playing to get in the best place we can get in January."
Their hopes of making the Big 12 championship game will depend on Oklahoma losing its last two regular-season games against Texas Tech and Oklahoma State. Texas will need to be ranked in the top 14 in the final BCS standings to be considered as an at-large team.
Texas fulfilled its promise against Tech in its finest offensive game of the season, rolling up eight touchdowns and a field goal in 11 possessions.
The Longhorns did it with a patchwork offensive unit that lost three more starters as the game progressed: tackle Tony Hills, tailback Jamaal Charles and tight end Jermichael Finley. The Longhorns already were missing top wide receiver Limas Sweed and starting center Dallas Griffin, who are out with season-ending injuries.
The Longhorns barely missed a beat. The offensive replacements erupted for 551 yards, converting 12 of 18 third-down plays and four of four fourth-down plays. Texas was forced to punt only once in the game.
"We looked like we didn't have a clue for awhile early in the season, but our attitude is better, our confidence is better. Our swagger's back," Brown said.
West Virginia White-Out
By Joe Starkey, Special To ESPN.com
MORGANTOWN, W.Va. -- Relief was the predominant feeling in the West Virginia locker room Thursday night, after the Mountaineers squandered a 17-point second-half lead before escaping with a 38-31 victory over visiting Louisville.
The Mountaineers (8-1 overall, 3-1 Big East) control their fate in the Big East race because they play at Cincinnati on Saturday and have a date with first-place Connecticut on Nov. 24.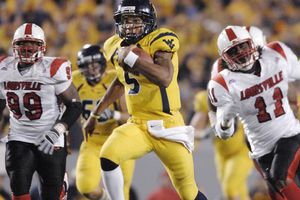 Jeff Gentner/AP Photo
Pat White ran for the game-winner with time ticking down.
"We're not satisfied," said quarterback Pat White, who broke a 31-31 tie on a gorgeous 50-yard touchdown run with 1:36 left. "We know we didn't play good for maybe two quarters. We have to get in there and get things fixed."
It was an eventful night for White (328 total yards, one rushing touchdown, two passing touchdowns), who bolstered his Heisman Trophy candidacy and accused Louisville linebacker Preston Smith of spitting in his face after a Steve Slaton fumble in the third quarter. Smith denied the accusation.
"That one incident didn't sit too well with me at all," said White, who identified Smith only as "No. 6." "Never in my life has anybody spit in my face. ... I don't know his name, don't care to know his name, but I would like to see him again."
Smith, through Louisville assistant sports information director Rocco Gasparro, said, "No question we were trash-talking, but no way did I spit in his face."
Louisville coach Steve Kragthorpe was asked about the accusation after the game and said, "Pat White's a great player, but that's total fiction."
A day later, it didn't sound as if WVU coach Rich Rodriguez agreed.
"I know their coaches won't tolerate that," Rodriguez said. "I thought about calling coach Kragthorpe. I'm sure he would have the same reaction I did, because there's no place for that."
Three Weekend Observations
By Ivan Maisel, ESPN.com

Bradford
1.
The debate over who should be the All-Big 12 quarterback has begun to focus on junior
Chase Daniel
of Missouri and sophomore
Todd Reesing
of Kansas. Both have led to their teams to unexpected success this season, and their Nov. 24 game likely will have more than their personal success at stake. My pick for the league QB of the year? It's simple: Oklahoma freshman
Sam Bradford
. He leads the nation in passing efficiency (180.4 rating).

Murray
2.
Some people believe Mizzou's
Jeremy Maclin
is the fastest player in college football. Others say it is LSU's
Trindon Holliday
, the NCAA 100-meter sprint runner-up. But I say it is Oklahoma freshman
DeMarco Murray
, and I can prove it. Baylor scored with 1:00 left in the first half Saturday. Murray returned the ensuing kickoff 91 yards, and the official box score says Murray scored with :54 left before halftime. Is the 91-yard sprint an official NCAA event?
3.
Let's hear it for soft scheduling: 10 of the 11 teams in the Big Ten have qualified for a bowl, including Indiana and Northwestern, both 6-5. The Hoosiers' three nonconference opponents have a combined record of 7-24; one of the three, Indiana State, is 0-11 in I-AA. The Wildcats' three nonconference opponents have a combined record of 11-19. Thank goodness the Big Ten has deals for only seven bowl bids. The three teams who don't fill the Big Ten's bowl berths probably won't get a bid unless they win at least seven games.
GameDay Crew Final Thoughts
RECE DAVIS

Zook
What a victory for Ron Zook and Illinois. Now, it's up to him and his players to build off that success and not let their guard down against Northwestern. It's one thing to play as the lovable underdog, but it's quite another to become a newly christened target. By the way, think about this possibility: Zook vs. Florida on New Year's Day. Could happen.
Helmet Stickers Go To:
• DE Anthony Hoke, Cincinnati: 3 sacks vs. UConn (held to 22 rush yards)
• QB
Joe Ganz
, Nebraska: 510 pass yards, 7 TDs vs. Kansas State
---
LOU HOLTZ

You can't penalize Kansas for how the conference set up its schedule. This is an excellent football team on both sides of the ball, and I think the Jayhawks are the No. 1 team in the country until someone proves otherwise.
Helmet Stickers Go To:
• RB
Chauncey Washington
, USC: 220 rush yards, TD vs. Cal
• QB
Juice Williams
, Illinois: 4 TDs, 0 INTs vs. Ohio State
---
MARK MAY

Giving up 40-plus points in two straight home losses to the service academies? Charlie, don't worry about lightning striking you. You ARE rebuilding. The sooner the Irish realize that, the better off they will be.
Helmet Stickers Go To:
• QB
Tim Tebow
, Florida: 424 total yards, 7 TDs vs. South Carolina
• RB
Kevin Smith
, Central Florida: 320 rush yards, 4 TDs vs. UAB
Kirk's Top Five
Deuces Wild
By Brett Edgerton, ESPN.com
While it is ultimately the goal of all the national contenders to finish in the top 2, that No. 2 ranking has been a bit of a curse lately. Think about the teams that have occupied that spot over the past month or so. Cal rose to No. 2 in the Oct. 7 AP poll, then proceeded to drop three in a row and now four of five. Next, South Florida took over the spot for a week, before also stringing together a three-game losing streak -- one that plunged the Bulls into a last-place tie with Syracuse in the Big East. So then, it was Boston College's turn. How did the Eagles respond? By losing to unranked Florida State and Maryland, of course. While LSU was able to avoid the curse by playing Louisiana Tech on Saturday, you can be assured there are a few Big 12 teams who are hoping it returns in full force with Oregon now on the hot spot.
By the way, Ohio State's loss to Illinois was the ninth time this season a top-5 team has fallen victim to an unranked foe -- and the sixth time it has happened at home. Sound like a high number? It is. Since the AP poll began in 1936, the only year with as many such upsets was 1967 -- but even that season wasn't comparable to this one. Back in '67, only the top 10 teams were included in the poll, so just about everyone was unranked.
Highlights: Illinois-Ohio State
Looking Back ...
Illini, Juice find the right blend
Illinois' upset of Ohio State provided sweet redemption for Illini coach Ron Zook and quarterback Juice Williams and set off victory parades from Eugene to Norman, writes Ivan Maisel.
Story
---
Tennessee's defense contains McFadden
Tennessee's glaring weakness became its strength Saturday, when the Vols contained Heisman hopeful Darren McFadden en route to a victory that gave them full control of their destiny in the division race, writes Chris Low.
Story
---
Michigan unmasked
Michigan's drubbing by unranked Wisconsin proved something we suspected in September -- the Wolverines just aren't very good, writes Pat Forde.
Story
Highlights: Michigan-Wisconsin
Separate Ways
By Brett Edgerton, ESPN.com
Just more than a year ago, the city of Waco, Texas, served as a crossroads of sorts for two programs that were seemingly headed in opposite directions. On the night of Oct. 21, 2006, Baylor was the hot item in the Big 12. After rallying from 18 down in the fourth quarter to beat Kansas 36-35, the Bears were 3-1 in conference play and talking bowl. On the other hand, the Jayhawks were falling short in one heartbreaker after another, and KU fans, displeased with their 0-4 Big 12 start (3-5 overall), were putting the heat on coach Mark Mangino and his 22-34 career record.
Since Baylor's 36-35 win vs. KU last year
Baylor
Kansas
Overall W-L
3-11
13-1
Big 12 W-L
0-10
9-1
PPG
14.6
41.1
Opp PPG
41.9
16.9
Then something clicked. Something happened. The winning coach in that game (Guy Morriss) hasn't won a Big 12 game since, while the losing coach (Mangino) has won all but one and has his team squarely in national-title contention. Clearly, one team handled heartbreak a little better than the other handled success.
It All Adds Up
By Brett Edgerton, ESPN.com
If you have thought there has been more scoring than usual this year, it's because there has been -- and the barrage doesn't show any signs of slowing down. Those poor, overworked scoreboards just will have to keep chugging along.
This weekend alone, there were 3,313 points scored in 55 I-A games, none of which even went to overtime. That comes out to a whopping 60 points a game, upping the average totals even more in a season that is well on its way to breaking several NCAA records for offensive output.
With that in mind, Navy's shootout win at North Texas on Saturday should not have been much of a surprise. But a quick glance at the numbers still is rather stunning. After the teams combined for the highest-scoring quarter in the history of major college football (63 points in the second quarter), North Texas led 49-45 at halftime, which was easily the highest-scoring half in the history of major college football (94 points, previous record 76 points). Also at halftime, Mean Green true freshman quarterback Giovanni Vizza already had a I-A record-tying seven touchdown passes. But in the end, it somehow wasn't enough. Nine North Texas touchdowns didn't cut it, as Navy rolled up 572 rushing yards and won 74-62. Since the NCAA started keeping records in 1937, it is the most points ever scored in regulation (136).
When it all was said and done, though, it wasn't even the highest-scoring game of the day. Division III Hartwick and Utica took the honors, scoring an NCAA all-divisions record with 142 points in a four-overtime game.
In fact, since those NCAA record-keepers began working 70 years ago, four of the five highest-scoring college football games have taken place over the past month.