It's only written in pencil, but new blood on the BCS horizon
Fresh Meat
By Ivan Maisel, ESPN.com
In a season when the only constant has been change, the final week of the 2007 schedule sets up a battle of old school vs. new. The upstarts have the lead over the perennial powers. If the BCS standings hold up next Saturday, then Missouri will play West Virginia for the national championship, and new blood will course through the veins of this tradition-bound sport.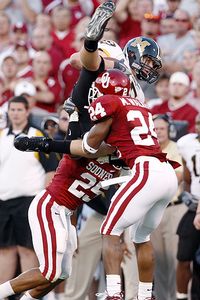 Matthew Emmons-US PRESSWIRE
Mizzou will be looking for revenge after getting upended earlier in the year.
Missouri's road to New Orleans, however, goes through Oklahoma, winner of seven national championships, winner of four of the last seven Big 12 championships, the bluest of blue-blood power in college football. And should either the Tigers or the Mountaineers (who play their traditional rival Pittsburgh on Saturday) falter, the team that would move into the BCS Championship Game is likely Ohio State, winner of three Associated Press national championships and three consecutive Big Ten championships.
Given the nature of this season, with 12 top-five teams having lost to unranked teams, it's best to write Missouri and West Virginia in pencil. The Mountaineers will play an unranked opponent in the Panthers, who, at 4-7, are deserving of their unranking. West Virginia has won four of the last five Backyard Brawls, but the glut of upsets this season should prevent any Mountaineer from the perils of overconfidence.
The Tigers lost to the Sooners, 41-31, in Norman on Oct. 13, and Missouri made it that close only by scoring a touchdown in the waning seconds, a touchdown Oklahoma seemed willing to surrender as long as the clock kept ticking. The Sooners' losses to Colorado and Texas Tech both came away from Norman, although the second loss had more to do with the loss of freshman quarterback Sam Bradford than it did Oklahoma's white uniforms.
Bradford, judging by his performance against Oklahoma State (11-15, 150 yards, 4 TDs), is in good health.
If Missouri and West Virginia both lose on Saturday, then don your armor and prepare for battle. Ohio State, with only one loss has a firm claim on the first position. After that, however, the argument will be long and loud.
Choose your favorite two-loss team, but you may only pick one: Georgia is 10-2 and tied for the SEC East but didn't qualify for the conference championship game. LSU, with a victory over Tennessee on Saturday in the SEC title game, will be 11-2 with two triple-overtime losses. The ACC champion, Boston College or Virginia Tech, will be 11-2. Oklahoma would be 11-2. And suddenly resurgent USC is a victory away from being 10-2.
Man, this season has been fun.
Staying The Course
By Mark Schlabach, ESPN.com
MORGANTOWN, W. Va. -- Even after a 21-13 loss at South Florida on Sept. 28, West Virginia coach Rich Rodriguez still believed his team had a chance to be where it is today: one victory away from playing for a national championship.
Rodriguez believed this Mountaineer squad, his seventh as coach of his alma mater, was better equipped to handle the rigors of a 12-game schedule and the pressure of being a national championship contender.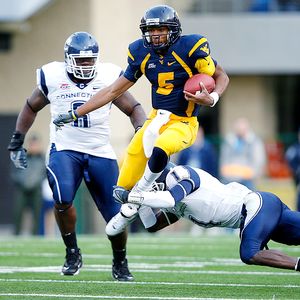 Joe Robbins/Getty Images
Pat White and the running Mountaineers are one win away from the title game.
"I think after we lost to South Florida, there was a lot of talk about what other teams were doing and not much talk about West Virginia," Rodriguez said. "Our guys kept doing what they were doing and stuck to it. There was not a change in their mentality or focus. We needed some help outside and we got it and took care of business ourselves. It's gratifying, but we are not done yet."
The No. 2 Mountaineers can punch their ticket to the BCS Championship Game on Jan. 7 at the Louisiana Superdome in New Orleans by beating Pittsburgh. The bitter rivals play Saturday in the 100th edition of the "Backyard Brawl" at West Virginia's Milan Puskar Stadium.
If the Mountaineers beat Pittsburgh, they'll probably play either No. 1 Missouri or No. 3 Ohio State for the national championship. The Tigers must beat Oklahoma in Saturday's Big 12 championship game in San Antonio to reach the BCS title game.
"We always had to control our own destiny," West Virginia linebacker Mortty Ivy said. "No matter what teams won or lost, we always had to do the hard part."
The hardest part for West Virginia now is focusing on the task at hand. Unless the Mountaineers beat Pittsburgh, they'll have no chance at playing for a national championship.
The Mountaineers on Saturday had no trouble staying focused against No. 20 Connecticut in a 66-21 rout. West Virginia had 517 rushing yards -- the second-highest total under Rodriguez -- and 624 yards of offense. After losing five fumbles in the previous two games, the Mountaineers fumbled only once against the Huskies.
And West Virginia performed that well knowing what was at stake against Connecticut, after then-No. 1 LSU lost to Arkansas 50-48 in triple overtime on Friday.
"I think it helped our focus," quarterback Pat White said. "I think it was a little more exciting to go out there and play, knowing what was at stake."
Sifting Through The Bowls
By Chris Low, ESPN.com
If you ask anybody in the Bulldog Nation, the best team in the Southeastern Conference won't be playing for the league championship this Saturday in Atlanta.
Still, there's a pretty sweet consolation prize in the offing for Georgia. The Bulldogs, who won their last six games after being trampled by Tennessee back on Oct. 6, are virtually assured of an at-large berth in a BCS bowl.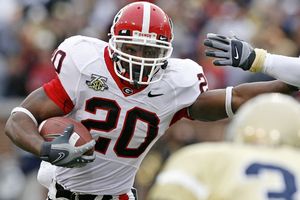 Mike Zarrilli/Getty Images
Thomas Brown ran for 139 yards and a score for Georgia against Georgia Tech.
Not bad for a team that looked disinterested and downright apathetic following that 35-14 loss to the Vols and then needed a last-minute drive and a late field goal the next week to escape against Vanderbilt.
But amid the chaos that's run rampant this season in the SEC, that little lapse might as well have been ancient history.
Following Georgia's 31-17 victory over Georgia Tech on Saturday, senior receiver Sean Bailey went as far as to say that the Bulldogs (10-2, 6-2) were playing better than anyone in the country.
That might be. They just won't get a chance to prove it in the SEC's showcase game.
That stage will belong to LSU and Tennessee, two teams headed in diametrically opposite directions a few short weeks ago.
The Tigers (10-2, 6-2) appeared to be on their way to the BCS National Championship Game before losing at home to Arkansas in three overtimes Friday. The Vols (9-3, 6-2) were being ridiculed by their own fans, with veteran coach Phillip Fulmer receiving the bulk of the heat, before reeling off five straight wins, capped by Saturday's thrilling 52-50 four-overtime Houdini act against Kentucky.
The jockeying for bowl slots in the SEC should be as wild as the season. Eight teams have the necessary seven wins to be assured of bowl berths, while two others (Alabama and South Carolina) are bowl eligible and will have to take what's left.
The winner of the LSU-Tennessee game will likely play in the Sugar Bowl. If LSU loses, the Tigers are probably headed to the Cotton Bowl. If Tennessee loses, the Vols could land in the Chick-fil-A Bowl.
Florida appears headed to the Capital One Bowl and Arkansas to the Cotton Bowl, provided LSU wins the SEC championship game. The Outback Bowl will likely select Auburn.
Because Kentucky went to the Music City Bowl last year, look for Mississippi State to land in Nashville this season. The Wildcats would then probably head to the Liberty Bowl, with the Independence Bowl having its choice of Alabama or South Carolina. Both teams have hit the skids, finishing 6-6, but the Crimson Tide would probably be the most attractive option at this point. The Gamecocks are in danger of missing a bowl game for the first time in three years under Steve Spurrier.
Tiger's Eye On The Future
By Tim Griffin, Special To ESPN.com
KANSAS CITY, Mo. -- Missouri players say they've been awaiting another chance at Oklahoma for nearly two months.
The Tigers' dramatic 36-28 victory over Kansas on Saturday night provided them their first Big 12 North title in school history. But even with jubilant fans rushing the field at Arrowhead Stadium celebrating the victory over their bitter archrival, Missouri players remained focused on their next task.
The Big 12 championship game Saturday in San Antonio will provide Missouri with a chance at revenge after a 41-31 loss to the Sooners in Norman on Oct. 13. It was Missouri's only loss of the season.
"After we lost to them, we talked about going on a six-game mission so we could face them again," Missouri guard Kurtis Gregory said. "Now, we're going to get that opportunity at them."
Even as the Tigers assumed the No. 1 position in both the Bowl Championship Series poll for the first time in school history and the No. 1 position in The Associated Press poll for the first time since 1960, Missouri players still remember the Oklahoma defeat as the low point of the season.
Despite playing without leading rusher Tony Temple, the Tigers led that game 24-23 heading into the fourth quarter. But a slew of uncharacteristic mistakes -- including a late lost fumble and interception by quarterback Chase Daniel -- enabled the Sooners to recapture the lead.
Missouri players said that loss caused them to immediately refocus their goals to catch the fast-starting Jayhawks. They were forced to play behind in the North division race for the rest of the season before catching them Saturday night.
"That says so much about our staff and players," Missouri coach Gary Pinkel said. "We had to go out and win six games in a row to get it done. Kansas made us win all of them. But it was the case of the players going out and doing their jobs week in and week out. I'm proud of what they accomplished."
Two For Nothing
By Brett Edgerton, ESPN.com
AP No. 2 since Oct. 1
| | | |
| --- | --- | --- |
| Date | No. 2 Team | Result |
| Nov. 24 | Kansas | L, vs. No. 4 Missouri |
| Nov. 15 | Oregon | L, at Arizona |
| Nov. 10 | LSU | W, vs. La. Tech |
| Nov. 3 | Boston College | L, vs. Florida St. |
| Oct. 25 | Boston College | W, vs. No. 8 Va. Tech |
| Oct. 18 | South Florida | L, at Rutgers |
| Oct. 13 | Cal | L, vs. Oregon St. |
| Oct. 6 | USC | L, vs. Stanford |
One is the loneliest number? Please. Three Dog Night, it's time you met the 2007 college football season. It's a place where the No. 2 is about as lonely and depressing as it gets.
Since the start of October, the No. 2 team in the AP poll is a mind-boggling 2-6, with the two wins coming against Louisiana Tech and in a miracle rally at Virginia Tech. Kansas is the only one of those snakebitten No. 2 teams whose loss wasn't stunning. The five others all lost to unranked teams (three of them at home). And for a few of them, it didn't end there. South Florida, BC and Oregon all went on to lose their next game, while Cal has fallen off the face of the earth with a 1-5 collapse.
Three Weekend Observations
By Ivan Maisel, ESPN.com

1.
The Big Ten took some criticism for its scheduling a year ago, when Ohio State finished its regular season two weeks before Florida. The Buckeyes' rust showed in the BCS Championship Game. This season, Ohio State's early finish allowed it to sit by and watch LSU and Kansas lose. Now the Buckeyes are a heartbeat away from playing for the national championship again. Hey, that's one way to silence the criticism.

Orgeron
2.
Ole Miss fired David Cutcliffe three years ago and hired Ed Orgeron, who is everything Cutcliffe isn't: fiery, emotional, back-slapping. He also didn't win like Cutcliffe. Orgeron didn't grow into the job. When you lead your archrival 14-0 on the road in the fourth quarter, you must play field position. Ole Miss went for it at fourth-and-1 at midfield, Mississippi State made the stop, scored on the short field and won, 17-14.

McFadden
3.
At midseason, it looked like no one wanted to win the Heisman. This weekend, every time you picked up the remote, you saw a top candidate step up:
Darren McFadden
on Friday afternoon,
Colt Brennan
on Friday night,
Tim Tebow
on Saturday evening,
Chase Daniel
on Saturday night. This season, more so than any in recent memory, there's a different type of player for every taste.
GameDay Crew Final Thoughts
RECE DAVIS

Daniel
A plea to my fellow Heisman voters: Hold onto those ballots one more week! Look,
Tim Tebow
is a phenomenal player who's had a phenomenal year. No one could be too upset if he won. But why not at least give
Chase Daniel
one last look (or maybe first look), as he seeks a Big 12 title vs. Oklahoma and a spot in the BCS Championship Game?
Helmet Stickers Go To:
• QB
Chase Daniel
, Missouri: 40-49, 361 yards, 3 TDs vs. Kansas
• WR
Brennan Marion
, Tulsa: 7 rec, 244 yards, 2 TDs vs. Rice
---
LOU HOLTZ

I've long been a proponent of a playoff, and what better time to make that point than this season? We've got a bunch of one-loss teams that seem to be pretty equal and a few two-loss teams that might be playing the best of anyone. Why not let them play it out on the field?
Helmet Stickers Go To:
• RB
Allen Patrick
, Oklahoma: 202 yards, 3 total TDs vs. Oklahoma State
• QB
Alex Brink
, Washington State: 399 yards, 5 TDs, 0 Int vs. Washington
---
MARK MAY

At this point, turnovers are the only thing that can hold West Virginia back. But as long as the Mountaineers don't shoot themselves in the foot, no one is going to stop them. It certainly won't be Pittsburgh. That Backyard Brawl is going to be a Backyard Maul.
Helmet Stickers Go To:
• QB
Patrick White
, West Virginia: 186 rush yards, 3 total TDs vs. UConn
• RB
Arian Foster
, Tennessee: 216 total yards, TD vs. Kentucky
GameDay Crew Talks Mizzou's Win
Ducking Out
By Brett Edgerton, ESPN.com
Dennis Dixon
likely is not going to win the Heisman, but if there was a Most Valuable Player award out there, wouldn't he have to be a lock at this point? Just look at what Oregon has done without him. Or better yet, look what they haven't done without him. Namely, moving the ball and finding the end zone. Before Dixon went down with a knee injury in the first quarter at Arizona on Nov. 15, the Ducks were No. 2 in the BCS and talking national title. In the seven full quarters since, they have totaled exactly one touchdown in two losses to average teams (Arizona and UCLA). In Saturday's 16-0 snoozefest in Pasadena, an Oregon team was shut out for first time since 1985, breaking the third-longest active scoring streak in college football (150 games).
Oregon Offense Since Dixon Injury
Offensive Touchdowns
1
Turnovers
7
Completion Percentage
38.1
TD-Int
0-5
Yards Per Rush
1.97
The UO offense, near the top of the national rankings all year long, is simply a shell of its former self. The quarterback replacements are a combined 32-of-84 with zero touchdowns and five interceptions. Against the Bruins, the three Duck QBs went 11-of-39 with three picks. So the running game has picked up the slack, right? Hardly. The backs have netted just 130 yards on 66 carries.
Highlights: Missouri-Kansas
Looking Back ...
Tigers chase down Big 12 North title
Missouri hasn't won many titles in the past four decades. Thanks to the inspired play and pinpoint accuracy of undersized QB Chase Daniel, that's changing dramatically for the Tigers, writes Pat Forde.
Story
---
West Virginia embracing life at the top
Unlike top-ranked teams before it, West Virginia is embracing its position in the football landscape. The Mountaineers should -- they're the best team in the land, writes Mark Schlabach.
Story
---
Virginia Tech survives to keep season alive
VT-Virginia is always a heated rivalry. But with a spot in the ACC championship game on the line, the Hokies' win on Saturday is more meaningful than most, writes Heather Dinich.
Story
---
Walk on the Wild side
Arkansas' heaping helping of Wild Hog was more than No. 1 LSU could stomach, added another round of indigestion to the BCS race and stoked another coaching crisis, writes Ivan Maisel.
Story
---
Aggies find a way in Franchione's farewell
With his coaching deathbed not yet cold, Dennis Franchione finally gave Texas A&M fans -- the vocal ones, anyway -- what they've yearned for all season, writes Mark Wangrin.
Story
---
USC's defense serves notice to Pac-10
USC arrived in Tempe wearing T-shirts with "Respect" printed on them. The relentless Trojans defense made sure the team received it by beating Arizona State, writes Doug Haller.
Story
Highlights: Virginia Tech-Virginia
Highlights: UConn-West Virginia