Spurrier finding victories the old-school way
Where Have You Gone, Mr. Spurrier?
By Ivan Maisel, ESPN.com
Gee, I miss Steve Spurrier. In the 1990s, Spurrier returned to Florida, his alma mater, and reshaped Southeastern Conference football. He brought the forward pass to the SEC. He brought excitement to the SEC. There was a reason his offense became known as the Fun 'N' Gun. By the time the rest of the SEC caught up, Spurrier had won six conference championships and one national championship.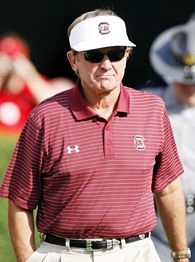 Dale Zanine/US PRESSWIRE
Unlike in years past, Steve Spurrier is winning with defense and the kicking game.
Now, Spurrier is at South Carolina, and SEC football has reshaped him. The Gamecocks won 16-12 on Saturday at Georgia with its defense and kicking game. Spurrier said before the season that he thought South Carolina had a chance to win the SEC East. Spurrier failed to say that it could win with him channeling his inner Gen. Neyland. Bob Neyland transformed Tennessee into a power in the late 1920s by emphasizing defense and a kicking game. South Carolina beat Georgia with a defense led by linebacker Casper Brinkley and an offense led by kicker Ryan Succop, who made field goals of 41, 35 and 34 yards. The only thing Spurrier hasn't stolen from Neyland is the quick kick -- yet. What happened to the Fun 'N' Gun? What happened to drawing up pass plays in the dirt? At Florida, Spurrier's teams scored five touchdowns on Tennessee during pregame warmups. South Carolina has scored five touchdowns in two games. Quarterback
Blake Mitchell
, in his first start of the season Saturday (an academic suspension knocked him out of the opener), completed 20 of 31 passes for 174 yards. A Spurrier quarterback averaging less than six yards per attempt? Watching Spurrier coach this team is like watching the advertisement in which 50 Cent conducts a symphony orchestra. The music starts out classical and segues into the rapper's hit "In da Club." On the field, you keep waiting for this symphony of classical football to switch to the Ball Coach's game. It hasn't happened yet. South Carolina is winning because it has allowed two touchdowns in two games. As college football embraces the spread offense, Spurrier has decided to embrace what preceded him. He is upholding the classic values of traditional Southern football. It's as if Fidel Castro arose from his sickbed to cut the ribbon at a Target in downtown Havana. If, like me, you miss the old Ol' Ball Coach, there is one piece of evidence from Saturday that should hearten you. After the victory, Spurrier said, "We won an ugly game." Somewhere beneath the visor, the Evil Genius still lurks.
Hear The Lions Roar
By Joe Starkey, Special to ESPN.com
STATE COLLEGE, Pa. -- No fewer than 110,078 people crammed into Beaver Stadium on Saturday night and saw Penn State pummel Notre Dame, 31-10. Irish quarterback
Jimmy Clausen
must have felt like every last one of them was after him.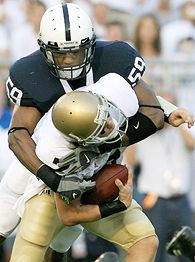 Matt Cashore/US PRESSWIRE
This scene was repeated over and over -- much to the chagrin of Irish QB Jimmy Clausen -- on Saturday.
At times, it looked that way. It's hard to tell how good No. 14 Penn State is after games against Florida International and Notre Dame -- two teams that really do belong in the same sentence, based on their paltry offensive production -- but it seems clear the Lions' defense has some serious bite. It held Notre Dame to zero yards rushing and sacked Clausen six times as the second-largest crowd in Beaver Stadium history looked on. Penn State (2-0) hasn't allowed an offensive touchdown yet. "We're just getting started," defensive end Josh Gaines said. Linebackers Dan Connor (12 tackles), Sean Lee and Tyrell Sales were their usual destructive selves, and if it hadn't been for Clausen's quick feet -- it's amazing what a guy can do when he's running for his life -- Penn State would have had at least 10 sacks. Clausen, the trumpeted true freshman making his first career start, wasn't available after the game, so one can only imagine what he went through. "I would have to imagine it was absolutely ridiculous," said Penn State defensive end Aaron Maybin, who had a sack. "I know it had to be pretty nerve-racking for a young quarterback." It's scary to think what Penn State might do to Buffalo next Saturday before beginning its Big Ten schedule Sept. 22 at Michigan.
That's More Like It
By Mark Wangrin, Special to ESPN.com
AUSTIN, Texas -- The question was put to Texas wide receiver
Quan Cosby
after the Longhorns' 34-13 win over TCU on Saturday: Was what they showed in overcoming a 10-point halftime deficit convincing enough to prove last week's eight-point victory over Arkansas State and all the ineffective play that framed it a fluke? "Any win is convincing," Cosby said, smiling and dodging any semblance of comparison.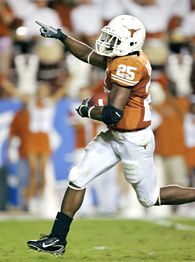 Brian Bahr/Getty Images
Jamaal Charles got the Texas running game going against TCU's defense.
Cosby was vague but right, leaving only one more question: Convincing of what? Everything Texas does in the first month of the season is evaluated by one simple gauge: Is it good enough to beat Oklahoma? The Longhorns mixed a variety of schemes, from the I-formation to the shotgun spread, and worked in some two-minute offense early in the second quarter to try to find a rhythm. "We were trying to get personnel groups in and out so we didn't give [TCU's defense] anything to latch onto," Longhorn offensive coordinator Greg Davis said. "Our defense did a good job hanging in while we were hunting and pecking." The defense, playing without injured end Brian Orakpo, contained TCU's passing game, intercepting one pass and sacking
Andy Dalton
three times. Minus sacks, the Frogs still averaged only 2.7 yards per carry and didn't score an offensive touchdown. "I like what we are," Longhorns co-defensive coordinator Duane Akina said. "We're a resilient team. A tough, physical team, a mentally tough unit that, when it's called upon, will stand and deliver." "What was disappointing last week was what we did well this week," coach Mack Brown said of the Longhorns' comeback. "We didn't finish last week. We didn't play with the same emotion." Playing with emotion against Oklahoma on Oct. 6 won't be the question. How well the Longhorns can finish on that pivotal day in Dallas will be.
A Change In Perspective
By Ron Higgins, Special to ESPN.com
NASHVILLE -- Once upon a time, if Alabama went to Vanderbilt and won by just 14 points, there would have been a Crimson Tide wave of teeth-gnashing from Huntsville to Mobile. Radio shows throughout Alabama would have been full of calls of "What's wrong with our boys? Geez, we're talking about VANDERBILT, the doormat of the SEC. We pad stats against Vandy. EVERYBODY pads stats against Vandy."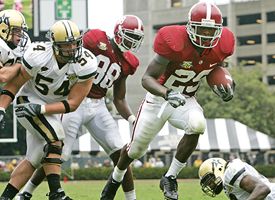 Mark Humphrey/AP Photo
Terry Grant had a big second half to help lift the Tide over Vanderbilt.
Yet on Saturday, when Alabama exited Vanderbilt Stadium with a 24-10 victory, Nick Saban's first SEC win as the Prince of Tides, there wasn't a hair-trigger reaction of panic. Slowly, but surely it seems, Saban is conditioning Alabama fans, like he did LSU fans, to accept that building a championship program is a process. It's about changing a mindset, about working toward consistency. The one thing Saban did like against the Commodores was his team's physical play from beginning to end. Whether it was aggressive gang-tackling on defense or the way Tide running back
Terry Grant
brushed off tacklers, Alabama met Saban's expectations in that category. "We tried to physically dominate for the whole 60 minutes," Saban said. "That's what we're trying to do here. We played with a lot of conviction." Of course, Saban being Saban, he had to issue some pointed reminders along the way Saturday. Like at halftime, when he lit a fire under Grant, who ran for 53 yards on seven carries (7.5 yards per pop) and one touchdown in the first half. "I don't think I can tell you [what Saban said]; it wouldn't be too good," Grant said. "I guess he felt I was going down too easy [in the first half], but he got me going." In the second half, Grant ran for 120 yards and another TD to finish with 173 yards and two touchdowns.
Off To A Big Start
By Brett Edgerton, ESPN.com
After it was raided by the ACC, the Big East and its backers heard it all. The Big Least. The Big Easy. The Bastard Child of the BCS. In terms of respect, it was a conference stuck somewhere between Conference USA and the Big 12 North. The league surely didn't deserve a BCS bid, right?
Back To Beast
2007 Big East Conference

| | |
| --- | --- |
| Syracuse W-L | 0-2 |
| Syracuse PPG | 6.0 |
| All Others W-L | 14-0 |
| All Others PPG | 43.7 |
Flash forward a few years to the present day. Anyone still asking that question? It isn't on the Plains of Auburn, Ala., where South Florida -- a program at the tender age of 11 -- knocked off the SEC's winningest program of the past four years on Saturday night. And it certainly isn't in Corvallis, Ore., where the Beavers still are trying to recover from a 34-3 shellacking at Cincinnati on Thursday. If you thought this conference was West Virginia, Louisville, Rutgers and a bunch of scrubs, it might be time to reassess. After going 5-0 during last year's bowl season, the Big East carried that momentum right into 2007. While it is early and the schedules have not been especially brutal, a quick glance at the standings finds every team in the conference, except Syracuse, at 2-0. Take out the Orange, whose football program is just a rumor now anyway, and you have got some seriously worn-out scoreboards. In other news, the Virginia Tech Hokies and Miami Hurricanes -- Big East fans, you might remember them -- lost by a combined 79 points this weekend.
Huskies Building Momentum
By Ted Miller, Special to ESPN.com
SEATTLE -- Washington's sensational redshirt freshman quarterback
Jake Locker
turned in another strong performance, although this time with some pratfalls, but the Huskies defense was primarily responsible for ending the nation's longest Division I-A winning streak, held by Boise State.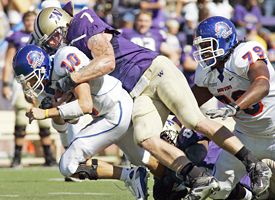 Ted S. Warren/AP Photo
Washington's defense was stout against the normally high-scoring offense of Boise State.
Locker accounted for 277 of Washington's 342 yards in the 24-10 victory, launching his first career touchdown pass and pushing in from six yards to cap a 78-yard drive to start the game. But he also lost his first fumble and tossed his first interception of the season. The offense managed just four first downs and 119 yards in the second half. The defense, which forced four turnovers, including three interceptions, made sure the offense's gaffes and general struggles didn't cost the Huskies the game, pitching a second-half shutout against a team that has averaged nearly 42 points per game since 1999. Holding an opponent to 388 yards certainly doesn't suggest domination, but it was just the second time since 2000 that the Broncos scored 10 points or fewer. Three Boise State drives pushed inside the Huskies' 35 yard line in the fourth quarter but produced zero points. Now, these weren't the 2006 Broncos, who waxed magical during a Fiesta Bowl victory over Oklahoma and won 14 consecutive games. And the Huskies, who at 2-0 are receiving top-25 votes in both major polls, figure to get a truer measure of where they stand compared to the nation's elite when 10th-ranked Ohio State visits Husky Stadium on Saturday. Still, a crowd of 70,045 -- Husky Stadium's best showing since 2005 -- appreciated the first victory over a ranked opponent since 2003. The handful of empty seats, an unheard of occurrence just a few years ago, figure to be filled when the Buckeyes come to town.
Three Weekend Observations
By Ivan Maisel, ESPN.com

Jackson
1.
Call it The
DeSean Jackson
Effect: Colorado State punter Jimmie Kaylor shanked one 35 yards to his team's 47, and Cal turned it into a quick touchdown. Last week, Tennessee's Britton Colquitt shanked one 13 yards to the Cal 31, and the Bears turned it into three points. Maybe Louisiana Tech punter Chris Keagle should work on sideline punts this week.

Shannon
2.
As if Miami coach Randy Shannon didn't suffer enough in Saturday's 51-13 loss at Oklahoma: Shannon and the Hurricanes get to spend this week dealing with questions and memories of the brawl last season against Florida International, which Miami will play Saturday at the Orange Bowl. Welcome to the wonderful world of head coaching.
3.
The Big East is 14-2 outside the league. Before you get too excited: Five of those wins came against I-AA schools, six came against I-A leagues that don't get automatic BCS bids and one came against Duke, which has lost 22 in a row. That leaves the Big East 2-2 against its automatic-bid brethren, which sounds about right. But hey, South Florida winning at No. 17 Auburn in overtime? Good win.
GameDay Crew Final Thoughts
RECE DAVIS

For the time being at least, LSU and Oklahoma deserve to be the top two teams in the poll. If you're a pollster and those aren't your top two, what you're saying is that your preseason prediction is more important than what you've seen on the field. Unfortunately, too many people seem unable to break that habit.
Helmet Stickers Go To:
•
Jacob Hester, FB, LSU
109 total yds, 1 TD, set the tone for LSU offense
•
Casey Fitzgerald, WR, North Texas
327 rec. yds (4th most in I-A history)
---
LOU HOLTZ

I don't see a weakness on this LSU team. Some teams do this thing well or that thing well, but these guys do it all well. I'd have to give them the nod for No. 1 right now, with Oklahoma and USC right behind.
Helmet Stickers Go To:
•
Patrick Pinkney, QB, East Carolina
21-31, 406 pass yds, 3 TDs
•
Sam Bradford, QB, Oklahoma
19-25, 205 yds, 5 TD passes (ties OU record)
---
MARK MAY

Bradford
I've been so impressed with
Sam Bradford
. He's fearless with his decision-making when he's in the pocket. If he's got a receiver he's locked onto, he's going to get him the football. I'm going to tell you this right now: Before he's finished, Bradford will be the best QB Bob Stoops ever has had at Oklahoma.
Helmet Stickers Go To
:
•
Dan Connor, LB, Penn State
12 tackles, 2.5 TFL, sack, ND 0 rush yds
•
Dennis Dixon, QB, Oregon
368 total yds, 4 TDs
GameDay Recap
Piling Up Points
By Brett Edgerton, ESPN.com
With a 79-10 cakewalk over North Texas and a 51-13 destruction of Miami, Oklahoma has scored 130 points in its first two games, something the Sooners have not done in quite some time. And it wasn't one of those powerful OU teams from the 1970s or 80s. Not even one of the legendary teams of the 50s. No, to find that many points, one has to go all the way back to when the state of Oklahoma was just 12 years old. In 1919, the Sooners put up 197 against Central Oklahoma and Kingfisher, the latter of which put up a fight before falling 157-0.
Highlights: Miami-Oklahoma
Looking Back ...
LSU stakes claim as rightful No. 1 team
If the BCS championship were played today, LSU would meet USC in New Orleans. And the Tigers should enter that contest as the top seed, based on how they have played the first two weeks of the season, writes Pat Forde.
Story
---
Sooners defense stifles Miami
The remnants of Hurricane Henriette passed without trouble on Saturday in Oklahoma. So did the remnants of the Hurricanes teams that tormented the Sooners in the early part of the decade, writes Ivan Maisel.
Story
---
Gamecocks validating Spurrier's belief
Steve Spurrier believes South Carolina is ready to contend in the SEC East. He probably isn't alone after the Gamecocks picked up a road win at Georgia, writes Mark Schlabach.
Story
---
No storybook ending for TCU
It was far from a magical night for BCS-busting TCU, which gave up a 10-point lead in the third quarter to send Texas home with a convincing, if sloppy, 34-13 victory, writes Mark Wangrin.
Story
Highlights: Virginia Tech-LSU
First To Start Slow
By Brett Edgerton, ESPN.com
One thing we know for sure about West Virginia: The team loves to run much more than it loves the first half. In five of their past six games, including Saturday's win at Marshall, the Mountaineers have trailed at halftime. Due in large part to their lethal running game, they've come back to win all but one of those. West Virginia ran in five touchdowns against the Herd, upping its total to 83 rushing TDs over its past 21 games (an average of nearly four per game).
Highlights: South Carolina-Georgia
Balance Of Power
By Brett Edgerton, ESPN.com
When it comes to offensive fireworks, you can't get a whole lot more than LSU's 48-7 runaway against Virginia Tech on Saturday. Against a D that came in leading the country in scoring and total defense over the past three seasons, the Tigers rolled up a mere 598 yards -- 301 through the air and 297 on the ground. LSU posted the most lopsided win over a top-10 team since Oklahoma put a 49-3 beatdown on another ninth-ranked squad, Iowa State, five years ago. Surely the Hokies will rebound a little better than the Cyclones, who fell from the top 10 and proceeded to lose 20 of their next 25 games.
Highlights: South Florida-Auburn
It Feels Good
By Brett Edgerton, ESPN.com
He would never admit it -- and his stoic face would never show it -- but Tyrone Willingham has to be smiling inside. As Notre Dame continues to search for its first win, the former Irish coach has Washington 2-0 for the first time in six years. The Huskies began by posting their most lopsided nonconference win since 1983 (42-12 at Syracuse), followed by a two-touchdown win over Boise State that ended the longest win streak (14) in Div. I-A.
Highlights: Notre Dame-Penn State