Notre Dame, Auburn, Oklahoma State among teams looking for do-overs
Season Starts Today
By Ivan Maisel, ESPN.com
Today is the first day of the rest of your season, as the refrigerator magnet in Charlie Weis' kitchen says. The season is three games old -- one-quarter over, and it's not yet autumn. Yet on campuses in South Bend, and in Westwood, and in Auburn and Fort Worth and Stillwater, football teams already have used up their season's worth of margin for error. Notre Dame is playing as if it has begun borrowing on its errors for the next five years -- and, boy, will that balloon payment be ugly.
Charlie Weis vs. Notre Dame legends

| | |
| --- | --- |
| Coach | Record in third season |
| Knute Rockne, 1920 | 9-0 |
| Frank Leahy, 1943 | 9-1* |
| Ara Parseghian, 1966 | 9-0-1* |
| Dan Devine, 1977 | 11-1* |
| Lou Holtz, 1988 | 12-0* |
| Charlie Weis, 2007 | 0-3 and counting |
* won AP national title
-- from ESPN Research
The third-year national championship, an Irish coaching tradition that began with Frank Leahy and coursed through Ara Parseghian, Dan Devine and Lou Holtz, has been replaced by a third year much more painful to digest. It's not exactly a good week for the Belichick coaching family tree. Say this for Weis: No one is accusing him of videotaping coaching signals on the other sideline. Although it's easy to appreciate the above pop-cultural wisdom Weis proposed at his postgame news conference Saturday, college football fans only have half of the formula mastered. They forget the good wins. They never forget the bad losses. UCLA's 13-9 upset of No. 2 USC in December silenced the critics of Bruins coach Karl Dorrell. But on Saturday, the fifth-year coach used up all that good will he purchased against the Trojans. No. 11 UCLA and its 20 returning starters lost 44-6 at Utah, a loss all the more unseemly for the way the Bruins fell apart in the second half. UCLA was on the doorstep of the top 10 going in. Dorrell now will have to deal with the disgruntled who want him on the doorstep going out. It's ugly, and my typical journalistic stance has been to ignore the rabble who want a coach out the minute something goes wrong. But after what happened to Ty Willingham at Notre Dame and to Glen Mason at Minnesota and to Mike Shula at Alabama -- coaches who succeeded but got fired for not succeeding enough -- it's foolish to ignore that fuses are shorter. At least UCLA, no matter how bad the loss, is 2-1. Auburn, TCU and Oklahoma State are 1-2 after getting embarrassed. The Tigers and Horned Frogs must feel even worse for beating themselves. That's how close losses to underdogs (19-14 to Mississippi State and 20-17 in overtime at Air Force, respectively) feel. But as dark as it might seem now, it's still summer. As my colleague Bruce Hooley pointed out in an excellent
column on Michigan coach Lloyd Carr
last week, the Wolverines began 1988 and 1998 with two losses and won the Big Ten in both seasons. Michigan, after righting itself against Notre Dame, can look toward its Big Ten schedule with renewed hope. Grab the hand of the reader next to you and repeat: Today is the first day of the season.
Heisman Hopefuls Hurt By Losses
By Pat Forde, ESPN.com
Can a quarterback lose a Heisman Trophy because his team's secondary can't find a wide receiver without a searchlight and a pack of bloodhounds? We're going to find out. Louisville's
Brian Brohm
is putting up Heisman-esque numbers this season: more than 1,100 passing yards, 11 touchdowns, just one interception, 67 percent of his passes completed. Saturday night against rival Kentucky on the road, Brohm brilliantly led an 83-yard drive -- completing six out of seven passes -- for the go-ahead touchdown with 1:45 left.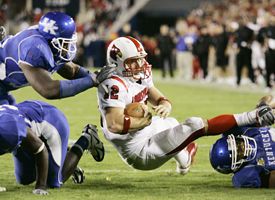 AP Photo/Ed Reinke
Louisville's Brian Brohm put up huge numbers, but could take a fall in the Heisman rankings.
Turns out he got his team downfield too fast. Because the last thing he wants to do this year is count on the Louisville defense to close out a game. Sure enough, a massive coverage bust helped produce a 57-yard touchdown pass from
Andre' Woodson
to
Steve Johnson
with 28 seconds left. Just that quickly, the night became a coronation of Woodson (who deserves it, having thrown four TD passes in the game and shattered the SEC record for consecutive passes without an interception). And now Brohm's Heisman campaign probably is in John Edwards, come-from-behind mode. Arkansas'
Darren McFadden
is probably wondering whether the same thing happened to him Saturday night. His 200 rushing yards against Alabama were overcome by the Crimson Tide's 41 points. Both players should not be counted out of the Heisman race by any stretch. But don't be surprised if we start hearing more about guys such as Florida's
Tim Tebow
, Boston College's
Matt Ryan
, and, yes, Woodson -- guys whose teams are still unbeaten. Fact is, the Heisman has become almost inextricably linked with team success. It has almost become an award for the best player on a team in the top 10 (or even the top five). That's how you end up with an Eric Crouch winning the thing. So although Brohm and McFadden should remain in the discussion, they're each a loss or two from being pushed out. In Brohm's case, more losses appear likely with a defense that cannot reliably stop a leaky faucet, much less West Virginia or Rutgers or South Florida or Cincinnati. Word is that head coach Steve Kragthorpe became more hands-on with the Louisville D after its inept performance against Middle Tennessee. The Cardinals were better on that side of the ball against Kentucky, but far from stout. We'll see when the ESPN.com Heisman poll rolls out this week how much Brohm has to pay for that.
Notre Dame's O-Line Going Back To The Mat
By Adam Rittenberg, Special to ESPN.com
ANN ARBOR, Mich. -- Donovan Warren couldn't wait for another whack at the big golden piņata. Warren and his Michigan teammates seemed to have thwarted yet another Notre Dame drive in the second quarter Saturday after running back
Junior Jabbie
dropped a swing pass on third-and-20. But referees flagged the Fighting Irish for delay of game, setting up a third-down replay. Upon hearing the penalty, Warren, a freshman cornerback, began clapping his hands. And who could blame him? Name a defender who wouldn't get giddy about facing an offense with zero touchdowns this season and complete open access to the backfield.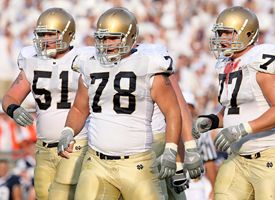 Ned Dishman/Getty Images
Notre Dame's offensive line has to play well for the Irish offense to work.
Notre Dame's offensive linemen are sort of like bungling bouncers at a nightclub. They let in way too many big, ugly guys. During a 25-minute postgame mea culpa, Irish coach Charlie Weis announced that the team would start training camp again Sunday, hoping to find a niche. He said his players needed to find something, anything. They can start by learning how to block somebody, anybody. Notre Dame has minus-14 net rushing yards this season, finishing in red figures in two of its three games. If not for 27 rushing yards on Saturday's final drive, the Irish would have finished with the lowest single-game total in team history (minus-12). They have allowed 23 sacks -- five more than any other Division I-A team -- and 41 plays for negative yards. And despite enticing his second-stringers with the carrot of playing time for back-to-back weeks, Weis has started the same five linemen in all three games. "It isn't just the protection in the passing game, it's a bad snap, it's not running the ball efficiently," Weis said. "If you run the football, everything becomes easier. Now it's easier to throw a play-action pass, now it's easier to protect, now it's easier to move the ball consistently." Has the line started to lose confidence? "I'm not sure," said senior center John Sullivan, a co-captain. "Obviously, we need to play better." Last week, Weis talked about taking off the gloves. Saturday, he talked about coming out swinging. The line simply needs to get off the canvas. "You would like to think that three games into the season, there's some things that you're starting to do better and better," Weis said. "That has not happened."
Irish's Offensive Offense
By Brett Edgerton, ESPN.com
The NCAA rankings are probably enough. When one sees that Notre Dame ranks dead last among 119 Division I-A schools in scoring (4.3 PPG), offensive touchdowns (0), rushing yards (-14), total offense (115.0 YPG) and sacks allowed (23), one can come to the conclusion that the Irish offense is, well, not so good. But a little comparative perspective might be needed to truly appreciate how bad it has been for the Irish.
Rutgers' second quarter vs. Notre Dame's season

| | | |
| --- | --- | --- |
| | Rutgers | Notre Dame |
| Offensive plays | 11 | 176 |
| Time of possession | 1:31 | 82:36 |
| Total yards | 277 | 345 |
| Offensive TD | 6 | 0 |
| Points | 42 | 13 |
Perhaps a trip to Charlie Weis' home state of New Jersey would do the trick. That's where you'll find former longtime punching bag, Rutgers University. There was a time -- let's say from around the late 19th century to the early 21st century -- when even uttering the words Notre Dame and Rutgers in the same sentence was rather ridiculous. Then this weekend came along. Against Norfolk State, the Scarlet Knights scored a Big East-record 42 points on six touchdowns and 277 yards … in the second quarter. As fellow ESPN researcher Adam Reisinger so deftly pointed out, that one quarter of offense sure matches up quite favorably with the 12 quarters of "offense" produced by Notre Dame this season. Want some more perspective? How about this: On Saturday alone, 17 quarterbacks in Division I-A produced more yards of total offense than the entire Notre Dame offensive unit has put up this season. Ouch.
Balanced Buckeyes Make Statement
By Ted Miller, Special to ESPN.com
The final tally of Ohio State's 33-14 pounding of Washington both distorts and perfectly relates what happened Saturday at Husky Stadium. On one hand, the 10th-ranked Buckeyes wore down Washington with their physical style of play. They waited patiently for the young Huskies to make critical mistakes. And they pounced on opportunities.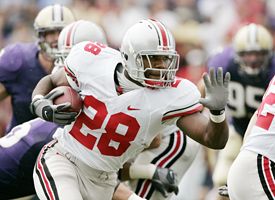 AP Photo/Elaine Thompson
Chris Wells and Ohio State flexed their muscles against Washington.
They were the better, smarter, more confident team. But the final score also doesn't show how competitive Washington was until a critical juncture in the third quarter when it imploded. The Huskies, led by dynamic redshirt freshman quarterback
Jake Locker
, drove 80 yards in nine plays for a touchdown just before halftime, giving them a 7-3 lead at the break. They then took the third-quarter kickoff and drove 40 yards to the Ohio State 19-yard line. That's when everything fell apart. Three plays netted minus-10 yards, then Washington's field goal attempt was blocked. Ohio State took over, and quarterback
Todd Boeckman
immediately found receiver
Brian Robiskie
in single coverage against true freshman cornerback Vonzell McDowell for a 68-yard touchdown pass. On the ensuing kickoff return, true freshman
Curtis Shaw
fumbled. Two plays later,
Chris Wells
ran through a tackle attempt from McDowell for a 14-yard touchdown and, suddenly, the score was 17-7. "You've got to make a stand at that point," coach Tyrone Willingham said. "We can't have back-to-back mistakes that allow them to expand and really take the lead." The Huskies made one last run behind Locker, who rushed for 102 yards and accounted for 255 of the offense's 346 total yards, driving to the Buckeyes 23. But Locker threw the second of his three interceptions, and Ohio State dominated the fourth quarter. The Huskies entered the game 8-for-8 in the red zone with seven touchdowns. But they failed to score any points on drives that reached the Buckeyes' 9-, 19-, 23- and 31-yard lines. The game's clear physical mismatch was the Buckeyes' offensive line vs. the Huskies' front seven. Ohio State rushed for 263 yards and surrendered zero sacks. But Washington, which dropped two easy interceptions and numerous Locker passes, should have plenty of what-might-have-been regrets. Ohio State reasserted itself as the team to beat in the Big Ten with a decisive, quality nonconference road victory. Meanwhile, the jury remains out on Washington. It starts the Pac-10 schedule Saturday at UCLA -- which was humiliated 44-6 at Utah -- in a critical game for both teams.
Florida Pops
By Mark Schlabach, ESPN.com
GAINESVILLE, Fla. -- Before each of its games, Florida's football team gathers in the locker room around its quarterback. The quarterback leads the team in a clapping drill, which Gators coach Urban Meyer says builds unity among its ranks.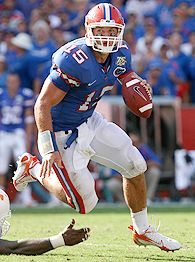 Tom Hauck/Getty Images
Florida's Tim Tebow has learned to lead an explosive unit.
"If a team is together, it sounds like a pop," Meyer said. "If it's not together, it sounds like a bunch of firecrackers. That's the sign of a bad football team." The first time Tebow tried it, before Florida's opener against Western Kentucky two weeks ago, the Gators weren't together. "I looked at him and said, 'What the hell are you doing?'" Meyer said. But Tebow had the No. 3 Gators in sync before Saturday's SEC opener against Tennessee. As a result, Florida's offense exploded in a 59-20 rout of the Volunteers, the worst loss in Phillip Fulmer's 16-year tenure as Tennessee's coach. In his biggest test to date as a starting quarterback, Tebow completed 14 of 19 passes for 299 yards with two touchdowns and one interception. The sophomore also ran 18 times for 61 yards and two scores. "Our coaches did a great job calling the game," Tebow said. "It seemed like every play [offensive coordinator] Dan Mullen called was perfect against the defense they were running." And the defending national champion Gators executed most of their plays to perfection. Florida scored 45 or more points for a third straight game to open the season, the first time in school history that has happened. The Gators have scored 38 or more points in five consecutive games, the first time they've accomplished that feat since 1996, when they won their first national title under Steve Spurrier. "This offense is fun,"
Percy Harvin
said. "Just throw it, catch it and run. We have so many playmakers on this team, you never know when someone will break it open." Harvin had 195 yards of offense on 13 touches, including four catches for 120 yards. "He's electric," Tebow said. "You really can't say anything else. He's unbelievable."
Three Weekend Observations
By Ivan Maisel, ESPN.com
1.
No one in the USC locker room sounded happier about the Trojans' 313 rushing yards against Nebraska than offensive line coach Pat Ruel. As an assistant coach at Kansas from 1988 to '96, Ruel lost four games in Lincoln by an average of 41 points. "I've been here a few times where we didn't get a hundred yards rushing, and" -- Ruel laughed self-consciously -- "I consider myself a pretty good coach."

Brooks
2.
The arrogance and myopia of SEC Nation can be breathtaking. Few people outside Kentucky athletic director Mitch Barnhart believed that Rich Brooks could coach. Nothing Brooks achieves in Lexington short of an SEC title -- not even the 40-34 victory over No. 9 Louisville -- ever will match how he took Oregon from the Pac-10 cellar to the 1995 Rose Bowl. Brooks can flat-out coach.

Burns
3.
Preaching patience to a college football player is a waste of breath. But young guys who transfer the minute something goes wrong are shortsighted. A lot of times, they're one play away. Quarterbacks
Kodi Burns
of Auburn and
Wesley Carroll
of Mississippi State, tailback
LeSean McCoy
of Pittsburgh and plenty of other true freshmen got thrust into the lineup Saturday and played well.
GameDay Crew Final Thoughts
RECE DAVIS
We always talk about which conference is the best, and there's no doubt the Pac-10 and Big East at least deserve to be in the discussion. But after taking quite a few lumps Saturday -- Louisville and UCLA come to mind -- it's very clear those two are among the conferences that are simply battling for second behind the SEC, which from top to bottom is still the toughest around.
Helmet Stickers Go To:
•
John Parker Wilson
, QB, Alabama
327 yds, 4 TDs (both career highs)
•
Robert Johnson
, FS, Utah
2 INTs, 1 forced fumble in first career start
---
LOU HOLTZ

Florida just has so many playmakers, including that Superman who plays quarterback. This team is so explosive on offense, and I think they're coming around on defense. Don't concede the Southeastern Conference to LSU.
Helmet Stickers Go To:
• James Laurinaitis, LB, Ohio State
2 INTs, 1 sack, 8 tackles
•
Tim Tebow
, QB, Florida
360 total yds, 4 TDs
---
MARK MAY

Carroll
Like I've said all along, the Trojans are the top team in the country. They were coming into this week, they are now and they will be next week. Pete Carroll and his bunch went into a raucous sea of red in Lincoln and came out with a decisive victory. Don't let the final score fool you -- this one was total domination.
Helmet Stickers Go To:
•
Andre' Woodson
, QB, Kentucky
30-of-44 passes, 275 yds, 4 TDs
•
Mike Hart
, RB, Michigan
187 rush yds, 2 TDs
GameDay Recap
Urban Legend
By Brett Edgerton, ESPN.com
Since arriving at Florida in 2005, coach Urban Meyer is an incredible 10-0 in what are considered "big games" at UF. Against the Gators' three biggest rivals (Tennessee, Georgia and Florida State), he is 7-0. In the SEC championship game, he's 1-0. And in bowl games, he's 2-0, including a walloping of Ohio State in last year's BCS title game. Counting his time at Bowling Green and Utah, Meyer has lost only two of his 40 career home games -- neither loss came at The Swamp, a place where Ron Zook was just 13-6 but where his successor is 16-0 after Saturday's 39-point romp over the Vols. In fact, throw in a win in the Outback Bowl, a win at FSU and a pair of wins over Georgia in Jacksonville and Meyer's Gators are an unblemished 20-0 in the state of Florida.
Highlights: Kentucky-Louisville
Looking Back ...
Notre Dame starting from scratch
Notre Dame coach Charlie Weis was so disgusted with Saturday's 38-0 loss at Michigan that he has decided to start the 2007 season over -- literally., writes Gene Wojciechowski.
Story
---
Florida poised for a title defense
Too young to be trouble? Florida served notice Saturday that the '07 Gators are even better than last season's title team, writes Mark Schlabach.
Story
---
Bedlam in the Bluegrass State
In an instant, Saturday became one of the best nights in the largely miserable history of Kentucky football -- thanks to a last-minute play by Andre' Woodson, writes Pat Forde.
Story
---
USC mimics the past as it marches on
On Saturday night, Pete Carroll's Trojans looked like a throwback to the glory days of USC football when they ran every which way past an overmatched Nebraska Huskers outfit, writes Ivan Maisel.
Story
Highlights: Arkansas-Alabama
End of an Era for Duke
By Brett Edgerton, ESPN.com
It was a rough Saturday night for anyone who happened to play football at Northwestern in the early 1980s. As if having your alma mater lose to Duke isn't bad enough, it was compounded by the fact that the Blue Devils' national-worst 22-game losing streak came to an end. Duke's remaining schedule made it look as though another winless season was quite realistic, which would have put the 2008 Devils dangerously close to Northwestern's dubious Division I-A record of 34 consecutive losses (1979-82). Instead, Ted Roof's squad won its first game since beating The Citadel nearly two years ago to the day. It was Duke's first win over a I-A opponent since 2004 and its first road win since 2003.
Highlights: USC-Nebraska
Balance Of Power
By Brett Edgerton, ESPN.com
In the five seasons from 2002 to 2006, Alabama trailed in 27 fourth quarters -- and failed to rally for the win in any of them. So what did the Crimson Tide do when faced with their first fourth-quarter deficit of the Nick Saban era? They won, of course (hey, he doesn't get paid the big bucks for nothing). After
Darren McFadden
and Arkansas scored 28 straight points to take a 38-31 lead in the last stanza, Bama responded with a field goal, then a game-winning touchdown with 8 seconds remaining. It was the program's first fourth-quarter rally since a Dennis Franchione-led Tide team beat Iowa State 14-13 in the 2001 Independence Bowl.
Highlights: Notre Dame-Michigan
Selective Memory
By Jorge Milian, ESPN.com
MIAMI -- The Miami Hurricanes showed on Saturday that they can play Florida International and not engage in a full-scale riot. Now, the Hurricanes must prove they can beat a ranked team. A year after Miami and FIU participated in a nasty brawl that resulted in mass ejections and suspensions and left both programs with national black eyes, the teams played Saturday in the Orange Bowl without any incidents. The Hurricanes, a 33-point favorite, struggled a bit before putting away the Golden Panthers in a 23-9 victory. With Duke's win against Northwestern on Saturday night, FIU now has the nation's longest losing streak at 15 games.

Shannon
The victory improved Miami's record to 2-1 heading into Thursday night's nationally televised game against No. 18 Texas A&M (3-0) in the Orange Bowl. The Hurricanes are 1-7 in their past eight games against ranked teams, including a 51-13 loss to then-No. 5 Oklahoma on Sept. 8. To beat Texas A&M, Miami likely will need to muster up more offense than it has displayed this season. Even against FIU, which entered the game allowing an average of 42.5 points, the Hurricanes were able to score only two touchdowns. In its past 19 games, Miami has scored 30 or more points three times. Senior
Kyle Wright
, starting his first game after replacing
Kirby Freeman
, completed 10 of 19 passes for 224 yards and a touchdown, but he also committed three turnovers, including two interceptions. The Hurricanes piled up a season-high 428 yards of total offense, but were held to one touchdown in six trips inside the red zone. Asked whether he felt better about his offense after registering only 139 yards and seven first downs against Oklahoma, coach Randy Shannon said, "Oh yeah. A lot better after last week. We improved." Shannon wasn't quite as willing to discuss last year's fight against FIU after Saturday's game. Asked a series of quick questions about the fracas, Shannon responded with his own series of questions. "What incident?" Shannon said. "When? I don't recall the fight."
Highlights: Boston College-Georgia Tech