Conference play is where you find the real heroes
Hometown Heroes
By Ivan Maisel, ESPN.com
It is a corollary of the saying that you are never a hero in your hometown: a team is never a hero in its home conference, either. Your players might be promoted for national awards. You might be ranked high in the polls. But when you return from the la-la land of offseason hype and you finish your nonconference games, you return to the reality of playing the teams that know you best.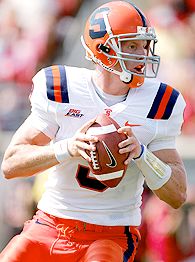 Matthew Stockman/Getty Images
Andrew Robinson had an easy time of it against the Louisville defense.
In four SEC games, all four favorites failed to beat the point spread, and two of them -- Arkansas and Alabama -- lost outright. Granted, these East versus West matchups favored teams that don't play each other every year. But they see film of each other every year, and they are familiar with each other in a way that East Carolina (7) will never know West Virginia (48). Or, to paraphrase Florida coach Urban Meyer after the No. 3 Gators survived their first road trip of the season with a 30-24 win at Ole Miss: Let's just get the Hades out of The Grove. In the Pac-10, undefeated No. 13 Oregon trailed Lowly (née Leland) Stanford Junior University 31-24 at the half. The Ducks righted themselves in the second half, scoring 31 points while holding the Cardinal scoreless. Oregon State, even though it never has won at Arizona State since the Sun Devils joined the conference, took a 19-0 lead before Dennis Erickson's team won 44-32 to improve to 4-0. Speaking of which, Arizona State has become the Zeppo Marx of the Pac-10. Three teams in the conference have achieved fame and a high ranking. The Sun Devils have started just as fast as USC, California and Oregon and have achieved as much celebrity as Groucho, Chico and Harpo. Zeppo eventually left the foursome and went into business. Erickson has no such plans. Circle that Oct. 27 visit by Cal to Tempe. Arizona State has. It's its Homecoming. Last, and certainly not least, was Syracuse's 38-35 defeat of Louisville. The Orange scored 1.5 points more than their predicted margin of defeat. The Cardinals could not contain the passing game of a team that ranks last in the Big East in efficiency.
Andrew Robinson
went 17-of-26 for 423 yards and four touchdowns. That's 16-plus yards per attempt. The Cardinals also could not contain their tempers. Louisville drew two unsportsmanlike conduct penalties, signs of their frustration as Syracuse not only refused to roll over, but also embarrassed the Cardinals on one long play after another. The win might have been the greatest thing to happen to the color orange since Halloween. Coach Greg Robinson's shoulders are free of the several tons of Syracuse fans who have been perched on them through two long seasons. Syracuse might have gone into Big East play 0-3, but as of Saturday, the Orange are tied for the conference lead. For the first time in years, Syracuse is a hero in its own hometown.
On The Radar Now
By Ron Higgins, Special to ESPN.com
FAYETTEVILLE, Ark. -- You wonder what was going through Arkansas linebacker Weston Dacus' mind -- and he was a bit dazed -- when he said the following after No. 21 Kentucky's 42-29 win over the Razorbacks on Saturday night: "I was shocked Kentucky was able to move the ball on us as well as they did." Maybe Dacus didn't know Kentucky entered the game averaging 48.7 points and 504 yards. Maybe he didn't think Kentucky quarterback
Andre' Woodson
was that good.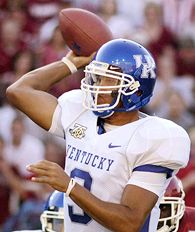 April Brown/AP Photo
Andre' Woodson's recent work at Kentucky has vaulted him into the Heisman race.
Dacus has the answers now. In the game's final 11:40, Kentucky obliterated the Razorbacks. It had scoring drives of 80, 68 and 24 yards. It outgained Arkansas 172-33, with the Hogs getting 25 of their yards on a final, meaningless possession. Thanks to Woodson, who threw for 265 yards and two touchdowns; receiver
Keenan Burton
, who caught both TDs; and a three-headed rushing attack that knocked out some tough yards, the Wildcats had as good a finishing kick as you will ever see. And considering Arkansas had rallied to take a 29-21 lead early in the fourth quarter before Kentucky went off, it was a jaw-dropping ending. "In the past, we might have given up," Woodson said. "But we knew we could get back in the game. We've learned from the tough situations we've been in the past." True, the Wildcats, in past years, have been the masters of their own disasters. It didn't matter how well they played through three quarters, because they gave away games in the fourth. But not these Wildcats, who have won nine of their past 10 games and have started this season 4-0. The last time Kentucky started the season 4-0, including a conference win, was in 1950, when Bear Bryant was coach and the 'Cats had a quarterback named Babe Parilli. "We have a lot of heart," Kentucky receiver
Steve Johnson
said. "We know what we came from, and we don't want to go back to those days."
Was This A Moral Victory?
By Adam Rittenberg, Special to ESPN.com
SOUTH BEND, Ind. -- Beckoned by a standing crowd, euphoric Notre Dame players ran to their locker room at halftime, waving their arms as they passed through the tunnel. It was an odd sight for a program coming off consecutive BCS bowl appearances and 30 minutes away from the worst start in its 121-year history. The scoreboard read Michigan State 17, Notre Dame 14, presumably a buzzkill for the home team and its fans. But it actually served the opposite purpose, galvanizing a group that, after three weeks, finally had a chance. Was this progress?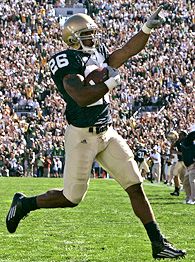 Michael Conroy/AP Photo
Travis Thomas gave Notre Dame its first offensive touchdown of the season.
"At least we looked like a football team out there," coach Charlie Weis said. The Irish actually scored their first offensive touchdown -- they had two by the end of the day -- and got their ground game off the mat behind sophomore
James Aldridge
(104 rushing yards). They gave up only four sacks, nearly half their season average, and collected two Spartans turnovers. But Notre Dame never looked like it actually would pull off the upset. A first-half deficit of seven points felt like 30. Notre Dame never stopped
Javon Ringer
and
Jehuu Caulcrick
, who combined for 227 rushing yards. Freshman quarterback
Jimmy Clausen
passed for just 53 yards, fumbled deep in Irish territory and struggled to release the ball on time, taking three sacks before being replaced with 11:37 left. "A loss is a loss," nose tackle Pat Kuntz said. "I'm not going to say that what we did was really good today, because we got it handed to us." A week of full-pads, full-speed training camp practices seemed to electrify the Irish early, but the team went flat after halftime. Weis had three halftime talking points: kickoff coverage, third-down defense and sustained offensive drives. Michigan State's
Devin Thomas
opened the third quarter with a 52-yard kickoff return. The Spartans then converted third-and-9 and third-and-17 to set up a touchdown. Notre Dame had three first downs in the second half. "I hit the trifecta," Weis grumbled. "I was 0-for-3." The Irish are 0-for-4 for the first time in the school's history and have lost six straight for the first time since 1960. Training camp will continue this week, and although Weis thinks pessimism around the program can't get much worse, he will be watchful of players "starting to just go off the ship." "We're big boys," senior safety Tom Zbikowski said. "We've got to be able to take it." Added left tackle Sam Young: "If you quit, what is that going to get you? You have to keep fighting, dig yourself out."
'Canes Hop In The DeLorean
By Jorge Milian, Special to ESPN.com
MIAMI -- It seemed like old times for the Miami Hurricanes on Thursday. A frenzied nighttime crowd at the Orange Bowl. A defense as suffocating as South Florida's humidity.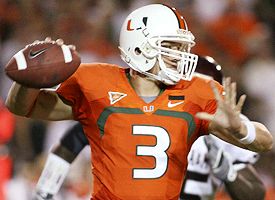 Luis M. Alvarez/AP Photo
Miami QB Kyle Wright had one of the best performances of his career Thursday.
A national television audience that watched a ranked opponent get absolutely humiliated by the Hurricanes. No, it wasn't 1987 or 1991 or 2001, but for one night, Miami looked like the feared Hurricanes of old in a 34-17 dismantling of No. 20 Texas A&M, a game that wasn't nearly as close as the score might indicate. While the Hurricanes (3-1) remain unranked, they might have turned a corner Thursday night. Miami lost five of six games to ranked teams last season and was embarrassed 51-13 by then-No. 5 Oklahoma on Sept. 8 in Norman. The Hurricanes' victories this season had come against Marshall and Florida International, two members of ESPN.com's Bottom 10. "It helps the confidence to beat a good team, and also that the players understand that they can do it now," Miami coach Randy Shannon said. The Hurricanes' offense came to life against the Aggies. Quarterback
Kyle Wright
had one of the best outings of his career, completing 21 of 26 passes for 275 yards with two touchdown passes and no interceptions. The 34 points were the most by Miami against a ranked opponent since a 36-30 triple overtime victory against Clemson on Sept. 17, 2005. "They're more comfortable in the offense and with each other," Shannon said. "Everything's starting to come together now." But the real story Thursday night was Miami's defense. Texas A&M entered the game ranked fifth nationally in rushing and 11th in scoring but couldn't get much done against the Hurricanes, especially in the first half, when the Aggies were held to 38 yards of total offense and trailed 24-0. The victory allowed Miami to pick up some momentum as it begins conference play Saturday against Duke at the Orange Bowl. With North Carolina next on the schedule, the Hurricanes should be 5-1 and back in the national polls heading into a tough two-game stretch against Georgia Tech on Oct. 13 in Miami and the annual showdown with Florida State on Oct. 20 in Tallahassee.
Tebow Leading Gator Charge
By Bruce Feldman, ESPN.com
At Friday's walk-through, the Ole Miss players broke their huddle by screaming, "Shock the world!" And despite being down in the second half Saturday, they almost managed to do that, putting a huge scare into the defending national champion Florida Gators. Still,
Tim Tebow
, the Gators' hulking sophomore QB, put his team on his back and carried it to a 30-24 win that was no doubt way too close for coach Urban Meyer's tastes.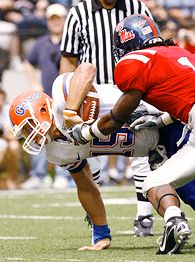 Joe Murphy/Getty Images
Tim Tebow has been carrying the Florida offense.
Tebow piled up more than 400 total yards, keeping the chains moving and shaking off some heavy hits. However, he wasn't always so sharp throwing the ball. In fact, the Rebels' frenetic second-half rally almost turned into that shocking upset when Tebow nearly had a pass picked off by safety Kendrick Lewis late in the fourth quarter, but the Rebel DB couldn't hold onto the ball. Watching from field level, the Gators' young secondary looked very shaky. That figures to be a big problem when Florida goes to LSU in two weeks. Also, the young Gators still are very undisciplined. They have the most penalties in the SEC. But Tebow's toughness and leadership have covered for all of that thus far. Riding his eye-popping performance against Tennessee, Tebow surged to the front of the Heisman race. You can make the case it's his Heisman to lose, assuming he can lead the Gators to an upset of LSU. As for the Rebels, it was a pretty startling turn after losing at Vandy last weekend. Most Ole Miss fans were just hoping not to lose by 40 points. Instead, the Rebels went toe-to-toe with the mighty Gators. It wasn't bad for a team starting a walk-on QB (
Seth Adams
) and only one linebacker capable of playing at the SEC level.
Showing Some Fire
By Tim Griffin, Special to ESPN.com
STILLWATER, Okla. -- After the teams combined for staggering totals of 1,328 total yards, 62 first downs and six lead changes, it would have been hard to believe that anything could upstage Oklahoma State's 49-45 victory over Texas Tech. But the postgame fireworks in both interview rooms were more memorable than any on-the-field action in the wild Big 12 conference opener. OSU coach Mike Gundy
lit into a columnist
for The (Oklahoma City) Daily Oklahoman about a
recent piece
before storming out without answering any questions. And Tech coach Mike Leach ripped his team's performance, punctuating his diatribe with a choice expletive. Gundy was livid about a column about former starting quarterback
Bobby Reid
's recent demotion in favor of
Zac Robinson
. The OSU coach defended Reid during his emotionally charged response, his voice rising with anger several times as he confronted the columnist during his time at the podium. "If anybody hasn't read this article," Gundy said as he held up a copy of the newspaper, "I think this is something worth reading. Three-fourths of this is inaccurate. It's fiction. And this article embarrasses me to be involved with athletics." Gundy was just getting warmed up. He also charged that the article was "garbage" and that the editor who approved it was "garbage." Leach was just as angry, although not nearly as vitriolic. His team rolled up 718 yards and quarterback
Graham Harrell
passed for 646 yards -- the fourth-highest total in NCAA history -- but Tech was limited to only 10 points in the second half. "This is going to hurt some feelings ... but here's what we had this game," Leach said. "We had an offense that was extremely powerful, extremely productive, that probably sits and reads their press clippings, and then in an arrogant fashion, sat around the sidelines with their arms folded most of the second half. "And then, defensively, the entire first half, we got hit in the mouth and acted like somebody took our lunch money and all we wanted to do was have pouty expressions on our faces until somebody daubed our tears off to make us (expletive) feel better. Then, we'd go out there and try harder after our mommies told us we were OK. Well, neither one of those things is acceptable."
Three Weekend Observations
By Ivan Maisel, ESPN.com
1.
It might not sound like much, but this week the No. 13 Oregon Ducks must prepare for more than a visit from the No. 6 California Golden Bears. Oregon is on the quarter system, and after one month of preseason practice and three weeks of in-season practice, the Ducks must resume their lives as student-athletes. Those pesky classes can be a distraction from football.
2.
The dumb Alabama fans pelted the Georgia Dawgpile -- which was celebrating its overtime win -- with cups and whiskey bottles. The smart ones understood that, for the second straight week, the Crimson Tide won the fourth quarter, one of the primary goals coach Nick Saban set when he arrived in January. The future looks bright, give or take the juvenile fans who threw glass bottles onto the field.

Meyer
3.
What hath Urban Meyer wrought? A year after Meyer deftly used Chris Leak and
Tim Tebow
the way a pitcher uses a fastball and a changeup, Auburn, Central Florida and LSU all won by comfortable margins Saturday by using a second quarterback as a running threat. Not only do running quarterbacks force defenses to play 11-on-11, but with limited roles, there are limited chances of injury.
GameDay Crew Final Thoughts
RECE DAVIS

There are bad losses, and there are utter embarrassments. Give a ton of credit to Syracuse, but that performance by Louisville, specifically the Louisville defense, was an utter embarrassment. It was one of the worst losses by a supposedly good team that I can remember in a number of years.
Helmet Stickers Go To:
• TE
Fred Davis
, USC
9 rec, 124 yards, 2 TDs (all career-highs)
• QB
Case Keenum
, Houston
18-of-22, 254 total yards, 4 TD off the bench
---
LOU HOLTZ

White
Pat White
is a tremendous athlete who is physical, has the smarts and is a great competitor. And this weekend, he once again showed how well he can throw. The Mountaineers have a lot of playmakers, but he is the heart and soul of that team. And he is a big reason why I think they will win at South Florida on Friday.
Helmet Stickers Go To:
• WR
Taj Smith
, Syracuse
173 rec, 2 long TDs
• RBs
James Davis
/
C.J. Spiller
, Clemson
Combined for 327 total yards, 4 TDs
---
MARK MAY

Dixon
If people insist on talking about the Heisman this early on, it's about time we start including
Andre' Woodson
and
Dennis Dixon
in the discussion. Both are leading dynamite offenses on unbeaten teams, and both have 11 TDs with no picks. Kentucky and Oregon have some major tests in the coming month. It looks like each has a quarterback that can meet the challenge.
Helmet Stickers Go To:
• RB
Rashard Mendenhall
, Illinois
Career-high 214 yards, 2 TDs
• DE George Selvie, USF
3 sacks, 5½ TFLs
GameDay Recap
Missing In Action
By Brett Edgerton, ESPN.com
Lincoln police have put out an APB on the Nebraska defense. The suspects, known to have worn black shirts in the past, have not been seen on a consistent basis since at least 1999. And those who have met them say there is nothing to worry about, calling the group not only harmless, but actually quite accommodating. Reports say that if you throw something at them and/or run, they won't lay a hand on you. On Saturday, the Ball State offense rolled up 610 yards, including 422 in the air in a 41-40 Nebraska escape. Combine that with a 49-31 home loss to USC, and you have got opponents scoring 40-plus on the Cornhuskers in back-to-back games for the first time since 1945. That is 89 points and 1,067 yards given up by Nebraska over the past two weeks. Throw in a game at Wake Forest, and you end up with 737 opponent yards on the ground over the past three weeks, an average of 245.7. Rather harmless indeed.
Highlights: Kentucky-Arkansas
Looking Back ...
Ailing LSU still shines in South Carolina win
LSU's starting quarterback was limping, and its star receiver was on the bench. It didn't matter. The Tigers showed they are the class of the SEC with a win over South Carolina, writes Mark Schlabach.
Story
---
King of the SEC road
Richtenstein successfully invaded Sabanation on Saturday, putting the birth of a deity on hold a little longer in T-Town, writes Pat Forde.
Story
Highlights: Georgia-Alabama
His Forte Is Running
By Brett Edgerton, ESPN.com
Sure the opponent was SE Louisiana, but Tulane running back
Matt Forte
deserves a mention for his performance Saturday night. The senior ran for a school- and Conference USA-record 303 yards on 7.6 yards per carry, scoring all five of his team's touchdowns in its 35-27 win. The yardage is the second-most nationally on the ground over the past three years, only behind Garrett Wolfe's 353 yards in 2006. Perhaps more impressive is the fact that Forte tallied more rushing yards this weekend than seven I-A teams have all season. Included in that group, of course, is Notre Dame, which has totaled exactly 200 fewer rushing yards than what Forte gained in a mere three hours.
Highlights: Penn State-Michigan
Plugging The Holes
By Brett Edgerton, ESPN.com
Since early September was open season on the Michigan defense (and justifiably so), perhaps it's time to praise Ron English's group for the way it's bounced back over the past two weeks. The rather tame offenses at Notre Dame and Penn State have helped the cause, but give credit where credit is due. After being shredded to the tune of 71 points and more than 1,000 yards during the team's disastrous 0-2 start, the Wolverine D has stiffened up considerably.
First two games
Past two games
PPG
36.5
4.5
Total YPG
505.5
174.5
Rush YPG
245.5
47.5
Sacks
5
10
Highlights: Florida-Ole Miss
No Guarantees
By Brett Edgerton, ESPN.com
When a team gives up 718 yards, that team should expect to lose. Period, plain and simple, end of story. Unless, of course, that team is squaring off against the Texas Tech defense, which opens up many possibilities, just about all of which occurred Saturday in Stillwater. The game, won 49-45 by Oklahoma State on a 54-yard TD pass with less than two minutes left, included 182 offensive plays, 62 first downs and 1,328 yards. So math tells you Oklahoma State racked up 610 yards of its own, making this the first I-A game in five years that involved each team totaling 600-plus yards.
500-yard passing games in '07
646
Graham Harrell, TTU
L, at OKST
601
Daniel Meager, UNT
L, at SMU
555
Brian Brohm, UL
L, vs. SYR
548
Colt Brennan, HAW
W, at La. Tech
537
Max Hall, BYU
L, at Tulsa
And while the Cowboys made school history by having three players rush for 100-plus yards, the 718 yards yielded by the defense also set an Oklahoma State record. Not only that, but OSU also allowed Red Raiders quarterback
Graham Harrell
to pass for 646 yards, only the fourth-highest total in NCAA history. Just your typical, run-of-the-mill win over Texas Tech.
Highlights: Syracuse-Louisville