Tallying up the winners and losers from Insanity Saturday
Sorting Through The Carnage
By Mark Schlabach, ESPN.com
EUGENE, Ore. -- What does a Bear do in the woods?
For two decades, the California Bears had lost each time they had ventured into the great Northwest to play Oregon at Autzen Stadium. But thanks to star receiver DeSean Jackson and a defense that forced the Oregon Ducks into four turnovers in the second half, California might have been the biggest winner in a wild weekend that college football rarely has experienced.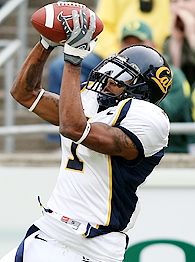 Jonathan Ferrey/Getty Images
DeSean Jackson vaulted back into the Heisman race.
Here's a closer look at the winners and losers from Insanity Saturday:
WINNER: Pac-10. The conference now has two legitimate national championship contenders in USC and Cal. Even in its loss, Oregon showed it is good enough to remain ranked for the long haul, and Arizona State improved its record to 5-0 under first-year coach Dennis Erickson.
LOSER: Big East. The conference's top three teams at the start of the season each lost in the first month of the season. Louisville started the season ranked No. 8 in the polls, but the Cardinals lost to Kentucky and Syracuse. No. 5 West Virginia was beaten by South Florida, then No. 10 Rutgers lost to unranked Maryland.
WINNER: Kentucky. After Florida fell to unranked Auburn 20-17 on Saturday, Kentucky is in the driver's seat in the SEC East. Each of the other five teams in the division already have a loss in conference play. The No. 8 Wildcats play at No. 11 South Carolina in a key game Thursday night (7:30 p.m. ET, ESPN).
LOSER: Florida. The defending national champion looked even stronger than last season when it drubbed Tennessee 59-20 on Sept. 15. But the Gators looked vulnerable when they won 30-24 at Ole Miss last week, then were exposed in the loss to Auburn. The Gators play their next three games away from The Swamp.
WINNER: Big 12 North. Teams from the perceived lesser half of the Big 12 stunned Oklahoma and Texas this weekend. Colorado provided the weekend's biggest surprise, rallying from a 24-7 deficit in the second half to stun No. 3 Oklahoma 27-24. Kansas State beat Texas for the second season in a row, 41-21 in Austin. The only unbeaten teams left in the Big 12 both reside in the North: 4-0 Missouri and 4-0 Kansas.
LOSER: The Red River Shootout. The annual game between Oklahoma and Texas in Dallas lost its luster when both teams fell in what were perceived as warmups. The game still is important but now will be overshadowed by sexier matchups in the Big Ten and SEC.
WINNER: Big Ten. Frankly, the conference isn't very good. But five weeks into the season, Ohio State is ranked No. 4 and Wisconsin is No. 5. With a stingy defense and improving offense (as well as a soft schedule), the Buckeyes are 5-0. The Badgers have struggled to win their past four games. The Buckeyes and Badgers play Nov. 3 at the Horseshoe in Columbus, Ohio.
LOSER: ACC. Even with so much parity in the sport, only one ACC team appears to be in the national championship race. Boston College is No. 7 in the AP poll after beating Division I-AA UMass 24-14 on Saturday. The next-highest ranked ACC team is No. 15 Virginia Tech. Clemson might have cracked the top 10 this week, but the Tigers lost at Georgia Tech 13-3 on Saturday.
A Trendy Pick
By Ivan Maisel, ESPN.com
If you do it once, it might be a fluke. If you do it twice, there's a pattern. In two consecutive seasons, South Florida has shut down the West Virginia offense, that mix of spread and option that has bedeviled the Big East ever since Rich Rodriguez installed it in Morgantown nearly a decade ago.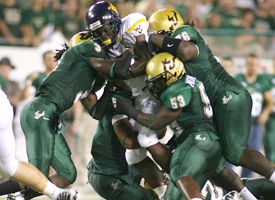 Photo by Marc Serota/Getty Images
Steve Slaton and the West Virginia offense found the going tough against South Florida.
Bulls defensive coordinator Wally Burnham's eyes twinkled behind his gold-rimmed glasses. Burnham, 66, has done this team-building before. He worked on Bobby Bowden's staff at Florida State when Bowden built the Seminoles into a national power. There's something to be said for hanging around.
"See, I'm old," Burnham said. "I've been around option football. A lot of the young bucks haven't been around option football. We used to play Nebraska when I was at Florida State. That's where I got all my experience. If you sat down and got technical about it, it's really simple. It's execution by the kids. It's effort. All those things, and wanting to play hard, and make plays, and do that as a team, as one body. That's the way you have to play against a team like West Virginia."
South Florida doesn't have the biggest defense. But the Bulls run fast and tackle sure. West Virginia had nearly as many turnovers (six) as plays of 20 yards or more (eight). Burnham's defense goes through tackling drills every Tuesday and Wednesday. If you miss a tackle Saturday, you drill Monday night, too: 10 hits on the tackling sled for every missed tackle.
"If you don't preach it, you're not gon' get it," Burnham said. But he acknowledged that a defense laden with seniors helps.
"They are flying around, being real aggressive," Burnham said. "You can coach that and you're not going to get it every time on some teams. This team responds to that because of the leadership they have out there. They don't let each other mess around very much."
Relative Progress
By David Albright, ESPN.com
WEST LAFAYETTE, Ind. -- In the closing seconds of Saturday's 33-19 loss, Notre Dame players were serenaded with chants of "0 and 5!" by the Purdue student section. That was followed by a series of home team "Plays of the Game" on the new south end zone video board as the Irish tried to avert their eyes and the ND band played the alma mater.
At least the Irish were competitive ... in the second half ... against the 5-0 Boilermakers. Notre Dame scored with 7:58 left in the game to reduce the deficit to 26-19. But Charlie Weis' club couldn't close the gap and had to find some consolation in a 14-point loss -- the closest ND has come to not losing this month.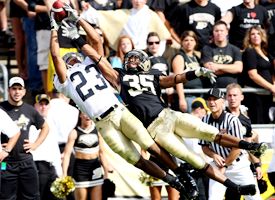 Matt Cashore/US PRESSWIRE
Golden Tate (No. 23) caught three passes -- including this touchdown -- for 104 yards.
"[I was] optimistic about the team's play in the second half," Weis said. "We played a second half of winning football. You can win with the type of play we had in the second half, with the kind of energy that we played with."
In the final 30 minutes, Notre Dame topped Purdue in points (19-10), first downs (14-11) and total yards (294-109). And for the game, the Irish registered season-highs in points, touchdowns (three), passing yards (377), total yards (426) and sacks allowed (two). It was an amazing amount of progress in a couple of hours for this offensive offense.
Along the way, Weis might have found a quarterback. Jimmy Clausen was forced to the sideline for much of the second half with an injured hip. Weis expects his freshman to be back in the lineup next Saturday at UCLA, but the Irish might be better served by having Evan Sharpley under center.
The junior (16-of-26, 208 yards, 2 TDs, 1 INT) engineered the two fourth-quarter touchdown drives that truly got ND back in the game, and the Irish seemed to be a different team with Sharpley at the controls.
Maybe, just maybe, Sharpley or Clausen can leverage some of Saturday's momentum during the cross-country trip to face the Bruins at the Rose Bowl. If not, another loss would be the Irish's eighth straight, the longest drought for Notre Dame since 1960.
"We came out and won the second half," linebacker John Ryan said. "Things had to change at some point; why not today? Next week we're going to come out and put 60 minutes together."
Dare to dream.
Special Delivery
By Tim Griffin, Special to ESPN.com
AUSTIN, Texas -- Kansas State coach Ron Prince knew his special teams would have to play well to sneak out of Royal Memorial Stadium with an upset.
But he probably didn't realize how much special-teams play would matter in the Wildcats' stunning 41-21 triumph over Texas. Big plays helped stake the Wildcats to their first road victory over a top-10 opponent in school history.
"We felt we would need four turnovers on defense and two special-teams touchdowns in order to win," Prince said.
Photo by Brian Bahr/Getty Images
Jordy Nelson, who caught a TD pass here, was an unlikely candidate to score on a punt return.
The Wildcats provided exactly what their coach was looking for, blistering the Longhorns with two special-teams touchdowns and four interceptions to contribute to the worst home loss in Mack Brown's coaching tenure at Texas.
After Texas tied the score late in the first half, KSU kick returner James Johnson charged untouched through the Longhorns' leaky special teams on an 85-yard kickoff return. Prince followed his player down the sidelines for the last 30 yards of the return, pumping his fist in the air with each step.
"Texas might have the fastest team in the Big 12, but I think, overall, we might have better team speed than Texas," Johnson said.
He didn't mention the Wildcats' edge in coaching speed, either.
KSU added the clincher in the third quarter when unlikely punt returner Jordy Nelson streaked 89 yards on a punt return for another score.
Nelson, a 6-foot-3, 217-pounder who came to KSU as a walk-on safety, might not look like the prototypical speed threat. He joked that he hasn't been timed in the 40-yard dash in several years.
But he eluded an ankle tackle by Brandon Foster before weaving through the Texas defense en route to his first collegiate punt return for a touchdown.
"Jordy's the people's champ," Prince said. "We said during the week that if he brought back a punt, the house might go down for our side. I don't know how fast he is, but nobody ever catches him."
The Happenstance Blueprint?
By Adam Rittenberg, Special to ESPN.com
EVANSTON, Ill. -- If you choose to believe Michigan, the quarterbacking sequence was all by design, all part of a master plan.
And maybe it was. Quarterback Chad Henne's triumphant return to the Wolverines offense in Saturday's 28-16 win over Northwestern certainly had plenty of drama. It affirmed Henne as the Wolverines' best quarterback, the leader who can rescue a season that began with national championship hopes but derailed with back-to-back home losses.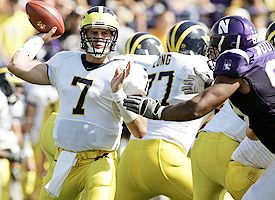 Jerry Lai/US Presswire
Chad Henne started and later came off the bench to rescue the Wolverines.
Still, coach Lloyd Carr probably didn't envision painting a big red "S" on Henne's chest at halftime and asking him to save the day.
Henne, who had missed the previous two games with a sprained right knee, started and led the Wolverines on an 11-play, 65-yard touchdown drive. But he departed after the first possession, only to watch freshman Ryan Mallett struggle.
Northwestern held Michigan to just 87 yards the rest of the half. Mallett completed just five of 11 passes, and Mike Hart had only 30 rushing yards as the Wolverines trailed 16-7 at halftime.
"A lot of the trainers knew that I could really play the whole game," Henne said. "I felt I could, but you get thrown in there, and you never know what's going to happen.
"It was tough watching it."
The plan was to reinstate Henne for the second half. Turns out, the game situation demanded it. And the senior responded, passing for 145 yards and two touchdowns, including the go-ahead score to Adrian Arrington with 9:53 left.
Although Michigan's defense clinched the game by forcing four turnovers in the final 10:42, Henne's role in the comeback could not be downplayed.
"We did not feel it was in his best interest to play the whole game," Carr said. "Our idea was we'd start him the opening drive, get him back in the flow, and then start him in the second half and see how things went.
"He was just outstanding."
Asked to describe the differences between the two Wolverines quarterbacks, Northwestern coach Pat Fitzgerald tried to be diplomatic.
"I don't know if there was anything different about facing each one," Fitzgerald said. "Except one's a senior and one's a freshman."
Fitzgerald sighed, realizing the discrepancy in experience helped ruin his team's upset hopes.
"There's a guy out there with a ton of confidence in Chad, who's been through a lot of Big Ten football games like this," Fitzgerald said. "In my opinion, he's one of the best in the country."
Predicting Failure
By Brett Edgerton, ESPN.com
AP Preseason Top 10
Lost to (opp. rank at time of game)
No. 1 USC
Undefeated
No. 2 LSU
Undefeated
No. 3 West Virginia
L, at No. 18 South Florida
No. 4 Texas
L, vs. Kansas St. (unranked)
No. 5 Michigan
L, vs. Appalachian St. (unranked)
L, vs. Oregon (unranked)
No. 6 Florida
L, vs. Auburn (unranked)
No. 7 Wisconsin
Undefeated
No. 8 Oklahoma
L, at Colorado (unranked)
No. 9 Virginia Tech
L, at No. 2 LSU
No. 10 Louisville
L, at Kentucky (unranked)
L, vs. Syracuse (unranked)
If Oct. 6 already has been billed as Blockbuster Saturday, perhaps Sept. 29 should go down in history as Spoiler Saturday. Oh, what could have been.
If not for a stunning seven of the top 13 teams in the AP poll suffering a loss this weekend -- five of them to unranked teams -- we would have been preparing ourselves for four undefeated-versus-undefeated showdowns this coming Saturday: Florida-LSU, Oklahoma-Texas, Cincinnati-Rutgers and Ohio State-Purdue. Instead, we got a shakedown that saw five top-10 teams lose in the same weekend for the first time in four years and saw two more (USC and Wisconsin) squeeze out three-point victories over unranked teams. So we now are left with only Ohio State-Purdue in the Battle of the Unbeatens.
But if there is one thing we did get out of the weekend, it is further proof of the absurdity of preseason polls. We just now are completing our first month of college football and already the preseason top 10 looks as dated as the fumblerooski. Other than USC, LSU and Wisconsin, no top 10 team made it out of September without at least one loss. Two of them (Michigan and Louisville) lost twice.
Three Weekend Observations
By Ivan Maisel, ESPN.com
1.
Someone will finish No. 1 this season, although you couldn't tell it by the top 10 teams Saturday. USC showed a lack of discipline. LSU looked sluggish. Oklahoma stopped playing after 50 minutes. The only highly ranked team that played well was Ohio State. The Buckeyes? It's not fair. It's not even the same team. But if you've moved past their performance on Jan. 8, you're ahead of me.

Colvin
2.
Cameron Colvin
's reach-for-the-pylon fumble late in Oregon's 31-24 loss to California mimicked an error made by
Marlon Moore
of Fresno State in its 47-45 overtime loss at Texas A&M on Sept. 8. Coaches don't criticize full-speed, "physical" mistakes. But this is about mental discipline. Save the pylon stretch for when there is :00 on the clock. Hold the ball and live to play another down.

Franchione
3.
Many coaches hide behind the HIPAA Act -- the federal regulation that governs electronic privacy of medical records -- to avoid providing injury information to the media and the public. Texas A&M coach Dennis Franchione included that injury info in the now-discontinued $1,200 newsletter he was selling. That makes Fran a HIPAAcrite.
GameDay Crew Final Thoughts
SCOTT VAN PELT

Benn
You know, a funny thing happened on the way to Blockbuster Saturday. Everybody had their eyes on Oct. 6, and not just the fans. Apparently some of the teams, as well. That look-ahead mentality and the upsets it caused brought about one of the most dramatic weekends in recent college football history.
Helmet Stickers Go To:
• WR
Arrelious Benn
, Illinois
84 rec yards, 90-yard kickoff return TD vs. Penn State
• Entire
Maryland
team
2-0 vs. ranked teams on the road when Van Pelt hosts CFB Final
---
LOU HOLTZ
McCoy
I don't know if Texas really is all that good. The Longhorns struggled against Arkansas State and got blown out by Kansas State on Saturday. The key is
Colt McCoy
, who already has thrown two more interceptions than all of last year. He just hasn't looked the same since getting knocked around late last season.
Helmet Stickers Go To:
• RB
Hugh Charles
, Colorado
Led team in rush (110) and rec (48) yards, TD vs. Oklahoma
• QB
Kellen Lewis
, Indiana
Career-high 322 yards, three TDs vs. Iowa
---
MARK MAY

Muschamp
A game ball has to go to Auburn defensive coordinator Will Muschamp. He made sure every time
Tim Tebow
carried the ball, it wasn't one defender that was on him -- it was two, three, four, five defenders. It was like Muschamp put a piece of kryptonite in every defensive player's sock to stop Superman. And they got the job done.
Helmet Stickers Go To:
• PK Wes Byrum, Auburn
Game-winning 43-yard FG (twice) vs. Florida
• WR
Jordy Nelson
, Kansas State
12 rec, 116 yards, TD, 89-yard punt return TD vs. Texas
---
RECE DAVIS
Helmet Sticker Goes To:
• WR
DeSean Jackson
, Cal
11 rec, 161 yards, two TDs vs. Oregon
Highlights: Cal-Oregon
Quite A Catch
By Brett Edgerton, ESPN.com
Breaking a single-season receiving record at a pass-happy school like Texas Tech is impressive. Breaking that record in just the fifth game of your collegiate career is downright ridiculous. In Tech's 75-7 destruction of Northwestern State, redshirt freshman Michael Crabtree hauled in three more touchdown passes, upping his season total to 14.
That not only breaks the program's single-season TD record less than halfway through the season, but it also ties Crabtree for the NCAA's all-time freshman record, currently shared by Jabar Gaffney (Florida, 2000), Mike Williams (USC, 2002) and Davone Bess (Hawaii, 2005). The Dallas native already has 60 catches for 920 yards and has tallied three TDs in four of his five games, grabbing a measly two in the other. It all adds up to a truly mind-boggling season projection. If he somehow continues on this pace -- and this isn't even counting a potential bowl game -- Crabtree will finish the season with numbers that will look like they came straight from a Playstation on steroids: 144 catches, 2,208 receiving yards and 34 touchdowns.
And just wait until next year, once he works out all those freshman kinks and all.
Highlights: USC-Washington
Looking Back ...
Insanity Saturday shifts landscape
On Insanity Saturday, there were plenty of hard-to-believe moments. From Colorado to Auburn and points in between, the underdogs believed every time, writes Pat Forde.
Story
---
On golden pond
Late-game heroics provided a rare golden moment for the Bears at the Ducks' pond and have No. 6 Cal sitting pretty in the national title race, writes Mark Schlabach.
Story
---
Kansas State's defense punishes Texas
Kansas State's defense was in vintage form Saturday in the Wildcats' upset of Texas, writes Tim Griffin.
Story
---
Bulls stage memorable upset
While USF's upset of West Virginia might have lacked artistry, the Bulls' first act on the big stage more than made up for it with passion, writes Ivan Maisel.
Story
Highlights: Kansas State-Texas
Looking at California
By Brett Edgerton, ESPN.com
Arizona State winning a Pac-10 game in the state of California? Cal winning a big road game anywhere? Both are extremely rare, yet both occurred Saturday.
Start with Cal, which won its first road game against a top 25 team since Jeff Tedford's debut season of 2002. The No. 6 Golden Bears prevailed in their showdown against No. 11 Oregon, the highest-ranked opponent Cal has defeated on the road since winning on Sept. 27, 1969, at No. 10 Indiana. It also marked the first time in 16 years the Bears won a road game between ranked teams.
As for the Sun Devils, they won a conference game in Cali for the first time since the last millennium. Before winning 41-3 at Stanford, Arizona State had dropped 14 straight Pac-10 games in the state, last winning in 1999 at USC. Interestingly enough, the team's next trip to the Golden State (Oct. 27 at Berkeley) will give Dennis Erickson his first crack at turning around another one of ASU's blackeyes. Under the previous regime of Dirk Koetter, the Devils were a paltry 2-19 against ranked teams.
Highlights: Auburn-Florida
Big-Game Tigers
By Brett Edgerton, ESPN.com
Perhaps we shouldn't have been all that stunned by Auburn's win at Florida on Saturday. Sure, the Gators were riding an 11-game overall win streak and never had lost at The Swamp under Urban Meyer. But that was no match for the Tigers' penchant for big-game victories. Remarkably, Auburn has won five straight and nine of its past 10 games against top 10 teams, with the only loss coming after John Vaughn missed his fifth field goal in overtime in 2005 at LSU. Meanwhile, the Gators have won all but two of their past 21 games. Those two losses? Both to Auburn.
Auburn vs. Florida teams ranked in top 4
Florida rank
Auburn result
2007
4th
W, 20-17
2006
2nd
W, 27-17
2001
1st
W, 23-20
1996
1st
L, 51-10
1994
1st
W, 36-33
1993
4th
W, 38-35
Want some more reasons why Auburn's victory shouldn't have been considered shocking? Since Tommy Tuberville arrived on the Plains in 1999, he is a perfect 5-0 against top 5 teams. His Tigers also have won an incredible 12 of their past 13 SEC road games. In addition, Auburn teams apparently have no problem facing top-notch Gator squads. In their past six games against Florida teams ranked in the top 4, the Tigers have won all but one of them. All but one.
Highlights: Maryland-Rutgers