There's been no predicting these first six weeks
What A Wild Ride
By Mark Schlabach, ESPN.com
The college football season began just more than one month ago with Appalachian State accomplishing the unimaginable: The two-time defending Division I-AA national champions beat mighty Michigan 34-32 in the Big House.
The 2007 season reached its midpoint Saturday night with perhaps an even bigger stunner: Stanford, a 41-point underdog, beat No. 2-ranked Southern California 24-23, the Trojans' first loss in 36 games at the Coliseum.
In between, college football fans witnessed the most exciting and unpredictable six weeks in recent history, with the Cardinal's upset perhaps capping it all.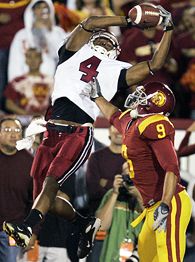 Mark J. Terrill/AP Photo
Mark Bradford's TD catch capped a wild two weeks of upsets.
"I don't know if there's ever been a game where a team was a 40-point underdog and playing with a quarterback making their first start" and won, said Stanford coach Jim Harbaugh, whose team had lost its previous three Pac-10 games by a combined score of 141-51.
Then again, there's never been a college football season quite like this one. Half of the AP poll's top 10 and nine ranked teams lost in Week 5. Four more top-10 teams and 11 ranked squads fell in Week 6.
During the first six weeks, Notre Dame couldn't win (until beating UCLA 20-6 on Saturday night); Cincinnati and Connecticut, of all teams, wouldn't lose. Ron Zook looks like a genius; Urban Meyer looks human. No one can slow down Kansas; Louisville hasn't stopped anyone.
It's been a wild ride. Consider:
• Of the 25 teams ranked in the preseason AP poll, 10 teams now are unranked. Michigan was No. 5 before it was stunned by the Mountaineers (and blasted by Oregon 39-7 in Week 2). Louisville, ranked No. 10 in the preseason, is unranked with a 3-3 record. The Cardinals, led by Heisman Trophy candidate Brian Brohm and once considered a possible contender for the BCS National Championship game, have lost to Kentucky, Syracuse and Utah.
• Seven of the top 15 teams in this week's AP top 25 poll were unranked in the preseason: No. 4 Boston College, No. 5 South Florida, No. 7 South Carolina, No. 9 Oregon, No. 11 Missouri, No. 14 Arizona State and No. 15 Cincinnati.
• Second-ranked California, Boston College, South Florida and Cincinnati are ranked higher than they've been ranked in 50 years. Missouri has its highest ranking since 1981, and No. 20 Kansas is ranked for the first time since 1995.
• Seven of the 11 remaining unbeaten teams in major college football were unranked in the preseason. LSU, Cal, Ohio State and Hawaii are the only undefeated teams left from the preseason top 25. The other unbeatens: Arizona State, Boston College, Cincinnati, Connecticut, Kansas, Missouri and South Florida, which didn't even play football a dozen years ago.
The first six weeks were filled with a flurry of other upsets: South Florida over Auburn, Colorado over Oklahoma, Kansas State over Texas and Illinois over Wisconsin.
Stay tuned. Plenty more are probably on the way.
Tebow Shows Moxie
By Bruce Feldman, ESPN.com
BATON ROUGE, La. -- Amid all of the chaos on the field after LSU swatted away Florida's Hail Mary hopes, Tim Tebow searched for a safe place. This time, the hulking sophomore quarterback wasn't being hounded by the Tigers' ferocious D-line but by a wave of photographers. Armed with their bulky cameras, they were everywhere he turned as he battled back tears. Tebow attempted to shield his face from their cameras, but there was no escape. Finally, Tebow headed toward the Gators' bench area and put his helmet back on.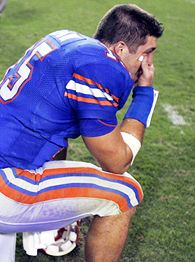 Bill Haber/AP Photo
Tim Tebow might get another shot at the Tigers later this season.
No doubt many of the LSU fans who made up clever and not-so-clever signs and T-shirts mocking Florida's golden boy would have relished this scene. And it was a surreal moment, given how valiantly Tebow had battled against the nation's best defense. His passing stats (12-of-26) don't sound like the stuff of a Heisman candidate, but even though the guy now is the QB of a team on a two-game losing streak, he deserves to be in the thick of the race. Tebow was at his best after LSU made its biggest plays on defense, converting almost every third-down attempt the Gators got.
In the end, his team ran out of time and ran into a team that was just a little more experienced and had a little more savvy. On Saturday night, before a record crowd at Tiger Stadium, the Gators needed Tebow to be perfect. He wasn't.
Florida was leading 24-14 when LSU defensive end Kirston Pittman intercepted a Tebow pass that had ricocheted off Cornelius Ingram's helmet. Five plays later, the Tigers scored. Until the pick, the Gators had been in control. After that moment, there was just too much momentum in favor of too good of an opponent buoyed by too much confidence playing in too loud of a stadium for Florida to hold it all back.
After the game, Urban Meyer guaranteed the Gators will be back. Sounds right. Who knows, if Florida wins out, it might even get another shot at the Tigers. If the Gators are able to win the SEC title game in Atlanta, they might be able to make a compelling case for getting back to the national title game. It's a long shot, but so was any team going into Tiger Stadium and converting on all of those third downs.
A Running Start
By Mark Schlabach, ESPN.com
CHAMPAIGN, Ill. -- Illinois has Juice Williams, one of the country's best dual-threat quarterbacks. Before the season, the Illini added Arrelious Benn, the country's top wide receiver prospect, who turned down a host of big-time programs and enrolled at Illinois in January.
But if the Illini were going to improve after winning only two games in each of the previous two seasons, coach Ron Zook knew tailback Rashard Mendenhall would have to be better.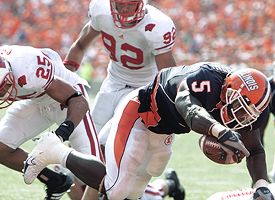 Seth Perlman/AP Photo
Rashard Mendenhall's running has the Illini back in the top 25.
Mendenhall was a highly recruited player from Niles West High School in Skokie, Ill. He was one of the first blue-chip recruits to join the woebegone Illini, and he showed promise in his first two seasons.
But Zook knew the junior tailback was capable of doing much, much more this year.
"I told him before the season, 'If you have the kind of year we think you're capable of having, we're going to be pretty special on offense this year,' " Zook said.
Mendenhall is having that kind of season, and so are the Illini. Illinois upset No. 5 Wisconsin 31-26 on Saturday, its first victory over a top-five opponent since 1989. The Illini are ranked No. 18 in the AP top 25 poll, its first ranking since the end of the 2001 season.
Mendenhall ran for 160 yards and two touchdowns and scored on a shovel pass against the Badgers. It was his fourth 100-yard rushing performance in six games this season. He ranks seventh nationally in rushing with 128.7 yards per game and is averaging 6.8 yards per carry.
"We're on our revenge tour, beating a lot of teams that beat us last year," Mendenhall said. "I think we're opening some eyes."
Mendenhall certainly has opened his coaches' eyes.
"We've always felt he had that big-play potential," offensive coordinator Mike Locksley said. "A couple of weeks ago, his potential started turning into production."
And the Illini's potential finally started turning into victories.
Sam's Club
By Tim Griffin, Special to ESPN.com
DALLAS -- It was a marked contrast from his usually impassive attitude on the field. But Oklahoma redshirt freshman quarterback Sam Bradford could be excused for a little youthful exuberance after winning his first Red River Rivalry game.
Bradford had been weaned on tales of previous games against Texas told by his father, Kent, an Oklahoma lineman in the 1970s. And finally beating the Longhorns in the Cotton Bowl stirred those emotions.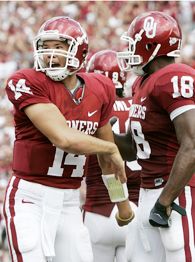 Sue Ogrocki/AP Photo
The normally reserved Sam Bradford was fired up about winning the Red River Rivalry.
"This is the greatest thing to look up there and see all those Oklahoma fans," Bradford told reporters after the game. "I've been dreaming about doing this for a long time."
His big game Saturday belied his inexperience in only his sixth college start. Bradford passed for 244 yards and three touchdowns to lead the Sooners' 28-21 victory. In the process, he joined Justin Fuente as the only Oklahoma starting freshman quarterbacks to beat the Longhorns.
Teammates marvel about his poise and how his demeanor seldom changes. His facade slipped a little last week when Oklahoma offensive coordinator Kevin Wilson heard Bradford make an atypical boast.
"We congratulated him after we had a good practice against the blitz," Wilson said. "He turned to me and said, 'We're going to do that on Saturday.' Sam was confident he would play well."
Bradford delivered Saturday, just like he had predicted, on Oklahoma's game-winning drive. His 35-yard touchdown pass to Malcolm Kelly in the teeth of a blitzing Texas defense provided the margin of victory early in the fourth quarter.
That score capped a 12-play, 94-yard drive that will go down as one of the most memorable in Oklahoma's proud football history. Bradford completed seven of eight passes for 83 yards on the game-winning drive, with his only incompletion a dropped pass by Quentin Chaney.
Before that possession, Bradford showed the same quiet confidence in the huddle that has become his trademark during his short career as a Sooner.
"He always tells us, 'Let's get this.' That's his favorite quote," Kelly said. "No matter how bad we're getting beat or how we're struggling, Sam never changes. He always lets us know we have a chance. And with Sam, you've got that chance."
Defending The House
By Ron Higgins, Special to ESPN.com
KNOXVILLE, Tenn. -- Finally, a Phil-good story for Tennessee.
Embattled Tennessee coach Phillip Fulmer temporarily stiff-armed all of his critics Saturday, answering questions about his job status with the Vols' 35-14 victory over Georgia.
It was hard to tell what was more surprising: the fact that Tennessee scored on four of its five possessions to take a 28-0 lead at the half, or the fact that Fulmer almost went Mike Gundy in his postgame press conference.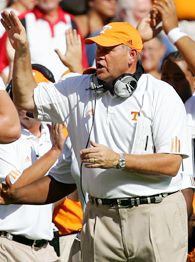 Streeter Lecka/Getty Images
Phil Fulmer was elated with the result on the field. After the game, not so much.
Fulmer was angry over a column in Saturday's Knoxville News-Sentinel written by John Pennington, who buys time for a show on Knoxville TV station WATE.
Pennington's column quoted several unnamed past Tennessee players who were extremely critical of the current Vols' program, questioning player development, conditioning and practice intensity.
"I'm a big boy and I can take almost anything that comes my way," Fulmer said. "But it was an incredible cheap shot to have unnamed former players say something about our program, particularly on a day of a big game when a lot of prospects are here.
"It hit a danged nerve. I don't appreciate it. In this case, our football team and this program deserves a response to something like that. I have relationships with players who have been in this program. If they have something to say, they can say it to me anytime.
"They don't have to go through some person who has never been on our practice field, some person who has never been to a press conference that I know since I've been here."
And with that, Fulmer clicked off his inner Gundy and returned to being grateful ol' Phil.
Three Weekend Observations
By Mark Schlabach, ESPN.com

Miles
1.
We've known all season LSU has the talent and depth to win a national championship. We just wondered if coach Les Miles was good enough to lead the Tigers to the BCS National Championship Game at the Louisiana Superdome. In Saturday night's 28-24 win over defending national champion Florida, Miles looked like a big-game coach. He gambled more times than a blackjack dealer and coached to win a national championship, instead of trying not to lose one.

Zook
2.
Ron Zook can recruit ... and coach. The former Florida coach didn't last three seasons in Gainesville because he couldn't transform blue-chip recruits into championship teams. Zook and his staff have assembled an Illini team chock full of underclassmen and turned it into a winner. The No. 18 Illini are 5-1 overall, 3-0 in the Big Ten, and should be favored in at least five of their six final games.
3.
Ohio State can get back to the BCS title game. The Buckeyes clearly are the class of the not-so-good Big Ten after a 23-7 win at Purdue on Saturday night. Ohio State might have the best chance among the top five teams of finishing unbeaten.
GameDay Crew Final Thoughts
RECE DAVIS
Many teams have won the national title with a loss in the regular season. USC even did it four years ago. But the Trojans will have a difficult time overcoming this setback, even if they do have several opportunities to beat ranked teams in the second half of the season. Losing as 40-point favorites should have quite a shelf life, and it could keep them out of the BCS title game when voters compare the resumes of contending teams late in the season.
Helmet Stickers Go To:
•
Jacob Hester
(LSU): 106 rush yards, 1 TD vs. Florida
•
Mark Bradford
(Stanford): 5 rec, 87 rec yards, 1 TD vs. USC
---
LOU HOLTZ

Mendenhall
You want to know why coaches sound worried, even when they are playing a team at the bottom of the standings? Want to know why I always was nervous about playing Navy? It's because coaches know any team can be upset on any day, and they are just hoping it doesn't happen to their team. It happened to Michigan, it happened to Louisville and it even happened to USC.
Helmet Stickers Go To:
•
Rashard Mendenhall
(Illinois): 160 rush yards, 2 rush TD, 1 rec TD vs. Wisconsin
• Aqib Talib (Kansas): 1 rec TD, 1 interception vs. Kansas State
---
MARK MAY
If you don't protect the ball, you can lose to just about anyone, and that was proven in Southern California on Saturday. USC and UCLA entered with a combined record of 8-1. Their opponents were a combined 1-8. But USC and UCLA lost because they turned over the ball 12 times and had a turnover margin of minus-11. That'll get you beat every time.
Helmet Stickers Go To:
• Victor "Macho" Harris (Virginia Tech): 100-yard kick return TD, 1 interception vs. Clemson
• Rico McCoy and Jerod Mayo (Tennessee): 22 combined tackles vs. Georgia
College GameDay Review
As The Ball Bounces
By Brad Edwards, ESPN.com
Winning the turnover battle is the key to success in football, and perhaps no two teams have embodied that theory more than USC and North Carolina in recent years. The Trojans have had arguably the best program in college football since Pete Carroll arrived in 2001, and they've done it with great talent and a plus-92 turnover margin during that span ... until Saturday, that is. USC turned over the ball five times while Stanford did so once, and it led to a monumental upset that few people thought possible.
North Carolina, on the other hand, has been as bad as it gets in the turnover game. The Tar Heels entered Saturday with a minus-75 turnover margin since 2000 and were well on their way to an eighth straight year with a negative differential. But they turned it over just once against Miami and intercepted Kyle Wright four times, leading to the first big win of the Butch Davis era at UNC.
Highlights: Oklahoma-Texas
Looking Back ...
Champaign dreams an Illini reality
Ron Zook has been tirelessly selling his dream of Illinois as an up-and-coming program. After beating No. 5 Wisconsin, Zook and the Illini are making that dream a reality, writes Mark Schlabach.
Story
---
Tigers survive Florida's best
Confidence, not play calling, helped No. 1 LSU survive an upset bid by defending national champion Florida, writes Bruce Feldman.
Story
---
A star is born in Red River Rivalry
In a game that was closer than expected, in a rivalry that has seen its fair share of blowouts recently, the 102nd meeting of Texas and Oklahoma in the Cotton Bowl produced a new Sooners star and handed the Longhorns a historic loss, writes Mark Wangrin.
Story
---
Buckeyes' defense dominates
Forget about that rebuilding talk. As demonstrated against Purdue, a dominating Ohio State defense -- not to mention a rash of upsets -- has the Buckeyes positioned to be players in the national title picture again, writes Jason Lloyd.
Story
Highlights: Notre Dame-UCLA
Wild, Wild East
By Brad Edwards, ESPN.com
Florida likely saw any chance of defending its national title slip away Saturday in Baton Rouge, but its goal of repeating as SEC champion still is alive. In any normal season, the Gators would be in big trouble after taking a second conference loss in early October, but as we all are surely aware by now, this is no normal season. All six teams in the SEC East already have at least one loss in conference play, so everyone still is alive. Although it's hard to identify any team as the favorite, it's not so difficult to lay out a simple scenario in which Florida will come out on top. The Gators already have beaten Tennessee (1-1) and have yet to play South Carolina (3-1) and Kentucky (1-1). Therefore, if the Vols lose once more, the Gators can win the East by simply winning out (as if that would be simple). The bottom line: LSU might not have seen the last of Urban Meyer's bunch. The Tigers' road to a national title just might have to go through Florida one more time.
Highlights: Wisconsin-Illinois
One Of The Seasons
By Brad Edwards, ESPN.com
Twenty-three ranked teams were in action over the weekend, and 11 of them lost. Nine top-10 teams have been beaten over the past two weeks, and six of them fell to unranked opponents. Want more insanity? Two teams from the Big 12 still are undefeated, and both are from the North division. Three teams from the Big East are perfect, but West Virginia, Louisville and Rutgers aren't among them. Only 11 teams in major college football remain unbeaten, and seven of them were unranked to start the year.
Remaining Undefeated Teams By Conference
ACC
One
Boston College
Big 12
Two
Kansas, Missouri
Big East
Three
Cincinnati, South Florida, UConn
Big Ten
One
Ohio State
Pac-10
Two
Arizona State, California
SEC
One
LSU
WAC
One
Hawaii
In just six weeks of the 2007 season, we already have seen three of the biggest upsets in the history of the sport. USC (-41 against Stanford) and Louisville (-37 against Syracuse) are believed to be the biggest favorites ever to lose a college football game, and many people don't think either of those results was as big of a surprise as Appalachian State knocking off Michigan. It's already been a season for the ages, and it's just reaching the halfway point.