There's no formula for this season
Out With The Old
By Ivan Maisel, ESPN.com
College football usually produces drama that builds over the course of the season. It's why we like sports. Hollywood pays millions to try to recreate that kind of tension.
There is drama -- USC and Texas doing a four-month tango; Ohio State and Michigan moving inexorably toward their November rivalry with the added weight of BCS implications -- and there is what college football has produced through seven weeks this season.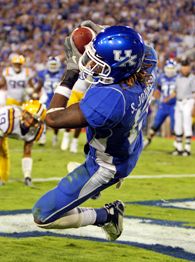 Andy Lyons/Getty Images
Kentucky's Steve Johnson caught the game-winner in OT to knock off No. 1 LSU.
There is drama, and there is anarchy. Dramatic tension? Forget it. In cinematic terms, this is the Marx Brothers.
On the day that the first BCS standings arrive in our inbox, this mishmash of a title race might be "Duck Soup," and it might be a dog's breakfast. In mid-October, the easiest way to figure out who remains in the national championship race usually is to count the unbeaten teams. There are six: Ohio State, South Florida, Boston College, Arizona State, Kansas and Hawaii.
Take a good, long look, and when you ask yourself whether there are two teams in that bunch that will play for the national championship, you willl start to count the remaining one-loss teams. Don't bother; I've done it for both of us. There are 15.
Pardon the skepticism, which might be nothing more than the product of snobbery shacking up with tradition. If ever there has been a season to throw out the old rules, it is this one. After all, we've spent the first half of the season throwing out the old teams.
In Nebraska, they are wearing black shirts for quite a different reason. At USC, the coaching "genius" of Pete Carroll is looking more every week like the byproduct of having had the athletic Matt Leinart and Reggie Bush in the same backfield. The same goes at Texas, where Mack Brown and the Longhorns have resumed their pre-Vince Young habits of being almost good enough to contend.
A week ago, after a stirring fourth-quarter comeback, LSU appeared to be a team among boys. I had the call-off-the-season-and-send-the-rings-to-Baton-Rouge column written in my head.
Then came Lexington, where Tigers coach Les Miles, like college men who have fumbled through Saturday nights for generations, had a hot date and lost its number.
Charles Scott carried five times for 91 yards and two touchdowns in the first half. He got two carries for 2 yards in the second, the final carry coming on the last play of the game. Scott finished a yard short on fourth-and-2. Kentucky won 43-37 and gave life to a whole new class of BCS contenders.
The new rule is, there are no rules. At least in one half of the BCS equation, anyway. Ohio State hasn't played anyone, thanks to a Big Ten that has laid down its arms and withdrawn its troops from the national battlefield. The Buckeyes can't claim even a nonconference victory over No. 2 Texas, the badge they waved as they traipsed through their daisy-strewn schedule a year ago.
But it is Ohio State, and it continues to play by the aforementioned old rules accorded to the traditional powers. The rest of the BCS standings look like the White House on the day that newly inaugurated Andrew Jackson threw open its doors to the public. Mud spattered everywhere, people climbing over furniture, the common folk taking over the house of the most powerful.
Sounds about right. As Groucho sang in "Duck Soup," "If you think this country's bad off now, just wait till I get through with it!"
Thunderbolts And Lightning
By Mark Schlabach, ESPN.com
LAWRENCE, Kan. -- No opponent has been able to slow down Kansas during its 6-0 start.
The No. 15 Jayhawks rank seventh in the country with more than 515 yards of offense per game and second with more than 50 points per contest. The Kansas defense has been just as good, limiting opponents to 240 yards per game and 9.5 points per contest, which rank fourth and second in Division I-A, respectively.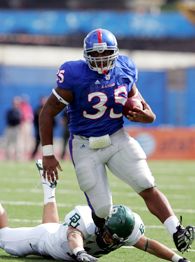 Julie Scheidegger/US PRESSWIRE
Kansas has been running away from opponents pretty easily all season.
The Jayhawks finally slowed down in Saturday's game against Baylor at Memorial Stadium, but it had nothing to do with the Bears.
The game was delayed twice by lightning after a very strong system of thunderstorms rolled through the area early Saturday. Kickoff was delayed nearly two hours until 2:15 p.m. ET, and the teams endured another 30-minute delay after lightning struck near the stadium late in the first quarter.
By the end of the five-hour, three-minute contest, lightning also had struck more than a few times for Kansas in its 58-10 demolition of Baylor in front of a crowd of 43,556.
"This was a new experience for me," Kansas coach Mark Mangino said. "I have never been a part of it. It was unchartered waters for us."
The Jayhawks' fast start also is uncharted waters for Mangino, whose team is off to its best start since a 7-0 record to begin the 1995 season. Kansas has won nine of its past 10 games as it heads into consecutive road games at Colorado and Texas A&M.
"We're just a better football team in all areas," Mangino said. "We are better physically. We are better assignment-wise. We are a little bit more mature and mentally tougher than we were a year ago."
The Jayhawks showed their maturity by not letting a lesser opponent and the weather delays affect their focus.
Mangino said some players slept during the delays, while others listened to music on their iPods or read game programs.
"I was concerned in the second half about the kids wearing down a little bit, but they didn't," Mangino said. "They were very focused. I thought they handled it very well. We didn't make a big deal about it. The reason why we didn't is because we don't plan for rain delays in football. We plan for everything, but we hadn't planned for a rain delay."
A Running Start
By Tim Griffin, Special To ESPN.com
LUBBOCK, Texas -- Strong defense always has been an afterthought during coach Mike Leach's tenure at Texas Tech.
The program built its national reputation on a high-powered aerial attack, with the Red Raiders' defense lost in the shuffle over the years.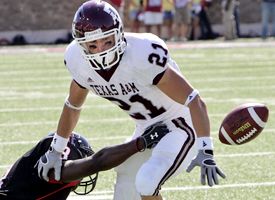 LM Otero/AP Photo
The Texas Tech defense has stepped up its play over the past few games, shutting down Texas A&M on Saturday.
But that has appeared to be changing over the past few weeks. Tech has responded to the fiery teachings of interim defensive coordinator Ruffin McNeill, who has stamped the team with an aggressive, swarming philosophy since taking over after Lyle Setencich stepped down Sept. 23.
McNeill appears to have lit a fire under the Red Raiders, as seen in a dynamic effort in the Red Raiders' 35-7 victory over Texas A&M on Saturday.
The fire is hot enough that even though Tech quarterback Graham Harrell blistered the Aggies for 425 passing yards and three touchdown passes, Tech fans chanted McNeill's name as he left the field at Jones AT&T Stadium.
"They probably had a little bit too much to drink," McNeill said, chuckling. "I love our [fans], but they were chanting my name, a big ol' guy? An ol' school, half-bald guy? They must have been talking about a different Ruffin."
The Red Raiders have strung together three big defensive games since McNeill was named the interim coordinator. During that period, the Red Raiders have allowed opponents 257 yards and 10.3 points per game. Under Setencich, the Red Raiders were allowing 405.5 yards and 28.3 points per game. Those struggles were punctuated in a 49-45 loss to Oklahoma State in which Tech was gashed for 366 rushing yards and 610 total yards.
"We've always had this mentally, but coach Ruff has got it out of us," safety Joe Garcia said. "During practice the last three weeks, it's totally changed our defense. We're more intense, and we run and swarm to the ball. Then we try to do it on the field. The intensity by coach Ruff has been excellent."
The attitude change was visible Saturday against the Aggies. After spotting them a quick touchdown on their first drive, the Red Raiders did not permit A&M any points on its final 10 possessions of the game.
"I think the energy has picked up," Leach said. "Our team is starting to realize that it takes all the components working together to be a good team."
Top 10 Wipeout
By Brett Edgerton, ESPN.com
Remember that preseason AP Top 10? Scrap it. It's time to start all over. It's only mid-October, and not a single team in that group is unblemished. Since the preseason poll began in 1950, this marks the earliest date on the calendar that every preseason Top 10 team has had at least one loss. In fact, Ohio State, winner of a school-record 25 consecutive regular season games, is the only undefeated team left from the preseason Top 20. The only other unbeatens are South Florida, Boston College, Kansas, Arizona State and Hawaii, none of which has ever played in a BCS bowl.
Top 5 Losing To Unranked,
Past Three Weeks
| | |
| --- | --- |
| No. 3 Oklahoma | 27-24 at Colorado |
| No. 4 Florida | 20-17 vs. Auburn |
| No. 2 USC | 24-23 vs. Stanford |
| No. 5 Wisconsin | 31-26 at Illinois |
| No. 2 Cal | 31-28 vs. Oregon State |
The madness has been especially rampant recently. In the first four weeks of the season, exactly one Top 10 team lost every Saturday. Over the past three weeks, however, a whopping 11 of them have gone down, including seven to unranked teams. Five of those seven unranked shockers have come on the road.
And this isn't a bunch of fringe teams that rotate in and out of the Top 10 losing. In the past three weeks, half the Top 5 teams that played (7 of 14 teams) lost, including five to unranked teams. To put that last number in perspective, a total of six unranked teams beat Top 5 opponents over the previous two seasons combined. Throw in Appalachian State's stunner at Michigan -- the one that started it all -- and we're already at six, with nearly half the season still to go.
Want another hard-to-believe note from Saturday? LSU became the first AP No. 1 team in nearly four years to lose in the regular season, dating back to Oklahoma getting swamped by Kansas State in the 2003 Big 12 title game. The previous top-ranked team to lose before November was Florida under Steve Spurrier in 2001.
Rolling Up Impressive Numbers
By Adam Rittenberg, Special To ESPN.com
EVANSTON, Ill. -- The video-game numbers suggest a degree of effortlessness.
But if there's a way to make 990 passing yards, nine touchdowns, no interceptions and a ridiculous 74.5 percent completion rate look difficult, Northwestern quarterback C.J. Bacher found it the past two weeks.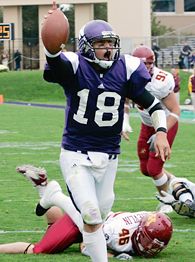 Scott Boehm/Getty Images
Northwestern quarterback C.J. Bacher has had a couple of days for the records books.
Bacher followed a school-record 520-yard passing performance against Michigan State with a 470-yard splurge Saturday against Minnesota. His two-week passing total is the second-highest in Big Ten history behind former Purdue quarterback Drew Brees (1,016 yards against Minnesota and Wisconsin in 1998). The 6-foot-2 junior now occupies the first and third lines on Northwestern's single-game passing yards list and the third and fifth spots on the single-game total offense list.
The statistics are staggering, but how Bacher collected them is more impressive. He led Northwestern to back-to-back overtime victories in defense-optional scorefests, keeping a bowl game in the team's viewfinder. Against Michigan State, he converted nine third downs of 6 yards or longer, firing touchdown passes on third-and-15, third-and-7 and third-and-6.
The burden was even greater Saturday as Northwestern fell behind 35-14 with 6:18 left in the third quarter. But Bacher completed all seven of his pass attempts in the third quarter and twice converted on fourth-and-goal in the fourth quarter, wrong-footing the defense on a 6-yard option keeper and finding Eric Peterman for the tying 4-yard score with eight seconds left in regulation.
"There were a couple points in the game where I felt like there was no way we could be stopped," Bacher said, "no matter who was on the other side of the ball."
Bacher wasn't done, slinging a first-down strike to Ross Lane on a do-or-die fourth-and-4 in the first overtime. In the second overtime, his pass fake held the defense long enough for Brandon Roberson to score the final touchdown.
"When we're in the huddle, we look at him and we know everything's going to be all right when he's standing there," Peterman said. "That's the role he's taken on for this offense and for this team."
Three Weekend Observations
By Ivan Maisel, ESPN.com
Richt
1.
Kudos to Georgia coach Mark Richt for chastising his Bulldogs as they danced atop the Vanderbilt logo following their last-minute, 20-17 victory. Meanwhile, disgruntled Dawgs fans are ashamed the players celebrated a narrow win over Vandy. Richt's motives are purer: Act like you've won before. His teams usually know how.

Selvie
2.
The two best defensive ends in the first half of the season have been George Selvie of South Florida and Auston English of Oklahoma. Both are tall, rangy and fast to the ball. But the best things about them are that both are redshirt sophomores and at a position where it wouldn't be physically prudent to leave early for the NFL.

Williams
3.
We have seen the full blossoming of the running, passing quarterback, and as the season passes the midway point, we are beginning to see why coaches never liked their quarterbacks to run. When Illinois needed
Juice Williams
in the second half at Iowa, he was too banged up to play, and the Illini scored only two field goals in a 10-6 loss.
GameDay Crew Final Thoughts
RECE DAVIS
If you base the polls strictly on resumes, doesn't South Florida have to be No. 1? Now, reasonable minds can differ -- and Ohio State might very well be better -- but based on what the Bulls have done on the field, no other undefeated team has been as impressive. No team in the country has two better wins (at Auburn, vs. West Virginia), that's for sure.
Helmet Stickers Go To:
• WR
Donnie Avery
/RB
Anthony Alridge
, Houston: 633 all-purpose yards, 6 TDs vs. Rice
• RB
James Starks
, Buffalo: 231 rush yards, 3 TDs vs. Toledo
---
LOU HOLTZ
If I had to rank my top 5 teams right now, at the top I'd put Ohio State and in second I'd put -- and don't laugh -- the Kansas Jayhawks. I know they haven't played anybody, but right now, I think they are playing as well as anyone in the country, in every area of the game. They have got a lot of playmakers. I'm telling you: Kansas is for real.
Helmet Stickers Go To:
• WR
Steve Johnson
, Kentucky: 7 rec, 134 yards, game-winning TD vs. LSU
• RB
Dantrell Savage
, Oklahoma State: 212 rush yds, 8.5 YPC vs. Nebraska
---
MARK MAY
The Kentucky offensive line was magnificent against the best defense in the country. The Cats' two backup tailbacks combined for 125 yards, and
Andre' Woodson
managed to stay clean, attempting 38 passes and not getting sacked once. Hats off to the guys up front in blue. And hats off to Rich Brooks and Joker Phillips for a heck of an offensive game plan.
Helmet Stickers Go To:
• RB
Yvenson Bernard
, Oregon State: 163 total yards, 2 TDs vs. Cal
• QB
C.J. Bacher
, Northwestern: 41-58, 470 yards, 4 TDs vs. Minnesota
College GameDay Review
Two-Man Show
By Brett Edgerton, ESPN.com
On a day that saw eight 200-yard rushers in Division I-A play (no other Saturday has had more than three), the 205 yards and four touchdowns from Houston's Anthony Alridge might have gotten lost in the shuffle. The tag team of Alridge and wide receiver Donnie Avery was so outrageous, though, it was hard not to notice. Avery had 13 catches for 346 receiving yards and two touchdowns through just three quarters, before giving way to Alridge, who ran in 33- and 50-yard touchdowns in the final four minutes as the Cougars rallied for a 56-48 win over intra-city rival Rice.
Most Single-Game Receiving Yards
405
Troy Edwards, La. Tech, 1998
363
Randy Gatewood, UNLV, 1994
349
Chuck Hughes, UTEP, 1965
346
Donnie Avery, Houston, 2007
327
Casey Fitzgerald, North Texas, 2007
It was the first time in the history of major college football that one team had a 300-yard receiver and a 200-yard rusher in the same game. In terms of total yards, only five of the 102 Division I-A teams playing Saturday outgained the duo of Alridge and Avery, whose combined total was 552 yards. Throw Avery's 81 return yards into the mix, and the pair ends up with a remarkable 633 all-purpose yards and six touchdowns.
Speaking of history made in Texas, Avery's receiving performance is one of the top five in the history of Division I-A, ranking him fourth above North Texas's Casey Fitzgerald, who gained 327 yards just last month and now is ranked fifth.
Highlights: Kent State-Ohio State
Looking Back ...
LSU the latest team to fall
One year ago, LSU demolished Kentucky 49-0. What a difference a year makes. In the most recent evidence of the craziness of college football, No. 17 Kentucky handed the top-ranked Tigers their first loss. It was the Cats' time to shine, writes Pat Forde.
Story
---
OU takes advantage of Missouri mistakes
Oklahoma coach Bob Stoops wasn't totally happy with his team's performance. But on a day of upsets, the one-loss Sooners just might be among the cream of the crop, writes Ivan Maisel.
Story
Highlights: UCF-South Florida
Hitting New Lows
By Brett Edgerton, ESPN.com
We've singled out Nebraska before in this space, and we promise it's nothing personal. But given the proud tradition of Cornhuskers football, it's only fair to point out how bad things have gotten for the Big Red. How bad? With a 45-14 victory Saturday (38-0 at halftime), Oklahoma State has won three of its past four games against Nebraska. Before that? Try 36 consecutive losses. The Cowboys also handed the Cornhuskers their worst home loss since 1958. Before that? Try 20 straight Oklahoma State losses at Memorial Stadium, which suddenly has turned into a house of horrors for the Huskers. Over the past 45 years -- dating back to the Kennedy administration -- Nebraska has lost three home games by more than 15 points ... and two of the three have come this season.
Nebraska's Worst Home Losses, Past 45 Years
31
2007 vs. Oklahoma State, 45-14
29
2003 vs. Kansas State, 38-9
18
2007 vs. USC, 49-31
And what's happened to that Blackshirt defense? In the 118-year history of Nebraska football, the Huskers had allowed three 40-point games in a season just once (1943) and never had allowed four 40-point games. But for those counting at home, that's now four such games in the past five weeks.
Highlights: Texas A&M-Texas Tech
Finally, A Comeback
By Brett Edgerton, ESPN.com
The Alabama football players not only managed to successfully dodge the whiskey bottles and high-heeled shoes that rained down on them after their controversial win at Ole Miss, but they also did something no one on the roster had ever done. Not beat the Rebels ... that's been done three straight years with three-point wins each time. No, the Crimson Tide were behind 24-17 entering the fourth quarter, which means they won a game in which they trailed after three quarters for the first time in nearly six years.
It was a streak that lasted 24 games and stretched all the way back to the short-lived Dennis Franchione era, when Bama rallied to beat Iowa State 14-13 in the 2001 Independence Bowl.
Highlights: South Carolina-North Carolina