Something new this week: Not much changed
Go Figure
By Ivan Maisel, ESPN.com
There's something wrong with the top 10: Not much has changed. For the first time in weeks, the mighty have not fallen.
The upset pandemic has been quarantined to the Southeastern Conference, in which three ranked teams lost to lower-ranked or unranked teams this weekend. And none of those outcomes (Tennessee 27, South Carolina 24; Georgia 42, Florida 30; Mississippi State 31, Kentucky 14) was exactly a mind-blowing upset.
More From The SEC
• What once was a distant possibility is now turning into a very realistic scenario ... the SEC is very close to having 11 bowl-eligible teams. Assuming Florida, Tennessee and Arkansas can win at least one of their final four games, all it's going to take is one more victory apiece from Mississippi State and Vanderbilt. The Commodores don't even need another SEC win if they can beat Wake Forest at home in the finale. If that scenario plays out, Ole Miss will be the only team in the league not eligible for a bowl.
• As we head into November, 2-3 Vanderbilt is one Georgia loss away (vs. Auburn, vs. Kentucky) from having a chance to advance to the SEC championship game. That's no typo, folks. If the Commodores were to somehow win three in a row against Florida, Kentucky and Tennessee and finish 5-3, the Gators and 'Cats would both have more losses. And if it's a four-way tie at three losses with Vandy, Tennessee, Georgia and South Carolina, the Dores would win the tiebreaker by virtue of the fact that UGA and South Carolina would be 1-2 among that group, while UT and Vandy would be 2-1 (and VU would win that head-to-head tiebreaker). Now is Vanderbilt going to sweep Florida, Kentucky and Tennessee? Probably not. But in this wild and wacky conference, are you really prepared to say it's impossible?
-- Brett Edgerton, ESPN.com
The result of Saturday is that you need a team of lawyers to decipher the possibilities in the SEC East, where a game-and-a-half separates first-place Georgia (4-2) from Kentucky and Vanderbilt (both 2-3).
That's right. The Wildcats, two weeks removed from the top 10, are tied for last place in their division.
The team that controls its destiny in the division is Tennessee (3-2), where the fans are busy undermining the coach on his way to a divisional championship. This isn't a football team. It's a soap opera.
No one has won ugly more consistently over the past few seasons than Phil Fulmer. The Volunteers' 27-24 overtime victory over South Carolina on Saturday night included coughing up a 21-0 lead and kicker Daniel Lincoln missing a 43-yard, game-tying field goal in the final seconds, only to get a second chance because of a false-start penalty. Lincoln nailed the 48-yarder, and he made the game-winner in overtime.
But Tennessee, like Georgia, has two losses, and Tennessee beat Georgia 35-14. If the Vols win out, they will play Dec. 1 in Atlanta.
Nothing has changed in the SEC West, mainly because LSU and Alabama, the teams tied for the lead, didn't play. They will meet Saturday, and a victory by the Tigers will leave them one victory away from clinching the division championship for the fourth consecutive odd-numbered year, which says something about the power of playing Auburn and Florida at home.
Ohio State and Michigan will play for the Big Ten championship, barring utter collapse on the part of one team or the other. It's a longshot -- coach Jim Tressel's teams don't collapse, utterly or otherwise, and Michigan got its collapse out of the way before league play began.
Arizona State and Oregon, which stand atop the Pac-10, play Saturday evening in Eugene. A victory by the Ducks would mean that, of the four conference teams with one loss, Oregon would have beaten two of them (USC, Arizona State) with UCLA yet to come. And trying to predict the manic nature of the Bruins makes a Rubik's Cube look like Chutes and Ladders.
In The Know
By Chris Low, ESPN.com
JACKSONVILLE, Fla. -- All season long, the Georgia fans have been clamoring for more of Knowshon Moreno.
They got their wish and then some Saturday at a place that has been a house of horrors for the Bulldogs for most of the past two decades.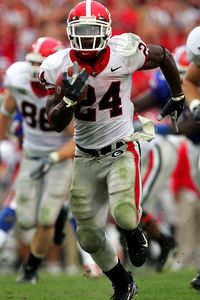 Ronald Martinez/Getty Images
Knowshon Moreno had a breakout game for Georgia on Saturday.
Moreno flounced through and around Florida defenders for a career-high 188 yards on 33 carries, and the Bulldogs punished the Gators 42-30 at Jacksonville Municipal Stadium to do their part in making this a rivalry again. It was only Georgia's third victory over Florida in the past 18 meetings.
Of course, Moreno wondered what all the fuss was about. The redshirt freshman has played against the Gators one time and is 1-0 against them.
"You hear people talking about how many games they'd won in a row against us, and you get a lot of questions about it," Moreno said. "But for a lot of us, we've only played them once or twice. The only game that mattered to us was [Saturday's]."
Moreno, whom the Georgia coaches were tempted to play last season, was all the rage this past spring and all preseason. But with such a crowded backfield, he was splitting carries with Thomas Brown. That all changed a few weeks ago. Brown went down with a collarbone injury, and Kregg Lumpkin also was sidelined with a knee injury. Neither player is expected back before the Nov. 10 Auburn game at the earliest.
So for the time being, it's Moreno's show -- and he's putting on a show. To read the rest of this story, click here.
He's Noticed Now
By Elizabeth Merrill, ESPN.com
TEMPE, Ariz. -- In the big state of Texas, a young man can run for 3,000 yards in one season and still get lost. He can get lost on a noisy night in Arizona, too.
Dimitri Nance has gone generally unnoticed because of his size. He was shunned by his home-state Longhorns two years ago and wasn't prominent on any scouting report when No. 4 Arizona State played Cal on Saturday night.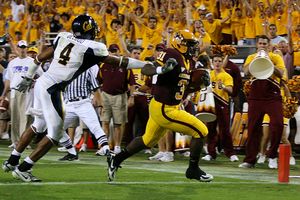 Rick Scuteri/US Presswire
Dimitri Nance and his three TDs helped keep Arizona State undefeated.
He will be now. In one body-pounding night, Nance threw the Sun Devils into the national spotlight, running for three touchdowns in a 31-20 victory that set up a showdown for next weekend at Oregon.
One team still will be in the national championship hunt when that game is over. It all seems so unusual for the Sun Devils' unassuming stars. How could Nance, a 19-year-old sophomore, be nervous? He wasn't expected to do anything special three months -- even three days -- ago.
"We're just a bunch of guys," coach Dennis Erickson said, "that nobody thought was real good early."
Nance didn't even touch the ball in last month's win over Oregon State. But then came Ryan Torain's season-ending foot injury, and Nance moved to No. 2 on the depth chart behind Keegan Herring.
Like Torain, Nance is a bruising runner who provides a good change of pace from Herring, a more quick-footed back. Nance showed that grit when he bounced off a wall of tacklers early in the third quarter, then ran in for an 8-yard touchdown to put the Sun Devils up 21-20.
He also caught a 32-yard pass that surprised the stat people enough that they initially credited it to someone else. Would he have cared? Probably not.
He isn't worried about how Erickson will split up the duties. He didn't consider Saturday night to be a pitch for more playing time. On a night when nearly every Sun Devil talked about respect, Nance seemed more comfortable slipping back into oblivion.
That might be hard to do this week, with Oregon on the schedule and the hype already churning.
Don't Forget The Defense
By David Albright, ESPN.com
PISCATAWAY, N.J. -- There was no escaping the hideous sportcoats.
Representatives from the Fiesta, Orange and Sugar bowls (not to mention the Gator, Sun and International bowls, too) were on hand at Rutgers Stadium as No. 7 West Virginia dismantled the Scarlet Knights 31-3 on a rain-soaked Saturday in central New Jersey.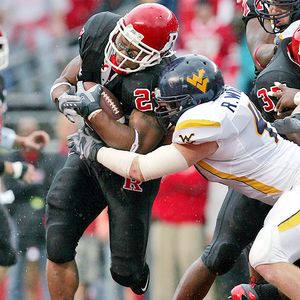 Rich Schultz/AP Photo
Ray Rice got his yards, but the WVU defense held him and the Scarlet Knights out of the end zone.
The representatives obviously saw the endless spectacular runs by WVU's dynamic duo: quarterback
Pat White
and running back
Steve Slaton
. What they might not have noticed was the job turned in by the WVU defense. For all the accolades regularly handed out to the Mountaineers' explosive offense, it's the under-publicized defense that has been every bit as good all season. "Offense brings the crowd, defense wins games," White said. "Anytime we're executing offensively and defensively, it doesn't matter who's making the plays, it's a fun game for us." The WVU defense, which gets 11 days to prepare for
Brian Brohm
and Louisville on Nov. 8 (
ESPN, 7:30 p.m. ET
), is ranked in the top five nationally in total defense (No. 3, 262.1 yards per game), scoring defense (No. 4, 14.9 points per game) and pass defense (No. 5, 161.0 yards per game, 11 interceptions). The Mountaineers kept Rutgers, a team that came in averaging more than 36 points per game, out of the end zone. And WVU intercepted two
Mike Teel
passes and recovered two fumbles to finish the day plus-four in the turnover department (plus-11 for the season). "I thought our defensive staff had a really nice plan," coach Rich Rodriguez said. "I was obviously concerned with
[Ray] Rice
, and he got his yards. With their explosiveness, I wasn't comfortable until the very end. I thought our defense made a few nice plays in the secondary, and we got a couple of nice turnovers." With four games left -- including three at home -- WVU is in great position in the Big East race and is among the one-loss teams jockeying for BCS position. Which means the guys in the pale yellow jackets likely will be following around the Mountaineers the rest of the season.
Running To Nowhere
By Tim Griffin, Special To ESPN.com
COLLEGE STATION, Texas -- The Kansas players knew they would face a severe test trying to stop Texas A&M's vaunted ground attack.
But extra work during game preparation paid off handsomely as the Jayhawks stopped the Aggies cold in an impressive 19-11 road victory. The 8-0 Jayhawks limited the Aggies to only 74 rushing yards -- their lowest rushing total since netting 38 yards against Texas in the 2004 regular season finale.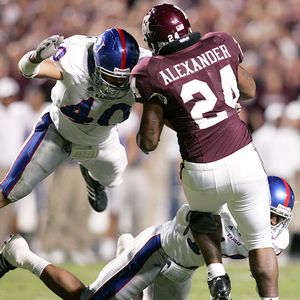 Brett Davis/US PRESSWIRE
The Kansas defense was flying all over the field Saturday.
"I would have never believed we would have rushed for under 100 yards," A&M coach Dennis Franchione said. "We just didn't get anything done. We didn't move the ball. That's frustrating and not like us." Kansas defensive coordinator Bill Young prepared his team mentally and physically for the challenge of stopping bullish 268-pound tailback
Jorvorskie Lane
, slashing tailback Michael Goodson and quarterback
Stephen McGee
. It helped them stymie a group that rushed for 359 yards the previous week at Nebraska and came into the game ranked fifth nationally in rushing. "I felt like we played them well," Kansas linebacker James Holt said. "We did a lot of tackling drills to get ready. We had been reading it all week and watching film on them, so I felt like we had it down pretty good." The big effort marked the fourth straight week the Jayhawks limited opponents to fewer than 100 yards rushing. After a scoreless first half, the Kansas defense set the tone. The Jayhawks' defense held the Aggies on three straight three-and-out offensive possessions that had Kyle Field fans serenading them with boos. Kansas outgained A&M 148 yards to minus-9 yards in the third quarter to take control of the game. "They aren't the most athletic defense, but they are by far the best defense we've faced this season," McGee said.
Three Weekend Observations
By Ivan Maisel, ESPN.com

Tuitama
1.
We should have seen this coming. In both of the past two seasons, Arizona quarterback
Willie Tuitama
has come off the bench (2005) or returned from injury (2006) to shine in the last four games (combined record: 5-3). Game 9 rolled around Saturday, and Tuitama threw for 510 yards and five touchdowns, three in the fourth quarter, as the Wildcats beat Washington 48-41.

Tebow
2.
Even the Great Tebow is human. Florida quarterback
Tim Tebow
's knees are figuratively buckling, and his right shoulder is literally ailing, under the load of the Gators' offense. Tebow ran the ball only seven times against Georgia. The 13 carries in the box score reflect six sacks, which, in turn, reflect the Dawgs' teeing off on him because he can't run. The question is whether Florida can find a running game without waiting to sign one in February.

O'Brien
3.
You have to believe that North Carolina State coach Tom O'Brien is happy for his former players at Boston College, where a senior-dominated, O'Brien-recruited team is ranked second in the nation. But don't speculate that O'Brien has had a second thought about leaving. That's not how coaches think. O'Brien wanted out (he wasn't getting along with athletic director Gene DeFilippo), and his only regret is that his Wolfpack lost to his former team 37-17.
GameDay Crew Final Thoughts
RECE DAVIS

Tressel
Jim Tressel doesn't get the credit he deserves. As more and more teams go through the motions, come out flat, get upset, Tressel continues to go out and exceed expectations each and every year. I believe he's the best coach in college football.
Helmet Stickers Go To:
• DE Avery Hannibal, Mississippi State: 3 TFLs, 2 sacks vs. Kentucky
• RB
Jamaal Charles
, Texas: 290 yards, 3 TDs vs. Nebraska
---
LOU HOLTZ

That was a great effort by the Oregon defense. It held USC to 3 yards per carry with a longest rush of 11 yards. It also forced three turnovers. If you're going to be a championship team, you have to start with the defense -- and you can't give the Ducks enough credit for that performance.
Helmet Stickers Go To:
• RB
Andre Dixon
, UConn: 209 total yards vs. USF
• CB Terrence Wheatley, Colorado: 3 INTs vs. Texas Tech
---
MARK MAY

Croom
Sylvester Croom has done a fabulous job with Mississippi State this year. The Bulldogs don't have the talent of other SEC teams, but they are one victory away from bowl eligibility because every week they play hard, they play physical and they play smart. Athletic director Larry Templeton should be commended for staying patient with this coach and this program.
Helmet Stickers Go To:
• FS Matthew Harper, Oregon: 2 red-zone INTs vs. USC
• WR
Donald Bowens
, NC State: 11 rec, 202 yards, 2 TDs vs. Virginia
BC And The BCS
Charles In Charge
By Brett Edgerton, ESPN.com
Through three quarters, as his team shockingly trailed at home to Nebraska, Texas running back Jamaal Charles looked like he might fail to reach the 100-yard plateau for the sixth straight game. He had 74 yards on just 3.7 yards per carry. But then the fourth quarter came around, and Charles indeed reached the 100-yard mark. Then he reached the 200-yard mark. Then almost the 300-yard mark.
Saturday vs. Nebraska
1st 3 Qtrs
4th Qtr
Rush yards
74
216
Yards per rush
3.7
16.6
TDs
0
3
In the fourth quarter alone, Charles ran for 216 yards and three touchdowns for the Longhorns, who scored 25 straight at one point and ended up winning 28-25. The 216 yards were just 6 yards shy of the record for rushing yards in a quarter, set by Washington's Corey Dillon in 1996. Charles' fourth-quarter total alone qualified as the third-best rushing game by anyone in Division I-A on Saturday, and his game total of 290 yards was the third-most prolific rushing day in I-A this season.
Highlights: Ohio State-Penn State
Looking Back ...
Beating USC is big step for the Ducks
It's been a long time since USC was out of the national championship picture. But with a convincing 24-17 defeat of the Trojans, Oregon served notice that there is a new regime in the Pac-10 -- and possibly the nation, writes Ivan Maisel.
Story
---
Ohio State doesn't fear the Reaper
All of America better watch out. Ohio State isn't just rebuilding, isn't just winning with defense and isn't just passing through at No. 1, writes Pat Forde.
Story
---
Moreno, Stafford key to Bulldogs
Mark Richt created some passion, and Georgia used it to ignite an emotional win over archrival Florida and wreak more havoc on the schizophrenic SEC East race, writes Chris Low.
Story
---
Arizona State attempts to quiet critics
Arizona State entered its first Pac-10 test with an unblemished record and plenty of skeptics. After a convincing second half, the Sun Devils retained their perfect record and might have gained a few believers, writes Elizabeth Merrill.
Story
---
Ryan sparks furious BC comeback
Doug Flutie's improbable heave 23 years ago sealed his Heisman run. A magical final 2:11 against Virginia Tech validated Matt Ryan's 2007 candidacy and kept No. 2 Boston College's title hopes alive, writes Mark Schlabach.
Story
Highlights: Kansas-Texas A&M
That's The Way The Ball Bounces
By Brett Edgerton, ESPN.com
If you're a football fan, you likely know the names Jerry Glanville and Mike DuBose. One was a colorful head coach of the NFL's Houston Oilers and Atlanta Falcons. The other won an SEC championship as head coach at Alabama. Did you know they're still head coaches? Well, they are, and on Saturday, they were on the losing sides of two of the most incredible college football games in recent memory.
DuBose's Division III Millsaps (Miss.) lost when Trinity (Texas) lateraled 15 times on a pass play and scored with no time left on the clock as fireworks went off to celebrate the Millsaps victory. The only thing missing was the band in what the Trinity home page is calling the "Mississippi Miracle." Check out the video below. Meanwhile, Glanville's Portland State team scored 68 points in regulation ... and didn't win! Known for decades as a defensive-minded coach, Glanville lost 73-68 to Weber State, a team led by former longtime Utah coach Ron McBride. The game didn't go to overtime and was just 7-3 after the first quarter. By the end, 141 points were on the board, making it the highest-scoring college football game in any division since the NCAA started keeping records in 1937. The 20 touchdowns also were an all-time high. Poor true freshman quarterback Drew Hubel threw nine touchdown passes in his first collegiate start for PSU and lost. He can only hope nine will be enough in the future.
By the way, Hubel and Glanville's tough-luck Vikings scored as many points in that game as I-A Florida International has scored all year. And in case you were wondering, the actual Notre Dame offense has been responsible for 59 points over the entire season. On Saturday, the Weber State offense accounted for 63 in the final three quarters.
Highlights: Trinity-Millsaps