Three weekend observations
Virginia Tech's Bud Foster long ago established himself as one of the best defensive coordinators in the game. He showed why again Saturday. The Hokies packed the box with as many as nine defenders, and Alabama quarterback AJ McCarron struggled to loosen them up with the pass. The Hokies lost 35-10 and gained only 212 total yards. But that was 6 more yards than Foster's defense allowed. The Hokies' offense and special teams allowed more touchdowns (three) than the defense (two). Frank Beamer will be in the Hall of Fame someday, which is also when someone will explain to me why no Halls of Fame recognize assistant coaches.
Good thing Maryland had the state flag on its helmet, because the team that beat FIU 43-10 looked unrecognizable compared to the offensively addled team of a year ago. Senior quarterback C.J. Brown, who missed last season with a knee injury, directed Maryland to eight plays of 20 yards or more and 40 points -- in the first half. In 2012, the Terps needed two entire games to reach eight big plays and 40 points. If Maryland stays healthy -- and the injury gods owe coach Randy Edsall -- then the ACC Atlantic better be ready.
Notre Dame coach Brian Kelly signed a five-year contract extension this week, which is good news for the Fighting Irish. Year 6 for Kelly will be 2016. Why is that important? It's been 17 years since Notre Dame had a head coach for more than five seasons (Lou Holtz, 1986-96). In fact, Notre Dame has had only five head coaches who lasted more than five years. Of those five, only Elmer Layden (1934-40) didn't win a national championship. But he was one of the Four Horsemen. In other words, no pressure on Brian Kelly.
Week 1 Impact Performances
What We Learned in Week 1
Click below to see what our bloggers learned in each conference after the first weekend.
---

After Clemson's thrilling victory over Georgia, it's clear the ACC has a legitimate contender for the national championship. ACC
---

Defense in the Sooner State is a cut above the rest, clearly, and teams will have to account for Texas Tech's Baker Mayfield. Big 12
---

Half of the Big Ten's offensive situations looked solved and solid in Week 1, while the other half looked as jumbled as ever. Big Ten
---

The biggest surprise of the night in the Pac-12 had to be Washington and QB Keith Price, who looked poised and polished against Boise State. Pac-12
---

The big, bad SEC showed signs of weakness in Week 1. The top of the league was exposed on defense especially. SEC
---

Tommy Rees looked like a different quarterback in his 2013 debut, a 28-6 season-opening win over Temple. Notre Dame
Clemson coach Dabo Swinney
Texas A&M honors fallen teammate
A few days before its season opener against Rice, Texas A&M unveiled the decal that players would wear on their helmets this season to honor fallen teammate Polo Manukainiu.
The decal, which has a white background, Manukainiu's first name and jersey number (90) and a Tongan-inspired design, is a way to show that the redshirt freshman is on their minds.
But on Saturday, the Aggies made an even more noticeable gesture to show their love for Manukainiu. Sophomore defensive tackle Alonzo Williams, who traditionally wears No. 83, wore Manukainiu's No. 90 for the duration of the game.
"Each week, one of our defensive players will be wearing No. 90 to honor Polo," senior defensive back Toney Hurd Jr. said after the game. "It's just to show him and his family that he's still out there with us."
Manukainiu, a product of Euless (Texas) Trinity High School, was one of three people killed in a car accident in Northern New Mexico on July 29. The players were proud to be able to honor the late Manukainiu in the manner they did on Saturday.
"It meant a lot," junior linebacker Donnie Baggs said. "We have his jersey hanging up in his locker and we see it every day, before practice, after practice, before meetings. It meant a lot to know that we're representing him and wearing the No. 90 as well as the sticker on the back of our helmets."
Photos From Week 1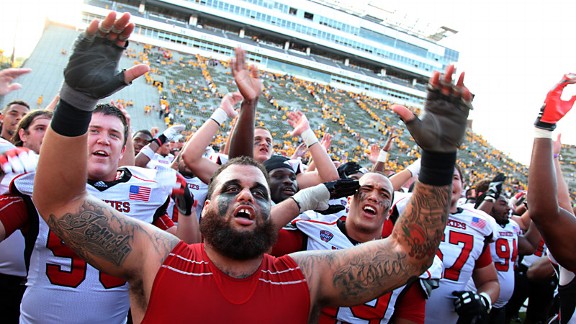 Matthew Holst/Getty Imagestbd by the editor
Take a tour around the country and check out the best images from Week 2 in college football. Best of Week12

Helmet Stickers For Week 1
Every week our bloggers will hand out helmet stickers to the week's top players, coaches, teams or anything else worth this honor.
• ACC: Tajh Boyd, C.J. Brown, Georgia Tech's defense More ACC stickers
• Big 12: Baker Mayfield; Corey Nelson, David Ash More Big 12 stickers
• Big Ten: Collin Ellis, Wisconsin running game, Stephen Obeng-Agyapong More Big Ten stickers
• Pac-12: Andy Phillips, Dion Bailey, Keith Price More Pac-12 stickers
• SEC: Arkansas offensive line, James Franklin, Christion Jones More SEC stickers
• Notre Dame: Tommy Rees, TJ Jones, DaVaris Daniels More ND stickers