Three weekend observations
1. Time for a frame of reference. No. 1 Alabama allowed 630 yards of total offense in its first three games last season, and 628 yards to No. 6 Texas A&M on Saturday. But I don't think Crimson Tide fans should panic. There's only one team that has a Johnny Manziel or a Mike Evans, never mind both. As for the Aggies, they are allowing exactly 6 yards per rushing attempt -- not just Saturday but through three games. That is a bigger problem, and will take longer to fix than anything that plagues Alabama.
2. Alabama and No. 16 UCLA (against No. 23 Nebraska) came back from deficits of 14 and 18 points, respectively, on the road against ranked opponents to win games. Texas, playing at home, spotted No. 25 Ole Miss a 14-point lead and came back to take the lead. But the Longhorns, like the Huskers and the Aggies, have severe defensive issues. Changing defensive coordinators after two games, which Texas coach Mack Brown did last week, is a desperate measure. It's no surprise that his defense gained no traction.

3. If Notre Dame head coach Brian Kelly hadn't discovered last week that the rivalry with Michigan is a main event, then he would have learned it Saturday. Both the Fighting Irish and the Wolverines came out flat the week after Michigan's 41-30 victory, but both eventually pulled out narrow victories against lesser opponents. That's not much of an excuse for Michigan's tightrope 28-24 victory over Akron, a team that has lost 24 straight games (and 34-of-35) to FBS teams dating to 2010. Michigan won, but this one still has Appalachian State written all over it.
Week 3 Impact Performances
GameDay crew final thoughts
RECE DAVIS
Everybody's wondering where the defense is in the SEC after high-scoring games between Georgia and South Carolina and Alabama and Texas A&M. You can have good defense, but sometimes good and veteran quarterback play will trump that. That's what the SEC has with the ultimate winner in AJ McCarron, maybe the most dynamic player of this generation in Johnny Manziel, in addition to Aaron Murray, Connor Shaw and all kinds of other talent at that position. And that's why you're seeing higher-scoring games in the SEC.
I don't think the athletes on defense have changed. The expertise at quarterback is the biggest thing that's changed for me, and that's a big deal moving forward.
Helmet stickers go to ...
• RB Mark Weisman, Iowa
• RB Jeff Scott, Ole Miss
MARK MAY
Another phenomenal Saturday for college football fans, with many teams overcoming adversity. You look at Michigan and what the Wolverines had to overcome to pull it out against Akron. Look at UCLA, playing at 9 p.m. PT, and though it took the Bruins a while to get started, they got the job done.
You have to talk about Alabama and its resilience in that game, to find a way to win after giving up so many yards to Johnny Manziel and so many big plays to Texas A&M. AJ McCarron directed his team and put more points on the board than Texas A&M. That was a big-time gut check on the road, but Alabama got the job done. That's what a defending champ does: find a way to get the job done. That's what Alabama did on Saturday.
Helmet stickers go to ...
• LB Anthony Barr, UCLA
• RB Marion Grice, Arizona State
LOU HOLTZ
Every week crazy things happen. Fordham beating Temple, Akron almost winning, that's what makes college football so exciting. You never know what's going to happen, and Saturday was a great example of it.
Helmet stickers go to ...
• QB AJ McCarron, Alabama
• QB Blake Bortles, UCF
FAN STICKER • Former Rutgers DT Eric LeGrand had his number retired by the Scarlet Knights on Saturday.
What we learned in Week 3
Click below to see what our bloggers learned in each conference after the third weekend.
---

Syracuse has found its quarterback in Terrel Hunt, Karlos Williams was a surprise for Florida State ... on offense and Wake Forest has to be wondering who it can beat after losses the Boston College and Louisiana-Monroe. ACC
---

Blake Bell replaced Trevor Knight in Oklahoma's starting lineup and delivered versus Tulsa. West Virginia's quarterback situation has stabilized, as well, with redshirt freshman Ford Childress under center. Big 12
---

After Week 2 a lot was said about Michigan giving Ohio State a run for its money as the Big Ten's best, but after the Wolverines nearly lost to Akron in Week 3, that theory was dispelled. Big Ten
---

The Pac-12 and Big Ten played four times this weekend, and the Pac-12 won three of those matchups. UCLA was clearly at the top of the bunch with its beatdown of Nebraska. Pac-12
---

While eyes have rightly been on Alabama and Texas A&M this season, Arkansas' running game has been quietly racking up yards by the hundreds. SEC
Helmet stickers for Week 3
Every week our bloggers will hand out helmet stickers to the week's top players, coaches, teams or anything else worth this honor.
• ACC: Vad Lee, Brandon Facyson, Pitt freshmen
More ACC stickers
• Big 12: Blake Bell, Kip Daily, Ford Childress
More Big 12 stickers
• Big Ten: Kenny Guiton, Connor Cook, Mark Weisman
More Big Ten stickers
• Pac-12: Tyler Gaffney, Brett Hundley, Bishop Sankey
More Pac-12 stickers
• SEC: Arkansas RBs, Mike Evans, Nick Marshall
More SEC stickers
Can one-loss SEC teams rebound?
COLLEGE STATION, Texas -- The Texas A&M Aggies lost to the Alabama Crimson Tide on Saturday, and yet the Aggies exited the day desiring to emulate the Tide's blueprint the past two seasons: lose one game, win the national championship.
"You've got no greater example of how to handle one [loss] than the team in the other locker room," Aggies coach Kevin Sumlin said after the 49-42 loss. "Our goals are still out in front of us."
But is that something reasonable for a team that gave up 568 total yards and was nearly left for dead, trailing the defending national champs 35-14 in the second half?
The top of the league's East Division is likely saying the same thing; Florida, Georgia and South Carolina are wondering if they can rally from early-season losses to again become players for the conference and national titles.
A look at the SEC's one-loss contenders leads off the Week 3 takeaways. Also included: heat checks on Lane Kiffin and Mack Brown's seats; an extremely weird finish in the desert (likely after your bedtime); and a hot start to the year, collectively, for the Pac-12.
To read Travis Haney's full story, click here

.
Photos from Week 3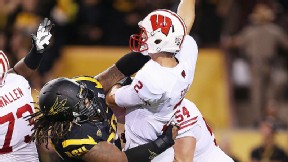 Christian Petersen/Getty Images
Take a tour around the country and check out the best images from Week 3 in college football. Best of Week 3