Three weekend observations
1. Texas isn't the only team that wants to play like it's 2009. Iowa (3-1) hasn't won four straight games in four years, and the Hawkeyes can do that by retaining the Floyd of Rosedale Trophy on Saturday with a victory at Minnesota. What's changed for the Hawkeyes, who went 19-19 over the last three seasons? A healthy running game. Iowa is averaging 244 rushing yards per game. The Hawks have averaged more than 148 yards per game only once in the past seven seasons.
2. I tweeted a question during Boise State's thrilling 41-40 loss at Fresno State: What if the secret to Chris Petersen's coaching success was Kellen Moore? It came out more trollish than I intended. Petersen was 50-3 with Moore. He's 36-7 overall without him, 13-4 since Moore left, and 2-2 this season. A 13-4 record remains excellent. But Petersen and Boise State no longer play like the regular rules don't apply to them. They can be had. That's the secret that Petersen seemed to possess that he's missing, and it was too long to tweet.
3. Speaking of sounding snarkier than I intended, it is interesting that since defensive guru Monte Kiffin left the USC coaching staff, the Trojans' defense has regained its mojo, and that offensive guru Lane Kiffin remains at USC, and the Trojans' offense can't find the end zone with a GPS and a pack of bloodhounds. The scholarship losses exact their toll, despite the perennial hype at USC, and don't sell Utah State short. The Trojans beat a good team Saturday. And they're 3-1.
Week 4 Impact Performances
GameDay crew final thoughts
RECE DAVIS
"I don't think there's any team, including Alabama and Oregon, who stand head and shoulders above the rest of the field, at least no one has proven to do so yet. Every team I've seen has some warts. Now, Oregon's haven't necessarily been exposed yet because they haven't played anybody yet, but I think it'll make for a very balanced season in conference races.
"One of the things I've noticed about games is we've seen a lot of teams make sizable comebacks, and I think [that's] because of the number of teams that play at a fast tempo. Teams have to start changing their thinking as to when they're going to start milking the clock. LSU kind of came fairly close to letting Auburn get back in the game. Rutgers doesn't run tempo necessarily, but Arkansas sort of let them get back into the game. I think you almost have to play longer as if the game is in doubt when you have a lead. It doesn't mean be stupid, but you have to be careful not to take your foot off the gas too early because teams are now more capable than ever of making sizable comebacks."
Helmet stickers go to ...
• WR Kevonte Martin-Manley and CB B.J. Lowery, Iowa
• RB Tyler Gaffney, Stanford
MARK MAY
"It was one of those strange Saturdays that's a rare occurrence where there weren't any big games on the slate. Of all the top-10 teams who played, no one was super impressive. There wasn't anyone who ran away or flexed their muscles and said, 'This is our week.' Everyone just got the job done, and the bottom line was there were no upsets in the top 10. Everybody finished off what they had to do. Nothing exceptional happened, but nothing bad happened to anybody in the top 10."
Helmet stickers go to ...
• DE/LB Dante Fowler, Florida
• S A.J. Hendy, Maryland
LOU HOLTZ

"I'm glad we're getting into conference play because we had enough 70-7 games [Saturday]. But it's starting to take shape and the one thing that's obvious is that you never have the same team two weeks in a row. As a matter of fact, you don't even have the same team two halves in a row from what I've seen. You never know what to expect in college football. LSU and Stanford were very impressive for a half."
Helmet stickers go to ...
• QB Gary Nova, Rutgers
• RB Johnathan Gray, Texas
What we learned in Week 4
Click below to see what our bloggers learned in each conference after the fourth weekend.
---

Clemson is good, but certainly beatable. Maryland could be a Top 25 team. Virginia Tech is probably not the best defense in the league. What new things didn't we learn from the ACC this weekend? ACC
---

Hello, Baylor. See ya, West Virginia offense, and stick around a little longer, Mack Brown. Big 12
---

Michigan struggled, yes, but the Big Ten's middle class had a pretty impressive showing in Week 4. Big Ten
---

The Pac-12 has fared pretty well in nonconference play, but you can't help but look forward to the league slate this coming week. Pac-12
---

The nation's current top team, Alabama, has shown its holes so far, but its rivals on the bayou have proved so far they shouldn't be overlooked as title contenders. SEC
Michigan makes it difficult
Helmet stickers for Week 4
Every week our bloggers will hand out helmet stickers to the week's top players, coaches, teams or anything else worth this honor.
• ACC: Vic Beasley, Tom Savage, Jamison Crowder
More ACC stickers
• Big 12: Johnathan Gray, Tyler Lockett, Matthew Wyman
More Big 12 stickers
• Big Ten: Kenny Guiton, Mitch Leidner, Melvin Gordon
More Big Ten stickers
• Pac-12: Hau'oli Kikaha, Leonard Williams, Gabe Marks
More Pac-12 stickers
• SEC: Jeremy Hill, Tyler Murphy, Dak Prescott
More SEC stickers
Week 4 Takeaways
Late Saturday, ESPN's Scott Van Pelt sent out a tweet that said six ranked teams -- Baylor, FSU, Louisville, Miami, Ohio State and Washington -- won Saturday by a combined score of 405-20. It was an ugly illustration of a bizarrely bad day in the college game.
There are sometimes upsets on seemingly weak weeks, but even UConns bid against Michigan (more on that later) fell short.
Thank goodness for whats next. Ranked meetings between Wisconsin and Ohio State, Ole Miss and Alabama and LSU and Georgia highlight a weekend that should make us forget what just happened.
In what state are those teams entering their big games? Are Ohio State and Alabama on upset alert? Is LSU poised to make a jump to the top of the polls? Let's take a look.
(Also included in Sunday's Takeaways: The future for Jeff Driskel-less Florida, heat checks in Lincoln, Austin and L.A. and why Florida State QB Jameis Winston might be tested sooner than you'd think.)
1. Should Alabama and Ohio State fans be worried heading into Week 5?
After a flawed (but still decisive) win over Colorado State on Saturday, the Crimson Tide can now turn their attention to Week 5 opponent Ole Miss. The Rebels frustrated Nick Saban and the Tide a year ago with their no-huddle offense, and while there is no way Alabama will be caught off-guard by it this season -- especially after it has already seen Texas A&M -- can the Rebs find a way to keep it close against the Tide? After all, Bama gave up 42 points and 600-plus yards to the Aggies, and Ole Miss has more pieces on offense this year than it did last year.
To read all of Travis Haney's takeaways, click here

.
Photos from Week 4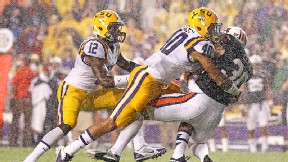 AP Photo/Gerald Herbert
Take a tour around the country and check out the best images from Week 4 in college football. Best of Week 4