Three weekend observations
1. It may be a sign of the caliber of No. 5 Stanford's opposition through four games, but the Cardinal's offense is more explosive than it was a year ago. In 2012, the Stanford offense scored 31 red zone touchdowns, and only 11 from outside the 20. This season, the Cardinal have scored as many from outside the red zone (nine) as inside. A year ago, Washington State brought up its safeties to stop the run and nearly upset the Cardinal. On Saturday, Kevin Hogan and his receivers made the Cougars pay in a 55-10 rout.
2. South Carolina quarterback Connor Shaw has demonstrated his mental and physical toughness throughout his four-year career. But Shaw also has demonstrated that his body, particularly his right shoulder, can't take the punishment of starting in the Southeastern Conference. After playing hurt most of last season, Shaw went down again Saturday in the Gamecocks' 28-25 victory at Central Florida. Shaw may be out only two weeks. But how can anyone believe he will be 100 percent when he returns?
3. Here's a quiniela that would have paid off big: The last two undefeated teams in the SEC are No. 1 Alabama and ... Missouri? The Tigers are 4-0, which is impressive even on the junk-food diet of Murray State, Toledo, Indiana and Arkansas State. It's impressive because Missouri won only five games last year. But impressive is different than substantive. The Tigers' October schedule is at Vanderbilt, at No. 9 Georgia, No. 20 Florida and No. 12 South Carolina. A split would be substantive.
Week 5 Impact Performances
GameDay crew final thoughts
RECE DAVIS
I think the No. 1 thing that struck me this week was the fragility of the season, even for contenders.
We don't know the severity of the injury, but you have De'Anthony Thomas going down, which could have a huge impact on Oregon's season. USC's not going to compete for a national title with Marqise Lee injured. Todd Gurley went out early for Georgia.
All of these dreams, and all these expectations that we have for these teams can hinge on one moment with a guy getting hurt. Sometimes, a guy steps in, like Florida's Tyler Murphy has for Jeff Driskel, and performs very well. Other times, the entire chemistry of a team is disrupted due to the loss of one player.
It's one of the unfortunate parts of the game, but it's one of the things that you can never account for when you're trying to figure out who's going to compete for championships over the final two months of the season.
Helmet stickers go to ...
• QB Shane Carden, ECU
• QB Clint Trickett, West Virginia
MARK MAY

Gutty performance by both LSU and Georgia. I thought it was one of the best games of the season, right along with Alabama-Texas A&M. Aaron Murray and the Georgia offense was spectacular, with no sacks given up. Both teams fought well, and both teams deserved to win. Murray had a terrific game-winning touchdown drive -- 4-for-4 for 55 yards.
Alabama was atrocious in the first half running the ball, but it picked it up in the second half. Must have been some paint-peeling in the locker room because the Tide's blocking and running game in the second half were outstanding.
No major upsets Saturday. Ohio State went down to the wire, and Wisconsin battled to the end. I thought Jared Abbrederis was outstanding. You look at how Ohio State played on offense for Braxton Miller -- I thought they deserved to win after playing extremely well.
What do you say about the Ducks? Good weather, bad weather, they're going to put up half a hundred against just about anybody they face, and it's incredible to watch that offense play.
And Stanford is as physical as billed. The Cardinal come out each and every week and hit you in the mouth, and you're going to have to beat them in the trenches physically; otherwise you're going to lose.
Helmet stickers go to ...
• S Sam Carter , TCU
• QB Taylor Kelly, Arizona State
LOU HOLTZ
When it comes down to who plays in the championship game, you've got some great football teams: Oregon, Stanford, Alabama, Ohio State, Florida State, Clemson ... You know what? They all do it differently.
Clemson has a great wide receiver and Tajh Boyd, but the quarterback is critical. You never find a great football team without great quarterback play. That's why I say Florida is vastly improved with Tyler Murphy.
Alabama has a great defense, runs the ball, and has a great quarterback who doesn't make mistakes. Ohio State is very methodical, where as Oregon is up and down the field. Stanford doesn't impress you -- it looks slow -- but boy does it win. It's going to be interesting as we go along this season.
Helmet stickers go to ...
• QB Aaron Murray, Georgia
• WR Devante Davis, UNLV
What we learned in Week 5
Click below to see what our reporters learned in each conference after the fourth weekend.
---

After barely beating Marshall last week, just about everyone counted out Virginia Tech in the ACC title race. The Hokies, though, showed flashes of the team they can be in Thursday's win over Georgia Tech. ACC
---

With Blake Bell now entrenched in the starting role at Oklahoma, the Sooners have positioned themselves well in the Big 12. Their Nov. 7 showdown with Baylor looks even more enticing after the Sooners' big win over Notre Dame. Big 12
---

Wisconsin almost knocked off Ohio State, but as everyone knows, almost is never enough. The Badgers had difficultly closing out both halves, and it cost them first place in the Leaders Division. Big Ten
---

Washington and Arizona both had curious eyes on them heading into their showdown. Washington emerged a legit threat to Oregon and Arizona State, which again impressed with big scoring performances. Pac-12
---

The SEC loves games of the century, and it got another doozie in LSU-Georgia. That game ended 44-41 in favor of Georgia, and don't expect those high-scoring games to go away anytime soon. SEC
Photos from Week 5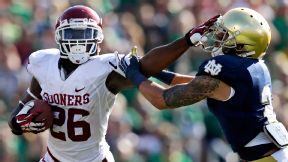 AP Photo/Darron Cummings
Take a tour around the country and check out the best images from Week 5 in college football. Best of Week 5

Helmet stickers for Week 5
Every week our reporters will hand out helmet stickers to the week's top players, coaches, teams or anything else worth this honor.
• ACC: Logan Thomas, Aaron Donald, Bryan Underwood
More ACC stickers
• Big 12: Blake Bell, Clint Trickett, Sam Carter
More Big 12 stickers
• Big Ten: Iowa's linebackers, Jared Abbrederis, Braxton Miller
More Big Ten stickers
• Pac-12: Brandin Cooks, Sean Mannion, Bishop Sankey
More Pac-12 stickers
• SEC: Aaron Murray, Zach Mettenberger, Alabama's Secondary
More SEC stickers