Three weekend observations
1. Who knows where No. 6 Georgia goes from here? The Bulldogs lost three major offensive contributors to what appear to be serious knee injuries Saturday in their 34-31 overtime win at Tennessee. But play Mark Richts team in a close game at your own peril. Quarterback Aaron Murray proves Saturday after Saturday that talent and experience is difficult to defeat. I dont know if Murray will win the Heisman. But if college football decides to give an MVP award, I have my candidate.
2. Georgia narrowly survived what turned out to be a Shakeout Saturday. No. 25 Maryland and Iowa, after September surges, showed they dont have what it takes to contend for their division titles. North Carolina, a preseason dark horse in the ACC Coastal, fell to 1-4. No. 21 Arizona State, by losing a close one to Notre Dame, confirmed that No. 11 UCLA is the class of the Pac-12 South. That may not be saying much. The division is 0-6 against the Pac-12 North.
3. You couldnt tell it by the final score, but if you didnt stay up til nearly 2 a.m. ET to see No. 5 Stanford hang on to defeat No. 15 Washington 31-28, you missed an outstanding fourth-quarter performance by Huskies quarterback Keith Price and an outstanding four-quarter performance by the Huskies defense. How did the Cardinal hang on? By dominating special teams and taking advantage of Washingtons 10 penalties for 97 yards. The Cardinal didnt make many plays but made fewer mistakes.
Week 6 Impact Performances
GameDay crew final thoughts
RECE DAVIS
You saw the value in teams believing they could win in tight situations because they had experience and have done it before. I think that ended up being the difference in the Ohio State-Northwestern and Stanford-Washington games. It wasn't really that Northwestern or Washington did anything wrong, it was just the other guy made just enough plays to win. Eventually, one of those teams will break through.
I think Washington looks like a contending team. It's going to catch somebody sleeping before the season is over. Oregon better be ready next week, depending on how much the Huskies have left in the tank.
That leads to another point: I think sometimes we underestimate -- especially with young, amateur players -- the toll it takes on a team if it has an emotional game one week and plays a really good opponent the next week.
Washington is coming off an emotional game and is playing maybe the best team in the country in Oregon next week. Does it have enough to muster the same type of performance two weeks in a row? The spirit will be willing, but will the flesh and the mind allow it? That's one of the things you'll see: Who can maintain consistency in performance? Those teams are usually the ones that emerge at the end.
Helmet stickers go to ...
• CB Loucheiz Purifoy , Florida
• QB James Franklin, Missouri
MARK MAY

Impressive day by Florida State. It really flexed its muscles against Maryland. Jameis Winston did a terrific job. Clemson also looked very impressive.
There were some hard-fought battles, right down to the wire. Great games to watch. There really wasn't any separation between Ohio State and Northwestern or Stanford and Washington.
Tennessee and Georgia was a great game. Georgia is a must-watch every single week, even with its injuries. It goes down to the wire and Aaron Murray makes the big play. Nobody talks about him on the Heisman list, but you talk about a most valuable player or most outstanding player, and you have to think about Murray.
Helmet stickers go to ...
• QB Jameis Winston , FSU
• RB Carlos Hyde, Ohio State
LOU HOLTZ
I'm anxious to see some really critical games coming up, such as Clemson-Florida State.
I don't think that Ohio State will be challenged this year to get to the championship game.
Georgia is really in a precarious position. It lost both running backs and its top three receivers. The defense isn't playing well enough to carry the Dawgs. Aaron Murray is, but I don't know how they're going to keep it going.
Every team has a story. Jadeveon Clowney not playing is a story for South Carolina. Injuries at Georgia are a story. Jameis Winston is a story. It goes on and on.
I can hardly wait until next week since I don't know what's going to happen, and neither does anybody else, which makes it exciting.
Helmet stickers go to ...
• RB Jahwan Edwards, Ball State
• WR Ty Montgomery, Stanford
What we learned in Week 6
Click below to see what our reporters learned in each conference after the sixth weekend.
---

There is one game every ACC fan should be anticipating, and that's Clemson vs. Florida State. After the show those two put on against formidable conference foes this weekend, their meeting in two weeks is even more interesting. ACC
---

Baylor's offense is a sight to behold. The numbers are video-game-like, but the results are real. The Bears can't be under the radar too much longer. Behind them, though, the Big 12's offenses have not been pretty. Big 12
---

Ohio State survived its first big test of the season and is still tops in the league. Elsewhere, Michigan looks to be back on track after a much-needed bye. Illinois, Iowa and Penn State, though, seemed to derail after promising starts. Big Ten
---

The game of the week, Washington-Stanford, definitely lived up to the hype and was a statement game for both teams. While those teams, as well as Oregon, seem to be up to the challenge, another Pac-12 ranked team, Arizona State, took a step back on the national stage against Notre Dame. Pac-12
---

Aaron Murray has been criticized his whole Georgia career for folding in clutch situations. After a third down-to-the-wire win -- this time against a Tennessee team that is clearly improving every week -- the quarterback isn't hearing the haters anymore. SEC
Photos from Week 6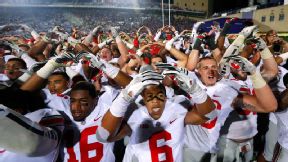 AP Photo/Charles Rex Arbogast
Take a tour around the country and check out the best images from Week 6 in college football. Best of Week 6

Helmet stickers for Week 6
Every week our reporters will hand out helmet stickers to the week's top players, coaches, teams or anything else worth this honor.
• ACC: FSU's defense, Andre Williams, Tajh Boyd
More ACC stickers
• Big 12: Bryce Petty, Brennan Clay, Shaun Lewis
More Big 12 stickers
• Big Ten: Carlos Hyde, Ameer Abdullah, Darqueze Dennard
More Big Ten stickers
• Pac-12: Anthony Jefferson, Connor Halliday, Deone Bucannon
More Pac-12 stickers
• SEC: Nick Marshall, Missouri's offense, Solomon Patton
More SEC stickers
Week 6 Takeways
A year ago Saturday, Florida State choked away a second-half lead at North Carolina State, and before the season's halfway mark, it signaled another year of embarrassment that the ACC would not have a title contender.
"I can't believe this is happening again," one league official told me then.
Fast forward to the present, and the league still has two contenders. (Maybe three, if you're willing to stick your neck out on Miami improving in the coming weeks.)
Quarterback play is the reason, as Clemson's Tajh Boyd and FSU's Jameis Winston (in his first season as a starter) have their teams on a collision course for their Oct. 19 meeting in Death Valley.
Both teams are playing so well that the winner of that game should emerge as a legitimate national title contender. Which leads off our Takeaways for Week 6.
1. Winner of Clemson-FSU matchup could make BCS title game
Boyd and Winston entered dangerous games Saturday at Syracuse and against Maryland, and they exited with their Heisman campaigns padded significantly. Winston's candidacy, in fact, might have been announced in earnest.
To read Travis Haney's full story, click here.