Monster letdowns
By Andrea Adelson
ESPN.com
We went into Week 2 expecting a Monster Saturday, but all we got were monster letdowns.
No. 13 Virginia Tech lost to James Madison 21-16, starting the ACC off on an awful day to follow.
Miami quarterback Jacory Harris proved to be the same Jacory Harris we saw in 2009 in a 36-24 loss to No. 2 Ohio State. The Florida State defense proved to be the same Florida State defense we saw in 2009 in a 47-17 loss to No. 10 Oklahoma.
Penn State could never make a game of it against No. 1 Alabama.
[+] Enlarge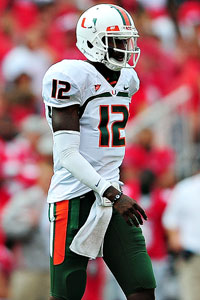 Andrew Weber/US PresswireJacory Harris threw four interceptions and just one touchdown against Ohio State on Saturday.
Boise State lost, too, even though the Broncos were off. That big win over Virginia Tech on Monday night became not-so-great on Saturday, and questions grew louder over the strength of their schedule.
The only monster of a game we got came from South Bend, where Michigan and Notre Dame continually treat us to edge-of-your-seat, bite-your-nails-until-they-bleed excitement. The electrifying Denard Robinson provided the offensive fireworks with his 502 yards of total offense.
Not only did he produce the longest run in the history of Notre Dame Stadium, an 87-yard, jaw-dropping gallop, he also directed a come-from-behind victory with 27 seconds left, when it appeared the luck of the Irish would prevail.
Just three minutes earlier, Dayne Crist had delivered a 95-yard touchdown pass to Kyle Rudolph as a rainbow appeared over the stadium. Alas, Robinson had the last word, scoring on the 2-yard run to produce a little more of that D-Rob magic. In two games this season, Robinson has 885 total yards.
Nobody comes close to that output. Certainly not Harris, who was supposed to be new and improved this season, vowing to make up for those 17 interceptions he threw in 2009. Harris had little help from his receivers against Ohio State, throwing four interceptions in a not-yet-ready-for-prime-time performance from the Hurricanes. That left the big question -- when will the Hurricanes be ready to rejoin the national elite?
The same can be asked of Florida State, which was not much better with Mark Stoops running the defense. His brother, Bob, took him to school and then some, rolling up 487 yards of total offense in a thoroughly dominating Sooners win. Christian Ponder and the vaunted offense under new coach Jimbo Fisher could not handle the pressure, and FSU suffered its third-worst loss since 1991.
Virginia Tech, meanwhile, became the second ranked team to lose to a lower-division school. The Hokies had three turnovers in the worst loss of the Frank Beamer era. Add Kansas' 28-25 upset win over No. 15 Georgia Tech, and the ACC left the day collectively battered.
There were plenty of letdowns in the SEC, too. Florida struggled once again, only closing out USF late for a 38-14 win. Georgia missed countless tackles in a 17-6 loss to South Carolina. Tennessee ended up losing ugly to No. 7 Oregon 48-13. But there was no letdown from the Tide, who dominated freshman quarterback Robert Bolden and Penn State in a definitive 24-3 win.
The Big Ten and MAC had their share of downers, too. Minnesota, Akron and Ball State all joined Virginia Tech with losses to FCS schools. Washington State needed a 16-point fourth-quarter comeback to beat Montana State.
Saturday is a new day, of course. It may not have the monster matchups of this week, but you can bet on monster performances to come.
Flying high
By Mark Schlabach
ESPN.com
SOUTH BEND, Ind. -- After the first two starts of his college career, Michigan quarterback Denard Robinson leads the country in total offense. He also pulled off the mother of hat tricks on Saturday.
In the Wolverines' 28-24 victory at Notre Dame, Robinson set a single-game record for Big Ten quarterbacks with 258 rushing yards, set a Notre Dame Stadium record with an 87-yard burst and scored the winning touchdown on a 2-yard run with 27 seconds to go.
Through two games, Robinson has outgained teams such as Florida and LSU.
Can you say Heisman Trophy winner?
"It's way too early," said Michigan quarterbacks coach Rod Smith. "He's not ready for it. If it's there at the end of the season, so be it. He's still got some growing to do."
Smith coached former West Virginia star Pat White, one of the best dual-threat quarterbacks in recent college football history.
"There are some similarities between the two, but he's not there yet," Smith said.
The Fighting Irish probably would beg to differ. Robinson had 502 yards of offense against Notre Dame, including 244 passing yards with one touchdown on 24-for-40 passing.
With 57 rushing attempts in two games, Robinson might very well be the most important player to his team in the country.
Michigan coach Rich Rodriguez said he isn't afraid to run Robinson so much because he has two capable quarterbacks playing behind him, 2009 starter Tate Forcier and freshman Devin Gardner.
"We have other quarterbacks we think can play," Rodriguez said. "That gives us a lot more comfortable feeling than if we had nothing. We've got three quarterbacks we have a lot of confidence in."
Right now, there might not be a more confident quarterback in the country than Robinson.
"Put a little caution here," Rodriguez said. "Let's be patient. This is the second game as a starter. He's still going to hit some bumps in the road. But if he keeps making progress like this, it's going to be pretty exciting."
UnACCeptable outcomes
By Heather Dinich
ESPN.com
The ACC's ability to self-destruct against nonconference opponents with the nation watching should hardly come as a surprise.
Almost Competitive Conference
• Five teams were ranked in the preseason top 20 for the first time in conference history; all five teams have at least one loss after the season's second week.
• Miami, Florida State and Virginia Tech all lost nonconference games with national title implications.
• Virginia Tech then lost to an FCS school, JMU, for the first time since 1985 (Richmond).
• Georgia Tech lost to a team that lost to an FCS school the week before.
-- David Bearman, ESPN Stats & Information
Remember 2009, when Wake Forest lost to Baylor, Duke lost to Richmond and Virginia lost to William & Mary?
The difference that year, though, was that Maryland found a way to beat James Madison.
Remember 2008, when Virginia Tech lost to East Carolina in Week 1, USC hammered Virginia, South Carolina shut out NC State and Alabama rolled all over Clemson?
The difference that year, though, was that even Duke found a way to beat James Madison.
That's something Virginia Tech failed to do on Saturday in Lane Stadium -- where the No. 13-ranked Hokies had won 32 straight games against nonconference opponents before the Dukes rolled into town and defeated the Hokies, 21-16. In what was one of the worst losses in Frank Beamer's tenure, the Hokies highlighted a weekend of disappointment and embarrassment for the ACC. It's only the second week of the season, and all five of the ACC's ranked preseason teams have lost.
And they haven't even played one another yet.
Both Florida State and Miami had a chance to reassert themselves in the college football hierarchy, but neither of the former powers was able to pull off an upset. And the ACC's defending conference champion, Georgia Tech, was stunned by a Kansas team coming off an eight-game losing streak and a loss to an FCS team.
A summer filled with hype fell flat, as did the ACC's chances at producing anything resembling a Heisman candidate or national title contender. The ACC entered this weekend hoping to make a statement, and it did: Not much has changed in the past two years.
Rising in the East
Steve Spurrier heard something Saturday for the first time as South Carolina's head coach.
He's not sure he's buying it. At least, not yet.
Fun 'N' Run
South Carolina has 413 rushing yards in two games, 236 by Marcus Lattimore. On Saturday, Lattimore went for 182 yards versus Georgia, the highest by any running back since Steve Spurrier took over as coach in 2005. In fact, it was only the fourth time a back went for 125 or more in Columbia since Spurrier arrived.
-- David Bearman, ESPN Stats & Information
"I think it's the first time ever that I shook hands with the opposing coach that he said, 'Steve, you've got a heck of a team,'" recounted Spurrier, referring to his postgame handshake with Georgia coach Mark Richt following the Gamecocks' 17-6 victory.
"I said, 'We may have a heck of a team. We don't know yet. We've only played two games.' I told our guys that, that we do have a chance to do something if we keep getting better."
That something is make a run at the SEC's Eastern Division championship. It's been a while since the race looked this wide-open.
Even though Florida snapped out of its funk and seemed to find itself in the second half Saturday in pulling away from South Florida, this is not going to be mistaken for the same Florida team that ran roughshod through the East the past two seasons.
Likewise, this isn't the same South Carolina team that has been an afterthought in the East race for much of its existence in the SEC.
Georgia shouldn't be counted out, either, even though the Bulldogs find themselves in an 0-1 hole in the league. The landscape will change some once they get A.J. Green back.
"There's just so much ball to be played this season," Richt said. "I would think a one or two-loss team could certainly win the East this year. It's early yet, but it seems like it's shaping up to be that kind of year."
Something the Gamecocks don't have working in their favor is the schedule. They still have to make trips to Auburn (Sept. 25) and Florida (Nov. 13) and have Alabama (Oct. 9) and Arkansas (Nov. 6) coming to Columbia.
The Bulldogs, meanwhile, face what's almost certainly a must-win game Saturday at home against Arkansas if they want to hang around in the East race.
Stay tuned, because it figures to get only more compelling from here.
More than Luck
PASADENA, Calif. -- When pundits talked about Stanford during the preseason, it was almost all about quarterback Andrew Luck and his scintillating NFL potential, and how his skill set might be what leads the Cardinal into the thick of the Pac-10 race. Heisman Trophy runner-up Toby Gerhart was gone, so Stanford was Luck's team.
Luck didn't play terribly well -- at least in terms of the passing part of being a quarterback -- against UCLA on Saturday. And you'd think his completing less than 50 percent of his throws would mean a tough night for Stanford, seeing that he was now the lead talent in front of the resurgent program.
But this wasn't a tough night for Stanford (2-0, 1-0 Pac-10) in the least. At least if everyone can agree a 35-0 win isn't a tough night.
"I definitely did not play my best game by any means," said Luck, who completed 11 of 24 passes for 151 yards with two touchdowns and no interceptions. "I'm thankful for a great defensive performance."
Stanford coach Jim Harbaugh disagreed with Luck and with the line of questioning about Luck's passing struggles. He said he was happy with Luck's night.
"He played winning quarterback football," Harbaugh noted.
To read the rest of Ted Miller's story, click here.
Three weekend observations
By Ivan Maisel, ESPN.com

1. Two games into his career, South Carolina tailback Marcus Lattimore is knocking defenders backward like no freshman since Adrian Peterson at Oklahoma in 2004 and like no SEC freshman since -- dare we say it? -- Herschel Walker in 1980. Lattimore's 182-yard, two-touchdown performance fueled the 17-6 defeat of Georgia. Don't forget, even in the heyday of the Fun 'n' Gun at Florida, Steve Spurrier's teams always could run the ball. But the Ball Coach has never had a power back like this.

2. The best performers in this early season? Michigan sophomore quarterback Denard Robinson, Alabama sophomore tailback Trent Richardson, Lattimore and Oregon sophomores Kenjon Barner and LaMichael James. Don't forget that the past three Heisman Trophies have been won by sophomores. I think former USC coach Pete Carroll started this trend in 2001, and it has gone viral: Whoever can play does. And skill players seem to be ready to play sooner now than ever before.

3. Big Ten commissioner Jim Delany made his first visit to Bryant-Denny Stadium on Saturday but not his first visit to Tuscaloosa. As an NCAA investigator in the 1970s, Delany came down to interview Alabama players regarding possible infractions at another school. As such, he paid a courtesy call to athletic director and head coach Bear Bryant. Asked whether his knees were knocking, Delany, the onetime guard for Dean Smith at North Carolina, pretended to take umbrage at the question. "I'm from Jersey," he said.
Highlights: Miami-Ohio State
GameDay crew final thoughts

RECE DAVIS
I had thought Boise State needed all but one team to have two losses in order to play in the national championship game. But with their marquee victory being tarnished by James Madison, I'm sure of it. What a devastating loss for the Hokies and perhaps a crushing one for the Broncos.
Helmet stickers go to:
• CB Chimdi Chekwa, Ohio State
6 tackles, 2 INTs, TFL vs. Miami

• LB Justin Springer, Kansas
15 tackles, 3.0 TFL, sack vs. Georgia Tech
---

LOU HOLTZ
You never have the same team two weeks in a row. You look at Kansas, which lost to North Dakota State last week but beat Georgia Tech this week, or Oklahoma, which survived against Utah State but blew out Florida State. On the other side, Georgia and Miami looked great in Week 1 but didn't look good at all on Saturday. Teams change from week to week. It's a different team every time. You never know what to expect, and that's what makes college football so great.
Helmet stickers go to:
• QB Landry Jones, Oklahoma
380 pass yards, 4 TDs vs. Florida State
• QB Dante Warren, South Dakota
433 total yards, 5 TDs at Minnesota
---

MARK MAY
Alabama's rushing offense was dominant early and continued throughout against Penn State. Michigan's Denard Robinson has been outstanding in the first two weeks. If he continues at this pace, he'd be the fourth straight sophomore to win the Heisman trophy. And don't look now, but if Oklahoma continues to look as it did against Florida State, it could be the best team in the Big 12 after all.
Helmet stickers go to:
• QB Denard Robinson, Michigan
502 total yards, 3 TDs at Notre Dame
• RB Marcus Lattimore, South Carolina
37 rushes, 182 rushing yards, 2 TDs vs. Georgia
Highlights: Penn State-Alabama
Blog Network: What we learned

The ACC has a better chance at winning the lottery than a national title, and Heisman hopefuls need more than a campaign.
ACC

Week 1 wins lost a little sheen, and we should get used to watching Taylor Martinez run for touchdowns.
Big 12

Geno Smith is the real deal, Dion Lewis is slumping and Syracuse hasn't turned the corner.
Big East

Denard Robinson isn't a one-hit wonder, and Iowa isn't messing around this year.
Big Ten

Oregon is thisclose to looking like a national title contender, and Stanford is more than the Andrew Luck show.
Pac-10

Alabama made it look easy versus Penn State and played without two of its best players -- Mark Ingram and Marcell Dareus.
SEC

BYU still has a ways to go with its two-quarterback system, and UCF may have found itself a new starting quarterback.
Non-AQs

Notre Dame can't win, at least not early this season against good competition, with Dayne Crist out of the lineup.
Notre Dame
Highlights: JMU-Virginia Tech
Blog Network: Helmet stickers
Odds & ends
By David Bearman, ESPN Stats & Information
• From 1983 to 1991, Miami knocked off seven No. 1 teams and won four national championships. The loss to Ohio State on Saturday marked Miami's eighth straight road loss to teams ranked in the top two of the AP poll. The last time the Hurricanes beat a top-two team on the road was in 1991 in Tallahassee versus Florida State in the famous Wide Right I game.
• James Madison's win over Virginia Tech, South Dakota's upset of Minnesota and Gardner-Webb's win over Akron gave the FCS five wins this season over FBS schools, already matching last season's total. The shocker in Blacksburg marks only the second time an FCS school has defeated a ranked FBS school. The first was Appalachian State's historic win over fifth-ranked Michigan back in 2007.