Three weekend observations
1. So six of the top 11 lost Saturday, and suddenly the BCS championship picture came into much sharper focus. Alabama, Oregon and Florida State have separated themselves from the pack. Missouri, Ohio State, Miami and Texas Tech are undefeated but haven't shown the same level of dominance. Baylor has played one team with a winning record, Buffalo. Florida State and Miami play in two weeks, Baylor and Texas Tech meet two weeks after that, and Alabama and Mizzou could play for the SEC title. The puzzle will solve itself.
2. I had singled out No. 24 Auburn as not worthy of its ranking, and the Tigers' 45-41 upset at No. 7 Texas A&M proved me wrong. The Auburn defense won by beating up Johnny Manziel. Although he accounted for 502 yards of total offense and five touchdowns, he played much of the second half in obvious pain. It slowed him down enough to allow Auburn to hit him more. Auburn not only beat a top-10 team, but at 6-1, the Tigers qualified for a bowl a year after going 3-9. Kudos.
3. The ramifications of UCF's 38-35 upset of No. 8 Louisville extend all the way to Glendale, Ariz., where the Tostitos Fiesta Bowl has the final pick among the four BCS bowls. With Houston's loss to BYU on Saturday, the champion of the American will have one loss and end up playing the Big 12 champion, the Fiesta host team. Would the Orange and Sugar bypass UCF and send the Knights 2,150 miles to the west? You bet they would. Of course, if Florida State plays for the crystal football, UCF would be a lot more enticing to the Orange.
Week 8 Impact Performances
GameDay crew final thoughts
RECE DAVIS
If the SEC is going to extend its national championship streak to eight, Saturday's results almost ensured that it won't be a one-loss team playing for the championship. Things would really have to fall apart for Alabama to be able to survive a late loss. The only one-loss scenario could be if Auburn runs the table. It would seem that the SEC's hopes of extending its championship streak to eight lie with Alabama or Missouri finishing undefeated.
A lot of people criticized the SEC last season because the top six teams went 30-0 against the other eight schools. Five of those six teams lost to the "other eight" from last year, so now the criticism is that the league is too balanced and the top isn't as good as usual. The best way to prove your argument isn't to keep moving the target, but to beat it in the championship game.
I thought that Stanford re-established its identity running the football and put itself in the best position among one-loss teams.
Some teams are really having their seasons hanging in the balance as they try to avoid complete disasters. Georgia and Florida are chief on this list. The upside-down nature of the SEC this season has been one of the most surprising things. Injuries have really taken a toll, not just in the SEC but also across the country.
Helmet stickers go to ...
• WR Jeremy Gallon, Michigan
• CB Lamarcus Joyner, FSU
MARK MAY
A wild week in the SEC, which doesn't normally happen in this power conference. Usually you get one or two upsets -- not nearly as many as happened Saturday.
I think the biggest surprise in the conference is probably Auburn. With the Tigers' remaining schedule -- Florida Atlantic, Arkansas, Tennessee, Georgia -- they could be 10-1 heading into the Iron Bowl. Gus Malzahn has done a terrific job and should be complimented on what he's done so far this year.
Florida State had a monstrous game. Jameis Winston is the leader in the Heisman race right now -- previously I had Marcus Mariota first. Johnny Manziel -- you can't take anything away from him; the Aggies' troubles are all on defense. The kid's a gamer and should definitely be on everyone's top-three list, even though they have two losses.
Out in the Pac-12, Stanford re-established itself. Its defense is back -- it looked it was playing in quicksand and was tired against Utah, but the Cardinal had fresh legs Saturday and proved themselves on offense and defense.
It was one of those great days when people just sit back and think it's just another football Saturday, but then you get all the upsets. You see some teams get exposed while others prove themselves.
How about Missouri? Two weeks ago its marquee win was against Vanderbilt. Now, even after losing its starting quarterback, it is sitting on a two-game lead in the SEC East.
Baylor is a juggernaut. It hasn't played the toughest competition, but it continues to dominate each week. There's nothing more you can ask -- you're supposed to dominate against those teams, and the Bears do it with authority.
Helmet stickers go to ...
• Kapri Bibbs, Colorado State
• QB Nick Marshall, Auburn
LOU HOLTZ
It was a crazy week in the SEC. Who would have thought LSU, Texas A&M, Georgia, South Carolina and Florida would all lose conference games on the same day?
Looking nationally, I think Florida State took one giant leap. It reminds me so much of Alabama, with a great defense and a great offense.
Oregon continues to roll offensively. It was nice to see Stanford bounce back, which will set up a big game in a couple weeks. The Ducks do face UCLA next week -- it will be interesting to see if the Bruins bounce back after a disappointing performance this week.
Baylor continues to roll, and it looks like it'll be undefeated when it plays Oklahoma at home in early November. We'll have an indication then whether Baylor is one of the top teams.
Ohio State just finds a way to win. I don't see anyone being able to challenge it in the Big Ten. I think the Buckeyes continue to win, but there are so many upsets. You see Louisville getting beat and dropping out of the championship mix. Every week is a different week!
Helmet stickers go to ...
• QB Jordan Lynch, NIU
• WR Marquez North, Tennessee
What we learned in Week 8
Click below to see what our reporters learned in each conference after the seventh weekend.
---

Florida State looks like the Florida State of old and smells of national title contender. The ACC's other unbeaten, Miami, still has work to do to deserve that label. ACC
---

J.W. Walsh and Jeremy Smith started the game for Oklahoma State, but Clint Chelf and Rennie Childs finished it ... and should've started. The other Oklahoma team -- the one that couldn't do anything against Texas last week -- recovered admirably against Kansas. Big 12
---

The Big Ten really is wide-open. Anybody has a chance to beat anybody else (see Minnesota over Northwestern). Even Ohio State, the class of the conference, had to sweat out most of its game against Iowa. Big Ten
---

Stanford bounced back from its first loss in a big way, dethroning previously unbeaten UCLA. Arizona State also made a big statement, dismantling No. 20 Washington from start to finish. Pac-12
---

And then there's the SEC -- the new league for cannibals in college football. If this week taught us anything, it's that no one can overlook any conference game on its schedule. SEC
Photos from Week 8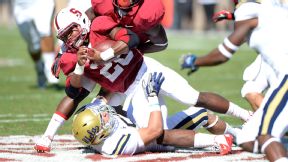 Bob Stanton/USA TODAY Sports
Take a tour around the country and check out the best images from Week 8 in college football. Best of Week 8

Helmet stickers for Week 8
Every week our reporters will hand out helmet stickers to the week's top players, coaches, teams or anything else worth this honor.
• ACC: Braxton Deaver, Lamarcus Joyner, Quayshawn Nealy
More ACC stickers
• Big 12: Josh Stewart, Oklahoma defense, Bryce Petty
More Big 12 stickers
• Big Ten: Jeremy Gallon, Carlos Hyde, Ra'Shede Hageman
More Big Ten stickers
• Pac-12: Tyler Gaffney, Jordan Richards, Marion Grice
More Pac-12 stickers
• SEC: Nick Marshall, Mike Evans, Marquez North
More SEC stickers