Three weekend observations
1. Bad news: USC has played eight games and scored fewer than 20 points in four of them. Good news: After Saturday's 19-3 victory over Utah, USC is 2-2 in those games. The defense held the Utes to one field goal in three red zone visits, a combination of grit and the errant arms of quarterbacks Travis Wilson and Adam Schulz, who combined to go 12-for-31 for 130 yards and three interceptions. Two spread offenses (Arizona State and Arizona) scored 93 points on the depth-deficient Trojans. The other six opponents scored 61 points.
2. USC and Utah weren't as feeble on offense as Duke and Virginia Tech, which between them converted 4 of 29 third downs. The Blue Devils went 0-for-11 but that's not the most amazing stat. Duke upset No. 14 Virginia Tech 13-10. No big deal? The Blue Devils last beat a ranked team in 1994, a 28-25 upset of No. 13 Virginia. Since then, Duke had lost 48 consecutive games against ranked teams by an average margin of 28.5 points.
3. Nebraska's 34-23 loss at Minnesota underlined the difference between how the Huskers play at home and on the road in their new league. In three seasons, Nebraska is 8-1 at home in Big Ten play, and 6-4 in conference road games. The four losses have been by 31, 28, 25 and 11 points. That doesn't include the 70-31 loss to Wisconsin in the 2012 championship game. The Huskers have games remaining at Michigan and at Penn State. That doesn't bode well for their hopes to get to Indianapolis.
Week 9 Impact Performances
GameDay crew final thoughts
RECE DAVIS
A lot of times we overestimate what experience means, but this is that time of the year in which the tradition of your program and having players who have been through big games and tight situations and can play under pressure really starts to pay dividends. We saw it with the dominant performances by the BCS top four, but we also saw it in a couple of games where teams that weren't used to being in that situation felt the pressure.
Missouri certainly seemed to feel that after having its lead overcome. I don't know if Texas Tech did for sure but it experienced its biggest test so far and was unable to hold the lead. I think that programs that have competed for championships have a little bit of an advantage this time of the year. It doesn't trump talent but it can allow players to play more loose and relaxed and play their best.
That's why you have guys like AJ McCarron playing his best football of the year. It's why you have Braxton Miller playing perhaps his best game of the season against Penn State -- or certainly one of them. I think those are the types of things that help teams once the pressure really begins to turn up.
And it was a good day for all the SEC haters, because now that conference's chances of producing another national champion have been mathematically reduced to just three contenders with Alabama, of course, and Missouri and Auburn are long shots at best.
Helmet stickers go to ...
• RB Octavias McKoy, W. Connecticut St.
• RB Byron Marshall, Oregon
MARK MAY
Bo Pelini is going to start feeling the heat at Nebraska for this Minnesota game particularly. The Huskers were out-strategized by an interim coach, and now Pelini's going to start feeling the heat from the fans and alumni.
The top four teams really took care of business Saturday. Some, like Oregon, started slow, while some did not. Alabama, Florida State and Ohio State all took care of business the way they should have.
Missouri found out what it's like to be the hunted rather than the hunter and to be in a pressure position, particularly in the fourth quarter, where it spit the bit and got outcoached and outfoxed by Steve Spurrier. The wheels just came off in that fourth quarter when it had a 17-point lead and blew it.
The Heisman Trophy race is starting to round itself together. Johnny Manziel played well again. Marcus Mariota played well in the second half. AJ McCarron did what he usually does -- a yeomans job, very workmanlike -- and got his win. Jameis Winston had another big game.
It was good to see Stanford come out of a hard-fought game with Oregon State with a win, ensuring that it'll have only one loss going into its big showdown with Oregon a week from Thursday. It was a hard-fought victory but the Cardinal really got after Oregon State quarterback Sean Mannion, sacking him eight times. Their defensive line really brings it and that's what Oregon is going to have to account for.
Helmet stickers go to ...
• LB David Helton, Duke
• QB Keenan Reynolds, Navy
LOU HOLTZ
Connor Shaw is a great competitor, and that was an incredible comeback by South Carolina. The top four teams in the BCS standings -- Alabama, Florida State, Oregon and Ohio State -- were all very impressive. It's hard to see who could possibly beat those schools with the way they're playing.
The ACC Coastal Division is really fouled up with Duke beating Virginia Tech. And over in the Big Ten, Minnesota beat Nebraska. Every week, you have to feel fortunate if you can find a way to win.
Right now, there are two types of teams: those that have a chance to really achieve something like a championship, and a certain segment of teams whose only salvation this year is to ruin somebody else's year.
Helmet stickers go to ...
• QB Connor Shaw, South Carolina
• Minnesota's coaching staff
What we learned in Week 9
Click below to see what our reporters learned in each conference after the ninth weekend.
---

Punctuated by its stunning 13-10 victory over No. 14 Virginia Tech, Duke has now won six games and is going to a bowl. And Florida State, which will mostly likely play in one of those bowls of the BCS variety, showed the nation that it is indeed back.ACC
---

Texas Tech may have lost to Oklahoma, but this team will be one to keep an eye on in the coming years. And Texas has turned its season around in a big way with another big win this week over TCU. Big 12
---

Ohio State needed all the style points it could get because of the way the three teams ahead of it in the rankings have been playing. The Buckeyes got plenty of those points against Penn State. Big Ten
---

It wasn't the typical start-to-finish domination Oregon is known for, but Oregon got it done against UCLA. Its division rival Stanford stuck to its nail-biting strategy, however, and wore down Oregon State for an eight-point win. Pac-12
---

Losing the way Missouri did in blowing a 17-point lead is hard on any team, but especially one that came into the game feeling so much momentum. Give credit to Connor Shaw and the Gamecocks, though. That's what a veteran team does. SEC
Photos from Week 9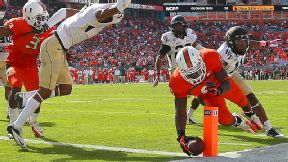 Mike Ehrmann/Getty Images
Take a tour around the country and check out the best images from Week 9 in college football. Best of Week 9

Helmet stickers for Week 9
Every week our reporters will hand out helmet stickers to the week's top players, coaches, teams or anything else worth this honor.
• ACC: Duke Johnson, David Helton, Rashad Greene
More ACC stickers
• Big 12: Desmond Roland, Jalen Saunders, Shock Linwood
More Big 12 stickers
• Big Ten: David Cobb, Anthony Hitchens, Connor Cook
More Big Ten stickers
• Pac-12: USC defense, Avery Patterson, Byron Marshall
More Pac-12 stickers
• SEC: Connor Shaw, Odell Beckham, Kevin Norwood
More SEC stickers