Expectations come into focus
If you peer closely at the entrails of Saturday's games, you can see a national championship race taking shape.
[+] Enlarge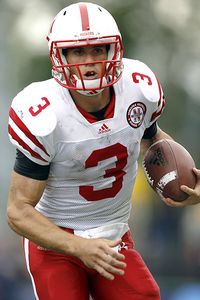 Joe Nicholson/US PresswireTaylor Martinez and Nebraska made a statement in Pac-10 country, running over Washington.
The opening weeks of a season are an exercise in calibration. Is Boise State great, or is Virginia Tech overrated? Which Oklahoma will be here at the end of the season?
Three games into the season, we know less than we knew a year ago, when only 20 undefeated teams remained in the Associated Press poll. Of the 23 undefeated teams in the AP poll last week, 22 won on Saturday. Someone had to lose at Arizona, where the No. 24 Wildcats upset No. 9 Iowa 34-27 in a game so fouled with penalties and turnovers that it's hard to draw any conclusion.
But the manner in which a few teams won on Saturday indicated that they will bear watching long after the leaves have fallen. No. 8 Nebraska traveled two time zones and dismantled Washington faster than Jake Locker can say, "Goodbye, Heisman."
The Huskers intercepted Locker's first pass, scored two plays later and didn't slow down. Nebraska freshman quarterback Taylor Martinez took the first snap of the third quarter 80 yards for a touchdown to put the Huskers ahead 35-14, and they West Coasted to a 56-21 victory. Locker completed 4 of 20 passes for 71 yards with two interceptions, one of which Alfonzo Dennard returned 31 yards for a touchdown.
No one had accused Washington of being a Rose Bowl contender. But Nebraska's sheer dominance at a stadium that can be inhospitable means the Huskers' last season in the Big 12 Conference may be special for more than sentimental reasons.
Not only did No. 4 TCU dominate its former Southwest Conference rival Baylor 45-10, but on the same Saturday that Texas sputtered its way to a 24-14 victory at Texas Tech, TCU planted its flag atop the Lone Star State. The difference between the Horned Frogs and Horns is experience, best illustrated at quarterback.
TCU senior Andy Dalton completed 21 of 23 passes, a school record for accuracy, for 267 yards and two touchdowns. Texas sophomore Garrett Gilbert completed 21 of 36 passes for 227 yards, two touchdowns and three interceptions.
TCU's 17-game regular-season winning streak is 10 games short of No. 1 Alabama's. No one expected anything but an Alabama rout at Duke. But the significance of the 62-13 beatdown is that the Crimson Tide' two best players, Heisman Trophy winner Mark Ingram and defensive tackle Marcell Dareus, looked to be in midseason form after missing two games because of a knee injury and an NCAA suspension, respectively.
Back in action
The top-ranked Tide rolled 62 points and 626 yards on Duke. It's the most points Alabama has scored since 1991 (62 versus Tulane). Mark Ingram touched the ball only nine times but rushed for 151 yards. The nine rushes were the fewest by an automatic-qualifying conference running to reach 150 yards in the past five years. Two of his first three rushes went for 48 and 50 yards, matching his 2009 season total of 45-yard runs.
-- David Bearman, ESPN Stats & Info
With Alabama headed for an SEC West showdown at No. 12 Arkansas on Saturday, the Tide looked formidable. So, too, in a different way, did the Razorbacks, who didn't quite provide the drama seen in East Lansing and Auburn.
Michigan State head coach Mark Dantonio did what no burglar would conceive of doing, calling an all-or-nothing fake field goal while trailing Notre Dame 31-28 in the bottom of the first overtime inning. Aaron Bates threw 29 yards to a wide-open Charlie Gantt for a 34-31 win. Auburn came back from a 17-0 first-half deficit to defeat Clemson 27-24 in overtime.
But unlike Michigan State and Auburn, Arkansas won on the road, didn't need overtime and came back after blowing a 24-10 lead in the fourth quarter. Ryan Mallett's 40-yard touchdown pass to Greg Childs with 15 seconds to play gave Arkansas a 31-24 victory at Georgia.
The victory showed that the Razorbacks have come a long way since this time a year ago. Great expectations came to a grisly end in the third week, when Alabama humiliated Arkansas 35-7. Three weeks into this season, there is some backbone in Fayetteville. It is waiting for the No. 1 Crimson Tide.
Two for the money
By Mark Schlabach
ESPN.com
ATHENS, Ga. -- Arkansas coach Bobby Petrino calls them his team's bread-and-butter plays.
[+] Enlarge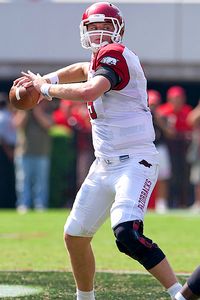 Dale Zanine/US PresswireRyan Mallett excelled at the end of halves versus Georgia.
Whatever the No. 12 Razorbacks call them, quarterback Ryan Mallett ran the plays to perfection in the final minute of Saturday's thrilling 31-24 victory over Georgia at Sanford Stadium.
After the Razorbacks blew a 14-point lead in the fourth quarter, the Razorbacks took possession at their 27-yard line with the score tied at 24 with 47 seconds to play. Mallett fired two passes to tight end D.J. Williams to move the Hogs to Georgia's 40, then fired a pass down the left sideline for receiver Greg Childs, who slipped a tackle and ran into the end zone for the winning touchdown with 15 seconds left.
"It's something we work on a lot during the week," Petrino said. "We always go to what we call our bread-and-butter plays. It was a hard football game. They came back in the second half. We were able to execute our two-minute offense and score to win the game."
The Razorbacks also ran their two-minute offense to perfection at the end of the first half. Leading 14-7, the Hogs took possession at their 20 with 46 seconds to play. Mallett completed a 39-yard pass to Joe Adams on first down, then threw a 15-yard pass to De'Anthony Curtis for a first down at Georgia's 31 with nine seconds left.
Zach Hocker made a 48-yard field goal with four seconds left in the half to give Arkansas a 17-7 lead. In the end, the last-second field goal was big.
Mallett, who was criticized for his poor play in four road losses last season, completed 21 of 33 passes for 380 yards with three touchdowns. His best work came at the end of both halves.
"It just shows how tough he is, how mentally and physically tough he is," Petrino said. "He really stood in there, and you can't say enough about how he executed that two-minute drive."
Know when to hold them
By Adam Rittenberg
ESPN.com
Michigan State coach Mark Dantonio calls the play "Little Giants," after the cheesy flick about peewee football starring Rick Moranis and Ed O'Neill.
[+] Enlarge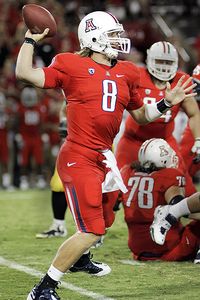 AP Photo/Wily LowNick Foles and Arizona were the Pac-10's headliners this weekend.
"He names just about all of our plays after that movie," Spartans punter Aaron Bates told ESPN.com. "I think it's about the only one he's watched."
Dantonio might have seen "The Gambler" a few times, too.
The Spartans' boss let it ride in a big way Saturday night against Notre Dame, and he hit the jackpot in overtime. Down 31-28 and needing a 46-yard field goal to tie, Dantonio, not known for his risk-taking, called for a fake the team had worked on all week in practice.
Michigan State executed to perfection, as Bates passed the ball to tight end Charlie Gantt for a 29-yard touchdown, lifting the Spartans to a 34-31 victory.
"Coach D really wanted to call it," Bates said. "They were giving us the right looks, and we just happened to get the opportunity in overtime. Coach D's got a lot of guts to make that call.
"Coach D always says, especially in big games, 'We're playing to win.'"
Bates initially looked for top target Le'Veon Bell, who had been open all week in practice. Notre Dame blanketed Bell, but Gantt slipped behind a fallen Irish defender, and Bates, who doubled as a quarterback in high school, made the throw.
"It was just like the glory days," said Bates, the first punter in team history to be named a captain. "I guess Notre Dame's a little better opponent than I was playing back [in high school], but when you catch them off guard like that, it's not too difficult. Easy throw and catch for a touchdown."
The play wasn't free of controversy, as replays and photos showed the play clock hitting zero before the snap. Nearly nine years after The Clock Game between Michigan State and Michigan, time(keeping) once again was of the essence at Spartan Stadium.
Notre Dame coach Brian Kelly didn't see the play clock, but Bates had a good view from the field.
"I looked up and saw it was 3 [seconds] and just gave my long-snapper a little motion," Bates said. "The last I saw, it was at 3 [seconds], and he snapped it right after that. I assume we still had a second left or so, but it doesn't matter now."
All that matters is Michigan State remains undefeated and within striking distance of the Big Ten's elite. Michigan State was just 6-12 under Dantonio in games decided by eight points or fewer until Saturday night, including a 2-5 mark last fall.
"It comes with experience," Bates said. "When you have experience, you win those close games. It's something we didn't have last year. This year, we have that."
Pacific heights
The measuring stick was out this weekend with the Pac-10: nine FBS nonconference games. Four versus ranked opponents. Four on the road. All nine foes certifiably respectable. The Pac-10 was the underdog in five.
It doesn't matter that no other conference is bold enough to schedule such a slate. Perhaps it should, but the Pac-10 doesn't get the free pass on waltzing through a list of four pansies before hitting the conference schedule, as many other teams -- and some entire conferences -- do.
So what's the tally? 5-4, with Arizona leading the charge after a 34-27 win over No. 9 Iowa.
USC beat Minnesota 32-21. Oregon State beat Louisville 35-28. Stanford crushed Wake Forest 68-24. UCLA upset No. 23 Houston 31-13.
Not all was good, of course. California, the only upset victim, went down hard at Nevada 52-31. Washington got walloped at home by Nebraska 56-21. SMU handed Washington State its 11th consecutive loss versus FBS opponents.
But even one of the defeats sent a message about the depth of the Pac-10. Arizona State went to No. 11 Wisconsin as the pick to finish ninth in the Pac-10 and heads back as a 20-19 loser but clearly good enough to compete with just about anyone.
That performance, paired with UCLA's victory, shows that the bottom of the conference is not pushover territory.
And the top? Well, Oregon looks like an elite team, but it's possible that Arizona, Stanford and even USC are, too. That's four 3-0 teams that figure to be ranked in the top half of the polls. And don't forget about No. 25 Oregon State, which is 1-1 and heads to Boise State on Saturday with every AQ conference rooting for it to humble the Broncos.
Bottom line: The measuring stick came out this past weekend, and the Pac-10 ended up looking pretty darn tall. That could matter late in the year if the conference finds itself battling for position in the BCS standings.
Three weekend observations
By Ivan Maisel, ESPN.com

1. No. 6 Texas and No. 10 Florida are playing from the same script. Both the Longhorns and the Gators have a lot of talent and a little experience, which means consistency is nothing more than a goal. Their problems running the ball will be costly once they get into the meat of their conference schedules. On Oct. 2, Texas will play No. 7 Oklahoma, and Florida will play at No. 1 Alabama. Until then, their rankings are based on legacy, not performance.

2. No. 19 Stanford, with its 68-24 humiliation of Wake Forest, struck a blow for every Pac-10 team ever relegated to a noon kickoff on the East Coast (Washington at Michigan in 2002; Cal at Maryland in 2008; Stanford at Wake in 2009; et al). That's 9 a.m. Pacific body-clock time. The Demon Deacons received the opening kickoff at 11:25 p.m. ET Saturday, and although there's no telling whether the late hour contributed to their bedraggled play, it didn't help.

3. So who's your pick for the best 1-2 team? Notre Dame has consecutive last-second losses and can prove something against its next three opponents (No. 19 Stanford, at Boston College, Pittsburgh), which are a combined 6-1. My pick is Georgia, a loser to Arkansas. The Dawgs' offense will receive a significant boost in two weeks when the team's best player, wide receiver A.J. Green, returns from NCAA suspension. Green will make the defenses work harder.
Highlights: Notre Dame-Mich. State
GameDay crew final thoughts

RECE DAVIS
The most significant thing I took from Saturday was the effort from Wisconsin safety Shelton Johnson. He had only one tackle on the day, but that play saved a touchdown and could've made the difference in the Badgers' season. Wisconsin is a team that has national championship aspirations, and his hustle kept those dreams alive. He could've quit on the play, especially considering that his teammate had the better angle and could've made the tackle. However, he kept running and made a tackle on the 1-yard line to keep Arizona State out of the end zone. It just goes to show you that every little bit makes a difference.
Helmet stickers go to:
• S Shelton Johnson, Wisconsin
TD-saving tackle at end of first half vs. Arizona State
• P Aaron Bates, Michigan State
Winning TD pass on faked FG in OT vs. Notre Dame
---

LOU HOLTZ
Every week you see a different team show up. But the truly great teams, their defenses show up every single week. That's why you see teams like Alabama and Ohio State having very little issues with the teams they play. That's why they are ranked first and second in the nation.
Helmet stickers go to:
• QB Ryan Mallett, Arkansas
380 pass yards, 3 TDs at Georgia
• RB Bernard Pierce, Temple
169 rushing yards, 3 total TDs vs. Connecticut
---

MARK MAY
Nebraska put on a dominating performance from start to finish against a formidable opponent. The Cornhuskers completely shut down Jake Locker, and their offensive line controlled the line of scrimmage. They looked fantastic.
Mark Dantonio's call against Notre Dame meant one of two things: He has guts (which he does), or he has a long-term contract. It was good to see Mark Ingram back on the field. He looks to be 100 percent, which is great to see. And lastly, I've been on the Ryan Mallett bandwagon since his first start, and he definitely showed America what he was about Saturday against Georgia.
Helmet stickers go to:
• Nebraska offensive line
383 rushing yards, three 100-yard rushers at Washington
• Arizona defensive line
6 sacks, 29 rush yards allowed vs. Iowa
Blog Network: What we learned

Florida State, Virginia Tech and Georgia Tech were all able to rebound from disappointing performances last week.
ACC

Missouri and Texas A&M have to get better fast. Neither team had any business winning its game this week.
Big 12

West Virginia and Pitt look like the class of the league, and the passing game is holding UConn back.
Big East

Special-teams breakdowns continue to be a major storyline throughout a league known for stressing the kicking game.
Big Ten

Oregon is the clear No. 1 in the conference at this point, but Arizona and Stanford also have made early statements that they, too, are Rose Bowl contenders.
Pac-10

After three games, it's safe to say that Florida's offensive problems are real.
SEC

TCU is the best team in Texas. You might have thought so before, but it is safe to say it now.
Non-AQs

Brian Kelly is only three games into his tenure, but he very likely could start hearing some criticism this week.
Notre Dame
Highlights: Clemson-Auburn
Blog Network: Helmet stickers
Odds & ends
By David Bearman, ESPN Stats & Information
• 72-0, 48-13, 69-0. Those are the scores by which Oregon has won this season. The 189 points in 180 minutes of football is an average of 1.05 points per minute. At this rate, the Ducks would score 819 in 13 games, crushing the FBS record for points in a season. Oklahoma scored 716 points in 2008, and that was in 14 games. After scoring the final 45 points of the game versus Tennessee last week, the Ducks have now scored 114 unanswered points heading into next week's road tilt at Arizona State.
• Nebraska has finished no better than 23rd in the nation in rushing the past three seasons, finishing 60th or worse three times. On Saturday, the Cornhuskers ran for 383 yards in their wipeout of Washington. Looking deeper into the box score, the game marked the fourth time in school history that Nebraska had three different 100-yard rushers in the same game. The last time was in 2001, when they had four different ones versus Baylor (641 rush yards).