Three weekend observations
1. Northwestern beat Minnesota in 2000 with a Hail Mary, and the law of averages caught up to the Wildcats on Saturday at Nebraska. The Huskers' stunning 27-24 victory on a 49-yard tip-drill special keeps Nebraska in control of its destiny in the Big Ten Legends Division, and first-place Michigan State must play in Lincoln on Nov. 16. But the precarious nature of the victory over a reeling Northwestern team probably did little to shore up support for beleaguered coach Bo Pelini. In this case, a W may not always be a W.
2. On the other hand, Pelini may be the latest iteration of Mack Brown. A month ago, conventional wisdom had the Texas coach out the door. But Brown's decision to give the defense to Greg Robinson has produced good results. The Longhorns upset archrival Oklahoma and are 5-0 in the Big 12 after a 35-13 rout of Kansas on Saturday. If the Huskers win at Michigan and come home to beat Michigan State, all may be forgiven yet for Pelini.
3. It's only the first weekend in November, and the Pac-12 already has seven bowl-eligible teams for its seven slots. With Washington at 5-3 and Utah at 4-4, someone on the West Coast is going to be unhappy. The problem for the Pac-12 is there is less support for bowl games in its footprint than there is in Texas and the South. That's why the SEC has 10 slots and the ACC nine. Those bowls are started because officials think fans will support them.
Week 10 Impact Performances
GameDay crew final thoughts
RECE DAVIS
To me, the most significant thing following Saturday's action is that Ohio State now has one legitimate hurdle on its way to another perfect season: Michigan State. If Michigan State makes it to the Big Ten championship game and the Buckeyes make it, as expected, the Spartans have a chance to beat Ohio State simply because their defense is so good that they can keep the game close enough to be able to make a play at the end.
Now their offense isn't good enough to beat Ohio State and it won't be good enough by December, but their defense can be so overwhelming that they can keep any game against anyone in the country within reach. So for the people who are saying Ohio State hasn't beaten anybody, if it beats Michigan State, it definitely will have beaten somebody by the end of the season.
I was really, really disappointed with the behavior of the players in the Georgia-Florida game, and it's become something that has ramped up in that rivalry over the years. I like a little intensity and chippiness in a rivalry game as much as anyone -- I want to see the players care. But there has to be a line that you can't cross if you want to maintain some level of decorum and sportsmanship. I don't mind a little jawing and yapping -- that's fine -- but if you get to the point where benches are nearly emptying and you can't separate people without them swinging at each other, it's too much.
These two programs have won too much, and they have too much class to behave in that manner, and I hope both coaching staffs do something to fix this.
And finally, you want to talk about a guy maybe saving his job, or at least taking some heat off himself, on one play? Bo Pelini needed a Hail Mary to beat Northwestern at home. Who would have thought it would take something like that to make Nebraska fans happy enough to not be clamoring for a coaching change? That's sort of the culture in which we live. And it was a heartbreaking loss for Northwestern to drop five in a row.
Helmet stickers go to ...
• RB Tre Mason, Auburn
• LB Denicos Allen, Michigan State
MARK MAY
Valiant effort by Navy. It gave its heart and soul in the game Saturday. It had a chance to win that game against Notre Dame on the road, but the Irish managed to pull through. You've got to tip your cap to Ken Niumatalolo and his crew because they really fought hard out there.
Michigan State's defense is nasty good. In its game against Michigan, it just dominated every aspect and owned the Wolverines. Michigan State coach Mark Dantonio owns Michigan, beating it in five of their last six meetings.
Looking at the other games, there wasn't a lot of excitement, but Florida State's Jameis Winston -- even though he didn't have his A-game with a couple of picks -- was still 21-for-29 for more than 300 yards and kept the offense going. And the way the defense just shut down Miami in the second half was incredibly impressive. Jeremy Pruitt did a terrific job with his halftime adjustments.
Helmet stickers go to ...
• RB Andre Williams, Boston College
• RB Anthony LaCoste, Air Force
LOU HOLTZ
This was a dull week. I don't know why everyone seems to like to take a bye around this time, or if the conference schedules it that way, but there wasn't anything great happening.
Next week, we have three games that are exciting matchups, and conference championships will start to be decided. We'll be able to determine the contenders and the pretenders with both teams and players. I think the Heisman race is finally starting to take shape now, and the key will be exposure. Whoever has a big game on the big stage to showcase his talents is going to be the guy who ends up winning it.
Helmet stickers go to ...
• QB Quinn Epperly, Princeton
• RB Devonta Freeman, Florida State
What we learned in Week 10
Click below to see what our reporters learned in each conference after the 10th weekend.
---

Even though it lost, Miami still has a hold on the ACC Coastal Division, especially with Virginia Tech losing to Boston College on Saturday. In the Atlantic, Wake Forest's refreshing play may be on the way out now that Michael Campanaro is out with a broken collarbone. ACC
---

Since Oklahoma State has stabilized itself at quarterback and running back, the Cowboys have looked like the Big 12 contenders they were pegged as in preseason. On the other side, another preseason contender, TCU, isn't going to make it to the postseason after giving away a big lead at West Virginia. Big 12
---

For the fifth time in six years, Michigan State owns its state with a win over Michigan. The Wolverines still have a chance to spoil another rival's perfect season when they take on Ohio State, but that doesn't look likely at this point. Northwestern is also on the downslope and not playing with much confidence at all, dropping its fifth straight at Nebraska this weekend. Big Ten
---

A lot has already happened for USC this season, but since Ed Orgeron has taken over as interim coach, the Trojans are on a winning pace and don't appear to be done yet. Arizona State isn't done, either. The Wildcats completed an impressive win over Washington State on Thursday and are moving at a steady pace in the Pac-12 South. Pac-12
---

Florida and Georgia didn't look like the teams we are accustomed to seeing, with neither in the Top 25, but they still don't like each other, which made for a compelling, gritty game on Saturday. Missouri completed a surprisingly solid victory over Tennessee after its emotional loss versus South Carolina last week. SEC
Photos from Week 10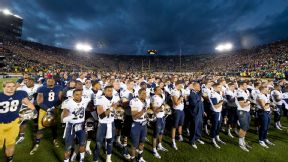 Matt Cashore/USA TODAY Sports
Take a tour around the country and check out the best images from Week 10 in college football. Best of Week 10

Helmet stickers for Week 10
Every week our reporters will hand out helmet stickers to the week's top players, coaches, teams or anything else worth this honor.
• ACC: Devonta Freeman, Tajh Boyd, Kasim Edebali
More ACC stickers
• Big 12: Clint Chelf, Charles Sims, Jace Amaro
More Big 12 stickers
• Big Ten: Ed Davis, Marcus Trotter, Bill Belton
More Big Ten stickers
• Pac-12: Taylor Kelly, Javorius Allen, B.J. Denker
More Pac-12 stickers
• SEC: Tre Mason, Todd Gurley, Gary Pinkel
More SEC stickers