Three weekend observations
1. USC began the 2003 season at Auburn with an untested sophomore quarterback. Matt Leinart led the Trojans to a 23-0 victory, the first step on their three-year run at the top of the sport. On Saturday night, moments after Auburn's Hail Mary victory over Georgia, Leinart, his playing days over, led the Trojans out of the Los Angeles Memorial Coliseum tunnel and onto the field, where they upset No. 4 Stanford 20-17. It may not be the start of a three-year run, but Leinart helped make USC look like USC again.
2. Lost in the delirium over the Trojans' victory is the fact that they remain alive in the Pac-12 South race. But USC needs a lot of help. The Trojans, at 5-2 in the conference, are tied with UCLA and a game behind Arizona State, which beat USC 62-41. The Sun Devils would have to lose at UCLA and to Arizona for the Trojans to have a chance. And, of course, USC would have to win at Colorado and beat UCLA. Arizona State and UCLA control their destinies.
3. Congrats to Kansas, which won a Big 12 game for the first time since the Eisenhower administration. Oh wait, it's been only three years ... it just seemed that long. Kudos to the Jayhawks, but the 31-19 victory over West Virginia also illustrates how difficult the Mountaineers have it playing in a conference far, far away. After two seasons, West Virginia has played at every Big 12 venue. It has won three road games by a total of 13 points. It has lost six road games by an average of 22 points.
Week 12 Impact Performances
GameDay crew final thoughts
RECE DAVIS
I don't know that I necessarily believe in the whole team of destiny, but if you did, you'd have to say Auburn might be it. Auburn has won several games right at the end -- particularly early in the season -- none more improbable than the win over Georgia. To win championships, you have to have some breaks like that. The Tigers got a break and made the play against the Bulldogs. They were the better team for most of the game, let it get away and then found a way to win it. Sometimes that destiny thing has some merit.
One of the things that I've really been a believer of in college football is that a lot of the games are about matchups. For whatever reason, Oregon doesn't match up well with Stanford. Stanford vexes and frustrates the Ducks. However, USC does match up well with the Cardinal. Because of that, the Trojans were able to keep the game close and find a way to win it.
While I don't believe that Ed Orgeron will become the permanent coach at USC, I will say that he has done a splendid job. He has improved from a guy who made a reputation for ripping his shirt off while he was at Ole Miss into a great leader at USC. I have all the respect in the world for what he has done. Whatever his future holds -- whether it's head coach at USC, assistant at USC or head coach somewhere else -- I think he's going to be very successful from this point forward. He has done a spectacular job with the Trojans.
Helmet stickers go to ...
• QB Brandon Connette, Duke
• QB Cody Kessler, USC
MARK MAY
Tremendous game between Auburn and Georgia. I thought the fourth quarter was outstanding. Auburn was up big before Georgia rebounded to come back. The Bulldogs showed a lot of heart, particularly Aaron Murray, who led his team back to take the lead. A miraculous play by the offense and Nick Marshall of Auburn preserved that victory. It did a great job of running the football, more than 320 yards again, which is why the Tigers are No. 1 in the SEC in rushing.
Alabama was sloppy, like it usually is after playing LSU, but the Tide found a way to win. It's one of those games where, after a big one against LSU, you knew they were going to find a way to win even though they turned the ball over. AJ McCarron wasn't really what we've seen this year, throwing two interceptions, but the Tide found a way to win despite turning the ball over four times.
Stanford's loss was a big surprise. I rave about the job that Ed Orgeron has done at USC every week. The Trojans are 5-1 under Orgeron, and the only loss was on the road at Notre Dame, when they missed two field goals and lost by four, so they could easily be undefeated under his watch. He should definitely be considered for the full-time job if they win their next two games, particularly beating archrival UCLA in a couple of weeks. This was a hard-fought game for Stanford, but you can't turn the ball over like that, particularly on the road.
How about Art Briles and Baylor? That's a team that goes down 14-0 against Texas Tech and fights back to put up 60 points again. The Bears do it each and every week, which is very impressive.
There's going to be a lot of pressure on Mack Brown after losing to Oklahoma State at home. But the Cowboys have very quietly lost only one game this season, and nobody is even talking about it.
Have to talk about Duke. David Cutcliffe has done an outstanding job there, winning eight games, including six in a row, and beating Miami. The Blue Devils beat Virginia Tech, too. They're for real. The team has bought in, and hes done a terrific job.. He talked about the expectations entering the year being bigger than just going to a bowl game; they expected big things, and they're on track to do it.
Helmet stickers go to ...
• RB James Sims, Kansas
• WR Ricardo Louis, Auburn
LOU HOLTZ
Every week is crazier than all get-out. That finish at Auburn; that doesn't happen every year, let alone every week.
I think Duke's win is great for the ACC, but I don't see anybody coming close to Florida State.
Baylor is obviously for real.
I'm really looking forward to the Iron Bowl. It brings back the days when Shug Jordan and Bear Bryant were there and both teams were very good.
South Carolina has an excellent chance to represent the East in the SEC championship. I don't believe that Missouri can beat both Ole Miss and Texas A&M, and if it loses one of them, that puts the Gamecocks in the championship.
I still think Ohio State isn't going to lose to anybody. It is too good a football team.
In the Pac-12, Southern Cal beating Stanford, you just can't play that physical brand of football every week without the playmakers. That's why I thought the Trojans had an excellent chance to win. It's going to be interesting with UCLA playing Arizona State and then USC. It will be interesting to see how Stanford, with all its seniors, responds, since it doesn't have much to play for now.
Helmet stickers go to ...
• PR Ryan Switzer, UNC
• RB Andre Williams, Boston College
What we learned in Week 12
Click below to see what our reporters learned in each conference after the 12th weekend.
---

Florida State rolled through its ACC schedule unscathed, capped by a 56-point win over Syracuse on Saturday. The Noles could possibly meet Duke -- yes, Duke -- in the ACC championship after the real-deal Blue Devils took down No. 23 Miami for the first time since 1976. ACC
---

Oklahoma State had a distinct plan for knocking down the Longhorns, who were previously unbeaten in the Big 12, and the Cowboys executed that plan to perfection. Now OSU will start preparing for Baylor, which spotted Texas Tech a 20-7 lead before turning on the jets. Big 12
---

It wasn't Michigan State's best performance of the season, but the Spartans came through the trip to Nebraska with a win and have themselves primed for that probable showdown with Ohio State in the Big Ten championship. If OSU can make it through Indiana and Michigan, which gutted out a win over Northwestern to regain a little momentum, it will have only the Spartans keeping it from its second perfect season in a row. Big Ten
---

Oregon is back in Rose Bowl position after USC knocked off No. 4 Stanford. The win gave interim coach Ed Orgeron a signature victory and might just make him the leading candidate to take over full time. The Trojans meet crosstown rival UCLA in two weeks, and new star tailback Myles Jack may have something to say about USC's newfound confidence. Pac-12
---

People will be talking about that Georgia-Auburn game for a long time, that's for sure. But with the way Alabama played at Mississippi State -- which was not its best -- the Iron Bowl matchup two weeks down the road is the next big can't-wait game. In the East, South Carolina held up its end of the bargain by taking out Florida and now will have to wait to see how Missouri finishes to decide which team will head to the league championship. SEC
Helmet stickers for Week 12
Every week our reporters will hand out helmet stickers to the week's top players, coaches, teams or anything else worth this honor.
• ACC: Ryan Switzer, C.J. Brown, Andre Williams
More ACC stickers
• Big 12: James Sims, Levi Norwood, Justin Gilbert
More Big 12 stickers
• Big Ten: Carlos Hyde, Ameer Abdullah, V'Angelo Bentley
More Big Ten stickers
• Pac-12: Connor Halliday, Myles Jack, Ka'Deem Carey
More Pac-12 stickers
• SEC: Ricardo Louis, Aaron Murray, Jordan Matthews
More SEC stickers
Photos from Week 12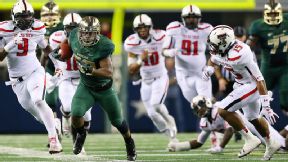 Ronald Martinez/Getty Images
Take a tour around the country and check out the best images from Week 12 in college football. Best of Week 12

Social media recap of Week 12
For a recap of Saturday's best college football tweets, pictures, videos, statistical factoids and more, visit this week's Campus Connection.