Three weekend observations
1. The performance of Baylor and Oregon on Saturday made the up-tempo spread offense look as faddish as the latest Free People catalog. If historians look back at this weekend as the crest of this wave, they will find a system that had the biggest impact on the offensive side of the ball since the wishbone, with the big asterisk that no one has won a national title. At its heart, the up-tempo spread compensates for what teams don't have: the ability to win the blocking and tackling battles that have defined the game for more than a century. Teams that win those continue to take home the crystal football.
2. Bob Stoops won his 158th game at Oklahoma, surpassing Barry Switzer to become the all-time leader at a school that has had three College Football Hall of Fame coaches (Switzer, Bud Wilkinson and Bennie Owen). Stoops won those games in 15 seasons, one fewer than Switzer. But Switzer coached 11-game regular seasons. He needed only 180 games to get to 157. Stoops needed 197 games to get to 158.
3. Didn't have Boston College tailback Andre Williams on your preseason Heisman ballot? Here's why: In his first three seasons, Williams rushed for 1,562 yards and 10 touchdowns. He had 584 yards and four scores in an injury-shortened 2012. This season, Williams has had 602 yards and four touchdowns -- in the past two games. Running in the mash-'em-up offense of first-year coach Steve Addazio, Williams became the first 2,000-yard back in the FBS in six seasons. He's on plenty of Heisman ballots now.
Week 13 Impact Performances
GameDay crew final thoughts
RECE DAVIS
One of the most remarkable things about teams that compete for championships consistently is the ability to avoid meltdowns under pressure. It happens to every team from time to time, but Baylor crumbled in the face of pressure in a big game for the Bears. I think that in a different way, Oregon crumbled under pressure -- some of it self-imposed by a couple of players saying they weren't interested in the Rose Bowl -- and the Ducks didn't stay focused on the task at hand.
It's remarkable the teams that can stay focused on the task at hand and not give in, particularly the teams that haven't been there before. I was particularly impressed with Missouri. Ole Miss is a dangerous team and the game was in a hostile environment, a night game on the road with some pressure trying to win out knowing that South Carolina is waiting for a stumble. And I thought the Tigers performed admirably and really played well.
While Johnny Manziel's performance against LSU was the worst of his career -- and frankly by far the worst I've ever seen from him -- and he probably played his way out of the Heisman race this year, it doesn't change the fact that he's the best player in the country. I don't think it would be crazy for people to vote for him, but sometimes you have to balance the subjectivity with a bit of objectivity in terms of performance in big games. The fact of the matter is as brilliant as Manziel has been, in each of the Aggies' losses he has made critical errors. That is compounded by the fact that he has to overcome the poor Aggies defense, but if you're going to win the Heisman two times on a non-championship team, you need to rise above that. Given my choice of any college player, he's the one I'd build by team around, but he didn't stack up Saturday.
Helmet stickers go to ...
• QB Clint Chelf, Oklahoma State
• RB Ka'Deem Carey, Arizona
MARK MAY
The pressure of November is definitely evident, particularly at the end of the month when you get into major conference games. Baylor had an opportunity to do something, and it didn't. Arizona State did, and it's going to be playing in the Pac-12 championship. Heck of a year by the Arizona State coaching staff; Taylor Kelly and the offense did a great job.
Oklahoma State was dominant in every facet of the game. It was surprising, given the way that Baylor has played this entire season, that it would get shut down offensively like it did. No one previously had been able to slow the Bears down.
LSU defensive coordinator John Chavis has Johnny Manziel's number for some reason. The last two years that defense has contained him. His worst two games have been against LSU, and he just can't get over the hump against that team.
For Alabama and Florida State, they did what they had to do, taking care of business to remain Nos. 1 and 3. So did Ohio State, which will stay in third with Baylor's loss. All won impressively, as they should have.
As for the Heisman race, everybody is playing their way out of the race. Andre Williams is the only player who has played his way into the race, with nearly 900 rushing yards over the last three weeks.
Helmet stickers go to ...
• QB Kevin Ellison, Georgia Southern
• DE Aaron Donald, Pitt
LOU HOLTZ
During the season, crazy things happen. How in the world did Utah beat Stanford, West Virginia beat Oklahoma State and Tennessee beat South Carolina? It goes on and on.
The Heisman race, instead of dwindling down, is becoming more wide open. Three Heisman hopefuls -- Manziel, Marcus Mariota and Bryce Petty -- had very bad days while their teams lost decisively. At the beginning of the year, everybody was talking about Teddy Bridgewater and Manziel, but nobody thought that Jameis Winston would be the leading candidate. I think that AJ McCarron has had an outstanding year.
Now we come down to games that determine the championship. Auburn-Alabama, Missouri-Texas A&M. But we also have some great personal rivalries that always take over at this time of year. Next week is probably the best week of college football, with games from Thursday through Saturday. You have Ohio State-Michigan, a natural rivalry. You have Mississippi State-Ole Miss in the Egg Bowl, Clemson-South Carolina in a meeting of top-10 teams. Out west there's USC-UCLA. Florida-Florida State, even if the teams are heading in opposite directions, it's a great rivalry and crazy things happen.
Helmet stickers go to ...
• RB Paul Stanton Jr., Harvard
• QB Derek Carr, Fresno State
What we learned in Week 13
Click below to see what our reporters learned in each conference after the 13th weekend.
---

It may seem that Duke has a date with destiny in the ACC championship, but it still has to get through North Carolina next week to ensure itself that shot. Two ACC teams also get their chance to take down their SEC brothers next week. Clemson and Florida State are in good position to put an exclamation point on their seasons with a rivalry win. ACC
---

The Big 12 is Oklahoma State's now that it dismantled Baylor in Stillwater on Saturday. The Cowboys picked apart Baylor's vaunted offense and showed a pretty impressive unit of its own. Over in Manhattan, Kan., Kansas State's winning streak was ended by an Oklahoma team that seems to be finding its stride a little too late. Big 12
---

The Big Ten champion will either be Michigan State or Ohio State, and it's anyone's guess how that game will play out. Elsewhere in the Big Ten, three head coaches will start feeling the heat of the hot seat as soon as the walk off the field in their regular-season finales next week. Big Ten
---

It might not have been the way Stanford wanted to win the division, but nevertheless, the Cardinal are North champions after Oregon's loss to Arizona on Saturday. The South division was also clinched this weekend when Arizona State took the distinction away from UCLA for the first time since the formation of the Pac-12. Pac-12
---

We saw an overtime win by Mississippi State over Arkansas on Saturday, a last-minute win by Vanderbilt over Tennessee and a shocking win by FCS team Georgia Southern over traditional power Florida. In short, it was just another wacky Saturday in the SEC. SEC
Helmet stickers for Week 13
Every week our reporters will hand out helmet stickers to the week's top players, coaches, teams or anything else worth this honor.
• ACC: Anthony Boone, UNC offense, Miami defense
More ACC stickers
• Big 12: Brennan Clay, James Castleman, Grant Rohach
More Big 12 stickers
• Big Ten: Chris Borland, Steve Hull, Anthony Hitchens
More Big Ten stickers
• Pac-12: Ty Montgomery, Connor Halliday, Javorius Allen
More Pac-12 stickers
• SEC: John Chavis, Jordan Matthews, Missouri's run game
More SEC stickers
Photos from Week 13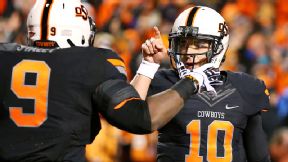 Ronald Martinez/Getty Images
Take a tour around the country and check out the best images from Week 13 in college football. Best of Week 13

Social media recap
For a recap of Saturday's best college football tweets, pictures, videos, statistical factoids and more, visit this week's Campus Connection.