Coaching rumors, bowl implications headline Week 11
Situation Room: Rumors and losses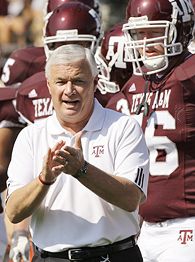 AP Photo/David J. Phillip
Dennis Franchione has been hit with questions about his future at Texas A&M.
How to deal with coaching rumors
By Bill Curry, ESPN.com
I've written about this topic before, but there are now three seasons to college football: recruiting, which goes on 365 days a year; the regular season; and the third is something I call "off with his head." The latter, in many ways, may be the most popular. We no longer have public executions in our society; we've substituted the verbal trashing and firing of coaches for the physical reality. There's a lynch-mob mentality that forms. When I was coaching, I received death threats, my family received death threats, my children were harassed at school. I'm not complaining or bragging -- these are facts. When a coach's job is in jeopardy, he has two very serious decisions to make: how he's going to handle the situation on and off the field. In both cases, he must be true to his principles. He can't blame the players. He can't make excuses. He has to show his team that he's going to work hard as long as he's at the school. And coaches can't act like they didn't know it was part of the business. The interesting, and perhaps overlooked, aspect of the coach's reaction is who is watching. A player I coached 12 years ago reached out to me this year and told me that he didn't start listening to what I said until I was in danger of losing my job. When you get into trouble, the players are going to watch you and see if you can live up to what you've preached. There's no denying it's hard. You do get down, but you cannot stay down. That's one of college football's greatest life lessons -- and it's a priceless lesson for young people.
By Bob Davie, ESPN.com
I think most fans would be surprised by how resilient and how focused coaches are during the season, regardless of what situation they are in. I was in that situation when I coached at Notre Dame. We traveled to Purdue for the last game of the season, and when I got to my hotel room the night before and turned on ESPN, it was reported that I was already gone. It was news to me. Fifteen minutes later, we were having a team meeting to honor the seniors and I knew the players saw it too, although no one talked about it. And we went in and beat Purdue the next day, in a hard-fought game. As a coach, you just have to keep grinding, and whatever happens, happens. The people who bear the brunt of all the criticism and questions are your family. Coaches are able to shut all of the other stuff out and focus on the players and winning. It's almost a bunker mentality. There's no question that all of the rumors affect the players, especially the freshmen and sophomores. And honestly, not every player is happy on every team -- there can only be so many starters. For other players, the rumors might motivate them, because they think they can save the coach's job. Divisions in the locker room can form between players who want the coach to stay and others ready for him to go. It's another distraction for a team already experiencing a difficult season. Many coaches have to deal with these rumors year in and year out. Although the coach still has his job, the rumors take their toll. When a coaching staff is facing instability, it can affect morale in the offseason. Everything you do in the offseason is dictated by how your team did the year before -- and it's made harder when you're fighting for your job. It's hard to live that way, no matter how much money you're making -- and that's sometimes lost on fans. Peace of mind, stability, having people feel good about the job you're doing -- these elements mean more than a salary. Coaches care deeply and work extremely hard for their jobs, their players, their families.
How to deal with the end of an undefeated season
By Bob Davie, ESPN.com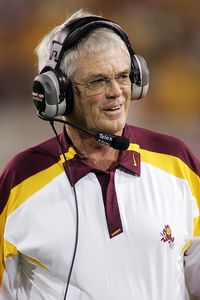 Rick Scuteri/US Presswire
Dennis Erickson's team is no longer underfeated, but still has a chance at a BCS bowl.
Teams that go the majority of the season undefeated before experiencing their first loss might appear fragile to fans and people who evaluate them, but for the coaches of the teams, the team is what it is. There was a reason it went undefeated for so long, so there isn't cause for panic. Yes, there's a tendency for those teams to drop in the polls, but it isn't cause for overreaction from the coach. In a way, it's easier for programs like Boston College and Arizona State to bounce back from their first losses and continue competing than it can be at places like Ohio State, LSU and Oklahoma. At traditional powers, the mind-set at the beginning of the season is BCS or bust. When that's taken away, there can be more mental drop off. Not always, of course. But for the Eagles and Sun Devils, who may not have expected such a fast start to the season, they still have everything in front of them: conference championships, BCS bowls, etc. At the end of the day, these schools are still 8-1, which is great. They're still living the dream.
By Bill Curry, ESPN.com
The philosophical approach is to teach your players to get up one more time, to not feel sorry for themselves and to focus on the next class, the next play, and the next challenge. We live in a culture that treats a single loss as if it were a tragedy. In life and in football, losses are inevitable. But the reality is some players are going to be crushed -- maybe even the coaches. But losses are inevitable. You only have to look as far back as 2006 to see that one loss doesn't ruin a team's season -- provided it rebounds from that loss. It may not even cost a championship. The Florida Gators lost to Auburn, but bounced back to win a national championship. What's important is how you respond to adversity. No excuses, keep working, keep fighting, stay positive, and you will eventually win, one way or the other.
Breaking Down The Games
By Jim Donnan, ESPN.com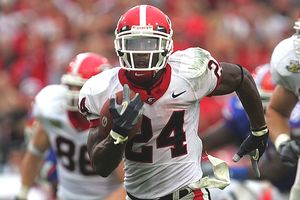 Ronald Martinez/Getty Images
Georgia's Knowshon Moreno has made an immediate impact in his freshman season.
Auburn at Georgia
Georgia is calling for a "black out" of the stadium on Saturday, but one of the oddities of this long-running series is that the road team usually wins. In fact, Auburn has won 10 of the last 12 meetings in Athens. How can the Dawgs counter history? By relying heavily on their running game. After gaining just 69 yards on the ground against Tennessee, Georgia has been hard to stop -- most recently posting a 240-yard rushing performance against Troy last week. Of course, much of the credit for that improvement goes to bruising freshman back
Knowshon Moreno
, who is third in the SEC in rushing yards (111.4 YPG). Moreno has helped cut down the number of second- and third-and-longs for quarterback
Matthew Stafford
and the offense. Auburn's rushing defense should provide more of a test than Troy's -- the Tigers rank in the top 25 in every defensive category and held Arkansas'
Darren McFadden
to a measly 43 yards and zero touchdowns. Georgia's defense will have to find a way to contain Auburn QB
Brandon Cox
, who has become much more efficient as the season has worn on. The Tigers are a very physical team and it will be up to Georgia to stop the big plays and make Auburn work. This game has a lot of significance from a BCS perspective; both teams are vying to be the SEC's second representative in the bowls. The team that loses this game is out of the running.
Illinois at Ohio State
(ABC, 3:30 p.m. ET)
The Buckeyes are playing at such a high level of efficiency on offense and their defense is so good, it's hard for any team to keep up with them. That said, Illinois will show a different attack, similar to Washington. The major question for the Illini is how
Juice Williams
operates. If he takes care of the ball and gets any kind of passing game established, Illinois can stay in the game. It will be interesting to see how Ohio State's all-everything LB James Laurinaitis does against the spread. On defense, Illinois will have to try to find a way to contain Ohio State's explosive RB
Chris Wells
. Wisconsin tried last week, but he was still able to get a few big runs in, finishing with 169 yards and three scores. With
Todd Boeckman
,
Brian Robiskie
,
Brian Hartline
and Wells, there's no denying Ohio State's offense is formidable. But the key to its success this season will be staying out of its own way. We've already seen a number of top teams make critical mistakes and lose, or nearly lose, games they could have easily won. With a big game against Michigan looming, the Buckeyes will have to be careful not to get caught looking ahead.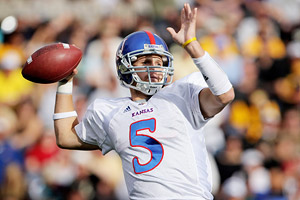 Doug Pensinger/Getty Images
Todd Reesing has managed Kansas' offense efficiently.
Kansas at Oklahoma State
(ABC, 8 p.m. ET)
After suffering a heartbreaking loss to Texas last week, how will Oklahoma State bounce back? The Cowboys have all of the elements to upset the undefeated Jayhawks on Saturday, but whether they can put them all together is in question. One area of concern for Kansas has to be its defense; Nebraska racked up 484 yards of offense last week. Granted, when your offense has the ability to score 76 points, it's not a major concern, but it's certainly an area the Cowboys will look to exploit.
Zac Robinson
has done a great job at quarterback for the Cowboys, and he has been helped by Oklahoma State's other offensive weapons, especially RB
Dantrell Savage
and WR
Adarius Bowman
. They'll have to keep up with Kansas' high-scoring offense, led by the unheralded
Todd Reesing
. This game will be an important test for Kansas, because a win would pave the way for the Jayhawks to enter their Nov. 24 date with Missouri with an 11-0 record.
Indiana at Northwestern
(ESPN Classic, noon ET)
This game may not have conference or national title implications, but it's worth watching to appreciate the accomplishments of Northwestern coach Pat Fitzgerald and Indiana coach Bill Lynch. Both teams suffered devastating losses: Northwestern lost coach Randy Walker in 2006, while Indiana coach Terry Hoeppner passed away in July. I really admire the job Fitzgerald and Lynch have done in getting their players to rally around the memory of the late coaches. Both coaches have continued to build within the framework that Walker and Hoeppner provided, and are having well-deserved success: Indiana is bowl-eligible for the first time in a dozen years and Northwestern is a win away from becoming bowl-eligible. It's a real tribute to the schools' late coaches and the programs they were building.
What To Watch
By Rod Gilmore, ESPN.com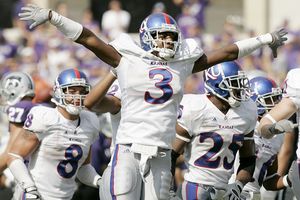 AP Photo/Charlie Riedel
Can Aqib Talib keep Adarius Bowman in check?
Here are a few players, coaches, teams and story lines to watch for in Week 11:
• The quarterback matchup between Kansas'
Todd Reesing
and Oklahoma State's
Zac Robinson
might get all of the attention, but I'll be watching to see how Cowboys WR
Adarius Bowman
does against the Jayhawks' ball hawk, CB Aqib Talib. Both players are NFL prospects, and Talib makes a difference on both sides of the ball. • How will the Tommy Tuberville-to-Texas A&M rumors affect Auburn? You know players and recruits are talking about it, especially with such a young team. It will be interesting to see how the Tigers handle the distraction. In Auburn-Georgia, make sure to check out both teams' offensive lines -- they're two of the best young lines in the SEC. Auburn is starting three freshmen, while Georgia has two freshmen and a sophomore in its starting lineup. They're both going to be good for a while. • Can UCLA actually field a team? With so many injuries -- the Bruins are down to their fourth-string quarterback, a converted wide receiver -- will the team be able to challenge the Sun Devils (
ABC, 3:30 p.m. ET
)? Arizona State quarterback
Rudy Carpenter
is due for a big game against UCLA. He grew up in the area and originally committed to the Bruins, but changed his mind and hasn't yet beaten them. Karl Dorrell's job security is the topic for speculation on the West Coast, but the strange situation UCLA finds itself in is that if it wins out -- a big if -- it still has a shot at the Rose Bowl. That's how crazy this season has been. • Will Michigan get caught looking ahead?
Chad Henne
and Mike Hart are slowly recovering from injuries and WRs
Mario Manningham
and
Adrian Arrington
have stepped up their play in recent weeks, making Henne's and Hart's jobs easier. Wisconsin has been hit hard by the injury bug as well, and losses in the secondary won't help the Badgers contain Michigan. Wisconsin desperately needs
P.J. Hill
back on the field, but it's questionable whether he'll be able to go on Saturday (
ESPN, noon ET
). Wisconsin can't win this game if it continues to turn the ball over as frequently as it has this season. • Will Notre Dame kick a field goal? Charlie Weis made the controversial call not to kick a field goal at the end of regulation against Navy. Weis has to realize the college game is different from the pros; you can't show a lack of confidence in your kicker because you can't release them at the end of the season. If you cut the kicker, you have to recruit a new one.
Viewer's Guide
(All times ET)
Saturday:
10 a.m.:
"
College GameDay
" from Williamstown, Mass. (ESPN)
Noon:
Michigan at Wisconsin (ESPN)
Wake Forest at Clemson (ESPN2)
Indiana at Northwestern (ESPN Classic)
3:30 p.m.:
Illinois at Ohio State (ABC)
Arizona State at UCLA (ABC)
Florida State at Virginia Tech (ABC)
Connecticut at Cincinnati (ESPNU)
Texas Tech at Texas (ABC)
7:45 p.m.:
Florida at South Carolina (ESPN)
8 p.m.:
Kansas at Oklahoma State (ABC)
Boston College at Maryland (ABC)
USC at California (ABC)
11 p.m.:
Fresno State at Hawaii (ESPN2) •
College football schedule
|
ESPN GamePlan
•
Coverage maps:
3:30 p.m. ET
|
8 p.m. ET
Three-Point Stance
By Ivan Maisel, ESPN.com

1. As the wall of silence crumbles around Reggie Bush's junior year adrift from the NCAA Manual, keep in mind that USC will not be held liable by the NCAA for any violations unless the NCAA discovers the athletic administration, including the coaching staff, knew about any extra benefits Bush may have received and did nothing. That's what set Alabama down the road to perdition in the mid-1990s.

2. A Kansas victory at Oklahoma State would be the Jayhawks' 10th straight, the first winning streak of that length since 1909. The Jayhawks already have sold out 79,000-seat Arrowhead Stadium in Kansas City for the showdown with Missouri on Nov. 24. Both impressive, but how about this? Hoop coach Bill Self's preseason news conference a couple of weeks ago drew fewer TV cameras and notepads than Mark Mangino draws. At Kansas.

3. No. 7 West Virginia and No. 20 Boise State are having the same season. Both teams suffered road losses in September. Both teams have won every game since. Both teams are sailing through their schedule without attracting any attention regarding either a BCS Championship Game berth (Mountaineers) or a BCS berth (Broncos). Yet something tells me both teams will butt their way into the conversation before it concludes.
Coach's Corner
By Jim Donnan, ESPN.com
The use of a hybrid tight end is one of the most recent offensive evolutions. Oklahoma, USC, Missouri, Texas, Wisconsin and Texas A&M are some of the many who are using hybrid tight ends to get an advantage on offense. The goal in using the tight end is to create a mismatch. Here are a few ways in which teams can do that: 1. Make the TE a single receiver on the back side of the formation. This forces the corners to cover the wide receivers, leaving a safety to cover the tight end. Teams can exploit the mismatch by running a choice route, depending on the alignment of the safety. If the defender is inside, the TE can run a flag route. If the corner is playing a deep third, the TE can go between go between on a skinny post or hook up.

Gresham
2. Flex/split the TE out to the formation side in between the flanker and the line of scrimmage (putting the TE in the slot). The TE runs a read route, depending on coverage. If it's a two-deep break between the safeties, the TE can split the middle of the field and get a dump pass over the middle. If the safety is in three-deep, the TE can hook up in the middle. 3. Have the TE run shorter routes, which influences the coverage on the wide receivers. The TE runs a shallow cross, depending on the weakside coverage. If the backer gets deep, the TE hooks between the linebacker and the corner. If man, the TE continues to run the full-speed cross. In combo coverage, the TE can run a zig route off the shallow cross, changing direction and coming back to the line. In zone coverage, he'd settle there instead of returning to the line. 4. The most obvious use of the TE when looking to make first downs and control the ball is the option route, which is based on coverage. The TE has a few choices. In man, if the defender is playing outside, he can stem the guy up and take whatever space he's giving. If he's outside, the TE breaks inside. If he's inside on man coverage, the TE breaks outside. If the TE can get a head up on him, he can break either way. When in doubt in man coverage, break toward the grass. In pure zone, the TE settles down, 6-9 yards deep between the backers. All of these are functions of teams getting better, continuing to develop talent and use athletic guys to control the ball, make big plays and pick up yards after the catch. The use of the hybrid tight end has become a premium part of college football. The ability to put the tight end in motion -- especially in the red zone -- helps an offense find out what defense a team is running and put an extra blocker at the point of attack. It makes already powerful offenses much more dangerous.
Craig James on UConn
Beano's Cookin' on Oregon
Fan Feedback
By Jim Donnan, ESPN.com
Each week, I'll propose a rule change I think would benefit college football. Sound off on the Conversation page and let me know what you'd like to see changed.
The introduction of overtime in college football has been tremendous. Forcing teams to go for two after two overtime periods was another good decision. But I'd like to see a rule change that has teams start out at the 40-yard line so field goals are no longer automatic. What do you think, SportsNation?
Coach Holtz on Oklahoma State
Todd McShay: Senior Sackers
By The Numbers
By ESPN Research

• It's not exactly Barry Bonds breaking Hank Aaron's home run record, but Colt Brennan could write a fairly significant piece of college football history on Saturday night (or Sunday morning) by breaking Ty Detmer's major college record for career TD passes (121). Brennan enters this week's game against Fresno State with 119 and has thrown at least three TD passes in 16 of his last 19 games.

• How bad has it gotten for Notre Dame? The Irish are a home underdog against Air Force this week. They are winless at Notre Dame Stadium this season (0-5), and that five-game skid is already the longest home losing streak in program history. If ND loses to Air Force, this will be the first nine-loss season for the Irish, and it will be the first time since 1944 (Army and Navy) they've lost to two service academies in the same season.

• Kansas has surpassed the 50-point mark a school-record five times already this season. Remarkably, that's more than the previous 10 seasons combined (three times from '97-06).

• Why can't Oklahoma seem to hold onto the football? A year after tying with lowly New Mexico State for the most fumbles lost (22) in the country, the Sooners have lost 10 more this season, which ties them for 86th nationally. Iowa State and Nebraska are the only Big 12 teams to lose more fumbles (11).

• Beware BC: In a season filled with top-10 upsets, an unusual pattern has developed that Boston College hopes will not continue this week. Florida, South Florida, Michigan, Penn State, Louisville, California, Wisconsin, Texas and Rutgers all lost as Top 10 teams, only to lose their very next game as well, suffering a two-game slide. Boston College suffered its first defeat last week.