Defenses rule in Baton Rouge; QB questions linger nationally
Coach Class: Virginia Tech-LSU
ESPN The Magazine
It doesn't take much hyperbole to make a case for what a monster game Virginia Tech at LSU will be this weekend. Both are ranked in the top 10, with legit BCS title aspirations. Both rosters are littered with future NFL players. And both play some serious defense -- in their openers, the two teams gave up a combined seven points. Can either offense break through? We put that question to our coaches, Bill Curry and Mike Gottfried, and asked them to draw up game plans for both teams. Then Jim Donnan picked a winner. On paper, anyway.
Bill Curry takes over LSU
I'd go right after Virginia Tech. This would be
Jacob Hester
's football game. LSU's senior fullback is a hard-nosed bruiser who hammers the line and pushes on through. I'd put him in two-back sets with
Keiland Williams
, but sometimes use Hester as the only back, too. He needs to get 20 carries and run straight at outstanding linebackers Xavier Adibi and Vince Hall. We'd call some misdirection runs, but Adibi and Hall go sideline-to-sideline so well that I'd minimize the number of horizontal plays. QB
Matt Flynn
is better in a controlled passing game, making play-action throws. I'd plow Hester through the line, then go play-action deep to WR
Early Doucet
. On defense, I'd focus on stuffing
Branden Ore
, who didn't play well in the opener, and making QB
Sean Glennon
beat us. We'd use eight-man fronts, with very little blitzing. DT Glenn Dorsey creates such mayhem against both the run and pass that he'll be a nightmare for Virginia Tech's offensive line. Glennon is a decent quarterback, especially on touch passes, but decent won't beat LSU. Cornerbacks Jonathan Zenon and Chevis Jackson can man cover Va. Tech's wideouts,
Josh Morgan
and
Eddie Royal
. Va. Tech has three good tight ends, and sophomore
Sam Wheeler
is the best of the bunch. I'd be more concerned with Wheeler than the Hokies' wideouts. He's that good. In a tight defensive struggle, Royal can be a game-changing return man. I'd harp on lane integrity with extra cone drills that emphasize that my cover guys have to contain Royal -- I'd tell them they can either stay in their lanes or stay on the sidelines. I don't expect a squeaker, because LSU is just too good all over the place.
For the full story, click here

.
Media training
By Bill Curry, ESPN analyst
This week, we saw two very different situations arise with two young quarterbacks -- and each one serves as a reminder of the psychological game planning coaches must do, in addition to the X's and O's.
In Texas, sophomore quarterback Colt McCoy told the San Antonio Express-News, "TCU doesn't scare me at all. They shouldn't. They're another football team, they're coming to our place. We've just got to handle it."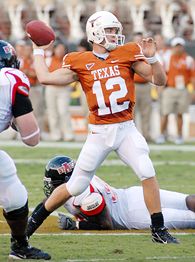 Jim Rogash/WireImage.com
Colt McCoy will be tested by TCU's vaunted defense.
I had a chance to see McCoy play in Texas' 2006 Alamo Bowl win against Iowa. He showed he is a marvelous quarterback. But here's the problem, and I'm sure coach Mack Brown is aware of it: McCoy is mad. He's angry at his team for not focusing last week. And he's right -- Texas didn't play well in its season opener against Arkansas State. The Horns were one touchdown away from becoming the Michigan of the Southwest -- except that Arkansas State was a bigger underdog than Appalachian State.
I believe McCoy when he says he's not scared, though most times opponents who shoot their mouths off are often afraid. McCoy's comments may have been meant to motivate his teammates, but they weren't the only ones listening. Instead of coming out and saying that he respects TCU, he gave the Frogs even more ammunition.
TCU eats fearful opponents alive. Coach Garry Patterson knows what he's doing. The Horned Frogs have won their last five games against Big 12 foes. Brown's challenge this week will be to get his team to understand how hard this game is going to be.
Another young quarterback has been thrust into the spotlight in Washington, where Huskies signal-caller Jake Locker was deemed the "savior" of the program -- before he had even thrown a pass in college. His first game -- a 42-12 dismantling of Syracuse -- may have been the worst thing that could have happened to him and the team. He's already revered in Washington, and he has played in a grand total of one game.
This young man -- who appears to be smart, tough and a wonderful person -- is just 19. No one can handle the savior moniker at that age. Coach Tyrone Willingham knows this, and will do everything he can to stem the tide of public opinion. I hope for Locker and Willingham that this attention isn't totally destructive.
There are a few phrases that almost always precede a brutal stretch, and "savior" and "best of all time" are among the deadliest. When I played with the Baltimore Colts, we heard that phrase a few times before Super Bowl III. A few guys may have believed it. The underdog New York Jets' 16-7 win in that Super Bowl is known as one of the greatest upsets of all time.
What do coaches need to do in these situations? Call their team together and remind them of the tremendous amount of hard work needed every day to win. I know both Brown and Willingham will address these issues with their teams. Whether the teams will buy into what they say will be interesting to watch in Week 2.
Coach's Corner
By Jim Donnan, ESPN analyst
What happened to Michigan? That's the question on everyone's mind. There were two fundamental issues that the Wolverines struggled with in Week 1: extra-point and field-goal protection, and defending the spread offense. Here's what went wrong -- and what teams can do to learn from Michigan's mistakes: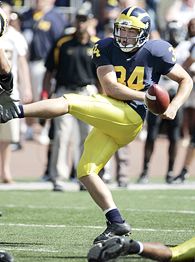 AP Photo/Duane Burleson
Corey Lynch blocked this fourth-quarter FG attempt by Jason Gingell.
Extra-point and field-goal protection:
1. Timing is everything. Protection works from the inside out, and any outside rush is going to be discouraged by kicking the ball on time. The kicker has to start his movement when the center's hands move, not when the ball is already down. In the case of the Appalachian State game, the kick was too slow and the Mountaineers were allowed to penetrate inside.
2. Fundamental footwork. Linemen must take a step with their inside foot (planting their outside foot) and hold high and tight to stop inside penetration. Wings, on the other hand, have to plant their inside foot and jab step to the outside. In Michigan's second blocked kick, one of the wings didn't plan that foot, opening up an inside lane and thereby breaking the chain.
Defending the spread offense:
The spread offense has become this generation's wishbone: It's a system that relies on position players' ability to read defenses and it takes pressure off the offensive line. It helps equalize the talent disparity among teams. The spread offense puts everyone in space and eliminates a lot of the pressure that quicker or more physical defenses can use. In essence, it's basketball on grass. It creates one-on-one matchups and eliminates a lot of the defensive pressure that confined formations face.
Michigan has struggled against versions of the spread offense in its last three games (Ohio State, USC and Appalachian State). Although USC doesn't run a traditional spread offense, the Trojans' vertical game spreads the field out similarly. Mobile quarterbacks like Troy Smith and Armanti Edwards were able to take advantage of Michigan's defensive weaknesses by evading four- and five-man pressure and by denying vertical pressure with their elusiveness. That puts a tremendous amount of responsibility on your perimeter defense.
And because a team will often employ four or five wideouts who can alter their routes on each play based on what the defense is doing, the field is spread out, which makes it easier to protect the QB and give him enough time to make a solid pass.
The combination of all these elements -- mobile QB, wide formation, ability to protect the quarterback, receivers reading defenses -- puts tremendous pressure on a defense. Defensive coordinators must be able to line their units up in more than one defensive front and throw everything at the offense. They must also be able to play in space. When your unit is stretched, you can't play conventional defense.
Week 2 Game Plan
By Jim Donnan, ESPN analyst
TCU's defense vs. Texas' offense
The Horned Frogs' defense utilizes a lot of different looks on defense and pressures off the edge. They are certainly strong enough to match up with the Horns at the line of scrimmage, but can they match up with Texas' receivers in the secondary? In 2005, TCU beat Oklahoma and held the Sooners to just 10 points. Coach Gary Patterson is one of the few head coaches who runs his defense, and he does a good job of scheming. That said, the Frogs weren't able to pressure Baylor as well as I thought they would, and they'll have to pressure Colt McCoy more to get past this talented Texas team. It's a statement game for TCU, and one that could establish it as a national contender.
Scouts' take: TCU-Texas

Washington vs. its schedule
The Huskies eased freshman Jake Locker into college football with a laugher against Syracuse in Week 1. Things get much tougher from here: This week, Washington plays host to No. 22 Boise State. Then No. 12 Ohio State comes calling. Then the Huskies go on the road to No. 13 UCLA. That three-week stretch is capped off by the grandaddy of 'em all: a visit from No. 1 USC. Washington's fans are juiced about their new quarterback (and Tyrone Willingham's most-talented UW team so far) but even a significantly improved squad would struggle against that murder's row. And it's not like the Huskies have a cream-puff schedule for the remainder of the season -- they finish with games against Cal and Hawaii.
South Carolina's offense vs. Georgia's D
South Carolina has lost eight of its last 10 games against Georgia, including five straight. Although both teams have heated in-state rivalries, this is a border-war-type game that means a lot in terms of conference standings. The question looming: Can South Carolina protect quarterback Blake Mitchell and give him enough time to find his receivers? Georgia's defense is young, but what it lacks in experience it makes up for in speed and its ability to swarm the ball. Mitchell was suspended for Week 1, so it will be interesting to see how long it takes him to adapt to game speed. South Carolina's defense is better than Oklahoma State's, and its defense is much improved over the 2006 version. Coach Steve Spurrier was forced to employ a chuck-and-duck offense in his first two seasons while relying on special teams to carry the load. If the offense makes the improvement Spurrier thinks it has made, this will be a tight game -- with the edge going to Georgia playing at home.
Scouts' take: South Carolina-Georgia

USF's Matt Grothe vs. Auburn's Brandon Cox
You can't accuse either of these teams of scheduling soft nonconference opponents. Although South Florida's Div. I-A history is relatively short, coach Jim Leavitt has done a remarkable job bringing in talented players. Sophomore QB Matt Grothe is an outstanding football player who brings a balance to the Bulls' offense. Cox is returning from an injury-plagued 2006 season and needs to start putting points on the board. He did well in Week 1, directing a Tigers comeback against a good Kansas State team. Although Auburn struggled a bit in that game, Cox didn't panic and made the plays he needed to make in the fourth quarter. This will be a tough test for both teams.


Viewer's guide
(All times eastern.)
Friday:
7 p.m.:
Navy at Rutgers (ESPN)
Saturday:
10 a.m.:
GameDay
from Baton Rouge (ESPN)
11 a.m.:
West Virginia at Marshall (ESPN2)
Noon:
Miami at Oklahoma (ABC)
Nebraska at Wake Forest (ESPN)
1:30 p.m.:
Samford at Georgia Tech (ESPNU)
2:30 p.m.:
NC State at Boston College (ESPN2)
3:30 p.m.:
Oregon at Michigan (ABC)
5:45 p.m.:
South Carolina at Georgia (ESPN2)
6 p.m.:
Notre Dame at Penn State (ESPN)
9 p.m.:
South Florida at Auburn (ESPN2)
9:15 p.m.:
Virginia Tech at LSU (ESPN)
•
ABC/ESPN networks sked
Week 2's questions
By Bob Davie, ESPN analyst
Here are the three biggest questions I have entering the weekend:
1. How will Michigan and Notre Dame react?
The Wolverines and Irish are already backed into a corner -- and it's only the second week of the season. It will be interesting to see how Michigan plays against Oregon and how ND plays against Penn State. I think both teams will surprise people by how well they respond. You have to experience just how uncomfortable this week has been for Michigan and Notre Dame to understand just how hungry they will be. I think both squads will play their best football Saturday -- there is too much pride and tradition on the line to let it fall apart early in the year.
Michigan needs to defend the spread offense better -- which will be difficult to do, since the Wolverines had six months to prep for Appalachian State and just one week for Oregon. Michigan also needs to solve its special teams problems. It was a good move by Charlie Weis to decide on a quarterback (freshman
Jimmy Clausen
) early in the week, so the Irish can practice what they're going to do in the game Saturday.
2. Can TCU beat Texas in Austin?
This is my upset pick of the week. TCU is an outstanding defensive football team. Having coached in Texas, I know what an opportunity this is for the Horned Frogs. TCU's roster is full of players who weren't recruited by Texas or Texas A&M, and because of that, they have a chip-on-their-shoulder mentality. There are enough talented high school players in Texas to field a very strong TCU team, and that mind-set might give the Frogs an edge. They'll be licking their chops at the chance.
3. Will Clemson save itself from itself?
The Tigers certainly have talent. Offensively, the running back tandem of James Davis and C.J. Spiller is among the best in the country, and quarterback Cullen Harper looked great in his debut. But the Tigers have collapsed in years' past, and they don't look immune this season, if Week 1's comeback by Florida State was any indication.
James on quarterbacks
ESPNU weekend preview
What to watch in Week 2
By Jim Donnan, ESPN analyst
1. Michigan: Can the Wolverines get rid of the distraction of Week 1? Lloyd Carr has to convince his team that it can still meet its goals. Michigan has a chance to win its conference and prove its capable of not giving up.
2. Jimmy Clausen. The Irish's true freshman QB gives Notre Dame the best chance to win. But will they win?
3. Tennessee's rush defense. I was surprised by how many rushing yards the Vols gave up (230). Southern Miss running back Damion Fletcher is outstanding and will challenge Tennessee's D. What was once a trap game between Cal and Florida is now a must-win situation.
4. Virginia Tech's offensive line. East Carolina pressured the Hokies more than I expected. Can Virginia Tech strengthen its line before LSU?
5. Florida's offense. The Gators ran a form of Urban Meyer's spread attack with Chris Leak, but no one fits that style of offense better than Tim Tebow. He give the team an effective passing game and a mobile quarterback -- not unlike West Virginia's Pat White. As Mountaineers' opponents have learned, it's hard to account for a running quarterback and everybody else. Look for Florida's offense to make quantum leaps this season.
Herbstreit's Top Five
Holtz on Michigan
By the numbers
By ESPN Research
317-39: Michigan was one of seven ranked teams last week to face a Division I-AA opponent. The other six (Florida, Louisville, Ohio State, Hawaii, Boise State and Texas A&M) won by a combined score of 317-39 (53-7 average). No. 21 Georgia Tech is the only ranked team playing a I-AA opponent this week.
1967: We enter Week 2 without either of the two winningest programs in college football history (Michigan and Notre Dame) ranked in the Top 25, and two of the more dominant teams of the last 20 years -- Miami and Florida State -- are also out of the poll. You have to go back to October of 1967 to find the last time none of those four teams was ranked by the AP, and even that was a year when the poll consisted of only 10 teams.
14: Virginia Tech has won its first true road game of the season for 14 straight years, and over the last three seasons, the Hokies have been one of the best road teams in college football. On the other hand, LSU has won eight straight games overall and has a 13-game home winning streak.
5: Oklahoma freshman RB DeMarco Murray scored 5 rushing touchdowns on just 17 carries in Week 1, while spelling an injured Allen Patrick. The five TDs were a school record for a Sooner making his collegiate debut. Not bad for a guy listed as third on the depth chart when the Sooners broke summer camp.
17: Since Texas beat No. 1 USC in the 2006 Rose Bowl to capture the national title, the Big 12 has lost 17 straight nonconference games against ranked teams. However, Texas has won 13 of its last 14 home games against ranked opponents and is 15-2 against Top 25 teams at home under Mack Brown.
College football to go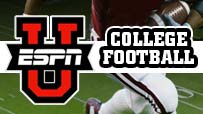 Catch up on all of the college football talk you might have missed with the ESPNU college football insider. Here are this week's offerings:
9/7: Donnan, Feldman on Week 2


9/6: Week 2 preview


9/5: Ivan, Beano talk UM, ND


9/4: Forde, Gresh on Week 1