Two-point tries, storied programs struggling and SEC showdowns
Lincoln Blocks
By Bob Davie, ESPN.com
Saturday's showdown between No. 1 USC and the No. 14 Huskers (ABC, 8 p.m. ET) will be a rematch of last season's 28-10 blowout, courtesy of the Trojans. This game, however, should be much different. First, it's in Lincoln, Neb. Second, Sam Keller has taken over as quarterback of the Huskers. Third, Nebraska coach Bill Callahan has learned from his mistakes and is sure to play less conservatively.
Stephen Dunn /Getty Images
Sam Keller's second half against USC when he played for ASU wasn't memorable. Will Saturday's game provide redemption for the senior?
This game should provide insight into how far Nebraska has come since its loss at USC. In 2006, it appeared that the Huskers were playing to keep the game close -- not to win the game. With Keller running the offense, Nebraska has a new confidence on that side of the ball -- which is important, because they're going to need a big game out of him. You can't line up and run the ball on USC, so Keller will have to stretch the field and make the big plays to keep Nebraska in the game. Pass protection will be key, as Pete Carroll always is going to bring a good blitz package.
Nebraska's defense also will have to contain USC QB John David Booty. He's a consistent passer but will be pressured by the Huskers' stout defense. USC wasn't all that impressive in Week 1 against Idaho and was off in Week 2, so it's hard to say how strong USC is right now. Does USC even know? It's almost as if this is the Trojans' first game. Unlike most teams, USC's weaknesses haven't been exposed. That could change Saturday.
Pressure Point: Notre Dame vs. Michigan
By Bob Davie, ESPN.com
It's not often that you want to be the visiting team, but I don't think either Notre Dame or Michigan (
Saturday, ABC, 3:30 p.m. ET
) wants to play at home right now. I've been on the sidelines at Notre Dame when things aren't going the way you'd like them to -- I don't think anyone who hasn't been a coach or a player in that situation can appreciate the pressure placed on you. The environment totally changes; it becomes a what-can-go-wrong-next atmosphere. Fans convey that, and it permeates through the stadium.
Greg Trott/WireImage.com
The pressure is on Mike Hart to power Michigan's offense.
You could see the toll it was taking on the Michigan players during the Sept. 8 loss to Oregon. They looked tired, like the weight of the world was on their backs. Physically and emotionally, the Wolverines are exhausted. When they take the field, they're not just playing the opposing team -- they're fighting all 100,000 people in the stadium as well.
Unlike the two previous games against Appalachian State and Oregon -- opponents who were having fun on the field -- the Wolverines face a Notre Dame team in a similar situation to their own. Although expectations weren't as high for the Irish as they were for Michigan, Notre Dame fans aren't accustomed to opening the season with consecutive blowout losses. In many ways, Michigan's struggles have taken some of the media's attention off of the Irish, who rank near the bottom of Division I-A in total offense, passing offense, rushing offense, passing efficiency, rushing defense, kickoff returns and sacks allowed.
I feel bad for the players and the coaches. Neither team is thinking about how good it's going to be if they win; they're just thinking about how bad it will be if they lose.
So what's a coach to do? First, fight your instinct. Your team is making mistakes, so you want them on the field as much as possible to correct them. But in reality, it's more important that they're fresh for the game. Michigan will try to run the ball down Notre Dame's throat. With quarterback Chad Henne out, the Wolverines will look to Mike Hart to lead the way. Notre Dame, on the other hand, will try to spread things out on offense, and although they're not a traditional spread-offense team, it's a proven way to beat Michigan.
The drama of this game is going to be unbelievable. There is a lot of pride in these institutions, and it will be interesting to see whether one of them is able to pick itself up and salvage its season, starting with this game.

Coach Class: Louisville-Kentucky
ESPN The Magazine
Kentucky hasn't beaten Louisville since 2002, losing by an average score of 40-19. But this Saturday could be the Wildcats' best shot. We asked our coaches, Bill Curry and Mike Gottfried, to draw up game plans for both teams, and a third, Jim Donnan, to pick a winner. On paper, anyway.
Curry takes over Louisville
I'm not sure what to make of the Louisville defense. There's real talent there, for sure, but the defense isn't playing well and faces a Kentucky offense that could put up 800 yards. Linebackers Malik Jackson and Lamar Myles are good players who know how to wrap up ball carriers. DE Peanut Whitehead is a massive talent. They're just not showing it right now. The Kentucky offense would scare the daylights out of me. QB Andre' Woodson has a very powerful arm and he takes care of the ball (31 TDs, seven INTs last year). RB Rafael Little is a big leaguer who can play in the NFL and runs it equally well, inside and outside. He reminds me of Brian Westbrook. I'd put Jackson in charge of stopping him. Woodson's receivers, Keenan Burton and Dicky Lyons, are both good. Lyons is a solid possession guy, and Burton is what I'd key my defense around. We have to contain him, but I'm not sure the Louisville secondary is up to the task. We have no choice but to play base defense. Woodson is too smart to trick with schemes, and Kentucky is too balanced to focus on stopping any one thing.
For the full story, click here

.
Week 3's Top Matchups
By Jim Donnan, ESPN.com
No. 10 Ohio State at Washington (ESPN, 3:30 p.m.)
This will be Ohio State's first game away from home and first test from a legitimate opponent. The Buckeyes won't have it easy; Washington always has been a tough place to play, but with a 2-0 start and a reason for hope, Huskies fans will be louder than ever. Ohio State turned the ball over five times last week against Akron and still won -- that won't happen at Washington.
UW's freshman quarterback Jake Locker has received a lion's share of attention for Washington's fast start, but his success has as much to do with the Huskies' talented O-line as it does with his play. Shutting down a team like Boise State is not an easy task, and Washington proved that it's physically capable of playing with anyone up front. However, Ohio State's defense is overwhelming, and the Buckeyes still have an edge in terms of overall talent. If they can take care of the ball, they should win. Washington is making strides to close the gap between itself and the elite teams, but will be hampered by the nation's toughest schedule this season.
For more analysis, check out Scouts Inc.'s take.

No. 22 Tennessee at No. 5 Florida (3:30 p.m. ET)
Past installments of this series have featured each team's defense -- making a mistake on offense or special teams could have decided the game. The 2007 edition looks to be different, however, as both defenses lost a lot to graduation. Defenses that pressure UT's Erik Ainge are generally successful, but he should have plenty of time to establish a passing game against the Gators. The Vols have faced a much tougher schedule to date, and that should give them an edge in this game.
However, Florida's offense is really something special. It will be interesting to see how Tim Tebow and the Gators react to Tennessee's defense, especially if they get behind. This game should be a shootout -- and whichever team punts first might lose.
For more analysis, check out Scouts Inc.'s take.

No. 16 Arkansas at Alabama (ESPN, 6:45 p.m. ET)

Arkansas might be ranked, but Alabama is the favorite. Equipped with new coach Nick Saban, the Tide will be looking for revenge for 2006's 24-23 overtime heartbreaker. Armed with a home crowd and a tough defense, Alabama could provide a tough test for Darren McFadden and Co. The Tide will stack the line to stop Arkansas' Heisman hopeful and his talented partner, Felix Jones. It will be up to QB Casey Dick to establish a passing game and keep the defense honest.
Alabama looked good in its win against Vanderbilt, but this game will be its first real test of the season. Everyone is fired up about Saban's return to the SEC, and this game would really get the team rolling.
No. 21 Boston College at No. 15 Georgia Tech (ESPN, 8 p.m. ET)
I've been impressed with the job Eagles coach Jeff Jagodzinski has done. It's not always easy to take over a program that has been winning and get the players to buy into your system. In addition, BC has weathered tests from the 2006 ACC champ Wake Forest and North Carolina State, under the direction of BC's former coach, Tom O'Brien. Jagodzinski has laid the foundation for the Eagles to have a big year. With Matt Ryan at quarterback and Steve Logan at offensive coordinator, BC is throwing the ball down the field much better.
The matchup of this game is BC's O-line versus Georgia Tech's defense. The Yellow Jackets will try to rush the passer, and it will be up to Ryan to make smart plays. Georgia Tech has the best running game in the conference -- powered by Tashard Choice -- as well as an experienced offensive line. If the Yellow Jackets can survive this test, their schedule sets up nicely: They get Clemson, Virginia Tech, Maryland and Georgia at home.
Going For Two
In Saturday's Hawaii-Louisiana Tech game, Bulldogs coach Derek Dooley had a decision to make. The game was in overtime, and Hawaii had scored and kicked the extra point in the first possession. Louisiana Tech scored on the next possession, forcing Dooley to choose between tying the game and sending it to a second overtime or going for the two-point conversion and the win. The Bulldogs went for the conversion, were stopped and lost the game.
Coaches' cheat sheet

| | | | |
| --- | --- | --- | --- |
| Ahead by | Action | Behind by | Action |
| 1 | Go for two | 1 | Kick (Time left, win or tie) |
| 2 | Kick | 2 | Go for two |
| 3 | Kick | 3 | Kick |
| 4 | Go for two | 4 | Kick (consider two -- to win with a field goal) |
| 5 | Go for two | 5 | Go for two |
| 6 | Kick | 6 | Kick |
| 7 | Kick | 7 | Kick |
| 8 | Kick | 8 | Kick |
| 9 | Kick | 9 | Kick (consider two) |
| 10 | Kick | 10 | Kick (consider two) |
| 11 | Go for two | 11 | Go for two |
| 12 | Go for two | 12 | Go for two |
| 13 | Kick | 13 | Kick |
| 14 | Kick | 14 | Kick |
That situation begs the question, as a coach, when do you go for two? We asked former coaches and ESPN analysts how they decided when to go for it:
Jim Donnan:
Every coach works off the same grid (right). For the most part, I followed the grid. But if my team was overmatched and it looked we were going to have a tough time scoring -- or the two-point conversion would put us within one score -- I'd go for it. You have to be conscious of what's happening during the game, how you're moving the ball, how their defense is playing. The relative strength of the teams is paramount. But it's still a decision everyone second-guesses.
Since my background was as an offensive coordinator, I took a similar approach in running the offense as a head coach. My teams always spent an inordinate amount of time practicing short-yardage, goal-line and two-point situations. I wanted the team to know that when we went for two, we weren't worried about percentages. We expected to make it. I wanted to instill that confidence in them, so we'd practice two-point conversion plays every day, in pads, against our defense. During the game, my team knew before they scored whether we were going for it. I never wanted to waste a time out to decide on a play. Taking a time out then is a form of weakness -- you've had all week to prepare. An additional 60 seconds is only going to help the defense.
Bob Davie:
A lot of coaches think you shouldn't consider going for two unless it's the fourth quarter -- otherwise, you'll be chasing that point for the entire game. I don't buy that. Personally, I'd do it at any time during the game, depending on two things: (1) Am I moving the ball enough, and do I have something in my scheme that I think will work; and (2) Will it get me within a field goal or touchdown of tying the game? The bottom line is you have to have some reason to think you're going to make it, and you have to have some reward for doing so. I've always believed that the psychological boost of being within a score is worth the risk you take in going for two.
Bill Curry:
A lot of coaches think it's OK to go for two early in the game, and it's almost always a mistake. I learned that the hard way. When I was coaching at Alabama, I went for two in the first half of a game against LSU and we would up losing by one.
The problem with most of the charts coaches use is that they're based on statistical analysis that assumes it's the last score of the game and you're trying to win. They don't take into account the fact that you're probably going to score again. If you score two touchdowns, the odds are better that you'll get two points from kicking two extra-points than from going for two twice. That was a hard lesson I learned thanks to one of my coaches, Homer Smith, an expert in all football matters.
Viewer's Guide
(All times eastern.)
Saturday:
10 a.m.:
College GameDay
from Lincoln (ESPN)
Noon:
Pitt at Michigan State (ESPN)
3:30 p.m.:
Notre Dame at Michigan (ABC)
Ohio State at Washington (ESPN)
Texas at UCF (ESPN2)
FIU at Miami (ESPNU)
6:45 p.m.:
Arkansas at Alabama (ESPN)
7:30 p.m.:
Louisville at Kentucky (ESPN Classic)
8 p.m.:
USC at Nebraska (ABC)
Boston College at Georgia Tech (ESPN2)
•
ABC/ESPN networks sked
|
ESPN GamePlan
Three-Point Stance
By Ivan Maisel, ESPN.com
1. After watching No. 4 West Virginia last night, I am no longer concerned that quarterback Pat White will take enough attention away from tailback Steve Slaton to deny him a clear shot at the Heisman. The reason? Freshman tailback Noel Devine (5 carries, 136 yards) will do it to Slaton before White will. On the other hand, Devine may get Slaton a national championship ring.
2. Nebraska tried pounding it at Wake Forest -- the Huskers ran Marlon Lucky on five of their first seven first-down calls -- and that didn't work. The passing game produced one touchdown, and that came in the two-minute offense. If No. 14 Nebraska is going to challenge No. 1 USC on Saturday night, the defense will have to keep the Trojans close. I don't see the Huskers surviving a shootout.
3. You have to assume that No. 16 Arkansas will pound the ball at Alabama until the Crimson Tide proves it can stop Darren McFadden and Felix Jones. Watch Alabama's No. 97, sophomore nose guard Lorenzo Washington. Coach Nick Saban switched Alabama to a 3-4 scheme because of a lack of interior linemen. Behind Washington, there's only true freshman Josh Chapman.
Question and Answer
By Bob Davie, ESPN.com
Here's what we learned in Week 2:
1. Ryan Torain is flying under the radar. Arizona State's senior running back is a guy no one is talking about -- but they will be. He has has flourished in Dennis Erickson's offense, and leads the Sun Devils with 214 yards and four touchdowns. He'll have a chance to pad his statistics against San Diego State.
2. Buffalo and Cincinnati got the job done. The Bulls racked up 42 points (and allowed just 7) against hapless Temple last week. Cincinnati hung 34 (and gave up just 3) to Pac-10 foe Oregon State. Neither win received much attention, but both were impressive in their own way. For the Bulls, it's a confidence builder. For the Bearcats, it's a statement win. Their defense is for real.
3. Penn's State's D is overrated. I love Nittany Lions D coordinator Tom Bradley, but I wasn't impressed by Penn State's play against Notre Dame. I don't think the Nittany Lions are as good as people are predicting. In fact, this could be the year that a team like Purdue comes out of nowhere to win the Big Ten.
Here's what I'll be watching for this weekend:
1. How good is Alabama's defense? The Tide looked great against Vanderbilt. It will be interesting to see how they stand up to Arkansas' assault, especially Heisman hopeful Darren McFadden.
2. Will the scoreboard survive Louisville-Kentucky? When these two high-powered offenses (and porous defenses) meet, we could have a final score that resembles something orchestrated by coaches Rick Pitino and Billy Gillispie, not Steve Kragthorpe and Rich Brooks.
Forde's Weekend Preview
Cookin' With Beano
Coach's Corner: Patriot Games
By Jim Donnan, ESPN.com
This week, the New England Patriots came under fire for videotaping the New York Jets' defensive signals. Stealing signs is nothing new. In all phases of football, spying is prevalent.
In the 1970s, I knew of a team that filmed the opposing team's offensive signal-caller prior to the game. When the teams met, the defense knew exactly what play the other team was going to run -- and how to stop it. That team was able to shut down one of the nation's best offenses.
I've heard stories of teams getting even more creative -- from sending a representative to watch an opponent's practice from the library to getting an assistant hired on a construction crew working close to an opponent's practice field. Before each team used its own wireless headsets to communicate, smaller budget teams often had to borrow equipment from the team that they were visiting. One school exploited this by tapping into the visiting team's conversations.
Although a team doesn't gain much of an advantage by stealing another team's defensive signs (there just isn't enough time to react once the D is set), knowing what an offense is going to do is a huge advantage. Expect coaches to keep finding creative ways to give their teams an edge.
Feldman Breaks Down Saturday's games
Herbstreit's Top Five
By the Numbers
By ESPN Research
200: Bobby Bowden and Joe Paterno not only lead all active major-college coaches in wins with more than 360 each, but they are also the only active coaches to have hit the 200-win plateau. Ohio State's Jim Tressel (at Washington) and Virginia Tech's Frank Beamer (versus Ohio) both go for career win No. 200 on Saturday.
37: Forty-seven of the 126 teams (37 percent) to receive the opening kickoff through the first two weeks have marched down and scored on that first drive. In 2006, the success rate was only 29 percent. Perhaps it's an aberration that will work itself out in the coming weeks, but right now it's the only indicator that the new kickoff line is making a big difference.
60: A pair of dynasty programs: From 1993-97 Nebraska went 60-3 with three national titles, while USC has gone 60-6 with two national titles from 2002 to present day.
3,000: Maryland yanked Steve Slaton's scholarship when he was in high school because the Terps wanted him to play defensive back and not running back. Well, that decision has turned out well for West Virginia. Last week Slaton became just the third back in Mountaineers history to amass at least 3,000 rushing yards, joining Avon Cobourne and Amos Zereoue.
0: In his first two seasons in Gainesville, Florida head coach Urban Meyer has gone 6-0 against the Gators' chief rivals Tennessee (2-0), Georgia (2-0) and Florida State (2-0). No Florida coach had ever swept those three teams in consecutive seasons. Overall, UF has won 7 straight against those rivals. Meyer is all about the big games. He's 4-0 in bowl games (2-0 at Utah, 2-0 at Florida) and won his only appearance in the SEC Championship Game.
50: If the Longhorns don't score 50 points on Saturday at Central Florida, it will be a first in the Mack Brown era. In every year since Brown took over as head coach (since '98), Texas has reached 50 points at least once in its first 3 games of a season. The last time the Longhorns failed to hit 50 in any of their first 3 games was in 1997 in John Mackovic's final season.
From the Reporter's Notebook
By Joe Schad, ESPN.com
Tennessee quarterback Erik Ainge said he's been pleasantly surprised by the strong start by his inexperienced receiving corps. "In scrimmages we had way too many dropped balls," Ainge said this week. "I wouldn't say I had doubt. But I wasn't sure what would happen when the lights came on." … Tennessee kicker Daniel Lincoln grew up in Ocala, Fla. not far from Gainesville, as a Gators fan. The freshman was highly recruited and is 4-for-4 on the season. "There was a bit of commotion after I committed to Tennessee," Lincoln said. Commotion? For a kicker? Apparently he's that good. … There is no plan for additional security at the Miami-FIU game this year, despite the brawl last season. Miami coach Randy Shannon said he doesn't even feel he needs to address it because this is a different team with a different discipline. The ACC has decided to send its top-rated crew to Miami for the game, clearly in an effort to manage any potential conflicts. … Prior to the Louisiana Tech game, Hawaii was assessed a 15-yard penalty for unsportsmanlike conduct for performing their version of the Haka, a Maori war chant. June Jones accused the WAC of "micromanagement." … You have to like the candor of Louisville coach Steve Kragthorpe. Here's what Kragthorpe said about his team's defensive performance last week: "We were absolutely awful. We didn't line up. We didn't communicate. We didn't tackle. And our guys are more upset than me." … South Florida should be ranked -- but hey, that's me.
College football To Go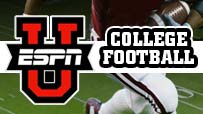 Catch up on all of the college football talk you might have missed with the ESPNU college football insider. Here are this week's offerings:
• College GameDay to Go


• 9/12: Maisel, Beano


• 9/11: Pat Forde on ND


• College GameDay to Go


• 9/10: Maisel, Schlabach