SEC showdowns take center stage in Week 4
All Eyes On The South
By Jim Donnan, ESPN.com
It's a slow week for games, with most of the top-25 teams taking on no-name opponents. But that's not the case in the SEC, where a number of ranked teams are taking on tough opponents. No. 22 Georgia looks to bounce back from a Week 2 loss to Steve Spurrier's South Carolina squad with a win against No. 16 Alabama, and the No. 12 Gamecocks face a tough road test when they travel to No. 2 LSU. Here are a few matchups to watch in Week 4:
LSU's dominating D
How good is LSU's defense? ESPN Research ran the numbers:
National rankings

| | | |
| --- | --- | --- |
| Category | Stat | Rank |
| Scoring | 2.3 | 1st |
| Total ypg | 128.3 | 1st |
| Rush ypg | 30.0 | 3rd |
| Pass ypg | 98.3 | 2nd |
| Pass eff. | 54.3 | 1st |
| Sacks | 13 | T-4th |
| Int | 7 | T-3rd |
Want more evidence?
• None of LSU's first three opponents has reached 150 yards of total offense.
• Those teams are averaging exactly 1 yard per carry on the ground and have a measly 40.2 completion percentage through the air.
• Virginia Tech reached the red zone once, the only appearance for an LSU opponent this year. No other team in the SEC has allowed fewer than eight trips into the red zone.
• Have held opponents to less than 10 yards in 25 of 37 possessions, with the longest first-half drive being a 34-yarder by Mississippi State in the opener.
• Given up just 385 total yards, lowest total after three games in school history. It's also nearly 400 yards less than the SEC No. 2 team in total defense, Florida (781 yds).
• Dating back to the Sugar Bowl against Notre Dame, the Tigers' D has pitched a shutout in 13 of the last 14 quarters, outscoring the opposition 157-7 over that span.
South Carolina at LSU
Gamecocks QB
Blake Mitchell
had a woeful game last week -- three interceptions against South Carolina State -- and now must face the nation's best defense. Spurrier has coached South Carolina to wins by relying on his special teams and good defense, but he'll need more than that to upset the Tigers. One problem: You can't suddenly create an offensive juggernaut against LSU. Spurrier will have to force the Tigers to prove they can score, and he'll use the Brinkley brothers, Jasper and Casper, and a talented secondary to thwart LSU's offensive efforts. The Tigers are a bit banged up on offense (QB
Matt Flynn
and receiver
Early Doucet
sat out last week, Flynn with an ankle injury, and Doucet with a groin injury). LSU is talented and well-coached. It will be up to Mitchell to play smart and within himself. Look for Spurrier to utilize
Cory Boyd
and
Kenny McKinley
to take some of the pressure off Mitchell. Boyd leads the team in yards (255) and TDs (4) on the ground and can catch balls out of the backfield. McKinley has caught 17 passes for 182 yards and two touchdowns. One of Spurrier's favorite plays is to have Boyd run under and McKinley run over the inside on a high-low, giving Mitchell options to complete short passes and move the chains. It will be up to Mitchell to avoid loss-of-yardage plays -- it's hard enough to make first downs on this defense as it is.
Georgia at Alabama
(ESPN, 7:45 p.m. ET)
Georgia is a very good road team (22-3 road record in the SEC under Mark Richt), and this promises to be a high-intensity game. The last two games between these teams at Bryant-Denny Stadium have been instant classics -- in 2002, Georgia won 27-25 on a 32-yd FG by Billy Bennett with 38 seconds remaining. In 1994, Alabama won 29-28 on a 32-yd FG by Michael Proctor with 72 seconds remaining. The Dawgs are in must-win mode, as they've already lost a conference game and can't afford to lose another. Alabama, on the other hand, is coming off a big win against Arkansas and is looking for another statement win. The Tide broke an unfortunate streak in that game, as they came from behind to win for the first time in 22 games. Nick Saban's squad has confidence now, and is playing with a lot of emotion as well. Quarterback
John Parker Wilson
is doing a good job leading the offense, and leading rusher
Terry Grant
has been able to keep defenses honest in the running game. Hidden yardage will be a key in this game. Both teams have good return guys -- keep an eye on Alabama's Javier Arenas and Georgia's
Mikey Henderson
, both explosive players. Alabama ranks 18th nationally in punt returns, and Georgia is just four spots below the Tide. If the special teams play well, the game will come down to which quarterback has the best game.
Matthew Stafford
didn't make plays against South Carolina, but Bama hasn't shown a really good pass rush. The Tide also have to make sure they don't get too high -- the fans are jumping all over them, looking ahead to conference and national titles. Emotion often leads to mistakes, and Alabama has to be aware that wins come when you don't beat yourself. Georgia has a chance to finally prove what it is capable of. It will be a long game if Georgia gets behind, as the Dawgs haven't had a consistent offense. Look for
Knowshon Moreno
to play a larger role and set up the play-action passing game with his big-play ability in the run game.
Offense on Display in Arkansas
By Bob Davie, ESPN.com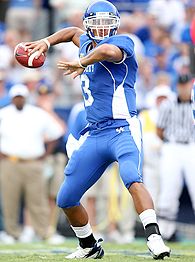 Andy Lyons/Getty Images
Andre' Woodson and Kentucky have another tough game in Week 4.
Kentucky and Arkansas participated in two of Week 3's most exciting finishes. The Wildcats knocked off in-state rival Louisville, earning a spot in the AP poll. Arkansas, on the other hand, lost to Nick Saban's Alabama squad by three points. Kentucky is riding an emotional high; Arkansas is feeling the pressure. The team that forgets about last week first might be the winner. The key for the Razorbacks will be to keep the ball away from Kentucky. They can keep
Andre' Woodson
and Kentucky's explosive offense off the field by running the ball as much as possible -- on every down if needed. It's not realistic for Kentucky to think it can stop the Razorbacks on the ground, so the Cats are going to have to turn this into a high-scoring affair. Kentucky is balanced offensively, and that makes the Wildcats tough to defend against. Arkansas, on the other hand, boasts
Darren McFadden
and
Felix Jones
, two of the best backs in the game. The Hogs' defense is better than Kentucky's, but is susceptible in the secondary, and Bama really picked on corner Jerell Norton. Arkansas has an edge because it is more balanced on both sides of the ball.
Coach Class: Penn State-Michigan
By ESPN The Magazine
Editor's note: Each week, analysts from ESPN.com and ESPN The Magazine will tackle a game plan for one of the biggest games on the schedule.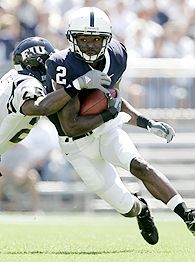 AP Photo/Carolyn Kaster
Derrick Williams will provide a tough matchup for Michigan.
Penn State hasn't beaten Michigan since 1996, a streak that includes four straight losses in Ann Arbor. So when PSU heads west on Sept. 22, this wounded pack of Wolverines should be approached with extreme caution. We had our coaches, Bill Curry and Mike Gottfried, draw up competing game plans, then had Jim Donnan pick a winner. On paper, anyway. Curry takes over Michigan
PSU RB
Austin Scott
isn't spectacular, so I'm more concerned with receivers
Derrick Williams
,
Jordan Norwood
,
Deon Butler
and
Chris Bell
. All four can play. Using zone coverage, we'll clog passing lanes and unleash LB Shawn Crable, a big, fast kid who roves the entire field. On offense, WR
Mario Manningham
has to get 12 touches any way possible. If he's healthy, big-armed QB
Chad Henne
is terrific, but he needs a signature win. RB
Mike Hart
, one of the best backs this decade, isn't overly fast but has exceptional vision. It'd be tempting to run him all day, but balance is key against PSU LBs Dan Connor and Sean Lee. If those two know what's coming, they'll blow up the play.
Read the full story here.

The Trouble With Young Quarterbacks
By Bill Curry, ESPN.com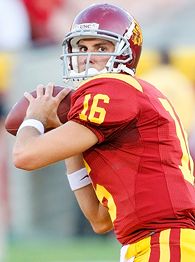 Dustin Snipes/icon smi
Mitch Mustain transferred after a tumultuous season at Arkansas.
A few weeks ago, I wrote that when heavily hyped young quarterbacks take the field, it creates a dangerous situation -- particularly if the quarterback is successful in his first few starts. That's exactly the situation for Washington's
Jake Locker
, who was described by some preseason magazines as the savior of the Huskies program. Locker led UW to wins over Syracuse and Boise State, racking up big numbers against two inferior teams. The Huskies met their match Saturday when they were paid a visit by Ohio State, one of the most dominating defenses in the country. Predictably, Locker didn't fare as well against the Buckeyes, tossing three interceptions in the 33-15 loss. Locker is an obviously talented player and by all accounts a good kid. But the situation he and coach Tyrone Willingham are faced with is nearly impossible. Locker didn't have an opportunity to mature away from the spotlight; instead, he's being thrown against some of the best teams in the country very early in his career. The Huskies play one of the nation's toughest schedules, as they travel to Los Angeles on Saturday to face a hungry Bruins squad and follow that with a visit from No. 1 USC. We saw how one situation with a young, talented quarterback played out last year in Arkansas.
Mitch Mustain
entered as the heir-apparent to the Razorbacks throne, only to be caught in the middle of a mess of politics. The situation ended with Mustain transferring to USC, and his offensive coordinator (and high school coach) Gus Malzahn leaving for Tulsa. I know Willingham would rather not put Locker in this situation, but he has no other option. It's much easier for the coach when he can keep his star signal-caller out of the fray for as long as possible. It's a recipe that USC has used successfully: When is the last time you saw a freshman under center for the Trojans?
Coach's Corner
By Jim Donnan, ESPN.com
One important aspect of the game that doesn't receive a lot of attention is play calling. Although each coach has his own style, there are a few basics of every offensive game plan. College and high school coaches are at a tremendous disadvantage to their NFL brethren, who are allowed to be in radio contact with their quarterbacks, and can relay information that way. College coaches, on the other hand, must quickly inform their teams of the formation, groupings (personnel in the game) and whether to run or pass.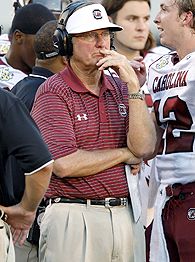 Dale Zanine/US Presswire
South Carolina's Steve Spurrier and West Virginia's Rich Rodriguez are two of the best playcallers in the game.
There are different ways to call each play. Many coaches assign number values to series. For example, a coach might use this system to set up running plays:
Plays that begin with 10 = option
20 = Trap/power
30 = Counter
40 = Outside runs, zone blocks
The second number generally refers to the side of the field the play is run on; evens are to the right, odds to the left. So if a coach calls a "48 slant," that would indicate an outside run to the right. For pass plays, the set-up is similar. Even numbers often indicate in-breaking routes.
2 = Slant
4 = Hook/curl
6 = In/dig
8 = Post
1 = Quick out
3 = Out
5 = Comeback
7 = Corner
9 = Take off/Fly
Teams often also use series to indicate different protection:
50 = Quick
60 = Drop back
70 = Sprint out
So, for example, if a coach called a "51," he would want to see a quick out to both sides. Since most teams use multiple formations, coaches will call a formation first, and then use numbers to indicate the play/route from the weak side to the strong side. For example, a play call of 4-40-4 would mean that all of the receivers would run hook routes. The numbers provide a basis for plays, and allow coaches to use words to make the plays more exotic. For example, if a coach called, "Change to flex right, fake gut, boot right and run 6-80-9," the play would look like this: The tight end would move from left to right, the backside receiver runs an in (6 route), outside receiver runs a 9 route, the tailback blocks after he fakes and the other tailback lines up in the slot -- much like on a naked bootleg. Teams often leave the huddle with two plays -- a run and a pass -- from which to choose. If it looks as though the defense will clog the middle, they can take the ball outside and run a slant. Teams can often use fake calls at the line to force the other team to go offside. And good teams can throw the rulebook out the door when they see a hole. If the quarterback sees that someone is not covered, he can call a freeze play -- which means that everyone freezes in position except the quarterback and the open player. With a quick snap by the center on freeze play, the QB stands up and throws to the open player, who takes a few steps outside, catches the ball and runs.
Viewer's Guide
(All times eastern.)
Saturday:
10 a.m.:
"
College GameDay
" from Tuscaloosa (ESPN)
Noon:
East Carolina at West Virginia (ESPN)
3:30 p.m.:
Penn State at Michigan (ABC)
Maryland at Wake Forest (ESPNU)
6 p.m.:
Kentucky at Arkansas (ESPN2)
7:45 p.m.:
Georgia at Alabama (ESPN)
•
TV sked
|
Coverage map
|
ESPN GamePlan
Three Point Stance
By Ivan Maisel, ESPN.com

Brown
1.
Dennis Franchione's weekend started out poorly and it just may get worse. If Texas beats Rice on Saturday, Mack Brown will get the 183rd victory of his career, tying him for sixth place among active coaches with the coach of his archrival. When Fran came to Texas A&M five seasons ago, he led Brown in victories, 159-135. That's not a statistic that Aggies want to hear.
2. Arizona State has fattened up to 3-0 on early-season junk food. The visit Saturday by Oregon State will provide a clue about how good Dennis Erickson's team really is. The scale tips toward the Sun Devils: Oregon State fell apart on the road against Cincinnati, and the Beavers have not won at Tempe since the Sun Devils joined the Pac-10 in 1978. It will be news if Arizona State doesn't cruise.
3. It is a popular sentiment to say that if Penn State wins at Michigan, the Nittany Lions will run the table. Ohio State and Wisconsin must come to Beaver Stadium. Keep in mind that it's likely that, as in 1969 and 1994, Penn State will go undefeated and fall short of No. 1. The non-league schedule of FIU, Notre Dame, Buffalo and Temple will kill the Nittany Lions in the computers.
What To Watch In Week 4
By Bob Davie, ESPN.com
Here are three things I'll be looking for in Week 4:
1. How good is Tulsa's offense?

Malzahn
Tulsa started the season with a bang, racking up 90 points and 1,118 yards of offense in wins against Louisiana-Monroe and BYU. How much of that output has to do with new offensive coordinator Gus Malzahn? Malzahn left Arkansas after a disappointing year in '06, in which he was handcuffed offensively by coach Houston Nutt. If the Golden Hurricane continue to rack up these kinds of numbers -- and wins -- they could become Nutt's worst nightmare.
2. How good is Tim Tebow?
I had originally considered John David Booty the Heisman front-runner because the award is usually given to the best player on the best team. After watching Tebow and Florida dismantle Tennessee, I think Tebow is in the Heisman conversation for the same reason. With Urban Meyer's style of offense and Tebow's dynamic personality, Florida should be back in the title hunt and Tebow should be in New York in December.
3. How good is Oklahoma State?
Year in and year out, it's amazing how little the preseason hype and the results on the field match up. Oklahoma State is the latest example of that. Before the season, it was called the most explosive offense in the country because it was returning Bobby Reid and Adarius Bowman. It's a lesson to coaches, fans and the media: Even if you're returning every person from last year's team, it doesn't mean they have the same goals and expectations. Bowman, for instance, entered 2006 unheard of, probably just hoping to get on the field and make plays. He's on the cover of the media guide in 2007 after evaluating his pro prospects. Even though the player is the same person, his motivation may have changed. When a young team starts believing the hype, it's setting the team up for a dramatic fall. Can the Cowboys recover?
Herbstreit's Top Five
Craig James on Curfews
Top Of The Order
By Jim Donnan, ESPN.com
Week 3 began to separate the teams at the top, and there are four teams who rose above the rest by answering nagging preseason questions:
Can Florida make up for its losses on defense?
Dismantling Tennessee -- one of its major rivals in the SEC -- with a rebuilt defense and a young overall team (46 players on the roster are freshmen or sophomores) was an impressive feat. The fact that the Gators continue to score points even when the offense isn't on the field is just scary.
Are the Trojans as dominant as we thought?
I knew USC was talented on both sides of the ball, but the Trojans' ability to run the ball down Nebraska's throat -- with a true freshman at center -- was reminiscent of what Nebraska used to do to other teams in Memorial Stadium.
Can Oklahoma win with an young QB?
Oklahoma certainly hasn't been tested, but freshman Sam Bradford looks like exactly what you need when you have a very veteran team. He really sets tone for the team. As a coach you want to script players and build momentum, and no one could have written it better for him.
Can LSU develop its receivers?
After Matt Flynn sprained his ankle, no one would have been surprised if the Tigers' offense trailed off in Week 3. But Ryan Perrilloux filled in admirably, and while he's obviously talented, a lot of the credit should go to the Tigers' receivers. Early Doucet has been consistent this season, and although hampered with a groin injury, could be the key to LSU's title aspirations.
What's next?
In terms of BCS bowls, Florida and LSU are at a disadvantage as they will most likely play each other twice (once in the regular season -- Oct. 6 at Baton Rouge -- and possibly in the SEC championship game). West Virginia and Cal are two teams who could break into the upper echelon, if their defenses can keep up with their offenses. For the Mountaineers, Noel Devine's emergence has made it even harder to stop Patrick White and Steve Slaton. Although WVU's D played well last week, Maryland isn't a team that has shown an ability to throw the ball.
Coach Holtz's Pep Talk
Cookin' With Beano
By the Numbers
By ESPN Research
13: Illinois is a slight favorite at Indiana on Saturday, which is significant because the Illini have lost their Big Ten opener in each of the last 13 seasons. That's currently tied with Duke for the nation's longest losing streak in conference openers. The Blue Devils hit 13 a couple of weeks ago, when they lost at Virginia. Indiana, by the way, has lost six straight Big Ten openers.
19: Hawaii's No. 19 ranking this week ties for its highest ever in the AP poll (1981). … No. 23 South Florida is ranked for the first time in its seven seasons of being a full-fledged major-college program. … Kentucky (No. 21) is in the AP poll for the first time since the end of the 1984 season. … Rutgers (11th) has its second-highest ranking in school history behind only the No. 7 spot the team held for one week last season.
81: If Trojans win this week and remain at No.1 they will tie Ohio State for third-most weeks at No. 1 (not including preseason polls) in history (81). The Trojans are behind the Irish (89) and Oklahoma (86).
25: East Carolina has gone eight straight games without allowing a run of more than 25 yards. West Virginia has had seven such runs this season.
257: Kentucky QB Andre' Woodson has thrown an SEC-record 257 consecutive passes with tossing an interception. That's just 14 short of Trent Dilfer's all-time NCAA record (Fresno State, 1993).
College Football To Go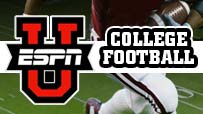 Catch up on all of the college football talk you might have missed with the ESPNU college football insider. Here are this week's offerings:
9/19: Ivan, Beano look at Wk. 4


9/18: Forde: UK, Bama, Texas


9/18: GameDay To Go preview


9/17: Recapping Week 3