Possible trap games, Pac-10 shootouts and O-line play
Week 5's Under-The-Radar Games
By Jim Donnan, ESPN.com
Week 5 features a few favored teams -- in some instances, heavily favored teams -- taking on pesky opponents. In Gainesville, Florida hosts the only team to beat the Gators in 2006. Can Auburn make it two in a row? Likewise, in Austin, Texas faces Kansas State, which defeated the Longhorns last season and ended their conference title bid. USC travels to Washington, where the top-ranked Trojans face the fiesty Huskies. Will any of these favored teams trip in Week 5? Will Florida or Texas get caught looking ahead to its Oct. 6 opponent (LSU and Oklahoma, respectively)? Will USC finally be exposed? Here's a look at the matchups to watch when these teams take the field.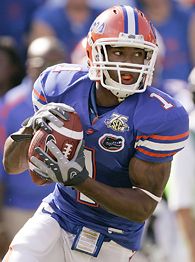 John Raoux/AP Photo
Percy Harvin has provided leadership on offense for the Gators.
Auburn at Florida (ESPN, 8 p.m. ET)
Because of the way Auburn is playing -- the Tigers are 2-2 with losses to South Florida and Mississippi State -- everyone thinks Florida is the flat-out favorite. But the Gators let Ole Miss hang around. They have been reliant on
Tim Tebow
and
Percy Harvin
to direct the entire offense, which makes them easier to defend -- but this offense still is pick-your-poison. If Florida gets
Andre Caldwell
(knee) and
Riley Cooper
(ankle) back from injury, the Gators will be a much more balanced, tougher team. Florida's offense versus Auburn's defense certainly is a matchup of strength on strength. Although Auburn has a very physical defense, it has had trouble pressuring the passer, something Tebow should be able to exploit. However, Auburn has to be excited about the amount of yards in the air Florida allowed Ole Miss (310 of 390 total yards). The Tigers need to take care of the ball and get a lot of yardage out of their special teams; they don't want to shorten the field for this high-octane offense. Florida is going to make big plays, so Auburn will have to make tackles in the open field to stop the Gators. Tebow has really impressed me this season. It's hard to imagine an SEC tailback carrying the ball as often as he does, and he has proven he can air it out. Besides being a very talented passer/rusher, he has been a leader. It was evident in high school that he is the type of guy people rally around. He makes everyone around him better because they know what kind of an effort he is going to give.
Kansas State at Texas (ABC, 3:30 p.m. ET)
Texas has struggled on offense at times this season, and it will be interesting to see how the Horns play against K-State's tough front seven now that
Limas Sweed
is back in the lineup. Sweed gives quarterback
Colt McCoy
another weapon on offense and opens things up for
Jamaal Charles
. The Horns haven't shown the ability to take the ball and march up the field. I was impressed with the Wildcats' toughness in their 23-13 loss to Auburn in Week 1, but it's tough to tell how good K-State is, because the Cats' wins have come against San Jose State and Missouri State. Quarterback
Josh Freeman
has alternated for the past two years between being on fire and terribly inconsistent. Last week was a big confidence booster for Texas' young offensive line, and it will be interesting to see if the Horns can take the next step this week in preparation for Oklahoma.
USC at Washington (ABC, 8 p.m. ET)
Each week, a different USC player catches my eye. Last week, I was impressed by
Fred Davis
' receiving. Davis is known for his blocking, but against Washington State, he made some circus-type catches and displayed his athletic ability. We know the Trojans have a running game (and a stable of high school All-American backs), but now we're seeing USC find its passing game as well. The Trojans have a tough defense, but this will be the first time this season that they will see a true spread offense. Mobile quarterbacks have given USC fits in the past (think Vince Young), and it will be interesting to see if redshirt freshman QB
Jake Locker
can do the same thing. Washington played well in the first half against UCLA and Ohio State, but it doesn't have the depth to go wire to wire with the top teams yet. The Huskies can keep it close, however, if they can make some third-down conversions and get some third-down stops. Against USC, that's usually mission impossible.
Top Rookie Running Backs
By Todd McShay, Scouts Inc.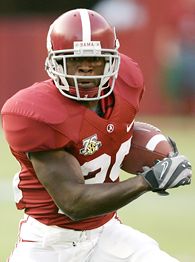 Butch Dill/AP Photo
Alabama's Terry Grant has the speed to embarass defenses.
1. Terry Grant, Alabama
Grant (5-10, 188) is a pint-sized speedster in the mold of former Florida State star and current Falcons running back Warrick Dunn. New offensive coordinator Major Applewhite likes to spread it out with a lot of three- and four-receiver sets, which result in lots of creases for his rookie back to exploit. The system obviously agrees with Grant, who has burst onto the scene with 120.8 yards per game.
2. LeSean McCoy, Pittsburgh
Grant is the leading freshman rusher in the country, but McCoy is the leading true freshman rusher in the country. McCoy, 19, spent a postgrad year at Milford Academy, where he rescinded his initial commitment to Miami and turned down offers to Florida and Virginia Tech in favor of Pittsburgh. From what I've seen so far, any team in the country would find a place for this budding star. It hasn't taken coach Dave Wannstedt and his staff long to realize the 5-foot-11, 210-pound McCoy is feature-back material. After being fed just 10 carries in the opener, McCoy has averaged 119.7 yards on 18 carries the past couple outings.
3. Knowshon Moreno, Georgia
Moreno is a perfect fit in Mark Richt's offensive scheme at Georgia, which is predicated on the I-formation downhill rushing attack. The redshirt freshman is adequately built at 5-foot-11, 207 pounds, but he is capable of lowering his shoulder and delivering a blow like a 240-pound fullback. Moreno isn't a speedster, but he is a smooth athlete who will gain lots of yards after contact by keeping his balance and falling forward. Moreno is averaging 5.34 yards per carry but only 16 carries per game while he continues to split time with senior
Thomas Brown
.
4. Noel Devine, West Virginia
It seems no high school recruit was involved in more bidding wars -- or more academic issues, for that matter -- than Devine. And after watching a handful of his 24 offensive touches so far this season, the hype seems justified. Simply put, Devine is lightning in a bottle. He will serve as a backup to
Steve Slaton
for one or two more seasons (depending on Slaton's NFL intentions) before taking over as the Mountaineers' next great back. In the meantime, coach Rich Rodriguez wisely is getting Devine more integrated each game as a versatile offensive weapon.
5. DeMarco Murray, Oklahoma
Murray comes in at No. 5 on this list with an average of 74.3 rushing yards per game so far. But it wouldn't surprise me a bit if he develops into the most complete back of the bunch a year or two from now. Currently, coach Bob Stoops is content involving, but not overworking, his promising youngster in a log-jammed running back situation with
Allen Patrick
,
Chris Brown
and
Mossis Madu
.
Coach Class: Cal-Oregon
By ESPN The Magazine
Editor's note: Each week, analysts from ESPN.com and ESPN The Magazine will tackle a game plan for one of the biggest games on the schedule.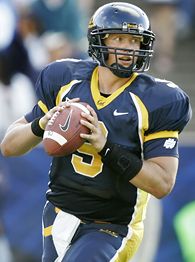 Marcio Jose Sanchez/AP Photo
Nate Longshore looks to keep Cal's unbeaten streak alive against Oregon on Saturday.
Cal's undefeated. Oregon's undefeated. Both are ranked. And they play this weekend. We asked former coaches Bill Curry and Mike Gottfried to draw up competing game plans, then we had Jim Donnan pick a winner. On paper, anyway. Curry takes over Cal
Bottom line for my guys: We have the better team. And they need to hear that and believe they can go to Eugene and win. Oregon has only five turnovers so far this season, but the Ducks gave up three interceptions and a fumble last year against Cal. We want to remind them of their old ways. First and foremost, we need to contain QB
Dennis Dixon
and RB
Jonathan Stewart
-- they can't beat us running the ball. I'd put that all on my front seven, especially linebackers Worrell Williams and Anthony Felder. We'd send them on zone blitzes and try to flood the line. The goal: Stuff Stewart and fence Dixon into the pocket. If this becomes a game in which Dixon has to beat us throwing, Oregon is in trouble. Our corners, Syd'Quan Thompson and Brandon Hampton, can run with Oregon's wideouts. And we'll keep blitzing our front seven and get pressure on Dixon; then I think he's susceptible to having the ball knocked loose. On offense, I'd throw it to run it. QB
Nate Longshore
is tremendously accurate, and Oregon canšt afford to play man coverage against
DeSean Jackson
,
Lavelle Hawkins
and
Robert Jordan
. Throw in tight end Craig Stevens, and Longshore will have targets. He's so precise throwing it that he'll be able to complete short and intermediate passes. Once Oregon starts dropping more guys into coverage, we'll hammer RB
Justin Forsett
. And even if we play Oregon to a draw on offense and defense, we can win with our special teams. Jackson can take any punt back for a touchdown. And punter Andrew Larson is very underrated. If this game comes down to special teams, Cal wins.
Read the full story here.

Why Watch Ohio State?
By Bob Davie, ESPN.com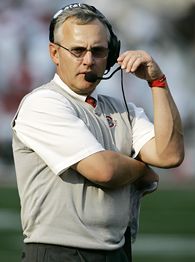 Amy Sancetta/AP Photo
Jim Tressel's teams consistently win with tough defense and special teams play.
After Ohio State was blown out by Florida in the BCS National Championship game and lost its flashy offensive players (Troy Smith, Antonio Pittman, Ted Ginn Jr.) to the NFL, the Buckeyes fell off the map. They have gone through the 2007 season largely unnoticed, defeating Youngstown State, Akron, Washington and Northwestern. They have defeated those opponents by an average of 30 points. Two things were lost in the commotion of last season and the draft. First, even with a Heisman winner at quarterback, the Buckeyes won with defense and special teams -- that's Jim Tressel's style. Also, we overlooked just how well Ohio State has recruited. Against Northwestern, the Buckeyes' speed, particularly on defense and special teams, looked outstanding. They cover kicks, they have speed in the return game and they really fly around on defense. On offense, they're good. In my mind, there's no question they would win the Big Ten right now. Their schedule sets up perfectly, both in rebounding from the title game loss in 2006 and in pursuing a conference championship.
Coach's Corner
By Jim Donnan, ESPN.com
The common denominator among nearly all national championship teams is good offensive line play. It's an oft-overlooked but vital part in a team's success. A veteran, talented offensive line allows a quarterback the security of knowing he has time to set up his offense, and it helps running backs and receivers find holes in opposing defenses.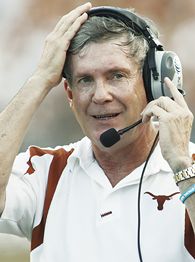 Harry Cabluck/AP Photo
Mack Brown understands the importance of good offensive lines.
Not surprisingly, two teams that consistently boast strong offensive lines are two recent title winners: USC and Texas. The Trojans' O-line under Pat Ruel is well coached and plays together. The Horns, whose offensive line is coached by Mac McWhorter, annually send offensive lineman to the NFL. What makes these lines so good? They understand the fundamentals and they don't give away anything to opponents. An offensive line's technique is so important -- they're going against a team's most athletic linemen. Good offensive lines can pick up subtle clues about the defense to help the quarterback and position players exploit weaknesses. Offensive linemen have to be aware of alignments and schemes depending on down, distance and field position. For example, the depth of the offensive line is based on three levels, depending on where the ball is: Level I -- Down hand is aligned on back end of football (this is primarily used in short-yardage situations) Level II -- Down hand splits the difference between the back end of the football and the toes of the center (this is a normal alignment; the O-line is in position to come off the ball and pass block) Level III -- Down hand aligned on the toes of the center, or head gear aligned on back of center's number (this alignment is as deep as you can get without being penalized -- each offensive lineman's helmet must cross the waist of the center) Coaches use offensive line splits to control the defensive alignment. Line splits are determined by the play that's going to be run. The first two steps a lineman takes will determine the success or failure of a block.
Splits of offensive line

| | | | |
| --- | --- | --- | --- |
| Type | Guards | Tackles | Tight Ends |
| Minimum | 1 foot | 2 feet | 2 feet |
| Normal | 2+ feet | 2+ feet | 2+ feet |
| Maximum | 2.5 feet | 3 feet | 3 feet |
| Goal Line | -1 foot | -1 foot | -1 foot |
Minimum splits are used in outside runs, while maximum splts are used to create space for inside runs. Goal line splits are small, allowing no penetration. Pass-heavy teams like Texas Tech or teams that run the Wishbone (like the old Army teams) use really big splits to help their pass protection. Big splits force the defense to show itself, allowing the quarterback to make better reads on option plays. (Since the service academies never used to pass, this was a big help for the QB.) As defenses have improved and adopted multiple fronts and looks, offensive lines have had to react accordingly. Communication between guards, tackles and tight ends is key. Offensive linemen must be aware of whether the play is a pass or a run, and what type of zone scheme they are executing. The center acts as the quarterback of the offensive line. An example of the type of communication needed to adequately stop the defense: In a frontside zone scheme (two-man), the tackle, guard or center can call for a zone block on a defender on or outside the play. For example, if the outside tackle called "Eat," it would indicate a zone block with the TE to a defender on or outside the TE, and the linebacker is over, stacked or outside the tackle. In a three-man scheme, the call of "Over" would be made by the outside tackle when two defenders are aligned inside the OT and OG with a linebacker stacked.
Viewer's Guide
(All times ET)
Friday:
8 p.m.:
West Virginia at South Florida (ESPN2)
Saturday:
10 a.m.:
"
College GameDay
" from Eugene (ESPN)
Noon:
LSU at Tulane (ESPN2)
Notre Dame at Purdue (ESPN)
3:30 p.m.:
Cal at Oregon (ABC)
Kansas State at Texas (ABC)
Michigan State at Wisconsin (ABC)
8 p.m.:
USC at Washington (ABC)
Auburn at Florida (ESPN)
Ohio State at Minnesota (ESPN2) •
TV sked
|
Coverage map
|
ESPN GamePlan
Three Point Stance
By Ivan Maisel, ESPN.com
Rodriguez
1.
No. 18 South Florida has a lot going for it Friday night: an excited home crowd, a lot of confidence and playmakers on both sides of the ball. But the key will be how the Bulls defense performs in the second half. No. 5 West Virginia averages 234 rushing yards after halftime. It could be coach Rich Rodriguez's adjustments. My guess is that it has more to do with West Virginia's speed and depth.

2.
Auburn will get junior tailback
Tristan Davis
back for the Florida game, and an experienced pair of hands will help a young Tiger offense that leads the SEC with 13 turnovers. But the game comes a week too early. Auburn tailback
Brad Lester
, who returns next week for Vanderbilt, rushed for 94 yards last season when the Tigers handed the national champion Gators their only loss, 27-17.
Dixon
3.
Give Oregon coach Mike Bellotti credit. After he first ripped senior quarterback
Dennis Dixon
for playing minor-league baseball this summer, Bellotti told ESPN Radio's Colin Cowherd that the experience matured Dixon. Coaches as a rule think skipping "voluntary" summer workouts is a) lazy or b) un-American. Maybe the next Duck will get to broaden his summer horizons without getting ripped.
Breaking Down Alabama-Florida State
By Bill Curry, ESPN.com

Alabama is a very interesting team. It has the potential to be one of the better teams in the SEC by the last four games of the season -- if not a great team. For Bama to improve, John Parker Wilson has to grow up. He had a number of chances against Georgia but wasn't able to finish the job. On the other hand, he's a really gritty competitor who is willing to put his team on his back. One thing that has mystified me this season is how dominating the Tide's defense looks at times -- sometimes over long stretches -- but at the moment the Tide can least afford it, the D gives up the big play. That's certainly one area concern for Nick Saban's staff.

Florida State, on the other hand, certainly is a work in progress. The Noles are breaking in a new staff on offense and they're implementing gradual changes. It might be a full year before we see what the real Florida State looks like. Alabama has the upper hand in this matchup, especially because of how tournament-tested this team already is. The Tide has had tough, close, physical games against Arkansas and Georgia, which should benefit them later in the season. We're all creatures of habit: If you've been cruising, it's hard to put it in overdrive. If you've been fighting, however, it's second nature. Those are the teams that are the toughest to beat.
Looking Forward, Looking Back
By Bob Davie, ESPN.com
What we learned in Week 4:

Woodson
1. Kentucky is really well coached.
Especially Andre' Woodson. An example: In the win at Arkansas, Woodson got the Razorbacks to jump offsides two plays in a row -- and he kept the play going, taking a shot down the field that put the Cats in position to score. I don't know if Kentucky has enough to win the SEC, but the Cats will be a factor in the race. If you put them in the Big Ten, they might be battling Ohio State for the top spot. In the ACC, they'd win it.

2. Utah is unpredictable.
How do you beat UCLA 44-6 and then get shut out by UNLV? Is it something in the water? Every week, it's a different story with the Utes, and it's been that way since Urban Meyer left.

3. Michigan has turned an emotional corner.
In the last play of the Wolverines' win over Penn State, you could see the the difference in the body language and emotion of Michigan's players. Has there ever been such a completely opposite scene in two weeks? Jimmy Johnson once said the thing he missed most about coaching was the feeling of winning after a few losses -- digging out of a hole is really exciting. But Michigan has to be careful to not expend too much energy. When I coached at Notre Dame, we went 0-3 and won the next three, only to lose the next two games at the very end because we ran out of gas.
What to look for in Week 5:

Most competitive game:
West Virginia at South Florida. Both teams boast similar offenses. West Virginia hired two of South Florida's assistants. And the Bulls might be the only team left in the Big East that can match the team speed of the Mountaineers.
Most entertaining game:
Cal at Oregon. If you like scoring, this is the one to watch -- it could look like an NBA game.

Potential upset:
Penn State at Illinois. The Nittany Lions enter '07 with buzz after beating Tennessee in the Outback Bowl, but how good was that Vols team? Penn State has great skill players at wide receiver, but the offensive line is not as strong as those we've become accustomed to seeing. Illinois is athletic, young and talented. This could be one to watch.
James on Mike Gundy
Tim Tebow's New Technique
What to Watch
By Jim Donnan, ESPN.com
Here's what I'll be watching in Week 5:
1. Good coaches you've never heard of.
There are a lot of great coaches at the Division I-AA, II and III levels who we never hear about. Oregon coach Mike Bellotti spotted a good one in Chip Kelly, the former New Hampshire coach and new Ducks O-coordinator. The improvement in Oregon's offense -- especially Dixon's passing -- is a sign of good teaching. There are many more coaches like Kelly out there -- they just need the opportunity.
2. And good coaches you have.
Dennis Erickson has Arizona State in the top 25. The Sun Devils are the fourth team he's gotten into the polls. That's not luck. Former ASU coach Dirk Koetter did a lot of good things and brought in a lot of talented people. Veteran coaches like Erickson know how to tweak things the right way and put teams in a position to win.
3. Big names on special teams.
Rule changes have only made special teams more important -- and you'll have an opportunity to see some of the nation's most exciting players returning kicks in Week 5: Cal's DeSean Jackson, Florida's Brandon James and Oregon's Jonathan Stewart.
4. How will emerging players react to big games?
Oregon's Dennis Dixon and Cal's Nate Longshore both have experienced the highs and lows of major college football. They'll have a national stage -- how will they react? This is big.
5. Coaches switching sides at West Virginia at South Florida.
When West Virginia lost two of its coaches after the season, Rich Rodriquez replaced them -- with coaches from South Florida. Greg Frey, the Mountaineers' offensive line coach, and Rod Smith, WVU's quarterbacks coach, will face their former team Friday night. In a game that will feature two similar systems, two mobile quarterbacks and athletic offensive linemen, this is a story line worth watching.
Todd McShay's Midweek Exam
West Virginia-South Florida preview
By the Numbers
By ESPN Research
14: Kentucky's No. 14 ranking is its highest since finishing the 1977 season 10-1 and ranked No. 6. But even that season didn't generate as much excitement, considering UK was on probation and couldn't play in a bowl game. On Saturday, the Wildcats face Florida Atlantic, which is coached by former UK All-American Howard Schnellenberger, who was recruited to Lexington in the 1950s by then-Kentucky coach Bear Bryant.
11: The Big East's dean of coaches is Jim Leavitt, who's been the coach at South Florida since the program's inception 11 years ago. Having laid the foundation for the program, guided it from I-AA to I-A, then from Conference USA to the Big East, he now has made another huge step this season by leading USF to the top 25 for the first time ever.
109: There are 109 players in Division I-A who currently average more yards per game of total offense than Notre Dame (137 ypg).