Week 8 provides make-or-break matchups in conference races
SEC Race Heating Up
By Rob Gilmore, ESPN.com
The SEC race is wide open, and while no team is going to wrap up a division title in October, we could see a number of teams drop out of the race entirely in the next two weeks. It's been a wild year already -- could anyone have foreseen South Carolina or Kentucky at the top of the East? Both teams are dispelling critics with every win.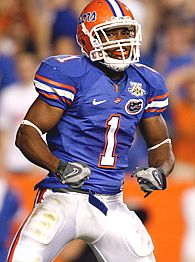 J. Meric/Getty Images
Florida will rely on Percy Harvin's leadership and production on the field.
The race really heats up this weekend. Here are three interesting matchups to watch in Week 8:
Florida at Kentucky
The stakes are high: The loser is effectively out of the SEC East race. The Gators already have two losses. The Wildcats have only one, but a loss to Florida would put them behind the Gators in the division race. This is a survival game. Don't expect to see a typical SEC, grind-it-out game; this matchup will feature the fast, high-flying offensive effort we expect from the Pac-10. Both teams are capable of putting up 40 points. The major question: Can
Tim Tebow
and
Percy Harvin
stay on the field long enough to minimize
Andre' Woodson
and Co.'s effectiveness? Keeping the Cats off the field will give Florida's young defense a break. Kentucky will turn it over -- that's been an issue for the team -- but it does get a lot of takeaways. I give the edge to Kentucky; you just don't know what effect the death of Florida walk-on defensive back Michael Guilford, who was killed in a motorcycle accident last Friday, will have on the team. It's not how the Gators will react Saturday that I worry about; they will be emotionally invested in the game. But it's how they reacted Tuesday, Wednesday and Thursday. When I played at Stanford, we lost a teammate during the season. We didn't have the same focus during the week. We didn't watch as much film because we were talking to each other and our friends. We didn't put the time and detail into the game that we otherwise would have. Losing a friend and teammate always is hard. How Florida reacts to the loss will be a determining factor in the game.
LSU at Auburn
(ESPN, 9 p.m. ET)
Many wrote off Auburn after losses to South Florida and Mississippi State, but the Tigers have reeled off four straight wins -- including an upset of then-No. 4 Florida. They can complete their revival with a win against LSU on Saturday. An Auburn win also would make the SEC West race a bit more interesting. Unlike Florida-Kentucky, this will be a true SEC, grit-it-out matchup. The key player could be Auburn senior defensive end Quentin Groves. How does LSU deal with him? It will look to limit what he does -- and that could mean committing two guys to him. I expect LSU to be able to bounce back from the loss to Kentucky and play more traditionally. LSU's defense will disrupt quarterback
Brandon Cox
, and Auburn doesn't have enough on offense to beat LSU. On special teams, Wes Byrum gives Auburn an edge.
Tennessee at Alabama
(ESPN360.com, Noon ET)
Which team is the contender, which is the pretender? My hunch is that Alabama isn't potent enough. The Crimson Tide need better production out of WR
DJ Hall
to win. (Hall has had just two games with more than 85 yards receiving.) Tennessee is somewhat similar. The Vols are looking for big days from
Lucas Taylor
and
Austin Rogers
to spread out Alabama's defense. Tennessee enters on a three-game winning streak, and its schedule sets up nicely if it can get wins at Bama and against South Carolina in Week 9. Even on the road, Tennessee should keep rolling -- I don't think Alabama can keep up with
Erik Ainge
and the Vols.
Parity Reigns -- But Not For Long
By Bill Curry, ESPN.com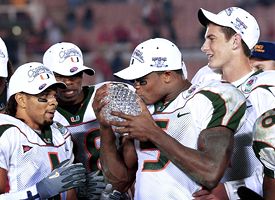 AP Photo/Mark J. Terrill
It wasn't so long ago that Miami was on top of the world.
This season, upsets have been the rule. But when teams like South Florida, Boston College and South Carolina are in the top six -- and traditional powers like Miami, Florida State and Nebraska are nowhere to be found in the top 25 -- what does it tell us about the college football landscape? On Saturday, Texas A&M will travel to Lincoln, Neb., and Florida State will play host to Miami (
ABC, 3:30 p.m. ET
). In years past, these matchups would grab headlines. This year, however, the games have flown largely under the radar because all four of the programs are down. They certainly are not alone; Alabama and Notre Dame are struggling as well. While many people find joy in watching these schools struggle because we are so used to watching them win, there is one certainty: They will be back. Football imitates life, and as no person can avoid failure or troubling times, neither can a football program. The reason people follow teams (and sports themselves), even if they are not fans or alumni of the school, is the human drama. And like in life, some people and teams have the courage, resources and will to fight back. These institutions have the tradition, the power and the money to regain their status among the elite. For the Florida States, Miamis and Notre Dames of the world, it is only a matter of time. We are enjoying a period of increased parity, thanks in large part to the spread offense. Much like the wishbone of the 1970s, the spread is the great equalizer. If a program has a few skilled players who can effectively run the offense, it can beat the big guys. We saw it happen in Week 1, when Appalachian State took down Michigan. But sooner or later, a team that's smart and more talented will find a way to shut down the spread, and it will go the way of past offensive systems. And then another brilliant coach, like West Virginia's Rich Rodriguez, will find yet another way to win.
Coach Class: Florida-Kentucky
By ESPN The Magazine
Editor's note: Each week, analysts from ESPN.com and ESPN The Magazine will tackle a game plan for one of the biggest games on the schedule.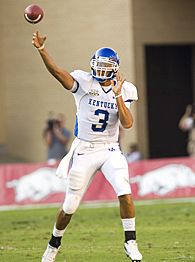 Wesley Hitt/Getty Images
Florida will try to go after Andre' Woodson early and often.
Yes, Florida has beaten Kentucky 20 straight times. But the Gators have also lost two straight this season, and this bunch of Wildcats doesn't look like an SEC doormat. We asked our former coaches, Bill Curry and Mike Gottfried, to pretend they were coaching this weekend's matchup. Then Jim Donnan picked a winner. On paper, anyway.
Gottfried takes over Florida
I'd emphasize to my guys that we're in desperation mode -- lose one more, and we're out of the BCS hunt. On defense, we have to take something away from QB
Andre' Woodson
, or else he'll use play-action to kill you deep. We want to stuff RBs
Tony Dixon
and
Derrick Locke
. Even with starter
Rafael Little
out, those two are dangerous. We'll use two guys, DE Derrick Harvey and safety Tony Joiner, to really disrupt the ground game. Harvey is known mostly as a pass rusher, but holds up well against the run. Harvey's a superb backfield-crasher. Joiner just has to play lights-out. We'll creep Joiner up toward the line as an extra linebacker, but also put him in charge of containing TE
Jacob Tamme
. That's a tough pair of tasks, but Joiner's the kind of athlete who can recover and hang with Tamme on pass routes. On offense, we'll spread out Kentucky and pound Tebow, who can destroy the Wildcats on read-options and draws. We'll call WR
Percy Harvin
's number early and often, and expect a trick play involving him on the first series. Kentucky's cornerbacks, Paul Warford and Trevard Lindley, are athletic enough to hang with Harvin and our wideouts on deep routes. But we'll free up Harvin and company by calling lots of crossing patterns.
Read the full story here.

South Florida's Success No Suprise
By Bill Curry, ESPN.com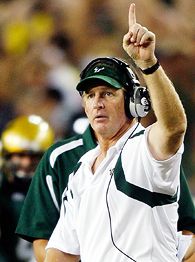 J. Meric/Getty Images
Jim Leavitt has proven his passion for South Florida.
When prospective coaches ask me for advice about getting into the business, I tell them to get a job anywhere, at any level, and focus on coaching their unit so well that people notice. I remember watching game tape of South Florida several years ago; it was evident that although the players weren't physically ready to compete, they were well coached. Although I didn't know about Jim Leavitt at the time, it was clear somebody was a very good coach: His players knew what to do, and they played very hard. The Bulls made noise in 2003, when they traveled to Legion Field and challenged Alabama. South Florida was tied with the Crimson Tide going into the second half but eventually lost 40-17. Although the Bulls weren't there yet, you could see their growth. Last season, I was sent to Morgantown, W.Va., to cover USF-West Virginia. Before the game, I had a long talk with Leavitt about his experience at the school. I asked him why he still was in Tampa, since he was rumored to have been offered some big jobs. His answer resonated: He loved living in Tampa, recruiting in Tampa and coaching in Tampa. His passion for his job was contagious, and it was evident how he was attracting so many talented recruits to a very young program. South Florida whipped West Virginia in that game, because freshman quarterback Matt Grothe was fearless and because the Bulls were physically superior. This season, the Bulls went to Auburn and won. I took some very good teams into Auburn and never won. That game, and their home win over West Virginia, put them on the national radar and are the reason both the computers and the coaches have the Bulls so high in the polls. Leavitt has attracted the type of players every coach wants on his team -- and that's why South Florida's success this season is no fluke.
Big East Looking For Cred
By Bob Davie, ESPN.com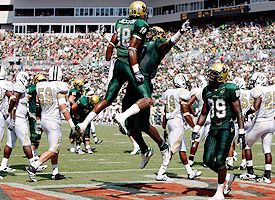 J. Meric/Getty Images
Will South Florida still be playing in January?
There is a bit of debate as to how good the Big East is; after all, this is a conference that watched its three preseason top-25 teams -- No. 3 West Virginia, No. 10 Louisville and No. 16 Rutgers -- fall unceremoniously after each lost game(s) it should have won. Louisville's and Rutgers' losses cost them spots in the recently released BCS standings. In their places, South Florida and Cincinnati have risen. The No. 2 Bulls have been a beacon for the conference -- beating, on the road, an Auburn team that handed defending champion Florida its first loss -- and have caused doubts about the conference's credibility. There are two distinctly different perceptions of the Big East: the national perspective and the conference's perspective. Nationally, the Big East still is fighting to make it into the upper echelon of the BCS leagues. Although the conference has turned heads for two seasons, starting with West Virginia's upset of Georgia in the Sugar Bowl, the Big East has been hounded by doubters, in part because of perceived soft nonconference scheduling. Rutgers' rise to national prominance was the feel-good story of 2006 -- even though the Scarlet Knights didn't have a meaningful win outside of the Big East. When you have a chance to watch teams like Cincinnati and Rutgers in person, you can see how competitive and athletic the league is -- the latter is something it doesn't get much credit for. West Virginia, Louisville, South Florida -- all of the teams have very skilled, athletic players. The Big East does lack the big linemen so often seen in the SEC and Big 12. However, the more exposure the Big East receives, with its Thursday and Friday night games, the more the nation will get to see how packed its stadiums are and how much excitement surrounds the conference. To gain credibility, Big East teams need to go outside of the conference and win. South Florida made a statement with its win at Auburn. Cincinnati's win against Oregon State put the Bearcats on the map early. But those games are hardly the rule. Rutgers' nonconference schedule includes Buffalo, Navy, Army and Norfolk State. West Virginia plays noted powerhouses Western Michigan, Marshall and East Carolina. Louisville takes on Murray State, Middle Tennessee and Utah (which proved to be too tough). While those games provide easy wins and get teams bowl-eligible, they do nothing to raise the nation's consciousness about the league. Because the Big East isn't held in the same esteem as the SEC, Big 12 and Pac-10, the conference has been hurt in the polls. While USC's loss to Stanford dropped the Trojans in the polls but not out of the top 10, the Big East hasn't been as lucky. And because dropping in the polls could hurt the conference's chances of BCS bowl bids, remedying that situation should be priority No. 1 for the Big East. The SEC, Big 12 and Pac-10 aren't forced into heavier nonconference scheduling because their conference schedules are perceived to be enough of a proving ground. Whichever teams emerge from those conferences are given respect for making it through -- and the losses aren't held against them to the extent we see in the Big East. The margin of error there is very small. So why is South Florida's No. 2 ranking bad for the league? Because the Bulls beat West Virginia to get it. Had West Virginia finished the season undefeated, it would have had the name-brand players, respected coach and marquee wins to put it in national title contention. Will an undefeated South Florida get enough respect from the voters to rise into the title game?
Viewer's Guide
(All times ET)
Friday:
8 p.m.:
Louisville at Connecticut (ESPN)
Saturday:
10 a.m.:
"
College GameDay
" from Lexington, Ky. (ESPN)
3:30 p.m.:
Michigan State at Ohio State (ABC)
California at UCLA (ABC)
Texas Tech at Missouri (ABC)
Miami at Florida State (ABC)
5:30 p.m.:
Kansas at Colorado (ESPN)
8 p.m.:
Virginia at Maryland (ESPN2)
Michigan at Illinois (ABC)
9 p.m.:
Auburn at LSU (ESPN) •
Schedule
|
Coverage map
|
GamePlan
Three-Point Stance
By Ivan Maisel, ESPN.com

1.
Two reasons to be optimistic about Colorado, 4-3 after last year's 2-10 disaster: One, the Buffs have two three-point victories, the only close final margins this season; two, the offense, with redshirt freshman/son-of-coach
Cody Hawkins
at quarterback, is reawakening. Colorado has 38 plays of 20 yards or more and 20 offensive touchdowns. Both figures already have surpassed the Buffs' 2006 totals.

2.
Tashard Choice
has been slowed by a balky hamstring but the Georgia Tech senior's ability to run in spite of it will impress NFL scouts. Choice has averaged 34 carries and 158 rushing yards over the last three games. "Some guys will themselves not to play when they're nicked up," coach Chan Gailey said. "There are some guys who will themselves to play when they're nicked up."

3.
The good news: USC tight end
Fred Davis
is averaging 17.2 yards per catch this season, nearly two yards more than any other tight end in the NCAA stats. The bad news: That's not the only reason that Davis stands out for the Trojans. The lack of a vertical passing game has crippled USC's offensive woes. Wide receiver
Patrick Turner
's is averaging 10.3 yards per catch, yet ranks second on the team.
Under Pressure
By Bob Davie, ESPN.com
College football coach isn't a career you enter expecting longevity. But we've seen a worrisome trend lately: The decreasing career lifespan of the defensive coordinator. Unless you are at a school like LSU or Auburn, which have great athletes at every position across the board, it's tough to succeed. Offenses now spread out defenses so much, the game becomes a one-on-one matchup. There's nowhere to hide a vulnerability. You have to have guys who can matchup with talent on offense. Every week, you are playing some version of a spread -- whether the opponent is throwing it or running it -- and you have to be as good or better to match up. The best defenses are those with the best athletes. If you don't have them, you have nowhere to hide. You used to be able to outscheme another team. But that's not the case anymore. Coaches, athletic directors and fans must be more realistic in their defensive goals and realize the game has changed. Boise State and Nevada lit up the scoreboards last Sunday. Northwestern and Minnesota scored nearly 50 points each when they played last Saturday. It's crazy -- and it's been like that every week.
Craig James on motivation
Pat Forde: News And Notes
Looking Forward, Looking Back
By Bob Davie, ESPN.com

• Although playing LSU and Florida in consecutive weeks is on no coach's wish list, the emotional high of Kentucky's upset victory should have made the bumps and bruises of such a physical contest heal a bit faster this week. If the Wildcats had lost in overtime, I'd be much more concerned about how they would hold up against the Gators.

• The most entertaining game of the weekend will take place Saturday in Columbia, Mo., when No. 24 Texas Tech pays No. 16 Missouri a visit. If you like offense, this is the game to watch. The final score should rival that of Nevada-Boise State, which was 136 combined points.
Kirk Herbstreit: Good Call/Bad Call
Brady Quinn On Irish QBs
What To Watch In Week 8
By Rod Gilmore, ESPN.com

• Michigan should be very afraid of its matchup with Illinois (
ABC, 8 p.m. ET Saturday
). With the showdown with versatile quarterback Juice Williams looming, Wolverines fans should be having nightmares of quarterback runs and spread offenses. Illinois' Williams, Rashard Mendenhall and Arrelious Benn are very fast and should cause problems for Michigan's defense. While Williams isn't as proficient as Oregon's Dennis Dixon, he is as dangerous as Appalachian State's Armanti Edwards. The key will be how healthy Mike Hart is: If he is at full strength, he should be able to carry Michigan to another win. If he's not, or if he doesn't get any help, this could be a rough game for the Maize and Blue.

• UCLA is college football's version of Jekyll and Hyde. The Bruins are one of just two teams with undefeated records in Pac-10 play (the other is Arizona State) but have two bad nonconference losses to Utah and Notre Dame. Part of the problem has been at quarterback, where the Bruins have had five different players throw a pass this season. With starter Ben Olson out, Patrick Cowan gives the team its best shot at winning. McLeod Bethel-Thompson was overmatched against Notre Dame, and Cal presents a much tougher chalenge.

• Will Rich Brooks' success start a trend? Kentucky was very patient with Brooks, when a number of other schools would not have been, and it has served the Wildcats well. In a season in which a number of coaches at high-profile schools appear to be on the hot seat, it will be interesting to see what stance other schools around the country take.
Coach's Corner
By Jim Donnan, ESPN.com
At this point in the year, coaches are taking a hard look at their teams and trying to figure out whether to make changes. Here are the three biggest issues they're worried about:
1. Conditioning.
You've played some tough, physical games. How hard should you work your players? Should you hammer them or let off on the gas? You want to maintain your team's condition, or improve it, without taxing your first-team players. At this point in the season, coaches also focus on increasing depth. They'll conduct spring-type practices with redshirts, freshmen, sophomores and second- and third-team players. This gives coaches a chance to evaluate their players and develop them one on one.
2. Special teams.
After a half-season of enduring full-speed collisions, many coaches will try to lessen the strain on payers by doing more walk-throughs. Of course, if the unit is having trouble, coaches don't have much choice but to go full speed.
3. Information overload.
It's amazing how much information coaches and players have now, compared to even five years ago. Video systems allow teams to watch the same play five times -- each from a different angle. Players always have known their assignment and technique, but now they can study so much more about opposing teams. This, more than anything, has contributed to the parity we've seen: the increased ability to scout an opponent.
By The Numbers
By ESPN Research
• The Buckeyes have allowed just 46 points in the first seven games of the season, the fewest they've allowed through seven games since 1975 (42 points allowed in first seven games). Amazingly, OSU has allowed just two first-quarter points this season, outscoring opponents 70-2 in the opening quarter. • To this point in the season, there have been seven Big East conference games, and the home team is a remarkable 1-6. South Florida, with its win over West Virginia, is the only team to win a conference game at home. • One problem the Auburn offense might have against LSU is an inability to stretch the field with its passing game. Auburn has just seven completions of 25 yards or more this season (averaging 1 per game). Only five teams in the country have fewer. Texas Tech, by the way, leads the nation with 36. LSU, which has played its last five games without Early Doucet, has just 10 such pass plays.