Plenty of 'what ifs' on tap for Week 1, including Missouri-Illinois
Situation Room: Keeping perspective in Week 1
Opening weekend offers questions, answers
By Rece Davis, ESPN.com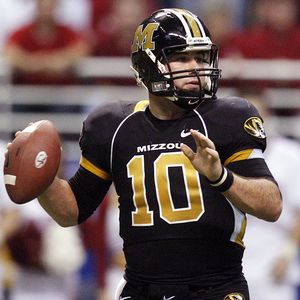 Jerry Lai/US Presswire
Chase Daniel and Mizzou look to start the season with a win over Illinois.
Patience. Perspective. Nah. Let's go straight for the knee-jerk reaction. We'll all be tempted to draw some conclusions from the opening week of college football. Granted, the lineup of tomato cans ready to be knocked over could temper that temptation a bit. I mean what can you really learn from Penn State playing Coastal Carolina … other than what a Chanticleer is? I think it's natural to want to confirm hunches or suspicions about certain teams. There are a few who might show their colors this weekend. I can't wait for Missouri and Illinois on Saturday night. Maybe we'll see if Missouri really is golden and if the future is rosy for the Illini. It was a magical ride to Pasadena for the Zooker last year. But was that just a good Illinois team or are the Illini becoming a good program? I'll admit I've been skeptical of Illinois' staying power in the past. Answers, or at least big hints, come Saturday night. Has
Juice Williams
taken another step forward as a passer? Good programs replace leaders. Who is this year's J. Leman? It's not so much whether the Illini win, it's how they play that matters to me. Frankly, this is the type of game national title contenders win. Missouri wants to join that realm. Win the game. Last year raised the bar. A check on Mizzou's maturity and how it handles prosperity is coming up in Saint Louis on Saturday night. Other games this weekend might tip a few hands and have you revisiting your BCS predictions: What if banged up Georgia slops around against Georgia Southern? What if
Mark Sanchez
looks gimpy against Virginia? What if Virginia Tech's O doesn't move … and neither does Tyrod Taylor's redshirt? What if Michigan can't score? What if Utah can?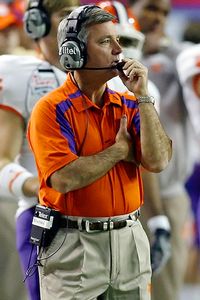 Chris Graythen/Getty Images
Can this finally be Clemson and Tommy Bowden's year?
What if Clemson lives up to the hype? Would that sell you that these Tigers are of the Homer Jordan ilk? What if Alabama's freshmen are really that good? What if they aren't? What if Howard Schnellenberger was right about Texas? What if he just made Texas mad? What if I can't get the new "Dr. Lou, Dr Lou" jingle out of my head? Definitive conclusions might not come easily after one week. But don't be blind to the first impression. They can be tough to shake. Like that Dr. Lou jingle. Binding decisions will be handed down Saturday night on "College Football Final" in the debut of our new segment called "The Final Verdict." Piqued by issues like the ones discussed above, Mark May and Lou Holtz will present their cases on a major moment from the day. No court-appointed attorneys here. The only inflexible rule? They have to believe in their position. In the unlikely event that my hall of fame partners should happen to see every pertinent issue the same way all day, I'll just say, "Notre Dame." That should spark some discourse. The judge will encourage patience and perspective. However, even think about getting out of line and the contempt of court gavel will drop quicker than Trindon Holiday turns the corner. Sometimes, immediate impressions are the right ones.
Coach's Corner: Rule Changes
Former defensive coordinator and head coach Bob Davie will share his thoughts on various topics throughout this season. For Week 1, Coach Davie gives his take on five rule changes for 2008.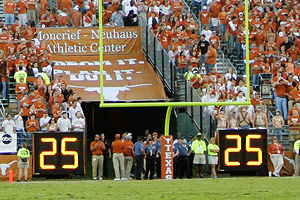 Brian Bahr/Getty Images
Say goodbye to the 25-second play clock this season. What will it mean for teams and coaches?
Rule Change No. 1:
Outside of the final two minutes of each half, the game clock will no longer remain stopped until the next snap after an incomplete pass or ball carrier running out of bounds. Instead, the clock will initially stop at the end of the play, then it will start again as soon as the ball is set for play by the referee. Inside of the final two minutes of each half, the clock stoppages will be handled as they've been in previous seasons.
Bob Davie
:
From a coach's perspective, the biggest concern to me is that for three straight years, they've changed the game clock rules. All coaches will adapt to it eventually, but it does leave them very vulnerable. I'm fine with the rule change itself, but there will be coaches who will make mistakes with this new rule. When they do, they're going to be labeled with the "poor clock management" tag because of it.
Rule Change No. 2:
A 40-second play clock will replace the old 25-second version. Just like in the NFL, it will be started as soon as the previous play is blown dead.
Davie
:
This is a good rule because we now have some consistency. In previous seasons, it was up to the referee to decide when it would start and that would change from week to week. At least now, it can be consistent.
Rule Change No. 3
: There is no longer a penalty for an incidental face mask (previously five yards for grabbing the mask). Now, only a 15-yard personal foul face mask penalty will be called.
Davie
:
I think this is probably a good rule, but my hope is that they are conservative when they do throw the flag. Obviously, a 15-yard penalty effects field position and can change momentum in games, so I'd like to see a conservative approach when they decide to call it.
Rule Change No. 4
: For the first time, a horse-collar tackle will be flagged. Pulling down a ball carrier by the inside of the shoulder pads (if it occurs outside the tackle box) will be a 15-yard penalty.
Davie
:
I don't see this new rule being a big issue which will impact games this season. Anything that's implemented to protect these players is a good addition.
Rule Change No. 5
: Coaches will still be given one opportunity per game to challenge a ruling on the field through instant replay. However, if the challenge is successful, that coach will have one more opportunity to challenge later in the game. No more challenges will be allowed after that, even if the first two are both successful.
Davie
: This doesn't mean much to head coaches. There's a review system that's set up so every play is basically reviewed anyhow in college football. I think the rule is overrated. It makes sense that you're afforded another challenge if you are successful, but it doesn't affect anything.
Viewer's Guide
(All times ET)
Saturday:
10 a.m.:
College GameDay
from Atlanta. (ESPN)
11 a.m.
Appalachian State at LSU (ESPN Classic)
Noon:
Virginia Tech at East Carolina (ESPN)
Bowling Green at Pitt (ESPNU)
Syracuse at Northwestern (ESPN2)
3:30 p.m.
USC at Virginia (ABC)
Utah at Michigan (ABC)
3:45 p.m.
Delaware at Maryland (ESPNU)
6:45 p.m.
Mississippi State at Louisiana Tech (ESPN2)
7:30 p.m.
Boston College at Kent State (ESPNU)
8 p.m.
Alabama vs. Clemson (ABC)
Michigan State at Cal (ABC)
8:30 p.m.
Illinois vs. Missouri (ESPN) •
College football schedule
|
ESPN GamePlan
•
Coverage maps:
Week 1
Insiders: Kickoff Weekend
Blog Network: What to Watch
Each week our bloggers will take a closer look at the story lines you should be watching. What's on tap for Week 1?

Will Clemson's offensive line answer questions? How will Virginia Tech's offense do? And what about North Carolina's D?
ACC

Growing pains for Texas' green secondary? How aggressive will Missouri's defense be? Artrell Woods returns.
Big 12

Keep an eye on Pat White's arm and Rutgers' running game. Is Louisville's defense better? And what about Pitt's poise?
Big East

We finally see Michigan QBs Steven Threet and Nick Sheridan, but how about that Pryor guy? And don't forget Juice vs. Chase.
Big Ten

Will Mark Sanchez's injury linger? Can Oregon's Justin Roper take charge in the huddle? Is this a statement game for Arizona?
Pac-10

Can Alabama's Julio Jones live up to the hype? How good is Kentucky's defense (yes, we said
defense
) going to be?
SEC

Non-BCS:
Appalachian State did it last year. Will Utah pick off Michigan in the Big House on Saturday?
Around the nation
The Doctor Is In: Dr Lou's Advice
By The Numbers
By ESPN Research

• LSU's preseason No. 7 ranking is the lowest for a defending AP national champion since Colorado was No. 13 to begin the 1991 season.

• Entering 2008, USC has won 15 straight August and September games, outscoring opponents 611-226. The last August or September game the Trojans lost was Sept. 27, 2003 at Cal.

• Despite its "Thunder and Lightning" backfield of James Davis and C.J. Spiller, Clemson ranked a disappointing 50th in the nation in rushing offense last season (161.2 yards per game).
College Football Live: Alabama at Clemson
College Football Live: Utah vs. Michigan