Can Texas complete its gauntlet? Will Florida or Georgia celebrate?
Situation Room: Chaos And Controversy?
Longhorns-Red Raiders, Bulldogs-Gators headline Week 10
By Rece Davis, ESPN.com
This is the point of the season when the chaos hit high gear in 2007. After Nov. 1, teams ranked first or second in the BCS standings went 3-7. The 2008 calendar hits November on Saturday. Will we be treated to an upset encore this season?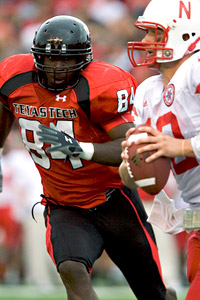 L. Scott Mann/Icon SMI
Brandon Williams and the Texas Tech defense will be chasing No. 1 Texas on Saturday.
No. 1 Texas gets a stern test in Lubbock, Texas, on Saturday night (
ABC, 8 ET
). It's the biggest game in Red Raiders history, but is this the game that changes Red Raiders history?
Texas Tech is and will always be in Texas' shadow. That's life in the Lone Star State. But rather than being known as a program with a gimmicky offense and an eccentric coach, Texas Tech can arrive as a title contender with a win.
From an emotional standpoint, I think the road trip will actually help Texas. I thought last week against Oklahoma State was the tough one for which to get ready. After the Oklahoma game, Texas heard all week how it couldn't let down for Missouri. Then the Longhorns got basically the same message before facing the Cowboys. The Horns have responded beautifully.
Now, for something completely different, Texas gets a road game in a hostile environment. It's only Texas' second true road game of the season. I think it will help the Horns. Distractions will be limited, and the challenge will be fresh. It'll be the No. 7 Red Raiders who have to deal with the hoopla surrounding the game.
These offenses are prolific, but keep your eyes on the defense -- and not just the Texas defense. Tech has two of the top three sack artists in the Big 12. Brandon Williams and McKinner Dixon rank second and third in the Big 12 in sacks, just behind the Longhorns' Brian Orakpo.
So in a game that will likely be dominated statistically by offenses, which defense can make the key stop, come up with the big sack or force the critical turnover might decide the game. The Longhorns aren't the only ones with playmakers on defense. Keep your eye on whether those two Texas Tech pass-rushers can contain Colt McCoy. That should give us an early sign as to whether the Red Raiders have the chops to pull the upset.
Jacksonville Jamboree's Got Juice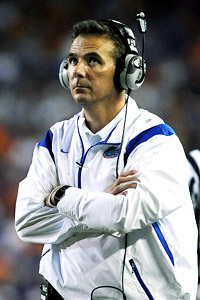 AP Photo/Phil Sandlin
Urban Meyer and the Gators might be looking forward to their reunion with the Bulldogs.
Every Dawg this side of Herschel Walker and Frank Sinkwich celebrated Georgia's first touchdown in its win over Florida last year. It stuck in the Gators' craw. Think Florida is over it? How about this quote from Urban Meyer's book "Urban's Way": "It was a bad deal. It will forever be in the mind of Urban Meyer and in the mind of our football team. We'll handle it and it's going to be a big deal."
Urban talked the talk. The Gators have a chance to walk the walk. No talking this week. The Gators were under a gag order on the subject of the Bulldogs' excessive delirium.
Both teams arrive in Jacksonville, Fla., playing their best football. Both are national title-caliber teams. Both are testy. There is tension percolating in this game. I expect it to get a little chippy.
Georgia is the most-penalized team in the country. Florida is only a few notches better. Drawing flags doesn't preclude you from winning. The last two national champions were among the most penalized teams in the country. But untimely penalties can kill you. Players on both sides have to make sure they don't lose their composure and cost their teams with stupid things like late hits, blows to the head on the quarterbacks and mistakes of that ilk.
Payback is usually the most overrated thing in sports. That might not be the case in the Gators' minds Saturday. But how angry they are won't matter if they can't get Matthew Stafford out of rhythm and keep Knowshon Moreno from running wild. That's what beat Florida last year, not any choreographed celebration.
If Georgia really wants to stick it to them, let's see if the Dawgs are man enough to rush the field and celebrate after the first touchdown this year. Just kidding.
The Dawgs and Gators will have nothing on my studio when it comes to tension, testiness and bragging rights Saturday. I know it's off your radar, but Pitt and Notre Dame will have the attention of my Hall of Fame running mates, Mark May and Lou Holtz. All kidding aside, both guys are gracious gentlemen who never boast, never talk smack to a rival and will certainly dispassionately watch the Panthers and Irish square off.
If you believe that, you'd believe Mike Leach plans to scrap his offense and run the veer against Texas on Saturday. You know who the real Pitt-Notre Dame winner is? Me. I may have the cameras roll while they cut each other to pieces.
Inside The Film Room
Georgia's Stafford A Throwback QB
By Todd McShay, ESPN.com
In today's spread-formation-crazed world of college football,
Matt Stafford
is practically a throwback quarterback playing in a throwback system. The fact that he has taken snaps from under center in a somewhat pro-style offense is one of the reasons NFL teams believe Stafford's game transfers well to the next level. And by the word well, I mean possible top-5 pick -- either in the 2009 draft or a year later.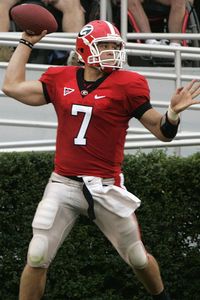 AP Photo/John Bazemore
There's a lot to like about Matt Stafford's physical presence in the pocket.
His prototypical physical makeup is the much bigger reason for all the NFL appeal. At 6-foot-3 and 237 pounds, Stafford is sturdily built and stands tall enough to see the entire field from inside the pocket. Plus, there isn't a quarterback in college football with a stronger arm than his. Anyone doubting that assertion should pop in the tape from this year's Vanderbilt game, when Stafford threw a frozen rope 55 yards in the air to freshman WR A.J. Green (first quarter; 2:32 remaining).
Stafford is at his best when given time to plant his feet, survey the field and step into his throws. Under those circumstances, he has the recognition skills, velocity and accuracy to dissect any secondary in the country. Florida's secondary is no exception. A relentless pass rush is Stafford's kryptonite, though. It exploits both of his significant weaknesses. The first is his limited mobility. Stafford has proven capable of throwing accurately on the run, particularly when booting out to the right side (his throwing side) off the play-action fake. But that's about the extent of his scrambling effectiveness. Rarely does Stafford elude the rush by running away from the defenders outside the pocket -- and he's certainly not a threat to cross the line of scrimmage and motor for a first down. The other weakness is a tendency to trust his arm strength too much at times. Stafford is still learning the fine line between maximizing and abusing his strong arm. Rather than living to play another down, his belief that he can fit the ball into any tight spot leads him to take some ill-advised chances down the field (see: second-quarter interception versus Alabama as case in point). Here's the rub. In games that Stafford starts and avoids throwing an interception, Georgia is 16-1. With that in mind, the Bulldogs' best chance of winning in Jacksonville on Saturday is to limit Stafford's exposure to the Florida pass rush. With an offensive line featuring three freshmen and two sophomores, establishing RB
Knowshon Moreno
on the ground should be priority No. 1 for Mark Richt and his staff.
Red Raiders' success starts with underrated O-line
Even the average college football fan is familiar with Mike Leach's high-octane, spread-formation aerial attack at Texas Tech. This year's version is ranked first in passing offense and third in scoring offense. Such high rankings are hardly unusual for Tech, especially considering the experience of QB
Graham Harrell
and the rare skill level of his favorite target,
Michael Crabtree
.
What is unusual -- and going mostly unnoticed -- is the exceptional play of the Red Raiders' offensive line, which has allowed only three sacks in 391 pass attempts through eight games. The only other FBS team allowing fewer sacks is Air Force (two), which has attempted a measly 74 passes all season.
Texas Tech is also running the ball more effectively this season (138.5 yards per game) than it has at any previous point in Leach's tenure. In addition to keeping opposing defenses honest, Tech's rushing aptitude comes in handy in short-yardage and red zone situations, which have been a downfall of this "finesse" offense in the past. The Red Raiders currently rank in the top 40 in both third-down conversion percentage and red zone scoring offense.
Granted, Harrell is getting rid of the ball quicker, Crabtree is drawing more attention from opposing defenses and RBs Shannon Woods and Baron Batch are doing their jobs as ball carriers. But it doesn't take much game-tape study to recognize the line's sizable role in the offense's achievement to this point.
There are no individual stars or future first-day NFL draft picks playing on Texas Tech's offensive line. Instead, this experienced unit uses its communication skills and technique to execute at an extremely high level.
Click here for complete Insider story

Scouts Inc. watches games, breaks down film and studies football from all angles for ESPN Insider. Listen to Todd McShay break down the biggest games and give you all the scores on "College GameDay" on ESPN Radio every Saturday from noon to 7 p.m. ET. He also is a frequent contributor to ESPNU.
Viewer's Guide
(All times ET)
Saturday:
10 a.m.:
College GameDay
from Lubbock, Texas (ESPN)
Noon:
Northwestern at Minnesota (ESPN2)
Wisconsin at Michigan State (ESPN)
Air Force at Army (ESPNU)
3:30 p.m.:
Iowa State at Oklahoma State (ABC)
Florida State at Georgia Tech (ABC)
Oregon at Cal (ABC)
Clemson at Boston College (ESPNU)
Iowa at Illinois (ABC)
7 p.m.:
Louisville at Syracuse (ESPNU)
Tennessee at South Carolina (ESPN2)
8 p.m.:
Texas at Texas Tech (ABC)
Nebraska at Oklahoma (ESPN)
•
College football schedule
|
ESPN GamePlan
•
Coverage maps:
Week 10
Preview: Texas vs. Texas Tech?
Blog Network: What to Watch
Each week our bloggers will take a closer look at the story lines you should watch. What's on tap for Week 10?

Can Florida State's offensive line handle Georgia Tech's defensive front? Will C.J. Spiller's return lift Clemson? Can Miami's D slow down UVa's Cedric Peerman?
ACC

Can Texas Tech stop Texas on third down? Will the Oklahoma defense improve? Will a team from the North emerge?
Big 12

Can UConn slow down the West Virginia offense? Can Pitt's D control ND's Jimmy Clausen? How is Louisville's mental state?
Big East

Can Minnesota's march continue? Will Juice Williams and Illinois bounce back? Can Michigan State avoid a letdown? Will Michigan's bowl streak end?
Big Ten

Will Kevin Riley's mobility keep Cal in it against Oregon? How much will USC miss Kevin Ellison? Do Rudy Carpenter and ASU have any magic left?
Pac-10

Will Florida or Georgia celebrate Saturday? How will QB Randall Cobb perform for Kentucky? Can Auburn stop the bleeding?
SEC

Non-BCS:
Can Notre Dame slow down Pitt's LeSean McCoy? Will Tulsa earn some BCS credibility against Arkansas? Will Levi Brown continue to shine for Troy?
Around the nation
Kirk Herbstreit: Week 10 Preview
By The Numbers
By ESPN Research

• No. 18 Tulsa has a chance to add a measure of legitimacy to its résumé with a trip into SEC country to play Arkansas on Saturday. Tulsa has the nation's top-scoring offense, averaging 55.6 points per game and having scored at least 56 points five times already. The NCAA record for points per game in a season is 56.0 by Army in 1944, which could be within reach for the Golden Hurricane, given the defensive rankings of their remaining opponents. Starting with Arkansas, Tulsa plays its final four regular-season games against teams that don't rank among the top 70 nationally in scoring defense.

• Over the last 3 weeks, Texas has beaten No. 1 Oklahoma, No. 11 Missouri and No. 7 Oklahoma State and is now preparing to face No. 6 Texas Tech on Saturday (all rankings in AP poll). With a win, the Longhorns will become only the second team ever to beat a top-12 squad four weeks in a row. Notre Dame did it in 1943.

• Alabama's winning streak will reach 10 games with a victory against Arkansas State on Saturday -- the 21st winning streak of 10 games or more in Crimson Tide history. That's easily the most in major-college football. Texas also has a chance to win its 10th straight game Saturday, which would move the Longhorns into sole possession of 4th on the all-time list of streaks.

• Oklahoma's defense has been shredded since losing leading tackler Ryan Reynolds to a knee injury early in the second half against Texas three weeks ago. After falling 45-35 to the Longhorns, OU has beaten Kansas 45-31 and Kansas State 58-35. If the Sooners allow 30 points or more Saturday against Nebraska, it will be the first time in program history they've allowed 30+ points in 4 straight games.
Preview: Texas vs. Texas Tech
Preview: Florida vs. Georgia
College Football Spotlight