Cowboys-Red Raiders, Tide-Tigers highlight Week 11 headlines
Situation Room: "Biggest game in history of this year"
Red Raiders, Crimson Tide, Nittany Lions look to stay undefeated
By Rece Davis, ESPN.com
How do you follow your biggest win ever? Texas Tech's encore will come with the "biggest game in the history of this year," according to Mike Leach. Leave it to the Red Raider boss to put a little pinhole in our hype balloon.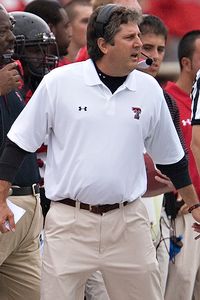 L. Scott Mann/Icon SMI
Mike Leach's Red Raiders face another tough test on Saturday.
Tech's match with Oklahoma State is huge. Leach's semi-sarcastic touch is right on the money. Beating Texas last week was probably Tech's most important win ever. But if the Red Raiders follow that landmark victory with a loss to Oklahoma State, you know what that makes last week's win? An upset. Just a big upset. See how this works? This magnitude of last week's win depends on this week's outcome, which can only be determined by last week. And you thought the BCS formula was confusing. Or is it BSC? I'll get with JoePa on that one. We don't need all that. Oklahoma State and Texas Tech are chock full of entertainment value. Just look at what last year's game featured: 94 points, more than 1300 yards of offense, one fired defensive coordinator and a YouTube sensation. "I'm a Man! I'm 40!" Hand it to Mike Gundy. Not only did the then-40-year-old win the game, his rant upstaged a pretty good Mike Leach post-game news conference. Leach delivered some classic lines about his team having "pouty expressions on our face until somebody daubed our little tears off and made us [expletive] feel better." Tech's D is a different animal this year. They'll need to be. Oklahoma State can make big plays in the passing game with
Dez Bryant
, but what sets the Pokes apart is the fact that they are committed to running the ball. They don't just run it if the defense gives it to them. Running the ball is part of their DNA. Tech played a good running team in Nevada earlier this season, but with the dynamic
Kendall Hunter
,
Keith Toston
, and QB
Zac Robinson
, the Cowboys are much more explosive. Tech's run D is excellent statistically (10th in the nation allowing 99 ypg). I'll be watching to see if they can hold up against the Pokes' ground game. There are Heisman contenders; Biletnikoff front-runners; pierced, face-painting linemen; and all kinds of offensive bells and whistles to light up a scoreboard. Which defense can get enough key stops? If Texas Tech can do that, just imagine how big the Oklahoma game will be in a couple of weeks. Biggest game in the history of … Mike Leach facing an old boss? I digress.
Bama-LSU rumble in Baton Rouge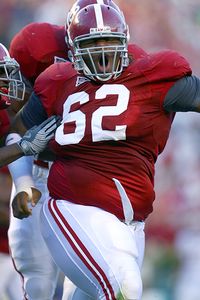 Marvin Gentry/US Presswire
Alabama fans will be happy to see Terrence Cody back in the lineup.
They've waited for his return. His mere presence in Tiger Stadium casts a shadow over LSU and sends a murmur through the crowd. His reputation as a defensive force puts at least a hint of uncertainty in any opposing quarterback's mind. Nick Saban's return to Baton Rouge? Nah. Terrence Cody's return to the Alabama lineup. The 365-pound run-stuffer is expected to play after missing a couple of games with a sprained knee. If Mount Cody and fellow NT Josh Chapman can take away LSU's running game, then
Jarrett Lee
has to solve Saban's complex defensive schemes. The redshirt freshman has thrown five pick-sixes, and Alabama will be looking to pounce on a cheap one. LSU still has a chance to win the SEC West, but perhaps more importantly, this could be the Bayou Bengals' last chance to prove themselves defensively in a big game. After the Georgia and Florida fifties fiascos, LSU will be eager to atone. Atoning against the former LSU coach would cover a multitude of sins in the eyes of Tigers fans. Saban's current team would do well to rip off a few chunks of yardage in the passing game. Crimson Tide QB
John Parker Wilson
has been stunningly efficient in four games away from home. He's completed 69 percent of his passes and thrown four touchdown passes without a pick. It'll be interesting to see if LSU's D-line can rattle the senior with early pressure. Usually, it's the road team that has to weather the storm early. With the emotion that will be smothering that stadium Saturday, that could be the case for the Tide. Then again, Alabama's M.O. is to bust people in the chops first. The Tide has outscored its opponents 108-6 in the first quarter and 198-26 in the first half. It might be LSU that has to withstand the early flurry.
Perfect finish for Nittany Lions?
A trip to Iowa looks to be the closest thing to a daunting obstacle between Penn State and a perfect regular season. The Nittany Lions finish with home games against Indiana and Michigan State.
Daryll Clark
should be back from a mild concussion to guide the high-scoring Nittany Lions offense. Hawkeye RB
Shonn Greene
is the only back in the nation to have rushed for 100 yards or more in every game this season. Iowa would love to control the clock and keep that potent Penn State O off the field. (That strategy is one that Leach says was devised shortly after they invented fire.) Joe Paterno wasn't around for that. With a win, he will have been around to start 10-0 for the ninth time, matching the record set by Bear Bryant. A few quick hitters worth noting:
How will Notre Dame bounce back from the quadruple-overtime heartbreaker against Pitt? If the Irish lose for the sixth straight time to Boston College, a minimum 5-loss season would be a near-certainty (a visit to USC on Nov. 29 is on deck). Given Notre Dame's softer schedule, how much progress would that really constitute? Progress is apparent for North Carolina and Georgia Tech. The winner will be a step closer toward winning the ACC Coastal Division. Though that parity puree probably won't be settled until the final day of the season. You know, when all the biggest games in the history of this season are usually played.
Lukacs: ND's Victory March transcends sports
According to popular lore, it was in a Massachusetts church in 1908 that Michael Shea sat down at a piano to play a unique, yet-unheard song that he and his brother John had written in honor of their alma mater.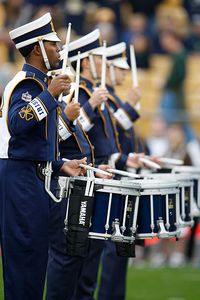 Scott Boehm/Getty Images
It's hard to argue with the fact that "The Notre Dame Victory March" is college football's most recognizable fight song.
The reaction of that first audience at the Second Congressional Church in Holyoke has been lost to history, but a century has passed and college football fans still can't get the tune -- the Shea brothers christened it "The Notre Dame Victory March" -- out of their heads. The composition was declared "the greatest of all fight songs" in college football's centennial season of 1969, but it might even be more than that. "[The Victory March] is the fourth most well-known song in the country, behind only 'The Star-Spangled Banner,' 'Happy Birthday' and 'White Christmas'," says eminent college football historian Beano Cook. While there are those in Ann Arbor, Atlanta, College Station and Columbus that will vehemently disagree with any such claims, there is no disputing the song's singular appeal, the fact that the "Notre Dame Victory March" is undoubtedly the most recognizable collegiate fight song. The proof is that unlike other fight songs, one doesn't just hear the "Victory March" at halftime. Love it or hate it, the song has transcended sports for nearly its entire life, framing Irish conquests from South Bend to Yankee Stadium to Tokyo, as well as being heard everywhere from far-flung battlefields and White House parties to appearing in episodes of "The Family Guy" and "The Simpsons" and the movie "Airplane!" The song has also been covered by a wide variety of artists ranging from Glenn Miller to the Dropkick Murphys. It's so catchy, so contagious, even Irish opponents have been unable to resist its siren-like lure. Legendary USC coach John McKay found himself humming the "Victory March" while walking off the field at Notre Dame Stadium after his defending national champion Trojans were defeated 23-14 in 1973. "There was nothing else to hum," quipped McKay. The success of the song surprised Rev. Michael Shea, the 1904 Notre Dame graduate and priest who considered the song he co-wrote (Michael Shea wrote the music, John Shea, the lyrics) "very amateurish." Notre Dame officials might have agreed; the "Victory March" reportedly did not make its campus debut until Easter Sunday 1909, and was not played at an athletic event for another decade. But soon after Notre Dame band director Joseph Casasanta reworked the song into the jaunty, modern version known today, it became the soundtrack to the epic story of the rise of Notre Dame football in the 1920s. And age hasn't caught up to the Sheas' song -- it's been a busy centennial-birthday year. The "Victory March" celebrated its Massachusetts birth in March when five marching bands, including that of the University of Massachusetts, played a stirring rendition during the Holyoke St. Patrick's Day parade. In May, the Notre Dame band performed the "Victory March" at the Beijing Concert Hall in the midst of a tour of China. And over 500 Notre Dame band alumni from the classes of 1941 through 2007 joined current band members on the field for a special commemoration celebration at the Notre Dame-Stanford game Oct. 4. One can only imagine what the Shea brothers would have thought about those honors. John Shea became a Massachusetts state senator and lived in Holyoke until his death in 1965. In addition to being a pastor in Ossining, N.Y., Michael Shea would study music in Rome and serve as an organist at New York's St. Patrick's Cathedral before his death in August 1940. The priest who delivered Rev. Shea's eulogy in South Bend, Rev. Henry F. Hammer, could have been speaking of future decades and not just the fall of 1940 when he predicted that soon "Thunderous crowds will gather in great stadia throughout the nation to attend the intercollegiate football contests. Bands will play and pennants wave and through the radio will come the triumphant strains of a long familiar tune. You will pause and listen and say, 'It is the Victory March…" Unlike those in attendance at tomorrow night's Notre Dame-Boston College game, those exiting Holyoke's Second Congregational Church that day in 1908 certainly did not recognize the tune, nor did they in all likelihood understand the significance of what they had just heard. Yet, chances are, they were humming.
John D. Lukacs is the consultant to College GameDay.
Viewer's Guide
(All times ET)
Saturday:
10 a.m.:
College GameDay
from Baton Rouge, La. (ESPN)
Noon:
Ohio State at Northwestern (ESPN2)
Michigan at Minnesota (ESPN)
Syracuse at Rutgers (ESPNU)
3:30 p.m.:
Penn State at Iowa (ABC)
Oklahoma at Texas A&M (ABC)
Clemson at Florida State (ABC)
Virginia at Wake Forest (ESPNU)
7 p.m.:
Cincinnati at West Virginia (ESPNU)
8 p.m.:
Oklahoma State at Texas Tech (ABC)
Florida at Vanderbilt (ESPN2)
Cal at USC (ABC)
Notre Dame at Boston College (ESPN)
•
College football schedule
|
ESPN GamePlan
•
Coverage maps:
Week 11
McShay's Weekend Preview
Blog Network: What to Watch
Each week our bloggers will take a closer look at the story lines you should watch. What's on tap for Week 11?

Is UNC at its best when the heat is on? How many turnovers will we see in Tallahassee? How will Boston College's pass D fare against ND's Jimmy Clausen?
ACC

Will Texas' secondary rebound against Robert Griffin? What can be expected from Darrell Scott's first start? Will Oklahoma State's D step up in Lubbock?
Big 12

Will Tony Pike and Co. be able to pass on West Virginia? What kind of numbers will LeSean McCoy post against Louisville? Has Mike Teel turned the corner?
Big East

Will Iowa keep it close against Penn State? What's going on with the QBs at Northwestern and Purdue? Can Terrelle Pryor and Ohio State find their offense?
Big Ten

Which jinx is more powerful when UCLA and Oregon State get together? Will Nate Longshore rise to the moment? Any road warriors out there?
Pac-10

How healthy is Terrence Cody? Have you heard? Nick Saban's returning to Tiger Stadium. How will Georgia respond? Steve Spurrier is winning -- with defense?
SEC

Non-BCS:
Can Notre Dame finish against Boston College? Will UNLV get its first conference win? Will Nevada make things interesting in the WAC?
Around the nation
Preview: Oklahoma State at Texas Tech
College Football Spotlight
By The Numbers
By ESPN Research

• LSU can't be upset about "College GameDay" coming to town. When the "GameDay" guys are at an LSU game, the Tigers are 9-2, including 5-1 in Baton Rouge (although the one loss was to Alabama in 1996).

• Texas Tech is 9-0 for only the second time in school history. In 1938, the Raiders won their first 10 games before ending the season with a Cotton Bowl loss to St. Mary's (Calif.). The Red Raiders are 5-0 in conference play for the first time since 1953, when they won the Border Conference, which included UTEP, Arizona and Arizona State, among others.

• Penn State is off to its 10th 9-0 start under Joe Paterno. That's more 9-0 starts than any coach in major college football history. A win this week would give Paterno his ninth 10-0 start in his career.

• Florida has won four straight games, all in SEC play, by 30 points or more -- just the third time that's been done in conference history. The only SEC team to win five straight league games by 30-plus points was the 1996 Gators, who went on to capture the national championship.
Road Trip: Alabama at LSU
Dr. Lou's Advice
Debate: Kiper vs. McShay