Rivalry trophies, conference championships at stake in Week 13
Situation Room: November reign fills landscape
Rivalry games, title hopes on tap for Week 13
By Rece Davis
The stakes are at their highest. The moments teams will remember for the rest of their lives are closing in. The pulse quickens. The plot thickens. The object of their affection is within reach if only they can grab it. If only the players can seize the opportunity. This is a quest for the ultimate trophy. The crystal ball given to the BCS champion? That's a mere trinket compared to Chief Caddo.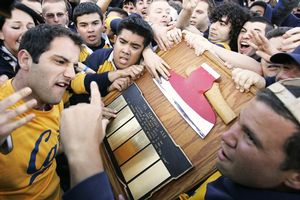 AP Photo/Marcio Jose Sanchez
Will Stanford claim the axe for the second straight year or will Cal and its fans get it back?
Chief Caddo is a 7-foot-6, 320-pound statue of a mythical Indian chief. The Chief goes home with the winner of the Stephen F. Austin-Northwestern State game. While our eyes will be trained on Norman this weekend, the jubilation that unfolds when Chief Caddo, Floyd of Rosedale (Iowa-Minnesota), the Sweet Sioux tomahawk (Illinois-Northwestern) or the Axe (Stanford-Cal) is claimed gets you in touch with the essence, the DNA of college football. Don't you still chuckle when Cal's Kevin Moen crashes over the trombone player in the memorable 1982 Big Game? In all of the thousands of times you've seen that play over the last quarter-century plus, have you ever changed the channel before it was over? Never. But every time I see "The Play," I always feel bad for my buddy Rod Gilmore. Rod, now one of our analysts as well as a top-flight lawyer, lost his first case that day. Watch the tape long enough and you'll see Gilmore pleading his case to the officials. Surely, Dwight Garner's knee was down before his lateral. Sorry, Counselor Gilmore. His case was thrown out of court, although he might have found a more sympathetic judge in the court of the Final Verdict. (Shameless "College Football Final" plug). The Play ended the collegiate careers of Rod Gilmore and a QB by the name of Elway. Cal also knocked Stanford out of bowl contention by winning The Game in 1982. The Cardinal can make the postseason with a win Saturday. OK, so that's not perfectly symmetrical, but it's something for which to shoot. And it's a rivalry to win. My point is this: We spend the entire season fretting over the BCS formula, ordaining teams as unbeatable, and then tagging them as disappointments when they lose. We tag teams as surprises, then dub them overrated. Mostly, we scream the system is broken and futilely lobby for a playoff. But the purity of rivalry games -- and trophies that look as if they were culled from a garage sale -- fuel the passion for the sport even in places where that BCS crystal football has long since been out of reach. Long live Chief Caddo! The Land Grant Trophy, not so much. How should I put this? The Land Grant Trophy is well, ugly. The aesthetic quality is hardly inspirational, nor is it rooted in tradition -- having joined the Big Ten trophy game parade in the 1990s. Playing for a trip to the Rose Bowl, that's inspiring. Michigan State and Penn State can claim at least a share of the Big Ten title. The Nittany Lions can lock up a trip to the Rose Bowl. Sparty would need a win and Michigan to beat Ohio State to go to Pasadena. There's a better chance of Chief Caddo outrunning Usain Bolt. Running is what
Javon Ringer
does extraordinarily well. He's third in the nation in rushing (141 ypg), but in three games against Penn State, he averages less than three yards per carry. Granted, Ringer's only had 19 carries in those three games, but the Spartans will need serious production from Ringer to win in Happy Valley. BYU started the season with "Quest for Perfection" as its slogan. Ironically, it's archrival Utah which can still achieve perfection. The Utes can clinch a BCS bid and win the Beehive Boot with a victory. The Cougars stare at the possibility of cutting off their nose to spite their face.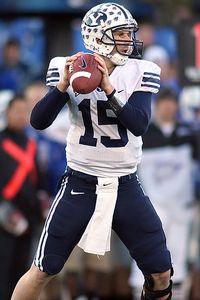 Marc Piscotty/Icon SMI
BYU and Max Hall hope to claim a victory in the Holy War and end Utah's perfect run.
A victory in the Holy War would likely knock Utah out of the BCS and cost BYU a half-million bucks or so in shared BCS money. The Cougars would prefer taking the financial hit to watching their rivals bask in BCS glory. There is no price one can put on a rivalry game or on a Beehive Boot. Utah is undefeated in games against ranked teams. It's kind of weird, but the Utes are 5-0 in such games. Utah's D has been brilliant, but it hasn't seen a passing game like the one piloted by
Max Hall
. Conversely, BYU was stymied by TCU, the only other time the Cougars faced an elite defense. Oregon State can take a step closer to Pasadena by winning at Arizona. The Beavers control their Rose Bowl destiny and haven't lost in Tucson since 1997. The Beavers can bring the pass rush. They have 27 sacks this season, 13 of them in the past three games. They dropped Zona QB
Willie Tuitama
eight times last season. Exacerbating their problems, the Cat D gave up 206 yards rushing to Oregon last week. Now, here comes the Pac-10's leading rusher, Beavers freshman
Jacquizz Rodgers
(123 ypg). Those aren't promising numbers for teams rooting for an Oregon State loss to get the Beavers out of the Rose Bowl picture in order to preserve a BCS at-large spot. USC would be a mortal lock to claim one of those if Oregon State goes to the Rose Bowl. Arizona has been tough at home and the Cats can clinch a winning Pac-10 record by knocking off the conference leader.
Enough Playoff Talk (for now)
And now, a soapbox moment. Although this is the time of year when college football playoff cries reach a crescendo, let's give it a rest. I'm not anti-playoff. I've always said I favor an eight-team playoff with the first round played on campus. I'm considering abandoning that position in favor of either a seeded "plus-one" or the status quo. Why? A playoff is no panacea. It would just create different ills. The most common suggestion I hear is an eight-team playoff with six BCS conference champs and two at-large bids. I won't bore you with all of the matchups that would create this year. But if the aim of a playoff is to determine the most deserving champ, why would any team from the ACC be involved this season? The same could be said for the Big East. And would any conference support a system that didn't guarantee that its champ would be included? I doubt it. Then there's the money. If you shorten the season, you take money from home games out of the big schools' budgets. There's also the issue of who gets the money and how it's distributed. My guess is that there isn't a rush to let the NCAA control football playoff money and take the conferences' hands off the bowl money purse strings they now control. And even if you solved all of that, would the players finally get a share of the revenue they helped to create? Tough stuff. If a solution is devised that seeds the top four teams in bowls, then advances the winners into a championship game, great. Until then, coaches should knock off the whining. After all, their votes are a major part of the formula. If you take a look at the coaches' poll, some of the voting is more perplexing than quantum physics or Madonna's marriages. To me, being dismissive and condescending toward the system -- imperfect though it may be -- comes off as childish. It might not be as pure as the pursuit of Chief Caddo, but it's not all bad. At least we get the top two teams playing each other. If you want to be in that top two, your best bet: don't lose. Texas Tech has followed that formula precisely. The Red Raiders have never beaten Texas and Oklahoma in the same season. They'll get a chance to change that in Norman on Saturday night. This is a different Tech bunch. While Mike Leach's offense deserves all the credit it gets, Ruffin McNeil's defense has given Tech a swagger it has lacked in previous seasons. Oklahoma has historically severely slowed down the Red Raiders' offense in Norman. Under Leach, Tech has averaged about 22 points fewer in the Sooners' house than against all other opponents. There will be scoring and plenty of thrilling plays from the offenses. But I expect the defenses to be a little saltier than some might think in what will be a playoff-like atmosphere. Hey, playoff-like is better than nothing, right?
Rivalry Week Madness
What's at stake during rivalry week? From the big matchups to the coveted trophies and game-changing performances, ESPN.com's bloggers give you the inside scoop.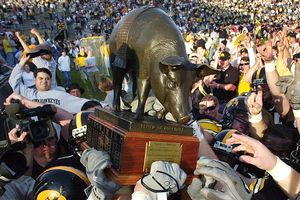 AP Photo/Charlie Neibergall
The Floyd of Rosedale trophy goes to the winner of the Big Ten clash between Iowa and Minnesota.
Nothing needed to be said at North Carolina and NC State. It's rivalry week, and both campuses are ready for a showdown.
Heather Dinich
It's got "The Play" and the Axe. There's no doubt that California versus Stanford is not just any game. After all, it's the "Big Game."
Ted Miller
Tennessee controlled its rivalry with Vandy for years. Jay Cutler and Co. changed that. Now, the Dores are actually favored.
Chris Low
Michigan's season is down the drain and Ohio State has roses on its mind, but their annual matchup always has meaning.
Adam Rittenberg
The off-field incidents between BYU and Utah over the years have become as much a part of the game as the on-field outcomes.
Graham Watson
Although Washington and Washington State have just one combined win, the Apple Cup is still the highlight of the season.
Ted Miller
The stakes are high in the Big Ten on Saturday as a bronze pig, a tomahawk, a bucket and a giant wooden box are up for grabs.
Adam Rittenberg
Viewer's Guide
(All times ET)
Saturday:
10 a.m.:
College GameDay
from Norman, Okla. (ESPN)
Noon:
Michigan at Ohio State (ABC)
West Virginia at Louisville (ESPN)
Indiana at Purdue (ESPN2)
3:30 p.m.:
Michigan State at Penn State (ABC)
Stanford at Cal (ABC)
Boston College at Wake Forest (ABC)
5:30 p.m.:
Duke at Virginia Tech (ESPNU)
7 p.m.:
Pitt at Cincinnati (ESPN2)
7:45 p.m.:
Florida State at Maryland (ESPN)
8 p.m.:
Texas Tech at Oklahoma (ABC)
•
College football schedule
|
ESPN GamePlan
•
Coverage maps:
Week 13
Todd McShay's Week 13 Preview
Blog Network: What to Watch
Each week our bloggers will take a closer look at the story lines you should watch. What's on tap for Week 13?

Is it time to start paying attention to Cullen Harper again? Can Chris Turner continue his success? What changes are in store for Florida State's secondary?
ACC

How will Oklahoma's banged-up D perform? Is Michael Crabtree healthy? Will Ron Prince win his finale? Can Austen Arnaud finish strong?
Big 12

Can Cincinnati's D contain LeSean McCoy? Is Pat White in for another big day versus Louisville? Will Matt Grothe's mobility be limited for South Florida?
Big East

Will Joe Tiller get a victory in his final game? Can Shonn Greene continue his Heisman campaign? Will Evan Royster outshine Javon Ringer? Will Penn State smell Roses?
Big Ten

How will Cal's O-line handle blitz-happy Stanford? Will a star rise out of the Apple Cup? Can Arizona handle Jacquizz Rodgers? Will Kevin Riley rally versus the Cardinal?
Pac-10

Is Ole Miss' Peria Jerry the SEC's best tackle? Will Sylvester Croom shake things up versus Arkansas? How many points will Florida score on The Citadel? Malcolm who?
SEC

Non-BCS:
Will there be a hangover for Houston heading into UTEP? Can Max Hall handle the pressure? Will Buffalo make history against Bowling Green?
Around the nation
Edwards: Holy War Payoff
No. 14 BYU (10-1, 6-1) plays at No. 7 Utah (11-0, 7-0) on Saturday in a game with both conference and national implications. If they win, the Utes can claim the Mountain West championship outright, while BYU can share the title if it wins the game. But that's just the subplot of this year's "Holy War." What's also at stake is a BCS berth for Utah that would send about $9.5 million to the Mountain West Conference, more than $4 million of which would go directly to Utah. The rest of that revenue is shared between the conference office and the other eight member institutions, which is what adds further intrigue to this game. BYU stands to gain as much as half a million dollars by losing to Utah, but if the Cougars pull off the upset, they and everyone else in the conference will get none of that BCS money … unless Boise State loses one of its final two games. If the WAC's Broncos stumble at Nevada or home against Fresno State, then BYU could conceivably finish as the highest-ranked team from a non-automatic-qualifying conference and end up with that $4-million-plus payday that would've gone to Utah. How's that for stakes in a rivalry game?
Brad Edwards is a college football researcher at ESPN. His Road to the BCS appears weekly during the season.
Preview: Texas Tech at Oklahoma
Preview: Florida State at Maryland
By The Numbers
By ESPN Research

• Under Bob Stoops, Oklahoma is 59-2 at home and hasn't lost a conference home game since Nov. 24, 2001 versus Oklahoma State. The Sooners have 23 straight home wins -- the longest active streak in the FBS.

• Florida's Percy Harvin has scored a touchdown in 12 straight games, one shy of Michael Crabtree for the longest active streak in the nation.

• BYU WR Austin Collie has had 100 yards receiving in a MWC-record nine straight games. Collie also has a MWC-record 15 career 100-yard receiving games.

• Penn State is looking for its 800th win, and would become the sixth school in major college history to reach that mark. Penn State would also become the second school to earn its 800th win this season (Ohio State did it earlier this year).
College Football Spotlight
Road Trip: Texas Tech vs. Oklahoma