Tide, Gators headline Saturday's championship matchups
Situation Room: Are you ready for some football?
Tide-Gators, Tigers-Sooners clash with title implications on the line
By Rece Davis
Conference championship games were initially the product of a loophole in the rules. If a conference had 12 teams, it could play a title game. The SEC's first game, the trendsetter in 1992, carried national-title implications. Alabama was working on an undefeated season and needed a late pick six from Antonio Langham to hold off Florida. As much drama as there was in Legion Field that frigid Saturday afternoon, it will be dwarfed by what unfolds in the chaotic climate-controlled den that will be the Georgia Dome on Saturday. For the first time, a conference title game isn't about a behemoth and a spoiler. Are you among the throng screaming for a playoff? This is what one would look like.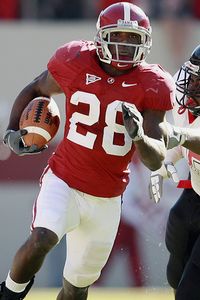 Marvin Gentry-US Presswire
Alabama hopes Javier Arenas' return skills can change the tempo of the SEC championship game.
Alabama and Florida meet for the sixth time in an SEC championship game. It's the fourth time national-title implications have been involved. It's the first time
both
teams have a win-and-you're-in scenario. It's the first time any conference title game has matched two teams ranked in the top five of the BCS or two teams ranked in the AP top 4. All that and the reigning Heisman winner. What do the kids say now? Off the hook? Off the chains? They don't say any of that any more? They never said those things? How about this: It's a really big deal. Let's be honest. All other games could get third-degree burns from the glare radiating from this one. The Gators are about a 10-point favorite. A couple of weeks ago the sentiment in some quarters seemed to be that Alabama should petition the SEC to allow them to skip the game and save itself the embarrassment. As the game draws closer, some of those observers seem to have developed a greater appreciation for Alabama's subtle-as-a-sledgehammer-across-the-bridge-of-the-nose style. This game is about tempo. A fast-paced, quick-scoring game obviously favors Florida. A slugfest full of body blows favors the Tide. Florida has the chops to win that way too, but would prefer an open game which emphasizes its blazing-fast playmakers. The No. 1 way the Gators can establish their desired tempo is in the kicking game. Florida has been unbelievable on special teams. Not only do the Gators have dynamic return man
Brandon James
, they might be even more dangerous blocking kicks (eight on the season). Next to the health and effectiveness of
Percy Harvin
, I think special-teams play will be the most important factor in the game. Everyone knows the Gators' offense is potent. Getting short fields through the kicking game just revs up the Gators' offense, enhances the quick-strike points capability which would force Alabama to alter its game plan and play a little faster than it wants. Florida has scored seven non-offensive touchdowns, second-most in America behind … Alabama. Javier Arenas is just as dangerous as James as a punt returner. Alabama has had a few blocks, too. Nothing seems to swing momentum as violently in a big game like making a play on special teams. It'll be fun to see how aggressive the two teams are on special teams, too. As important as it is to make those big plays, not letting the other guy do it will be crucial. No defense is better on third down than Alabama. No defense has allowed fewer rushing touchdowns (three) than Alabama. Florida will test that in every way. Alabama's offense might not be as flashy, but it has been effective. Among SEC teams, the Crimson Tide is second only to the Gators in scoring (32 ppg to 46 ppg).
Can Mizzou add to Big 12 championship upset lore?
Alabama and Florida is the headliner, but the other acts are compelling, too. There is nothing in the world about Missouri's play on defense that would make you believe it has a prayer of stopping Oklahoma.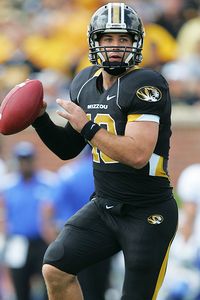 Paul Jasienski/Getty Images
Chase Daniel will put up some points, but can the Mizzou D stop the Sooners?
The Sooners beat
Chase Daniel
and company twice last season and seem plenty equipped to do it again, but there is this: Since the Big 12 title game started in 1996, AP top 3 teams are only 5-5. No conference title game has wreaked more havoc with national championship-game contenders than the Big 12's match. Maybe Texas actually
did
catch a break. The Horns are in the clubhouse. But it would take more than a double bogey for Oklahoma to cough up this lead on the course. It might take a full-scale "Tin Cup," keep-hitting-the-ball-into-the-drink meltdown. With his 46 touchdown passes,
Sam Bradford
keeps it on the fairway with razor-sharp precision. Standing between Bradford and his continued assault on the record books: the nation's 116th-ranked pass defense. Uh-oh. Missouri will score plenty, but it's pretty hard to fathom the Tigers mounting enough resistance to add their chapter to Big 12 title game upset lore.
And out West …
I'm looking forward to seeing USC and UCLA in the home uniforms. It's a nod to the old days. The idea was that the teams shared L.A. so they were both at home, especially when the two teams shared the Coliseum. Rick Neuheisel is a good sport. The Bruins coach is taking a timeout early to even out the one the Trojans will be assessed for not wearing the road whites. Then again, why would Neuheisel want to stop the clock? Asking to play with a running clock might be the way to go for the Bruins.
McShay: Speed kills for Gators
By Todd McShay
The return to health of WR/RB/RS Percy Harvin and the emergence of freshman speedsters Jeff Demps and Chris Rainey have been the reasons most commonly given for Florida's offensive breakout over the past two months, and both make sense. However, the ways in which head coach Urban Meyer and offensive coordinator Dan Mullen have gone about incorporating those three playmakers have been overlooked by most.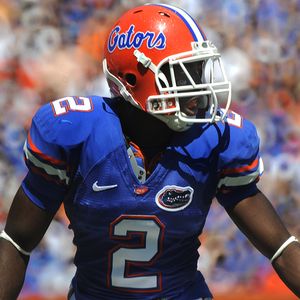 Al Messerschmidt/Getty Images
Jeff Demps adds another dimension to Florida's potent offensive attack.
Meyer and his staff have assembled the fastest offensive roster -- perhaps the fastest overall roster -- in college football today, and their philosophy is simple: to isolate their faster athletes against the opponent's slower athletes in the biggest possible amount of space. That philosophy has never changed during Meyer's tenure in Gainesville. The Gators are simply putting a different spin on it this season. Because this year's group has greater depth at running back than it does at wide receiver, Meyer and Mullen are focusing more on generating those personnel mismatches on the ground. Clearly, the epiphany came during a 21-point, fourth-quarter explosion at Arkansas, just a week after an embarrassing home loss to Ole Miss. That 15-minute stretch against the Razorbacks featured a 75-yard touchdown run by Rainey and a 48-yard scoring scamper by Demps. Rainey and Demps each finished with 103 rushing yards, the first time since 1997 the Gators have had two 100-yard rushers in same game. They haven't looked back since.
Todd McShay is the director of college football scouting for Scouts Inc. He has been evaluating prospects for the NFL draft since 1998.
Viewer's Guide
(All times ET)
Saturday:
10 a.m.:
College GameDay
from Atlanta (ESPN)
Noon:
Pittsburgh at Connecticut (ESPN)
East Carolina at Tulsa (ESPN2)
1 p.m.:
Boston College vs. Virginia Tech (ABC)
4:30 p.m.:
USC at UCLA (ABC)
8 p.m.:
Missouri vs. Oklahoma (ABC)
Arizona State at Arizona (ESPN)
South Florida at West Virginia (ESPN2)
11:30 p.m.:
Cincinnati at Hawaii (ESPN2)
•
College football schedule
|
ESPN GamePlan
Handicapping the BCS, Heisman races
Blog Network: What to watch
Each week our bloggers will take a closer look at the story lines you should watch. What's on tap for Championship Saturday?

How big a role will special teams play for BC-Virginia Tech? Can the Hokies' young WRs deliver? Which team will take control of the battle up front?
ACC

Can Oklahoma make history? Will Sam Bradford make a closing argument for the Heisman? Will Missouri's struggling secondary step up?
Big 12

What does Pat White have up his sleeve in his final home game? What's up with Matt Grothe's decision-making? Will it be the Donald Brown or LeSean McCoy show?
Big East

Can Kevin Craft deliver for UCLA? Will Jahvid Best claim the Pac-10 rushing title? Can Arizona win a close one? What happens in Rudy vs. Willie, Take 4?
Pac-10

How's Percy doing? Can Bama contain Florida's running game? Is it Tim Tebow time? Who'll win the battle between Brandon Spikes and Glen Coffee?
SEC

Non-BCS:
Which quarterback will lead his team to the MAC title? Can Tulsa finally win the C-USA title? What's in store for Army-Navy?
Around the nation
Big 12 Championship Preview
SEC Championship Preview
By the Numbers
By ESPN Research

• The Gators enter the SEC championship game on an eight-game winning streak, having won each of those games by 28 points or more. Florida is the first major-college team to win eight straight games by that margin since Minnesota in 1903. The Gophers had nine straight that season, but five of the games were against non-major competition, and two of them were against high school teams.

• USC is leading the nation in scoring defense, allowing just 7.8 points per game this season. No team has gone an entire season allowing fewer than eight points per game since Auburn in 1988 (7.2 ppg allowed).

• Oklahoma will almost certainly break the NCAA record for points scored, which is currently held by the 2006 Hawaii team (656 in 14 games). OU has scored 640 points in 12 games. The record for 13 games is 652 by 2005 national champ Texas. The Sooners (53.3 PPG) have a very outside shot at the scoring-average record (56.0, 1944 Army).

• Virginia Tech has visited the red zone 50 times this season, tied for the 33rd-most in the nation. However, the Hokies have scored on just 74 percent of those drives, ranking them 102nd in the nation. Of the 36 teams with at least 50 trips to the red zone, only 2-10 Iowa State has a worse scoring percentage (70.6 percent).
ACC Championship Preview