Ranked teams beware in Week 2; first impressions might be deceiving
Situation Room: Drama on Sneaky Saturday?
Sooners, Demon Deacons among teams that could get a scare
By Rece Davis, ESPN.com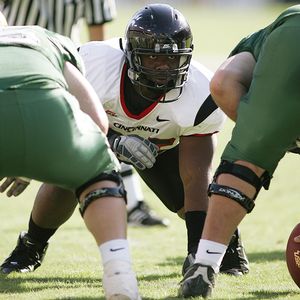 Icon SMI
Cincinnati DT Terrill Byrd has his sights set on Oklahoma QB Sam Bradford on Saturday.
This week's slate of games is so bad … how bad is it? Not nearly as bad as you think. Sure, there are no games between ranked teams. Only six of the 65 games involving I-A teams (I still call it that instead of FBS) have one team favored by less than a touchdown. Let's call this week "Sneaky Saturday." It won't win any marketing awards, but there are a handful of games that I believe will be much better than they look on paper. Were you excited about South Carolina-Vanderbilt before it started? How about in the fourth quarter? Same with Tennessee-UCLA. See what I mean? I'm not nominating any of these for ESPN Classic, but I think there's some potential for drama. In our preseason predictions, I picked Oklahoma to win the national championship. I believe in the Sooners. I also believe Cincinnati has the formula to give them fits.
Sam Bradford
will face a senior-laden defense led by two All-America-caliber players in DT Terrill Byrd and CB Mike Mickens. I think the Cincinnati D can hang in against the potent Sooners. It's not as if these guys aren't ball hawks. The Bearcats tied for the national lead by forcing 42 turnovers last year. The offensive onus is on coach Brian Kelly to draw up some plays that will reach the end zone against the Sooners' defense. That's his strong suit. I'd be shocked if Cincinnati actually wins, but I fully expect a few anxious moments in Norman. If it's closer than expected, don't get down on the Sooners. The Bearcats are a veteran, talented, extremely well-coached bunch. Meanwhile Wake Forest might have its hands full with the Right Reverend Houston Nutt's Rebels. Ole Miss hopes to have DT Peria Jerry back, even for a few snaps. (Jerry had arthroscopic surgery on his right knee on Aug. 18 to repair torn cartilage.) I think the Rebels are going to get somebody. Might it be Wake? Our buddy Todd McShay has pointed out some timing problems in Florida's passing game. If the Gators haven't solved that, and Miami gets a few stops, beware the pucker factor. Hey, if Bobby Johnson can use it on television, I can use the word "pucker" here.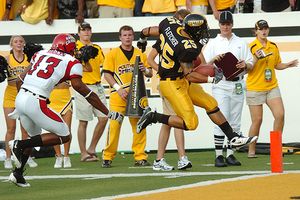 AP Photo/Steve Coleman
Southern Miss running back Damion Fletcher hopes to find the end zone against Auburn.
Keep an eye on Southern Miss at Auburn. The Golden Eagles have
Damion Fletcher
, who rushed for over 200 yards in the Golden Eagles' opener, and a stud freshman receiver in
DeAndre Brown
. He's a 6-foot-6, 220-pounder who qualified late but is a big-time talent. I'm not calling for an upset here, just some bouts with discomfort for the ninth-ranked Tigers. And you don't just walk into Dowdy-Ficklen Stadium at East Carolina and stroll out with a win. After beating Virginia Tech, the Pirates have West Virginia's undivided attention. Here's the best bet for an upset even though it's a little trendy. Better yet, if the Pirates win again, it's not an upset. They're just that good. Now, we offer completely outrageous hyperbole. If Notre Dame loses to San Diego State, the Irish should disband the program. At the very least, they should report en masse to Dr. Lou's couch or to the statue of him on campus. But the point is the Irish open with a team that lost to Cal Poly San Luis Obispo. That means the Aztecs are San Diego State of Abysmal and perhaps the worst team the Irish will face. Trust me, there's a lot of competition for that dubious distinction. Last week, I talked about finding first impressions you can trust. Here are a few.
Mark Sanchez
makes USC's offense purr. Howard Schnellenberger apparently did just make Texas mad. Virginia Tech's O should be called the three-toed sloth. Alabama's freshmen are very good. Clemson can't handle hype. Rick Neuheisel and Norm Chow are brilliant. I was saying to Mark May and Lou at halftime, "They've got to get that [Kevin] Craft kid out. He's one more pick away from a Paula Abdul-esque implosion." Good lesson there. Things aren't always as bad as they initially look.
Coach's Corner: Week 1 vs. Week 2
Former defensive coordinator and head coach Bob Davie will share his thoughts on various topics throughout this season. This week, Coach Davie talks about the adjustments between Week 1 and Week 2.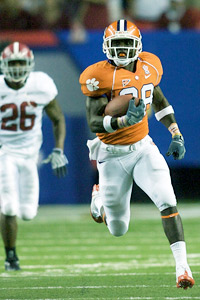 Rex Brown/Getty Images
C.J. Spiller and Clemson are expected to play with a sense of urgency this weekend.
1. Regardless of the outcome, what do coaches know about their team after Week 1?
Bob Davie:
The biggest single thing is that you get a chance to see players on tape perform in situations where it's not scripted. In practice, everything is scripted. A coaching staff sees players perform in that first game and might be surprised with how they reacted. From a personnel standpoint, you put players in a position to be successful based on how they played in that first game. You ask them to do only what they're capable of doing. In practice guys are capable of doing things, but when you see them in games you see what they're
really
capable of doing. Hopefully, you're just tweaking things with your team after Week 1, because if you have a major overhaul, you have some issues and you're going in the wrong direction. As a head coach, you're going to find out how your coaching staff reacted to unscripted situations. How did they make adjustments in the game? How did they support the players? As much as you practice, there's no way to rehearse what's going to happen in a game. At some point the players play, and the coaches coach and the great ones improvise a little bit.
2. For two teams that lost in Week 1 -- Clemson and Virginia Tech -- what will their approach be and how do you see them responding?
Davie
: Obviously, Virginia Tech looked at the personnel and the game tape, and the Hokies felt they needed to play
Tyrod Taylor
.
Sean Glennon
was the quarterback for Virginia Tech against East Carolina. They were going to redshirt Taylor, but after seeing Glennon in the loss to East Carolina, they decided to go back to the two-quarterback system and Taylor. I think you're going to see a real physical approach and a real sense of urgency from Clemson. They physically got beat up by Alabama. It wasn't one player or personnel like it was with Virginia Tech; they were dominated as a team.
3. Do teams improve the most between Week 1 and Week 2?
Davie
: That's a little bit of a misnomer. It totally depends on what happens in Week 1. You hope you don't have to make too much improvement. If teams played
that
poorly, they have more room to improve in Week 2. A team like Texas is a great example of that. I'll be at their game on Saturday versus UTEP. They did a lot of things right in Week 1, and there's not a whole lot of improvement for them to make. Alabama isn't going to improve as much as Clemson will this week.
4. Is this the week when the biggest changes in game planning, teaching and personnel changes take place?

Davie:
Not really. As you move forward, usually the game planning is dictated by injury or if you lose key players. I think early in the season you probably change personnel a little bit versus changing your game plan. One week is too early to abandon what your plan is. If there's a lack of execution, you try to improve execution. You don't change the plan much now. That would be later in the season where you see a consistent pattern develop. That would send out a very poor message if in fact the whole spring, all summer and all fall camp, you sold your players on a well-thought-out plan and you change it after one week.
Viewer's Guide
(All times ET)
Saturday:
10 a.m.:
College GameDay
from Gainesville, Fla. (ESPN)
Noon:
Ohio at Ohio State (ESPN)
Miami (Ohio) at Michigan (ESPN2)
Connecticut at Temple (ESPNU)
1 p.m.:
New Hampshire at Army (ESPN Classic)
3:30 p.m.
Cincinnati at Oklahoma (ABC)
Oregon State at Penn State (ABC)
Mississippi at Wake Forest (ABC)
3:45 p.m.:
Richmond at Virginia (ESPNU)
4:30 p.m.:
West Virginia at East Carolina (ESPN)
7 p.m.:
South Florida at UCF (ESPN2)
7:30 p.m.:
Minnesota at Bowling Green (ESPNU)
8 p.m.:
Miami at Florida (ESPN)
10:15 p.m.:
Texas at UTEP (ESPN2) •
College football schedule
|
ESPN GamePlan
•
Coverage maps:
Week 2
Insiders: Week 2, the AP Poll and More
Blog Network: What to Watch
Each week our bloggers will take a closer look at the story lines you should be watching. What's on tap for Week 2?

Where does the ACC go from here? How will Miami QB Robert Marve fare versus Florida? Can Duke (yes,
Duke
) start 2-0?
ACC

How will Sam Bradford handle the opportunistic Cincinnati D? Will Texas A&M respond? Where's Kansas' running game?
Big 12

Can the Bearcats handle OU's O-line? What's East Carolina's strategy versus Pat White? How about the Big East's pride?
Big East

How will Penn State respond to turmoil? A star-studded crowd in Champaign? What should you expect from Steven Threet?
Big Ten

Will Jahvid Best get some love? Is it a must-win game for Washington coach Ty Willingham? Can "55" be put to bed?
Pac-10

Fun times with McCluster the Duster? Has the youth movement started at Arkansas? Will Florida show its muscle up front?
SEC

Non-BCS:
Will Dan LeFevour get his first BCS win? How will Notre Dame fare in its debut? An offensive shootout in Nevada?
Around the nation
Kirk Herbstreit: Week 2 Preview
By The Numbers
By ESPN Research

• Ohio State needs one more win to become just the fifth major college football program to reach 800 wins all time (the others are Michigan, Notre Dame, Texas and Nebraska).

• Oklahoma is 55-2 at home under Bob Stoops and has won 19 straight and 39 of its last 40. The Sooners are 23-1 in nonconference home games under Stoops (only loss: '05 vs. TCU). Oklahoma has scored at least 30 points in 14 straight home games.

• Miami has won the past six meetings against Florida, but the Hurricanes were the higher-ranked team in all of them. The past eight games in this series have been won by the higher-ranked team.

• East Carolina's last victory versus a top-10 team was the "Hurricane" game, a 1999 win over No. 9 Miami that was moved to Raleigh in the aftermath of Hurricane Floyd.
Midweek Exam: Florida Film Study
BMOC with Pat Forde