Power programs are playing under the radar, but stakes are high
Situation Room: Michigan-Notre Dame renew rivalry
Wolverines, Irish, Bulldogs and Badgers meet with plenty on the line
By Rece Davis, ESPN.com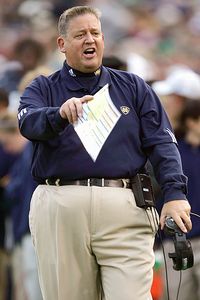 Jonathan Daniel/Getty Images
Charlie Weis and Notre Dame's season could hang in the balance this weekend.
How galling it must be to Michigan and Notre Dame. Here they are, the two programs atop the all-time wins list, and they've been banished to relative obscurity while their two most bitter rivals, Ohio State and USC, soak up attention and adulation for their Coliseum showdown. Charlie Weis' bulletin board offering for the Irish's quest for redemption after being pounded by a combined score of 85-21 by Michigan in the past two years can't even move the meter for this one. After all, Notre Dame and Michigan combined have one fewer vote in the AP poll than Rice. Score that 1-0 Owls. This game carries the same national significance Ralph Nader wields in the presidential race. It's jolting to see these two proud programs on college football's version of the Green Party ticket. But I'm still looking forward to it. What can I say? I love the tradition, or maybe I just rubberneck in case there's a train wreck. It's too early to say the Irish's season could hang in the balance, but the Irish's season could hang in the balance. After last year's debacle and last week's near-disaster, they desperately need a reason other than Dr. Lou to believe. Even the soft-looking schedule looks a little tougher in spots. After Thursday night, how many domers are looking forward to that trip to Chapel Hill in October? In a previous life, Dr. Lou was Coach Holtz. Twenty-two years to the day after Lou's Notre Dame debut (a one-point loss to Michigan), his 1988 national title team returns for a reunion. Coach will be out of the studio this weekend for the celebration and dedication of a statue in his honor. He says the pigeons need some place to land. The vultures might take over the landing zone if it gets ugly against the Wolverines again. I suspect we learn Saturday whether Notre Dame is good enough to take advantage of its schedule. Michigan has plenty at stake, too. Not only because beating the Irish always play well in Ann Arbor, but there's Big 10 pride at stake. BCS title games and Rose Bowls have battered the Big 10's rep. So far this season, Big 10 teams are 18-3 versus nonconference opponents. But the three losses came in three of the four big tests: Michigan lost to Utah, Michigan State fell to Cal and Illinois fell short against Missouri. Penn State's win against Oregon State is really the main feather in the Big 10 cap, if that's really a feather. This weekend, Purdue hosts Oregon. Joe Tiller described the Ducks' D as fast, faster and fastest. That's been the criticism. The Big 10 can't handle speed. We'll see if Purdue and
Curtis Painter
can. Wisconsin and Fresno State don big boy pads. They should put an over/under on the amount of slobber that will be knocked out of mouths. Take the over. Vicious and physical is what I expect from those two.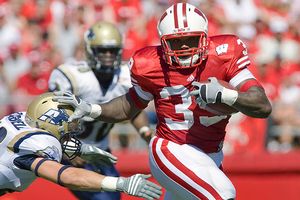 David Stluka/Getty Images
Wisconsin's P.J. Hill can expect a tough game from Fresno State.
I know the Badgers respect the Bulldogs. But are they really prepared for the venomous atmosphere they'll encounter in the Valley? And of course, there's Ohio State and USC. Beanie Wells told Mark, Lou and me a couple of weeks ago that the Bucks fully realize their reputation nationally and that the perception of their worthiness to contend for a title this year largely depends on this game. If the Bucks can pull it off without Beanie, their credibility skyrockets. If not, same as it ever was. I talked to Mack Brown on Thursday. He was disappointed that Texas and Arkansas aren't able to play this weekend, but his concern was primarily for the people threatened by Hurricane Ike and ensuring the safety of travelers and evacuees. The postponement cost us a chance to see the return of Texas' Lamarr Houston. Brown suspended Houston for one game after his arrest for DUI. Mack has given harsher suspensions to others for similar offenses. I'm sure some might raise an eyebrow at sitting Houston for only one game. Not me. If only all people would take responsibility for their actions the way Houston has. Rather than brush it into the "everybody makes mistakes" folder, he asked to meet with the media. Houston nearly choked up recounting how he had to explain what happened to his 9-year-old nephew who idolizes him. Houston, the son of a preacher, seemed genuinely remorseful for embarrassing his family and team and was thankful no one was hurt as a result of his apparent poor judgment. He'll have plenty of private penance to pay to Brown, I'm sure. I certainly don't mean to diminish the serious nature of the situation or glorify Houston for saying he's sorry. But it's easy to throw somebody under the bus for the sake of appearances. The idea is to teach them to not act recklessly again. Houston seems to have learned that lesson. His coach acted in the best interest of the person and not the perception. There's also a 9-year-old boy who still has a worthy hero. Not a perfect one, but a responsible one.
Coach's Corner: Big-game mentality
Former defensive coordinator and head coach Bob Davie will share his thoughts on various topics throughout this season.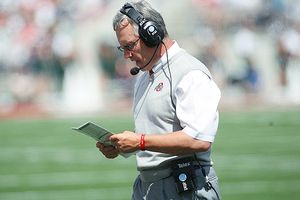 Icon SMI
Ohio State coach Jim Tressel knows all about big games and their hype.
1. How does a coaching staff prepare their teams for some of the big games we'll see this weekend?
Bob Davie:
We try to keep the exact same schedule and format as other weeks. One thing coaches always talk about is that you control what happens. It's not about who you play against or the big matchup, it's preparing yourself to play your best. None of those outside influences should play a factor.
2. From your experience, what has this week been like for USC and Ohio State?
Davie:
Some teams get in a game like this and think their biggest achievement is to just
play
in it. These two teams realize it's all about winning a game like this. It's not enough just to play in the atmosphere. The ramifications of this game will impact their entire season, and they know it. I think at some places, the hype and distractions might be an issue, but when you look at Ohio State, which has played in the past two national championships and USC, every game is a super-hyped game for them, it's a nonissue. This kind of game is just one you look forward to as a coach and a player. Ohio State realizes if it loses this game, the negativity will be coming its way. There's too much riding on the outcome, and these two teams are so experienced in these situations, it's all about the results.
3. Let's talk about a couple of programs that don't have the high-profile résumés. What are the mentalities of South Florida and Fresno State as they enter their matchups this weekend?
Davie
: I know for Pat Hill and Jim Leavitt, there's no bonus for sneaking up on anyone. I don't think Kansas coming in is any bigger than West Virginia visiting. USF is used to playing those kind of games. However, Fresno might have had some distractions this week. Getting Wisconsin at their place is a big deal. Fresno normally plays those "anybody, anytime, anywhere" games away from home. All of a sudden, they're at home and the game is on ESPN2. That could be a worry because they're not used to playing a home game of this magnitude.
4. There have already been quite a few games that have been postponed or moved because of the weather. How does that affect a team?
Davie
: It's tough, and it's a factor. In 1988, when I was coaching Texas A&M, we were supposed to play Alabama and we had to cancel the game because of a potential hurricane. We had to make the decision several days before the game, but the hurricane never made it. That creates a bit of uncertainty. It works for both teams though. It's hard to focus on practice when you don't know if you're going to play that week. But there's no excuse once the game starts.
Viewer's Guide
(All times ET)
Saturday:
10 a.m.:
College GameDay
from Los Angeles (ESPN)
Noon:
California at Maryland (ESPN)
Florida Atlantic at Michigan State (ESPN2)
Navy at Duke (ESPNU)
3:30 p.m.:
Oregon at Purdue (ABC)
Penn State at Syracuse (ABC)
Georgia Tech at Virginia Tech (ABC)
3:45 p.m.:
Chattanooga at Florida State (ESPNU)
7 p.m.:
Auburn at Mississippi State (ESPN2)
7:30 p.m.:
Virginia at Connecticut (ESPNU)
7:45 p.m.:
Oklahoma at Washington (ESPN)
8 p.m.:
Ohio State at USC (ABC)
10:30 p.m.:
Wisconsin at Fresno State (ESPN2) •
College football schedule
|
ESPN GamePlan
•
Coverage maps:
Week 3
Insiders: Week 3 Preview
Blog Network: What to Watch
Each week our bloggers will take a closer look at the story lines you should be watching. What's on tap for Week 3?

Is Tyrod Taylor getting more snaps than Sean Glennon? How will Marc Verica fare? Will we see more of Da'Quan Bowers?
ACC

What will the Oklahoma State triplets do for an encore? Is Graham Harrell in a slump? Can Oklahoma end its Pac-10 road jinx?
Big 12

Will George Selvie get his first sack? Will it be more adventures for the USF kicking game? What's up with the UConn passing game?
Big East

How much action will Ohio State's Terrelle Pryor get? Can Purdue handle Oregon's speed? Why is Illinois' defense under the gun?
Big Ten

Is Joe McKnight ready for his closeup? Will the Huskies D finally show up? Is a Cougar quarterback change on deck?
Pac-10

Will Stephen Garcia make his debut for South Carolina? Are SEC teams moving on up? How good is Ole Miss QB Jevan Snead?
SEC

Non-BCS:
Who's Nevada's RB? Is this the biggest game in the history of Bulldog Stadium? Can FAU win its second chance?
Around the nation
Todd McShay: Week 3 Preview
By The Numbers
By ESPN Research

• USC has won the past five meetings against Ohio State, although the teams haven't met since 1990. Ohio State's last win over USC was in the 1974 Rose Bowl. This is the sixth time in the past 19 meetings that one of the teams has been ranked No. 1 in the AP poll.

• Oklahoma's Bob Stoops, just a few games into his 10th season, will be seeking his 100th win as OU coach. When that happens, Oklahoma will become the first FBS school with four 100-win coaches. Bennie Owen, Bud Wilkinson and Barry Switzer also accomplished the feat.

• Since 2000, Fresno State has 13 wins against BCS conference teams, which is just one behind Utah for the lead among non-BCS teams. Three of the team's past four games have come against BCS conference teams (all wins).

• With a win over Oregon, Purdue's Joe Tiller will become the school's all-time winningest coach (based on wins). Tiller currently has 84 wins, tied with Jack Mollenkopf, who was 84-39-9 at Purdue from 1956-69. This is Tiller's final season at Purdue.
Expectations for USC's Mark Sanchez
Field Pass: Ohio State's Beanie Wells