Tide-Razorbacks matchup offers plenty of story lines
Situation Room: Stage is set for extraordinary theatre
Plot thickens for Gators-Vols, Tide-Razorbacks
By Rece Davis, ESPN.com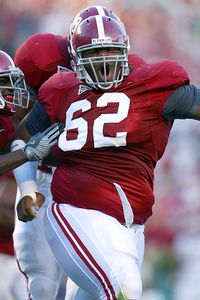 Marvin Gentry-US Presswire
Bama lineman Terrence Cody's matchup with Arkansas' Jonathan Luigs will be one to watch.
All this conference supremacy stuff is overrated. Am I really supposed to believe the Big East is better than the Big 12 because South Florida and Louisville beat Kansas and Kansas State? Or do I know the Big 12 is definitely better because a middling Colorado beat presumed Big East favorite West Virginia? It's all about matchups. The nonconference record gives a league bragging rights, but to me a better measuring stick is how many marquee matchups can your conference games produce? That's where the SEC towers over the rest. Don't worry. This isn't a "This is why the SEC is better than your conference" column. Saturday in the SEC will be extraordinary theater. LSU-Auburn should be rated NC-17 for violence. You'll need extra Advil on hand just to watch that game. The Florida-Tennessee September sequel has the Vols poised to deliver a cliffhanger. The Gators' Brandon Spikes says some Vols gave up late last year. High levels of animosity -- most of it directed toward the Gators from Knoxville -- ratchet up the intensity, though the Gators seem somewhat dismissive of the Vols as a rival. While the spotlight largely shines on those two games, the stage featuring the most intricate plot and subplots this side of a Coen brothers film is in Fayetteville. "Raising Alabama and Arkansas," starring Nick Saban and Bobby Petrino. The marquee oozes with melodrama. Defensive mastermind versus offensive genius. NFL escapees. If Saban hadn't taken the Alabama job, some say Petrino could have. Of course, Petrino once angered fans of a previous employer, Louisville, for apparent pursuit of the job Saban had just left at LSU. Their winding paths cross as head coaches for the first time. Rehashing the coaches' soap-opera angle is tired and vapid. Give me perhaps the best individual matchup of the day in any game. The Razorbacks' center, Rimington winner Jonathan Luigs, digs in against 365-pound Bama behemoth Terrence Cody. Cody has controlled the middle of the Tide D, crushing pockets, swallowing ball carriers and keeping blockers off of stud LB Rolando McClain. Doing it against perhaps the nation's best center figures to prove more troubling for the JC transfer who has become a fan favorite for the Tide. I haven't even mentioned Vanderbilt and Ole Miss. The Dores could be a mere two wins away from bowl eligibility. With
Jevan Snead
performing his Houdini-esque escape acts and Ole Miss' D-line getting healthy, the Rebels have the chops to pull an upset or two. Great game for the fourth- or fifth-best contest in a conference. As a group, the depth in attractive SEC games is unparalleled. Taken individually, any of the teams could be beaten by any number of teams from any conference. Just ask Tennessee, which is lucky it played UCLA instead of BYU. That could've been ugly.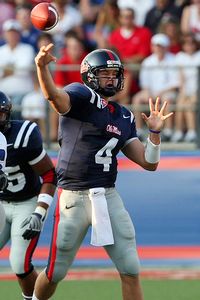 Joe Murphy/Getty Images
Jevan Snead and Ole Miss are looking to go 3-1 when they host Vandy.
I asked some coaches this week how close defenses were catching up to the spread. The guys I talked to believe the defenses aren't too far from equal footing. One coach told me, "When we first saw it, we didn't have a clue what to do with it. Now we have a good grasp on how to handle it." Creative scheme is great. Execution and players are better. USC is far more smashmouth than cutting-edge. We've had a lot of people who were watching halftime of the West Virginia-Colorado game ask what Lou was talking about when he said I threw him under the bus at the airport. Here's my version. Our flight back from the Kansas State-Louisville game was delayed in Detroit. Lou was away from the gate area. I called him and told him the airline had secured a different plane, and we were loading the flight right now. I might have over-emphasized the urgency of his hastening his return by mentioning that the flight attendants were about to close the door to the plane. My attorney advises me to say that my statement was only premature and not deliberately misleading. My attorney doesn't have a case. Semantics aside, what I really
didn't
know was that Lou had gone outside security and all the way across the airport under the assumption that he had more time. He probably ran over a mile dragging his bags through the concourse. A man who says he lives by the code -- don't run when you can walk, don't walk when you can sit, don't sit when you can lie down -- arrived at the gate huffing, puffing, sweating and heart-pounding due to the panic of potentially missing his flight. The Michigan field hockey team was still in line, too. And then there was another delay. So I guess we had plenty of time. Coach says he's going to get me back. I'm keeping my head on a swivel.
Coach's Corner: The Official Word
Former defensive coordinator and head coach Bob Davie will share his thoughts on various topics throughout this season.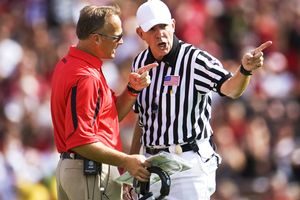 Paul Abell/US Presswire
Some officials are hearing it from coaches and fans alike this season.
1. There have been some controversial calls already this season. When are officials assigned to their games?
Bob Davie:
In most instances, when a team decides to play another team, it would have been in that contract as to who would be officiating that game. Sometimes there are split crews, though. The rule when I was at Notre Dame -- and this is the case at most places -- when you play away from home, you normally bring your league's officials. I always thought that was the best way. We used Big Ten officials at Notre Dame so when we played nonconference games on the road, we tried to negotiate the use of the Big Ten's officials.
2. Do coaching staffs scout officials and their tendencies prior to games?
Davie:
I don't think you do [advance scouting]. With that being said, within conference play, you get pretty familiar with the officials. I know the NCAA is striving for consistency from its officiating -- whether that's within a certain conference or across the nation. They hired Dave Parry [national coordinator of NCAA football officiating] and put him in charge of officiating across the country. You would hope that every official calls things the same, but I know it might be idealistic thinking that way.
3. How do you see the NCAA getting that consistency across the board from its officials?
Davie:
I think having one person, Dave Parry, in charge of the whole thing, instead of within conferences, helps. All these officials are broken down by conferences with different conference commissioners, and I think that's fine. However, when you have that many different voices, you're not going to have the consistency like the NFL has with its group. The NFL is smaller, but it's uniform, and that should be the goal. If they can take the first step to do that, it would be ideal.
4. What are your thoughts about a neutral crew calling a game? For instance, in a Pac-10 versus Big Ten contest, the game would be officiated by the Big 12's crew.
Davie:
That's the way they do it with bowl games. I think that's probably
the
best way to do it, but I'm not sure if that's feasible. Other obligations within a conference would block that from happening. If you're taking Big 12 officials to do a Pac-10-Big Ten game, you're taking away from their play in conference. What I don't like is split crews where guys are working and aren't familiar with each other. Your margin for error and mistakes increase in those situations. 5.
Switching topics: Conference play is coming up this weekend. You've been a part of these games. What's the biggest difference between conference games and the nonconference slate?
Davie:
The biggest thing from a research standpoint is that there's so much familiarity with conference teams that most of your team's research/tape work is done from the past games with that team. In conference, you pretty much stay abreast all offseason about the other conference schools. From a preparation standpoint, you have a pretty good library on those opponents. From a "what's at stake standpoint," regardless of how you've done in the nonconference sked, you wipe the slate clean. For those that haven't done as well in nonconference, they still have an opportunity to do well and win the conference. The NFL has preseason games, and even in high school they have scrimmages. In college, those nonconference games are as close as we get to tune-ups.
Viewer's Guide
(All times ET)
Saturday:
10 a.m.:
College GameDay
from Auburn, Ala. (ESPN)
Noon:
East Carolina at North Carolina State (ESPN)
Iowa at Pitt (ESPN2)
1 p.m.:
UCF at Boston College (ESPNU)
Akron at Army (ESPN Classic)
3:30 p.m.:
Notre Dame at Michigan State (ABC)
Virginia Tech at North Carolina (ABC)
Miami at Texas A&M (ABC)
5 p.m.:
South Florida at Florida International (ESPNU)
7 p.m.:
Wake Forest at Florida State (ESPN2)
7:45 p.m.:
LSU at Auburn (ESPN)
8 p.m.:
Georgia at Arizona State (ABC)
8:15 p.m.:
Fresno State at Toledo (ESPNU)
•
College football schedule
|
ESPN GamePlan
•
Coverage maps:
Week 4
Insiders: Week 4 Preview
Blog Network: What to Watch
Each week our bloggers will take a closer look at the story lines you should be watching. What's on tap for Week 4?

Has Maryland learned its lesson? Is an upset brewing in Chestnut Hill? How quickly will Miami adjust to the Texas A&M defense?
ACC

Will Robert Griffin provide an encore? Is Stephen McGee's starting streak in jeopardy? Rhett Bomar returns versus Kansas?
Big 12

How will UConn's Donald Brown fare in the spotlight? Will Pitt show its toughness? What about Tony Pike's debut for Cincy?
Big East

Can Iowa handle LeSean McCoy? Why is Indiana on the defensive? Will Javon Ringer keep up his torrid pace?
Big Ten

Will the real UCLA please stand up? Is this Tavita Pritchard's last start? Dennis Erickson: the streak buster?
Pac-10

Who has the best defense in the league? How healthy is Percy Harvin? The most underrated player in the SEC?
SEC

Non-BCS:
Upset alerts at the Horseshoe and Glass Bowl? Who'll win the battle of the undefeateds in the MWC?
Around the nation
Kirk Herbstreit: Week 4 Preview
By The Numbers
By ESPN Research

• Georgia is the fourth team in the last 25 years to be ranked No. 1 in the AP poll and then fall as far as third without losing or tying a game. The other three to do it -- Oklahoma in '85 and Nebraska in '94 and '97 -- all went on to win the national title (in '97, Nebraska won the coaches' poll title but not AP's).

• Penn State has won 25 straight games against Temple, and has gone 33 straight without losing to the Owls (they tied in 1950). Temple's last win versus Penn State was in 1941.

• Auburn has won nine of its last 12 games against top-10 opponents, including six in a row at home. Auburn has beaten at least one top-10 team in each of the previous seven seasons.

• Notre Dame has 56 points in its first two games this season. Last season, the Irish didn't reach the 56-point mark until their sixth game (Oct. 6 versus UCLA). Last season, the Irish managed only 31 first-quarter points total. Already this year, Notre Dame has scored 21 points in the opening quarter.
SEC Nuggets: LSU vs. Auburn
ACC Nuggets: Wake vs. Fla. State