Looking ahead to next week might prove to be costly in Week 6
Situation Room: Focus group in session
Horns, Nittany Lions, Tigers need focus this week
By Rece Davis, ESPN.com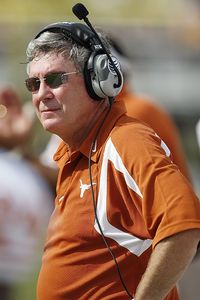 Joe Robbins/Getty Images
Mack Brown and the Horns look to avoid a letdown at Colorado.
We play them one game at a time. That is sound philosophy, since I've never seen a team play two games at once, but the intention is pure. No looking ahead in college football. Given last season's chaos, and the fact that six Top 25 teams lost to unranked opponents last week, coaches and players are wise to adhere to the mantra, but I am under no such obligation. A little peek ahead gives serious significance to some of this week's games. The Red River Rivalry is set for next week. When Texas and Oklahoma play, it's great theater no matter what the records.
Colt McCoy
and
Sam Bradford
have silly numbers. Do you realize McCoy has accounted for nearly as many touchdowns (18 passing and running) as incompletions (20)? That's ridiculous. Bradford has set a career high in passing yardage the last three games. I know they got rid of the term "shootout" in reference to the Sooners and Longhorns, but that defines what we could see in Dallas next week. Inside track on the Big 12 South, Heisman implications, No. 1 in the polls and the mother of all showdowns are all in play
if
… Texas avoids a collapse at Colorado. A Buffs team that was not as good as this one nipped Oklahoma in Boulder last year. It was a loss that, in effect, kept the Sooners out of the national title game. Texas hasn't played Colorado since dropping 70 on them in the Big 12 title game in 2005. Speaking of Vince Young, if not for the brilliance of VY, we'd be talking about what a good running QB McCoy is. I may say that every week just to annoy Mark May. The Buffs have some weapons, but the stats are pretty pedestrian against a quickly improving Texas D. Keep an eye on the Horns' Brian Orakpo. He's second in the nation in sacks with 5.5. If the Buffs hope to tarnish the Red River Rivalry next week, they'd better keep Orakpo from spending the afternoon tarnishing Cody Hawkins' headgear. A Texas miscue and the gargantuan clash with Oklahoma is reduced to just a giant clash.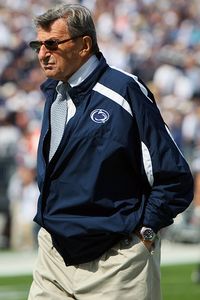 Ned Dishman/Getty Images
Joe Paterno's October schedule doesn't offer any gimmes.
It would be understandable if Penn State was peeking ahead to the rest of the month. The Nittany Lions have dates at Wisconsin and Ohio State sandwiching a visit from Michigan, to whom Penn State has lost nine straight. Of course the October dream of simultaneous runs to the top of the Big Ten, the top of the polls and a comfy perch for Joe Pa atop the all-time wins list would take a hit if the Nittany Lions face-plant at Purdue on Saturday. It's not hard to think JoePa's team might overlook Purdue, considering the Boilers have dumped 15 straight against Top 25 teams. Funny story this week was Joe Tiller recounting a pregame conversation with Paterno several years ago in which Paterno asked "Tiller, you're not going to throw that ball all over the field today, are you?" Tiller said he told Joe, "We are what we are. We're gonna go out there and play sissy ball." The Nittany Lions' version of the spread or "sissy ball" looks pretty manly. Penn State is averaging nearly 50 points per game. Purdue, inventor of the Big Ten spread, will be hard-pressed to keep up with the Nittany Lions' souped-up "Spread HD." Even so, Penn State had best keep its eyes from wandering toward the visit to Camp Randall next week, lest that clash be reduced to a mere elimination game. One team that won't get caught looking ahead -- no way, no how -- is Missouri. The Tigers trek to their house of horrors, a place where they haven't won since the first Walkman was introduced, "Animal House" was in theaters, gas was 70 cents a gallon and the Wii of the day was Space Invaders: Lincoln, Nebraska. 1978. The last time Mizzou came away victorious from the Huskers' house. After seeing Virginia Tech find offensive rhythm against the artists formerly known as the Blackshirts, this might not be pretty. Bo Pelini told reporters this week, "I've never gone into a game making concessions, and I won't start this week. We're going to do that this week, and we're going to try to shut them out." Uhhh, good luck with that. Nebraska will be a defensive power and national power again under Pelini, but I doubt it starts Saturday. The look ahead can't start soon enough for some fans. Some are more than ready to look all the way ahead to next season and a new coach. Coaching changes are part of the deal. The discontent at Syracuse and Washington, among other places, is obvious. To ignore it would be disingenuous. But there's a time and place for us to speculate on wish lists and suitable replacements. That time is after the season. For now, let the coaches do their work. I know. In our culture, that's largely wishful thinking. Sort of like taking it one game at a time.
Coach's Corner: Back To Basics
Former defensive coordinator and head coach Bob Davie will share his thoughts on various topics throughout this season.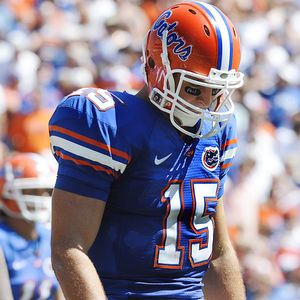 Al Messerschmidt/Getty Images
Tim Tebow and Florida can't wait to get back on the field at Arkansas on Saturday.
1. A few teams suffered some big upsets last weekend. What did they do at practice this week to get back on track?
Bob Davie:
When you're used to winning like some of these teams -- USC, Florida, Georgia, Wisconsin -- you wish you could go play the very next day because losing leaves such a terrible taste in your mouth. When you get upset, it's such a big story on these campuses, in these classrooms. It affects those players socially because it's such a shock, and everyone is talking about it. The only way to get that out of your system is to go play and win again. I think a coach plays the role as a part-time psychologist. But even bigger than that responsibility, he has to find the
tangible
reason why his team lost that game. How do we correct it? What steps are we taking? You can talk about getting your confidence back, but it doesn't do any good to talk about it. The way you get the confidence back is to go out there and practice specifically on the things that you have to do better. And then the players have confidence because they worked hard during the week to correct the mistakes. What you'll find is that these teams that lost had the most spirited practices -- even more than they've had before -- during this week.
2. How much time does a coach spend looking back versus looking forward?
Davie:
I believe you give yourself 24 hours to get over a loss -- or a win for that matter. From a verbal standpoint, you're done talking about looking back -- after that 24-hour period -- after your players have watched film. You don't say anything to them, but the corrections you're making throughout the week are directly related to what happened in that last game. You go forward with the physical part of what you have to do to get better during the week.
3. Let's look at the flip side. What about handling a team that's coming off the big win/upset? How do you make sure it's not getting to their head?
Davie:
You sell those players on the fact that the victory feels so good. On their campuses, going to class is great and everyone is slapping you on the back for getting the big win. You talk about how great that feeling is and you want to continue those good vibes, but you have to be mature and come back to reality to do so. Bottom line, it comes down to how these kids practice. Those teams that pulled the upsets -- Oregon State, Ole Miss, etc. -- I would think that they practiced longer and harder, and it might be even more demanding than if they had lost, in some ways. As a coach, you come back and make it harder because you bring them back to reality by just grinding them in practice. The players will play off how you respond as a coach. If you say "Look, here are our deficiencies. Even though we got a big win, this is what we need to work on," the players will take the lead on that.
Viewer's Guide
(All times ET)
Saturday:
10 a.m.:
College GameDay
from Nashville, Tenn. (ESPN)
Noon:
Penn State at Purdue (ESPN)
Duke at Georgia Tech (ESPNU)
Iowa at Michigan State (ESPN2)
3:30 p.m.:
Texas Tech at Kansas State (ABC)
Arizona State at Cal (ABC)
Illinois at Michigan (ABC)
Florida State at Miami (ABC)
6 p.m.:
Auburn at Vanderbilt (ESPN)
7 p.m.:
UConn at North Carolina (ESPN2)
Maryland at Virginia (ESPNU)
8 p.m.:
Oregon at USC (ABC)
Ohio State at Wisconsin (ABC)
9 p.m.:
Missouri at Nebraska (ESPN)
•
College football schedule
|
ESPN GamePlan
•
Coverage maps:
Week 6
Weekend Appetizer
Blog Network: What to Watch
Each week our bloggers will take a closer look at the story lines you should be watching. What's on tap for Week 6?

Which youthful QB will shine for Florida State-Miami? Has BC found its passing game? A Coach of the Year elimination game?
ACC

Will OU rediscover its running game? Can Mizzou defy history? How angry will Colorado be against Texas?
Big 12

What can UConn's Brown do versus UNC? How does the Cincy QB situation look? Is WVU's offense on the rise?
Big East

Who'll win the Beanie Wells-P.J. Hill battle? How will Daryll Clark fare away from Beaver Stadium? Will Curtis Painter get his signature win?
Big Ten

Has USC solved its run defense? Will Rick Neuheisel's honeymoon end? Who will start at quarterback for Cal?
Pac-10

Is Vandy ready for prime time against Auburn? Who will start at QB for Tennessee? Could it possibly get any worse for Arkansas?
SEC

Non-BCS:
Why should you watch out for Western Michigan? Will the Irish get No. 4? Will Rice or Tulsa play D?
Around the nation
College Football Spotlight
By The Numbers
By ESPN Research

• Alabama has not trailed in a game this season and has outscored its opponents 74-0 in the first quarter. The Tide has also outrushed its opponents by more than 800 yards (1,076-270).

• In 40 possessions with Chase Daniel on the field this season, Missouri's offense has scored 26 times, punted only five times and has yet to go three-and-out. That includes a stretch of 15 consecutive possessions that produced points (13 TDs, two FGs).

• Pete Carroll has never lost consecutive games against Pac-10 foes. He's 7-0 when facing a Pac-10 team that beat him the year before, outscoring them 248-114. Overall, he's 8-1 in such situations, with Kansas State being the only team to beat him twice in a row (2001-02).

• Since 1956 -- a span of 53 seasons -- Vandy has won three straight SEC games just once (1982). With a win Saturday, the Dores will join that '82 team, which is also the last VU squad to post a winning record.
Preview: Ohio State at Wisconsin
Preview: Auburn at Vanderbilt