Conference matchups offer high stakes, high drama in Week 7
Situation Room: Could there be a better day of football?
From Dallas to the Swamp, defenses gear up to face elite QBs
By Rece Davis, ESPN.com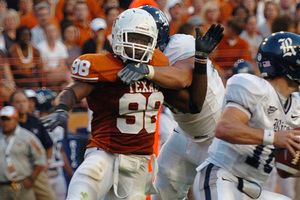 Brendan Maloney-US Presswire
Texas' Brian Orakpo will be chasing after Oklahoma QB Sam Bradford on Saturday.
We didn't really brand this Saturday with a catchy nickname. The games pretty much speak for themselves. From Texas-Oklahoma to LSU-Florida and Oklahoma State-Missouri, could there be a better day of football? Texas-OU might be the feature attraction of the Texas State Fair this weekend. But there is also a stunt show by a daredevil outfit called the Nerveless Nocks. They'll perform stunts on 80-foot sway poles completely free of safety devices. You know, sort of like the type of disaster-defying high-wire act the Texas secondary faces against the potent Sooner offense. The Horns' "safety devices" are young. Three new starters in the secondary this season, but unlike the Nerveless Nocks, their safety net could be deployed. Namely, Brian Orakpo and Sergio Kindle. Those two guys are key if Texas wants to make life in the pocket uncomfortable for
Sam Bradford
and the Sooners. Orakpo is third in the nation in sacks with 5.5. He's a force and a leader on the D. It's finally clicked for Kindle, who is looking more like the dominant linebacker recruit he was coming out of high school. I'm looking forward to seeing if those two guys can create havoc against Oklahoma's mammoth and skilled offensive line. It seems to me as if that's the Horns' best shot at derailing the Sooner Schooner. One QB will likely take a giant step forward in the chase -- or is it Chase (Daniel)? -- for the Heisman.
Colt McCoy
is not short on talent or nerve. But I don't think Texas can afford to let him take the punishment that's bound to come if he's forced to become the Longhorns' primary runner. He's the Horns' leading rusher, and he'll make some plays with his feet. But against the Sooner D, it would behoove Texas to have someone step up to help McCoy just as, you know, a safety net. Who else is looking forward to the first
Tim Tebow
-Ricky Jean-Francois collision in the Swamp? Jean-Francois talked a little smack about knocking Tebow out of the game. Tebow actually enjoys that kind of stuff. Linemen marvel that he seems to crave contact. It might not have been the most politically correct thing to say, but seriously, since when do we want defensive players who don't want to get big, clean shots on the quarterback? Despite the smack talk, I think there's an odd feel to this game. Sure, the intensity will be stifling and the Gators seem to have all the intangibles. Florida is at home. The Gators need it more in terms of the national-championship race, having already lost once. They want redemption after falling victim to an array of fourth-down gambles by the Mad Hatter, Les Miles, on LSU's game-winning drive last year. One thing the Gators shouldn't count on is a fumble. At least not by an LSU running back. None of the top four Tiger running backs have lost a fumble. Ever. 378 combined career carries and they haven't lost it once. Astonishing.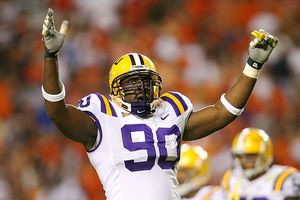 Doug Benc/Getty Images
Will Ricky Jean-Francois smack Tim Tebow around? He certainly hopes so.
Could the odd vibe be the notion that LSU is ever so slightly stronger at every position save quarterback? And that even if that's so, it's still hard to imagine the Gators losing? It'll be fun finding out Saturday night. Oklahoma State is among the Big 12 offensive juggernauts clamoring for respect. So here's the chance. Beat Missouri and Oklahoma State will generate enough buzz to be part of benefactor T. Boone Pickens' energy plan. Take a good look at
Dez Bryant
, the Oklahoma State wide receiver who is averaging better than 20 yards per catch. He's a game-breaker. Dr. Lou hopped aboard the Fighting T. Boones' bandwagon and called for the upset. By the way, the "three-and-out" watch is still on. Mizzou has 48 drives with
Chase Daniel
at quarterback. Still no "three-and-outs." Remarkable. I'm just wondering, will Missouri's punter play enough to earn a letter? There are a few other things I'm anxious to see Saturday. Does Wisconsin have anything left in the tank after two gut-wrenching losses? Even if it does, is it good enough to knock off Penn State? What will the post-Tony Franklin Auburn offense look like? To spread or contract? That is the question. Providing backdrop to the whole bizarre Franklin dismissal, Bobby Petrino is headed to Auburn when the Tigers coaching staff appears to be in turmoil. Haven't we seen this play before? This is the end of a brutal stretch for Petrino's Hogs. Alabama, Texas and Florida outscored the Razorbacks 139-31. Washington State reached out to the student body for help at quarterback. If Tennessee's offense continues to struggle to find the end zone, the Vols might seek counsel from a student. Apparently, there's someone on campus in Knoxville adept at hacking into hard-to-reach, seemingly off-limits places. Whether the straits are that desperate for Tennessee could be revealed between the hedges against Georgia. Celebrations that deviate from a spontaneous moment shared with teammates are frowned upon by the NCAA. After snapping a 26-game losing streak to Gallaudet, the renowned school for the deaf and hearing-impaired, Hiram College from Ohio participated in a choreographed celebration aimed at their opponent. They congratulated their opponents by using sign language to say "Nice job" or "Good game." Gallaudet's president and coach wrote a letter expressing their appreciation to Hiram's players, which were the first in recent memory to make an effort to communicate with Gallaudet's players using sign language. That's a great sign of sportsmanship we all can easily interpret.
Lukacs: Going For Two
The Emergency Economic Stabilization Act of 2008 has nothing on the two-point conversion controversy of 1958. When the rule change allowing teams the option to try for two points following a touchdown was legislated into existence prior to the '58 season, conservative coaches were hardly pleased.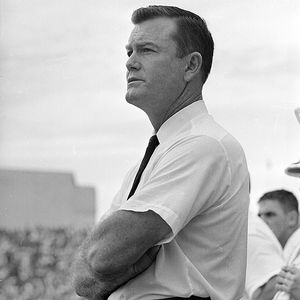 AP Photo
Former Texas coach Darrell Royal wasn't fond of the two-point conversion rule initially, but it didn't take long to change his mind.
The conversion's leading proponent, Michigan athletic director Fritz Crisler, was a coaching innovator (Crisler is also credited with inventing two-platoon football and those famous winged helmets), who felt that college football needed an offensive stimulus package. "It's a progressive step which will make football more interesting for the spectators," said Crisler at the NCAA Rules Committee meeting that January, promising that the two-point play "will add drama to what has been the dullest, most stupid play in the game." "I'm disgusted," complained Yale's Jordan Olivar. "It's an unimportant change." At the time, second-year Texas coach Darrell Royal concurred. "I was a purist," Royal said this week. Royal's attitude changed on the afternoon of Oct. 11 -- exactly 50 years ago this Saturday -- when Oklahoma and Texas took the field at the Cotton Bowl. Riding a six-game series losing streak, No. 16 Texas was a 13-point underdog to Bud Wilkinson's No. 2 Sooners. Royal, a former Sooners quarterback, knew that Texas' offense had been largely anemic in recent series history. "I felt like we needed the points," said Royal. So after Texas took a 6-0 lead on 10-yard touchdown pass from QB Bobby Lackey to Rene Ramirez, Royal sent in the history-making play, a straight handoff up the middle. It was a calculated gamble. "I was really pleased that they came out in the alignment that I thought they would," Royal remembered. The early conversion was successful, and Texas went on to win 15-14. The game turned the rivalry in the Longhorns' favor: Not only would Royal defeat his mentor in each of the next five seasons before Wilkinson's 1963 retirement; Texas would win 12 of the next 13 in the storied series. The reformed pigskin purist now admits that, ironically enough, the controversial rule change was essential to preventing nearly four decades of on-field controversy. "It saved us a lot of ties," said Royal. The 1958 Texas-Oklahoma game was the first contest in college football history to be decided by a two-point conversion, yet hardly the last. The advent of overtime in 1996 and the fact that the NFL adopted the two-point conversion in 1994 has taken some of the luster off of the play, but there have nevertheless been some shining moments throughout the past half-century, including: Miami-Nebraska, 1984 Orange Bowl -- The Miami dynasty was born on the Orange Bowl turf when Canes safety Kenny Calhoun batted down a Turner Gill two-point conversion pass with 48 seconds remaining.
Texas-Arkansas, 1969 -- A decade later, another successful two-point conversion proved the difference for Royal's Longhorns in a titanic, title-deciding No. 1 versus No. 2 tilt in Fayetteville.
Notre Dame-Miami, 1988 -- Irish free safety Pat Terrell swatted away a Steve Walsh pass to preserve a 31-30 victory that would propel Notre Dame to the national championship.
Harvard-Yale, 1968 -- Most Harvard fans probably don't know that it took two late two-point conversions to complete an epic comeback in "The Game." All they remember is the headline in The Harvard Crimson, perhaps the best in college football history: "HARVARD BEATS YALE, 29-29." This, however, is just one individual's list. Feel free to add a memorable conversion from your school's past. Or, if you're feeling aggressive, go for two.
John D. Lukacs is the consultant to College GameDay.
Viewer's Guide
(All times ET)
Saturday:
10 a.m.:
College GameDay
from Dallas (ESPN)
Noon:
Texas at Oklahoma (ABC)
Syracuse at West Virginia (ESPNU)
Minnesota at Illinois (ESPN)
12:30 p.m.:
Colorado at Kansas (ESPN2)
1 p.m.:
Eastern Michigan at Army (ESPN Classic)
3:30 p.m.:
Arizona State at USC (ABC)
Purdue at Ohio State (ABC)
Notre Dame at North Carolina (ABC)
Michigan State at Northwestern (ESPN2)
3:45 p.m.:
UCF at Miami (ESPNU)
7:30 p.m.:
Utah State at San Jose State (ESPNU)
8 p.m.:
Oklahoma State at Missouri (ESPN2)
Penn State at Wisconsin (ESPN)
•
College football schedule
|
ESPN GamePlan
•
Coverage maps:
Week 7
Weekend Appetizer
Blog Network: What to Watch
Each week our bloggers will take a closer look at the story lines you should be watching. What's on tap for Week 7?

How will UNC's defense fare against Jimmy Clausen? Will Georgia Tech's running game break out? What's next for Clemson?
ACC

Will Colt McCoy stand up to the OU rush? Which futility streak will end in Waco? Will Mizzou and Oklahoma State combine for 100?
Big 12

Will the gap widen between the haves versus the have-nots? How healthy is Pat White? Can Memphis' blitz handle the Louisville offense?
Big East

Will Allan Evridge keep his poise against Penn State? Will Michigan's D respond to criticism? Where will JoePa be this weekend?
Big Ten

What's up with Rick Neuheisel's and Mike Bellotti's relationship? Who will start at QB for Oregon? Will Arizona's defense toughen up?
Pac-10

Will the Mad Hatter continue his top-10 success? Can Auburn's offense score? Will Tim Tebow smack LSU back?
SEC

Non-BCS:
Is Memphis on the move? Will BYU contain New Mexico's running game? Is the Pack back in Nevada?
Around the nation
Preview: Red River Rivalry
College Football Spotlight
By The Numbers
By ESPN Research

• The Oklahoma-Texas game has been won by the higher-ranked team each of the last 9 seasons, and the higher-ranked team is 44-13-3 in series history.

• LSU has won six straight games against top-10 teams and is 8-3 against them under head coach Les Miles (4-2 on the road).

• The Nittany Lions continue to roll over opponents, outscoring them 269-70. They've allowed more than 14 points just once this season.

• USC is a perfect 8-0 versus Arizona State this decade, last losing to the Sun Devils in 1999. Over the 8 wins, USC has averaged 39.8 PPG. The Trojans are going for their 400th victory at the Coliseum.
Kirk Herbstreit: Week 7 Preview
Four Downs Weekend
ESPN Road Trip: Weeks 1-3