How will fragile Tigers respond versus Georgia Tech?
Situation Room: Harper mishandled Bowden aftermath
Heat falls on Fulmer and Tennessee
By Rece Davis, ESPN.com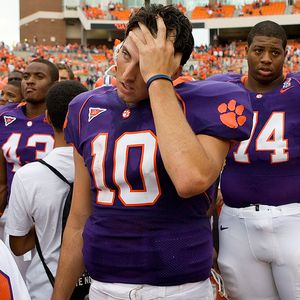 Rex Brown/Getty Images
Cullen Harper and Clemson have suffered through a disappointing season.
Last week, the hot seat scorched a high-profile assistant at Auburn. This week, it torches a head coach. Who would've bet before the season that Clemson would beat everyone to the punch with the first coaching casualty? Not me. A major criticism of Tommy Bowden's tenure was the inability to get everyone on the same page at the same time. Great starts were undone by faltering finishes. Pratfalls out of the gate were salvaged by sprints to the tape. A microcosm of Bowden's tenure was the wildly disparate reaction to Bowden's departure by RB
James Davis
and QB
Cullen Harper
. Davis was moved to tears. Harper seemed moved by vengefulness. He sent a text message to our Joe Schad saying Bowden got what he deserved. I was so stunned after hearing Joe's report I immediately started making calls thinking there had to be a misunderstanding. Nope. I'm sure Harper was hurt, angry and disappointed over being benched. Perhaps he felt he was being made the scapegoat despite trying to play with an injured shoulder. Maybe Bowden didn't handle his situation properly. But Harper should've been man enough to shoulder a bigger share of the blame. It was said that people weren't buying into what Bowden was saying anymore. Isn't it a senior quarterback's job to be a leader, an extension of the coach on the field? Doesn't it reflect on him if the locker room is divided? By no means should Bowden be absolved for letting a talented team devolve into head cases that would baffle Dr. Lou, Frasier Crane and Freud himself. Coaches are paid handsomely to unify teams and build winners. But Harper's parting swipe didn't make Bowden look nearly as bad as it made the Clemson quarterback look. The remark, more suited to a petulant child than a grown man, might have been an embarrassment to his family, too, had Harper's father not piled on by saying Bowden's demise was "karma." Harper, who to his credit later said he wished he could retract the statement, has a right to say whatever he wants. We like athletes who are candid. But candor without class reflects poorly on one's character. By most accounts, Harper is a good young man, albeit one who had a lapse in judgment. His callous words might stick to him longer than they'll stick to Tommy Bowden. So can this fractious, fragile team unite against Georgia Tech behind a new quarterback,
Willy Korn
, and new interim coach Dabo Swinney? I think Clemson will play with more passion than it has all season as long as things go well. The real test is: How will they respond if things go wrong? Swinney is popular with the players. They surely realize the rest of the season amounts to a six-game audition to see whether Swinney can move from long shot to legitimate candidate. Swinney has already made some executive moves. He ousted offensive coordinator Rob Spence and e-mailed the Clemson student body urging them to come to a "Tiger Walk" before the Georgia Tech game so players could feel their support. He seems to have a handle on the bruised psyches. Now let's see if he can get a grip on Clemson's catastrophic season, not to mention the Yellow Jackets' option attack.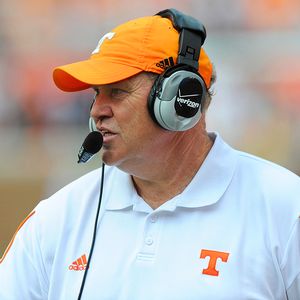 Jim Brown-US Presswire
Phillip Fulmer didn't get a ringing endorsement from Tennessee's AD, but the players have his back.
Tennessee athletic director Mike Hamilton didn't exactly extinguish the fire nipping at Phillip Fulmer's hindquarters with his "we'll evaluate after the season unless it gets really bad" stance on the Vols coach's future. Tennessee has played great defense. That should be enough against Mississippi State. Unlike the Clemson situation, it seems that the players are unified behind their coach even if the fans aren't. Tennessee looks the part of a winner. Playing the part has been problematic. The Vols still seem capable of a breakout game. Virtually nothing that happens Saturday against Mississippi State would qualify as a "breakout performance," but it is a chance to gain a little momentum before the ultimate turnaround shot next week, the rivalry match with second-ranked Alabama. Mark May, Lou Holtz and I will get a firsthand look next Thursday night at a couple of teams who've endured varying degrees of coaching turmoil when we go to Morgantown for the Auburn-West Virginia game. I'll be especially interested in whether either can establish an offensive identity. Even if they can't, no need for hot seats here. Bill Stewart is too new. Tommy Tuberville has been too successful. That's not to say that both wouldn't appreciate performances that would equate to a little asbestos for their seats. Just in case.
Lukacs: The Genesis of the Roar
With a sparkling 7-0 start, Penn State has been generating roars from the characteristically colossal home crowds all season long.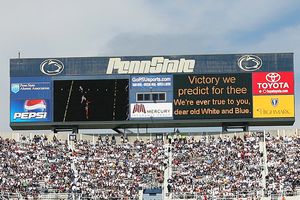 Ned Dishman/Getty Images
The lion's roar still gets fans -- and players -- pumped at Beaver Stadium.
As for genesis of
the
roar, well, that's a whole 'nother Nittany Lions story. It's the story of a pioneering stadium sound effect that purportedly predates all others, from Purdue's train whistle and Houston's air-raid siren to the feral football "copycats" at Arizona, BYU, LSU, Missouri and Northwestern. It takes place in 1968, a year freighted with great significance for Penn State football. To Penn State partisans, the Beaver Stadium lion roar has been an enduring and energizing part of the Happy Valley football experience for four decades. As the Michigan Wolverine and their supporters will undoubtedly discover Saturday afternoon, it's also annoyed opponents and their fans for the same amount of time, causing some -- reportedly Alabama fans -- to compare it to the sound made by a high-powered toilet flushing.
Listen for yourself.
According to the lion roar legend, Joe Trimarchi, a sales rep at WMAJ-AM, a State College radio station, went to his cart machine and selected a recorded lion roar as a "sounder" to preface sports news in 1967. In those days, stations had stock sound effects contained in cartridges of looping analog tape (think 8-tracks) that were housed and transported on wheeled "cart" machines. Penn State sports information director Jim Tarman heard Trimarchi's roar and inquired about using it at PSU athletic events. The roar made its debut at a Penn State-Lehigh wrestling match later that year, migrated to Lions basketball games and, thanks to Trimarchi, to Beaver Stadium in the fall of '68. Trimarchi, who also worked as a spotter at football games, lugged his bulky cart machine up into the press box and, by pressing a button, signaled not only the beginning of one of the most unique, yet unknown, traditions in college football but also Penn State's rise to national prominence. The lion roar would literally be heard throughout the country as Penn State embarked on its first undefeated season under a youthful head coach named Joe Paterno. For Lions fans, the roar quickly became as essential a part of the Saturday sound track as anything played by the Blue Band. "Joe was a pretty savvy guy; he knew the appropriate times to play it," said Dean DeVore, an AccuWeather meteorologist who also works as the public-address announcer at Beaver Stadium. "There's an etiquette about it." The signature stadium sound effect has long followed the conclusion of the Penn State drum major's famous 50-yard line flip and the team huddle after the pregame stretch, as well as Penn State first downs and touchdowns. The growl has celebrated sacks and fired up the crowd to support the defense on third downs, too. Yet change is inevitable, even at a place as tradition-bound as Penn State. Gone are Trimarchi and his cumbersome cart machine: The father of the roar retired in 2006, and the roar has been digitized. The roar's new caretaker is sound technician Blair Drake. Drake, along with communications director Guido D'Elia, is responsible for integrating the roar and the Blue Band with new stadium standbys such as Zombie Nation's "Kernkraft 400" to create a raucous atmosphere and entertainment spectacle that DeVore calls "the greatest show on Earth." While players, P.A. announcers, sound technicians and perhaps one day even coaches -- yes, even coaches -- will come and go at Penn State, there will always be one certainty. "The lion roar will be here forever," said DeVore. "It's iconic."
John D. Lukacs is the consultant to College GameDay.
Viewer's Guide
(All times ET)
Saturday:
10 a.m.:
College GameDay
from Austin (ESPN)
Noon:
Purdue at Northwestern (ESPN2)
Connecticut at Rutgers (ESPNU)
Georgia Tech at Clemson (ESPN)
3:30 p.m.:
Kansas at Oklahoma (ABC)
Ohio State at Michigan State (ABC)
North Carolina at Virginia (ABC)
Miami at Duke (ESPNU)
4:30 p.m.:
Michigan at Penn State (ESPN)
7 p.m.:
Arkansas at Kentucky (ESPNU)
8 p.m.:
Missouri at Texas (ABC)
LSU at South Carolina (ESPN)
Virginia Tech at Boston College (ESPN2)
•
College football schedule
|
ESPN GamePlan
•
Coverage maps:
Week 8
Schlabach: Inside College Football
Blog Network: What to Watch
Each week our bloggers will take a closer look at the story lines you should be watching. What's on tap for Week 8?

How will Clemson respond? Will Wake actually score TDs in the red zone? Can BC contain Virginia Tech's running game?
ACC

How will OU fare post-Texas? Can Chase Daniel make it a happy homecoming? Can Kansas finally prove itself versus the South's elite?
Big 12

Can Pitt's defense contain Navy's triple option? Will Donald Brown continue his assault on Rutgers? What does Greg Robinson's future look like?
Big East

Who has the edge in Javon versus Beanie? How bad will it get for Michigan at Penn State? Will Juice add to his record numbers?
Big Ten

Will Nate Longshore grab hold of Cal's QB job? How much does Washington still care? Will Arizona get the ball to Rob Gronkowski and Mike Thomas?
Pac-10

Is Phil Fulmer feeling the heat -- again? Will Ole Miss find Greg Hardy? Is opportunity knocking for Stephen Garcia? What's up with the Dawg shuffle?
SEC

Non-BCS:
Will Navy's streak continue? Is FIU in for a shock? Will Utah take advantage of BYU's loss? Ragin' into the record books?
Around the nation
College Football Spotlight
By The Numbers
By ESPN Research

• Javon Ringer has been the most productive running back in the nation this year, ranking first in carries (247), rushing yards (1,112) and rushing TDs (14). His performance has placed him in the middle of the Heisman race -- a place no Michigan State player has been in quite some time. The last time a player from MSU finished in the top 10 of the voting was in 1989 (LB Percy Snow) and the last time one finished in the top five was 1987 (RB Lorenzo White).

• This is just the second 6-0 start in the past 25 seasons for Texas. The only other one came during the 2005 national title season. Texas is also playing a game as the AP No. 1 team for the first time since tying Oklahoma on Oct. 13, 1984.

• Alabama has not trailed in a game this season and has outscored its opponents 88-0 in the first quarter. The Tide has also outrushed its opponents by more than 1,000 yards already (1,358-305).

• The Wolverines are off to their worst start since 1967, when they started 1-5 (that was two years before Bo Schembechler took over the program). This season marks the earliest a Michigan team has ever suffered its fourth loss.
Preview: Missouri at Texas
Preview: Vanderbilt at Georgia
Matich: Cutting to the Chase